Home

Stacie Ford Weddings Pro Makeup Artistry
About this Vendor
Stacie Ford Weddings
Award winning and published makeup artist Stacie Ford is best known for her artistic ability in creating flawless faces on everyone who sits in her chair. Her unique eye for color, trained hand in artistry, mixed with her warm and friendly personality, makes her the go-to-girl in the makeup world.
Details
Hair + Makeup Trials Available, Hair Stylists, Airbrushed Makeup, Eyelash Extensions, Makeup Artists, On-Site Hair + Makeup, Beauty
Contact Info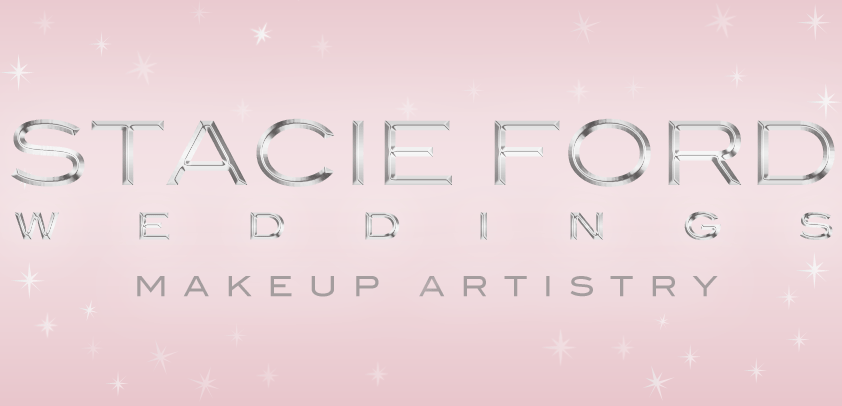 New York, NY
Serving NYC area & available for travel
The Absolute BEST
Reviewed on

10/30/2014
Dagmara P
I will start off by saying that I have NEVER liked any professional makeup I've had done; so, naturally, I was dreading getting my makeup done for my wedding. Then I met Stacie. She is out of this world incredible! I am in love with her work! During my trial, Stacie took the time to listen to me and really get a sense of my style, who I am and what type of look I was going for. She asked to see pictures of my dress and went to work. The look she created was out of this world amazing. She took what I had wanted and gave it some edge (with my permission) to really go with my dress. It was like a stunning work of art. On my wedding day, Stacie did the makeup for my mom, my 3 bridesmaids and me. She arrived just before scheduled and made sure she was set up and ready to go at our agreed upon start time. She transitioned seamlessly from person to person and kept us on schedule. I think this is so important in someone who you're entrusting on such a special day. I never once had to look at the time because I knew I could count on Stacie to do her job and I did not have to worry about anything she was in charge of. She took her time, never rushed and made us all look incredible. I have never felt so beautiful in my life (and this is pre-hair and pre-dress). The makeup was flawless! For both my mom and I to love our makeup is saying a lot. I will be the first to admit that when it comes to this department we are not easy to please but surprisingly, with Stacie we were just that! My mom and I will 100% use Stacie again for any major events that require makeup. She is so passionate and good at what she does that I have full confidence that the next time I go, I'll just show her what I'm wearing and let her do her thing. She is punctual, dependable, easily reached, and so incredibly warm and friendly. She made everyone so happy and comfortable that morning. Love love loved working with Stacie and cannot say enough amazing things about her!! I HIGHLY recommend her to anyone who wants to look like their most beautiful self on their wedding day!
---
Better than I could have imagined!
Reviewed on

5/12/2015
Rachel K
Amazing is not enough of a word. I have been in a ton of weddings and have had my makeup done many times, and I have to say that Stacie Ford was the best I have ever experienced! I think the biggest difference between Stacie and other makeup artists is that she genuinely cares. She explains what she's doing every step of the way and constantly shows you her progress to make sure that you love it. She wants you to look beautiful and be happy. It's not another day to her, it's your wedding day and she is a huge part of it. Stacie and her team were unbelievable to work with. I was a bride who wanted a natural and editorial look and Stacie was able to make my dream in to a reality. She was calming and confident and was a huge help in recommending what would work best with my skin, dress and overall "wedding theme." The day of the wedding, Stacie was pure class. As stressful as the day can get, she remained a calming force and handled all of my bridal party with ease. Everyone looked beautiful and what's even better, their makeup lasted all day. Stacie made me feel like a bride that should have been in a magazine or walking the runway. It was better than anything I could have imagined. I definitely will be using Stacie for all of my events!
---
Absolutely Fabulous!
Reviewed on

5/15/2015
Hannah D
I cannot recommend Stacie enough! I was introduced to her through my wedding coordinator, and from the moment I emailed Stacie she was so helpful with my (many) questions and helping to organize the prep for my big day. She made me look like the most beautiful version of myself, which is exactly what I wanted. At my trial in her studio, she took the time to understand the look and feel of our wedding celebration and of my vision for the day. She had lots of wonderful suggestions but immediately she created my perfect bridal look - better than I could have even described it. Stacie's professional artistry and products resulted in the most beautiful photos. It is so important to work with someone you enjoy - she is so lovely and wonderful. It made the morning of my wedding so special. Stacie also did the makeup for my sisters, grandmother, and mother of the bride. She made everyone look stunning! My mother was so over the moon she wants Stacie to do her makeup for every future affair! Your wedding day look is so important. Stacie knows how to create that and becomes one of your favorite people in the process!
---
Wonderful Makeup Artist!
Reviewed on

5/10/2015
Margaret F
It was such a pleasure to work with Stacie! From the trial through the big day, she was the epitome of professionalism. I prefer a more natural face, and was nervous about appearing too "made up." Stacie was sensitive to my anxieties, and came up with a beautiful, classic look I absolutely loved. (She was also gracious when, on the morning of the wedding, I got cold feet about the bolder lip we'd planned to do; she worked with me to find just the right color.) Stacie made all the other ladies in the wedding party look gorgeous, too—from my mom to my 16-year-old cousin.
---
Wedding day makeup
Reviewed on

5/08/2015
Meg G
I was nervous because I don't wear a lot of makeup. I wanted to look natural and like the very best version of myself. I felt so incredibly beautiful on my wedding day.
---
amazing!
Reviewed on

4/14/2015
Lauren L
Even before meeting Stacie, she was considerate in getting to know me and understanding my style and how this would relate to my make-up on my wedding day. Stacie was knowledgeable about make-up and what would look good on me based on skin tone, hair/eye color, etc. On the wedding day, Stacie ran on schedule all day. The make-up on myself and all the bridesmaids was perfect. She did a flawless job and I can't recommend her enough!
---
Amazing wedding makeup!
Reviewed on

12/26/2014
Karen H
I hired Stacie to do makeup for me, my bridesmaids, my mother, and the groom's mother for my wedding in NYC. I knew from the reviews, photos, and descriptions of her style that she would be a great choice and even still I was blown away by the amazing job that she did for my wedding. At the makeup trial with Stacie, she was so accommodating of the fact that I didn't have any pictures or very concrete idea of what I wanted, just that I was looking for something that would look good on me. We tried out color options until we found the ones that were perfect for me. She even found a lipstick that I loved (normally I hate the look of all lipstick on me)! I spent the trial taking notes of everything she chose for me and have since bought a lot of the great products that she uses, because I had never been able to find colors that worked so well on me. Day of the wedding she arrived at the hotel promptly and was ahead of schedule for the whole day. All of the bridesmaids looked great and loved the makeup she did for them. Even the mothers, who never wear makeup, felt comfortable in the look she did for them. One of the bridesmaids emailed me immediately after the wedding to get her contact information so she could schedule an appointment with Stacie! The makeup she did for me for the wedding was perfect - I have never felt more beautiful than I did that day. Every single one of our wedding photos looks fantastic thanks to Stacie! I got so many compliments about how great it looked all night long. I can't wait to have some reason to get my makeup done professionally again because I want her to do my makeup again! Stacie is a true artist, an extremely nice person, and I cannot recommend her any higher!
---
Master of Makeup!
Reviewed on

11/11/2014
Amanda W
Stacie Ford is truly amazing. I, like many brides, don't usually wear a lot of make up and it was a distressing search for me to find someone who could really glam me up without me looking overdone. Stacie does just this. She is so friendly and calm. She does a trial with you so that you can get as close to your day of look as possible (but she of course topped it on the wedding day!). She's absolutely incredible as was her assistant. They handled my bridal party of 9 effortlessly and everyone looked so beautiful. She transformed my face and I felt natural, beautiful and glamorous. I can't praise her enough!!
---
A gorgeous artist!!
Reviewed on

10/12/2014
Stacie was soooo easy to work with! We were planning a wedding from Australia, but she was very easy to converse with over email & always efficient & reliable! Stacie was also the most relaxed and friendly person to work with- just what you need on your wedding day! On the day Stacie worked tirelessly to create a beautiful look for each of us, from 2 brides, to 2 bridesmaids, to 2 mothers of the brides! Each of us came away with a look we were delighted with! Thanks Stacie- we couldn't have been happier!
---
Stacie is a pro!
Reviewed on

9/15/2014
Sara A
Stacie was such a pleasure to work with! She is unbelievably sweet and patient, really listening to the needs of the client and helping to make sure that every detail is attended to. She made me feel super comfortable at my trial and was really helpful with planning out the logistics for the day, helping me to figure out all of the details related to having a big bridal party. She was very patient with testing out different looks and had great ideas: she chose a makeup look that would best fit my wedding style and really brought her passion and skill on the big day. She was exceptionally approachable and kind, and even made my mom, mother-in-law, and all my attendants feel very special. She's really a pro, providing great service and excellent professionalism. I wholeheartedly recommend Stacie!
---
Wedding makeup
Reviewed on

9/12/2014
Laura B
Stacie and her assistant did an amazing job at my wedding this August! I first met Stacie during my trial over the winter and I was immediately impressed. She was knowledgeable about each product she was using, explained her techniques, and noted how my skin and the makeup application might change on my summer wedding day. Her looks were soft and not overdone, which I loved. Stacie and her assistant arrived on time the morning of my wedding and neatly set up their professional array of products. Stacie made sure to note the color of the bridesmaid dresses and what our mothers were wearing to make sure the makeup would compliment it. Overall, I would recommend Stacie to any bride - she made me and my bridal party look flawless!
---
Top notch makeup artist
Reviewed on

9/06/2014
Cassandra P
Stacie did amazing makeup for me for my wedding. I found her after doing a trial with another makeup artist that was less than stellar. She is pricey, yes, but you get what you pay for. My wedding guests told me I looked like I should be on the cover of a magazine. Stacie listened to what I wanted, was very flexible in terms of scheduling and showed up early on my wedding day. She also helped calm my nerves when I started getting stressed out. I highly recommend her to all brides.
---
My Makeup Artist
Reviewed on

7/15/2014
Nehemie J
Let me start off by saying Stacie Ford is the most talented makeup artist I have met. She takes her time and is a perfectionist. She makes sure you are satisfied and goes out of her way to ensure you are happy on your special day. Prior to the wedding, we communicate via email/phone and she was quick, thorough and her prices were reasonable and so worth it! On the day of the wedding, she did an outstanding job.My bridesmaids looked phenomenal, and I was completely blown away by how fantastic my makeup was. We were all in awe of the great job she did. She is a masterpiece and you will not be happier with any other makeup artist than her. Stacie is also a great person with a great personality. Thank you so much for making me feel so special on my big day and making me and my girls look exquisite. Love Nehemie Varikos
---
Stacie Ford
Reviewed on

6/26/2014
Stacie is a true professional- very responsive, incredibly executed my "natural, but elegant" vision for makeup. Loved the way the makeup looked in person and pictures!
---
Incredible Makeup and Hair Team
Reviewed on

6/26/2014
Rachel A
I consider myself one of the luckiest brides to have been able to work with Stacie and her amazing team! They transformed all of us (my bridesmaids, mother-in-law, mom and myself) into looking and feeling the most beautiful we have ever looked. Everyone showed pictures of hair inspiration and were amazed at how close their hair looked to the photos! They let Stacie work her creative magic with makeup -- everyone looked stunning! She knows all the latest makeup trends, does incredible airbrushing/lashes and everyone looks natural and glowing! I cannot say enough about how talented Stacie and her team are! You will NOT regret hiring them to work their magic on the most important day of your life!
---
My Big Day!
Reviewed on

5/27/2014
Lauren B
Stacie Ford is an incredible make up artist! The first time I met Stacie was for my engagement photo shoot. I trusted her completely and was so thrilled with how I looked that I made sure she was doing my makeup for the wedding. Both times, I was incredibly happy. I felt amazing because I looked amazing! The makeup lasted all day and I didn't need to reapply anything but lip color. Stacie comes well prepared and in just a few minutes she already knows how to give you the look you want. I wish I could keep Stacie my little secret,and not have to share her. I highly recommend Stacie Ford! =D You will absolutely love the way you look!
---
Wonderful make-up artist and person
Reviewed on

5/20/2014
Ariel R
Stacie Ford was not only an amazing make-up artist who made us all look beautiful for our pictures, but she was a great person to spend such a special day with! She was attentive to all of our needs and flexible based on what each person requested. I would highly recommend Stacie for any bride looking for a natural and comfortable look for her wedding day. Throughout the entire evening, my make-up stayed on and looked great. Stacie's friendliness and knowledge of her craft would make her a great addition to your wedding day and help make you look stunning!
---
FLAWLESS MAKEUP
Reviewed on

5/20/2014
Jamie B
Stacie is wonderful! From the moment I entered her studio I knew I was in expert hands. During my trial she tried several looks and consulted me every step of the way. She seemed to know just how to bring out my best features without making me look overdone. On my wedding day Stacie took her time and meticulously crafted looks for me, my mom and sister. We were all wearing significantly more makeup than we wear in our daily lives, but it looked seamless and natural. Simply put - Stacie made us feel beautiful! I would highly recommend Stacie if you want to look like the best possible version of yourself. I can't wait to use her again!
---
Talent and grace!
Reviewed on

3/08/2014
From the moment I met Stacie, I knew I would choose her as the makeup artist for my wedding. She was warm, professional, patient, flexible and extremely talented. She understood the style I was looking for and delivered. Her ability to bring out the natural beauty in people shined through not only with me but all of the women in my wedding party. She was also very flexible with respect to the schedule on the day-of and coordinated perfectly with the hair stylist. As I was at times anxious in the moments leading up to having to get into my dress and meet my husband-to-be for photos, she was very calming. I highly recommend Stacie for your special event; she is top notch!
---
Amazing!
Reviewed on

2/26/2014
Laura L
Stacie is a true artist--or maybe a magician! She completely transformed me into the best possible version of myself, and I have never felt more beautiful. I had two other trials before I found Stacie. I am Asian, so I initially thought to go with an Asian makeup artist who might be more familiar with my features, but both of those trials were underwhelming. When I stumbled onto Stacie's website, I knew immediately that I wanted to work with her. She has an amazing aesthetic and an eye for colors and contouring. She was able to accentuate all the right things (with very little direction from me because I wasn't sure what I wanted), while still making me look and feel like myself. That was important because I don't normally wear makeup. On top of that Stacie is a lovely person and extremely professional. I wish I could get married again just so I can have her do my makeup again!
---
Amazing, Flawless Makeup
Reviewed on

1/26/2014
kit w
I cannot say enough great things about Stacie. The make-up she did for my wedding was flawless. Make-up was very important to me because I wanted to make sure that it showed up in photos but wasn't too much in person. She made my skin look radiant, did the perfect subtle smokey eye and helped me find the ideal shade of red lipstick. She is a master with the air brushed foundation and contouring to bring out all your best features. Not to mention, my make-up stayed on all night. I barely had to do any touch-ups. And to be honest, you can't beat her rate compared to the many, many other artists I researched. If make-up matters to you like it did to me, do not hesitate for one second to book her. I also recommend a trial so you can figure out what you want prior to the big day.
---
Stacie Ford Makeup
Reviewed on

12/03/2013
Maureen D
Stacie was amazing. Her and her assistant helped create the perfect look for myself and my 7 bridesmaids for my wedding in October 2013. After working with me through a trial-run we came up with the perfect look for my wedding day. I was hesitant to try the airbrush makeup as I typically wear very minimal makeup (very little eyeliner and concealer, and light blush). Stacie educated me throughout the process of air brushing and on the techniques that work best for my skin type, etc. I was adamant that I did not want to look 'over-done' - didn't want to go overboard with the makeup - and she ended up respecting that while still giving me the perfect amount so that the wedding photos turned out just as I would have liked them. I'm so glad i ended up using the airbrush makeup after all, it lasted for 14 hours and i received so many compliments and all of our wedding photos look awesome
---
AMAZING!! A true makeup artist
Reviewed on

11/30/2013
Jennifer A
Stacie Ford is absolutely the best makeup artist!! I am beyond grateful to her. She did an amazing job. My makeup lasted all day and night. I did not have to worry about my makeup at all. All my guest especially my husband complimented my makeup and how fabulous it looked. Stacie uses all high end products and has a huge selection to suit everyone. What I love about Stacie is not only her patience but her genuine interest in doing your makeup flawlessly. She guides you through her process by explaining why she is using a specific product, color and technique. I fell in love with the Temptu airbrush product so much that I am purchasing one for personal use. Stacie also did my mother's makeup and she was beyond happy. She also received many compliments the best one is that her makeup made her look much younger!! I can not wait to have Stacie do my makeup again!!!
---
Absolutely gorgeous wedding makeup!
Reviewed on

11/24/2013
Brianna K
Stacie absolutely killed it when she did the makeup for my wedding. Everyone who had their makeup done looked gorgeous - even my mom, who never wears makeup, was absolutely glowing and loved how she looked! I loved working with Stacie - she made sure that I was incredibly happy with my look and that I felt completely gorgeous on my big day. Everything about my look was totally customized to my features and reflected my vision - she even mixed 5 different eye palettes to get the look just right. The pictures I've seen so far have been stunning and the look lasted all day/night. She was great fitting everyone in and was super attentive during the process. I would recommend her to absolutely anyone - we loved working with her!
---
Amazing Job!!!
Reviewed on

11/19/2013
Mary
Stacie!! where do I begin! thank you so much for making me feel so beautiful on my wedding day! you did an amazing job. first thing my husband said to me when I met him at the alter was "you look beautiful!" "your makeup looks amazing" :) ... Stacie and her assistant Natasha made My bridesmaids , mom and mother in law look stunning ... Stacie was on time and kept in touch with me through my whole wedding process. I couldn't have picked a better makeup artist to work with. Thank you again! I will definitely be working with you again if I ever need my makeup done ! xo Mary
---
Send Message