Home

Starved Rock Lodge & Conference Center
About this Vendor
Starved Rock Lodge & Conference Center
Dreaming of an elegant wedding under a canopy of trees, then look no further! Starved Rock Lodge is the perfect setting for your wedding -- intimate to grand, we have it all! Under the direction of Starved Rock's Sales Team let us plan your ceremony, reception, rehearsal dinner or shower.
Amenities + Details
Amenities
Handicap Accessible

On-Site Accommodations

Indoor

Reception Area
For more details about amenities, please message the Venue.
Ballroom, Historic Venue, Hotel
Bar + Drinks, Cakes + Desserts, Food + Catering, Planning, Rentals + Equipment, Service Staff
Contact Info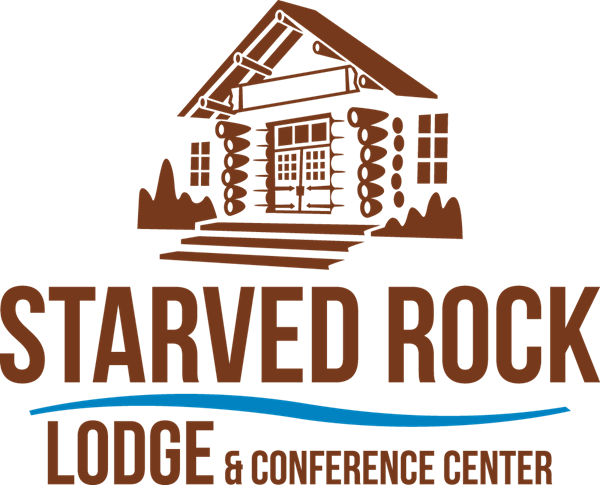 Rt. 178 & Rt. 71, Utica, IL
Simply Magical
Reviewed on

9/26/2014
Michelle P
My wife and I had our wedding here 09-12-14 and we can honestly say there isn't anything we would change about this venue. The grounds and lodge are simply breathtaking. We were supposed to have an outdoor wedding and the weather wouldn't allow for it, our consultant Margie was brilliant and made sure we knew that we could have it indoors and that everything would be taken care of. By the time the "I Dos" came we were thrilled with having it indoors. Everything about the lodge is beautiful. The staff there are the greatest staff I have ever encountered. Our guests were treated politely and with the utmost respect and my glass never came close to empty! Planning a wedding was very stressful; but the folks at Starved Rock made it as simple as possible and helped create the most beautiful day my wife and I could have asked for. The food was to die for! If we had to do it all over again, we would choose Starved Rock every time. We're already planning an anniversary get a way!
---
Perfect Day
Reviewed on

9/11/2014
Stephanie B
This was amazing place to celebrate our special day. All the literature Tiffany gave us helped us put the wedding together without forgetting any details. From the moment we set foot in her office and through the ceremony she was supportive of our decisions and maintained a professional, but courteous demeanor. If we had any questions Tiffany was eager to answer them and quickly relieve any anxiety we had in preparation for the ceremony. During the set up time she and the staff were extremely accommodating to our needs. She treated our day like it was your own, which made it feel special. The food during the reception was just as good as it was when we tasted it. I was shocked at how good it was. I didn't think something like that would be possible, but the staff outdid themselves. We had a couple tell us that our wedding dinner blew their wedding dinner "out of the water." High praises from someone that was married last month at Seneca's Oak Ridge! We were happy to see that the tables were released in a timely manner. Our co-workers, that were working, enjoyed the food we brought them after the reception. The staff did an excellent job cutting the cake and giving everyone generous slices. The layers of cake that we requested to be saved were waiting for us at the end of the night. Everyone had a wonderful evening and our wedding felt like a huge success.
---
Wedding of our dreams!
Reviewed on

8/29/2013
Rachel
Starved Rock itself is set in a beautiful location and the sales team (specifically Margie) does everything they can to provide couples the weddings of their dreams. Our wedding was elegant with a vintage-rustic feel. The best day of our lives for sure. My complaints are few but will be noted: The reservation desk was difficult to deal with. When our guests would call in to make their reservation many were told there was no "Gagliano/Nichols" wedding, or they were told there were no rooms left so they would have to stay somewhere else. We talked to Margie about it and she made sure the issue was corrected (and it was). The day of the wedding my bridesmaids and I were up on the third floor in the Hennepin room getting ready. I advised the front desk that 2 photogs and 1 videographer would be showing up between 10-11 and to send to Hennepin room. When they arrived the front desk would not tell them where to go. It was about 11:30 and I sent my MOH down to try to find them. Sure enough there they were (since 10am) completely lost because the front desk reps would not assist. My only other complaint is the trolley trip we purchased for bridal party pictures prior to the ceremony. The trolley driver would not start the trip until I told her exactly where to go. I only had a mental description of what I wanted so she wouldn't leave. When we reserved the trolley we were told that they do this every weekend and there are standard photo areas you go to. We wasted 45 minutes going back and forth with the driver until my photographer told her to just take us wherever she took last weeks wedding. We did not see any of the sites I intended to see, but hopeful our photographer was able to make the most of what he had to work with. Other then these situations we had such an amazing weekend and are beyond pleased with our venue choice! Our guests are still raving about the awesome experience! A couple even mentioned that I had the wedding of THEIR dreams at Starved Rock :) Thank you Starved Rock!!!!!!!!
---
Reviewed on

6/21/2015
Amber D
The Starved Rock staff helped our dream wedding become a reality on May 16, 2015. The entire year-and-a-half process was so much smoother than we thought it could be thanks to the talents and professionalism of all of the staff. We worked with Jenny in the sales office throughout most of our planning, and Dani also helped us on the day of our wedding. Throughout the entire planning process they handled last-minute requests, questions, and occasional changes with ease, and they were a pleasure to work with. The food and cake were delicious and received frequent compliments from all of our guests. Our guests also loved the venue and many took time to hike and explore the park during our wedding weekend. We couldn't have chosen a better place for our wedding and would gladly recommend Starved Rock to any of our friends and family.
---
Perfect!
Reviewed on

6/16/2015
Julie H
Everything about my wedding day was just perfect and Jenny made sure of it! So glad we had our wedding here, everyone said it was the absolute best wedding they'd ever been to :) Wouldn't have changed a single thing and highly recommend having your wedding here.
---
Amazing vintage, rustic wedding venue!
Reviewed on

10/08/2014
Claire M
I live in Chicago and after lots of looking around I decided that it was way too expensive to do the wedding in the area. For that reason, I expanded my search to venues outside the Chicago area. I found Starved Rock Lodge on the Knot website and gave them a call. They were very prompt to give me all the information I needed and after some discussion with my parents, soon to be in-laws, and fiancé we decided to go with Starved Rock. Tiffany, my wedding coordinator at the lodge, got everything very well organized and the wedding truly went off without a hitch. The trolley rental for pictures was a blast! Also, the service the day of was impeccable. They made sure my husband and I were well taken care of and all the food was hot and delicious. Overall, we had an excellent experience and all the guests gave us positive feedback. Highly recommend Starved Rock!
---
Wonderful Wedding Experience at Starved Rock Lodge
Reviewed on

9/16/2014
From the moment we saw the site, we knew it was the one for us. The setting and lodge are beautiful. The Sales Consultant was a wonderful help and planning partner throughout the entire process. Our photographer was very familiar with all the fabulous photo locations and captured our day in photos just as we wanted. In addition, the servers and staff throughout our wedding day and evening were so very attentive and shared our happiness with their helpfulness and smiles. An A+ experience from start to finish.
---
Definitely would recommend
Reviewed on

9/03/2014
Ingrid B
We just got married here August 31st. We couldn't be happier with the beautiful scenery at Starved Rock. Jenny, who I worked with through the entire planning process, was the best. She answered emails quickly and nicely. the only "negative" (if i even call it that) was there was a discrepancy with the trolley picking up guests before the ceremony: i had confirmed at least three times that there would be three hotels to pick up guests at, and feedback from guests made it sound like only two hotels were really stopped at. family of the groom said they waited about an hour for the trolley, when the hotel was a mile from Starved Rock. either way, we (and our guests!) are very happy with the ceremony and reception, and Jenny was an absolute LIFESAVER with dealing with my many many emails and questions. great deal as well!
---
Perfect in Every Way!!!
Reviewed on

8/19/2014
We recently had our wedding at Starved Rock Lodge and every detail was perfect from our Consultant to the Chef to the recommended DJ. We were even able to have the rehearsal dinner their the night before! The staff was overly accommodating, the food was outstanding and the service was five star. Everything was extremely affordable and did not compare to anything we had look at before! You get above and beyond what you pay for! We would recommend Starved Rock Lodge to anyone looking for a venue!
---
Beyond Amazing!!!
Reviewed on

8/17/2014
Maryn G
I got married at The Starved Rock Lodge recently and was beyond thrilled with my experience!!! From start to finish, the entire staff made everything so easy! Our sales coordinator Tiffany was the absolute best!!! She was ten steps ahead of me at all times so I never had to wonder where we were in the planning process. She was so patient and such a joy to deal with! The entire banquet staff was so polite and our guests commented on how nice everyone was. The food was delicious! My husband said it was even better the day of the wedding then at the tasting. They let you try so many options at your tasting, and the head chef Bear is so willing to work with you on tweaking menu dishes. We also got cupcakes by their pastry chef Mo and my guests raved about them all night! The entire staff at Starved Rock Lodge was top notch! I would recommend them to anyone and can't say enough how thrilled I am with our decision to have our wedding there. They made our day even more amazing then I ever could have dreamed of!
---
Starved Rock Lodge
Reviewed on

8/02/2014
Everyone was fantastic! The service was wonderful and the staff were very easy to work with. The guests loved the food and were impressed that it all came out hot! Margie and her team made decision making very easy.
---
AWESOME Venue
Reviewed on

8/01/2014
Samantha J
Starved Rock did everything for us to make this day ours. It wasn't just the sales/marketing team that was there to help, every staff member was amazing! Guest at our wedding were also amazed at the greatness of all staff. This is a great place to get married. I HIGHLY recommend Starved Rock.
---
Our Magical Day!
Reviewed on

8/01/2014
Natalie W
My husband, family, and I had the absolute BEST time at Starved Rock Lodge for our wedding! Margie-our wedding consultant-was truly amazing, and we would pick this venue a million times over--only unless we could have actually afforded getting in Disney, of course ;) -- I can't explain how many compliments we received from family and friends. The weather was perfect, and there was a quick and easy back-up plan just in case it rained. The food was UNBELIEVABLE. We couldn't believe the cost per plate ($50 max) and the portion size was nothing I've ever seen at a wedding before. We were looking for a place that was semi-destination (only about 1 1/2, 2 hours from Chicago) and ended up having practically having the entire lodge filled with our guests, so it was like one giant party! Everyone felt like the could really let loose and have a great time, not to mention the beautiful surroundings and wonderful service. The only thing I would have changed was longer reception hours. Reception hours only last until 11, but when we look back at our day, it ended up being perfect. At the time, we weren't ready to pack up, but we really felt like we left people "wanting more" so to say. However, after 11 we were able to sit on the back patio, have drinks and listen to the connected bar's live band, and stay out until 1 which ended up being perfect. Those who wanted to stay out had the option, and those who wanted to go to bed felt comfortable doing so. Also, we had our rehearsal dinner the evening before. We were out in front of the lodge for the meal, and completed the evening with a fun bon fire! Honestly, I'm not typically a person who writes reviews, but I just can't boast enough about how perfect our day was. Also, the preferred vendor list supplied by the lodge hooked us up with some great music and entertainment. Even though it's a small town, you can get "city quality" for less than half the price. We had 136 guests attend, and it was the perfect size. I truly can't say enough wonderful things-it was exactly what my husband and I were looking for--somewhere fun, UNIQUE, affordable, and personal. 5 stars from us!
---
Winter wonderland Wedding
Reviewed on

2/09/2014
Amber
I just had my wedding at starved rock lodge in January and it was wonderful! The scenery was great and the staff was very helpful! It was nice having everything in one place(especially since it snowed). The only thing I wish it could have had was a room to store the decorated the wedding so we didn't have t try to did peoples rooms to put the the decor in once the reception was over. Very romantic and memorable experience!
---
Food
Reviewed on

1/28/2014
Ashlie M
Appetizers, dinner and dessert were amazing! Good variety and flexible with alternatives.
---
Starved Rock Lodge (Beautiful)
Reviewed on

9/21/2013
Brandi B
Starved Rock was amazing to have our wedding at, the outdoor location was beautiful. The entire wedding was reasonably priced and you really cannot find a more scenic place to have a wedding outside. The staff at starved rock were amazing in planning the wedding, always answering questions immediately and kept in contact about any updates. The trolly is a great idea but beware of the trolly driver Ava, she really does not know where to go to take pictures in the area. The ceremony site was amazing with a great back drop of the mountains and trees. The reception was so accommodating for a large group of 200. It was really nice that the dancing and bar were in the starved rock room and that they had extra seating in that room, people took advantage of the seats to jump off and on the dance floor and older adults were able to enjoy the music from their seats. It was great that the open bar was in that room because it meant that the people were always in the room. Also, if people needed to step outside for a smoke or to get some air the doors all opened. Overall, our experience at Starved Rock was a great one, and we plan on visiting every single year from now on.
---
decent cake
Reviewed on

8/19/2013
Bridgette
the cake tasted pretty good and they had a variety of flavors, but i have definitely had better cake. the cake looked great and was exactly what we wanted, but the baker was really hard to get in touch with and often didn't return phone calls.
---
Very pleased!
Reviewed on

7/13/2013
Elizabeth B
Everything turned out great! Very helpful with everything!
---
Starved Rock Lodge
Reviewed on

2/12/2013
Carrie M
Amazing and beautiful location! The staff is very helpful, and availible for any questions you may have. They will give you a perferred list of vendors they have worked with before and I went straight off of it to find my officiant, photographer, and hair and makeup. They were truely amazing!
---
Starved Rock
Reviewed on

12/10/2012
Jennifer B
We loved having our ceremony and reception at Starved Rock. The staff was super helpful and made our day amazing. The only reason I'm giving it 4 stars out of 5 was we ran into some minor issues around the Christmas decorations and reserving a space for the rehearsal. Overall though it was great. Our guests loved the lodge feel and enjoyed staying there over the weekend!
---
Trolley
Reviewed on

11/06/2012
Ashley F
We rented the wedding trolly and honestly this was hands down the funnest part of the wedding!
---
Had a great time thanks to the staff!
Reviewed on

9/17/2012
Haley F
This was a really great venue for our wedding! We worked with Jenny, one of the two coordinators, and she was really wonderful. We planned the wedding from the east coast, and Jenny was so responsive to emails, our questions, and offered her honest opinions when asked. We appreciated her work! The ceremony site is really beautiful, as was the Great Hall/Starved Rock room where the reception took place. The food was really good, and the dinner was served efficiently with the food very hot! It was a really great space overall, but one of the things we appreciated most was how accomodating the staff was and their flexibility. They offered to let us store some boxes overnight in their office if we needed it, and when I forgot my bouquet in the lodge before my ceremony, a staff person even picked up one of my bridesmaids and drove her back to the lodge in their golf cart to help her! We just could not say enough good things about this venue, staff, and the park itself. The guests also seemed to enjoy the fact that they could rent cabins to stay in and could explore the park in their downtime. So much fun!
---
Perfect destination wedding!
Reviewed on

12/11/2011
Bethany P
We were married in November at Starved Rock in the Great Hall. We were lucky enough to have Jill work with us every step of the way from when we were first engaged through the wedding day. We had our rehearsal dinner, ceremony, reception and farewell breakfast all at the lodge and we stayed the weekend there as well. Jill and the rest of the staff was very friendly and helpful. The location is beautiful and our food was amazing! And it was an incredible value (compared to venues in the Chicago area where we are from). We highly recommend Starved Rock for all of your events! :)
---
Great Rustic Venue
Reviewed on

12/01/2011
laura h
Starved Rock Lodge and Conference Center was an amazing place for our wedding. We had our ceremony and reception in the Great Hall and it was a beautiful setting and PLENTY of room for the 160 guests that we had. The price was very reasonable for the food, bar and cake. The food was delicious and our cake (made by the in-house baker) was gorgeous! The outdoor scenery made for perfect pictures (even in early November) and there were plenty of places for gorgeous pictures inside the rustic lodge. The event staff was very helpful and always responded immediately to any questions that we had. We planned the wedding from 1000 miles away and had no issues. Our guests loved staying at the lodge and we were able to use the trolley service to transport guests to/from 2 seperate offsite hotels. The only reason we give 3.5 stars for flexibility was because ceremont/reception times for Sat. weddings is pretty set in stone, but they do let you decide day of if you want an indoor or outdoor wedding. Overall an amazing experience and a great place for a rustic wedding!
---
Wonderful rehearsal dinner!!
Reviewed on

10/07/2011
Andrea S
We chose Starved Rock Lodge for our rehearsal dinner for our June 2011 wedding. We rented the porch room, a gorgeous space with huge windows looking over Starved Rock State Park. It was next to the bar area and the beautiful outdoor veranda. We had a "family style" dinner, where big and never ending bowls of different food are brought out onto the tables and everyone can take what they want, which is especially great when you have people from all age groups. We had about 40 guests and two long tables. The food (chicken, fish, potatoes, pasta etc) was ABSOLUTELY DELICIOUS. And we got to take the left overs home with us! One drink per person was included in the package price, after that everyone paid for themselves. There was a big variety of wines and much more. It was a wonderful, unforgettable night-before-the-big-day :)
---
Send Message