Home

Steady State Studios
About this Vendor
Let's make the most of your wedding day!
There's a reason our brides are crazy about us: Steady State Studios excels in elegant, affordable videography and photography for your special event. Our wedding videos will leave you with that just-married feeling again and again, and you'll cherish the simple beauty of our gorgeous creations.
Details
Digital Files, Photo, Highlight Video, Video, Photo + Video
Contact Info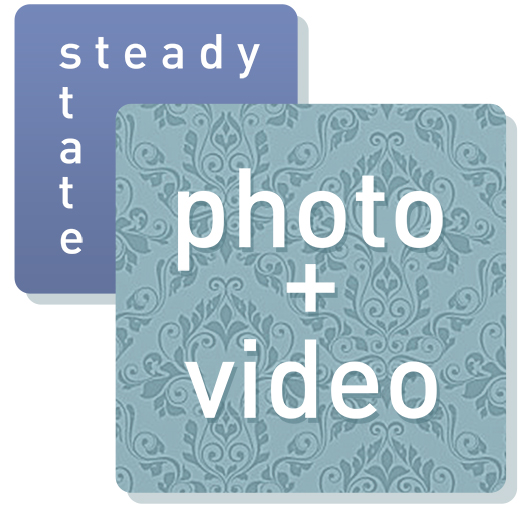 938 Sagrada Circle N, Salem, OR
Best Money We Spent on our Wedding
Reviewed on

1/04/2014
Katie and Michael D
Jason and his team from Steady State Studios are quite remarkable. Not only was our wedding video completed in a timely manner, it turned out even better than we had hoped! I have two friends who paid twice as much and had to wait six months to receive their sub-par wedding videos. We, however, are thrilled with the finished product. They did a beautiful job capturing the details and nuances of our special day. Wedding videography was a last minute addition to our budget but I am SO thankful we worked with Steady State. On top of a beautiful and personable wedding video, Jason went out of his way to personally deliver the first draft of our video to our house on New Year's Eve! Even though our video was sent back to him as "not deliverable" by the post office, he personally drove the video to our house so that we didn't have to wait any longer to view it. I HIGHLY recommend Jason and his team at Steady State.
---
Perfect!
Reviewed on

1/09/2015
Morgan B
Jason was great to work with! He made leading up to, and the day of, a breeze for me and my husband! The photos all turned out better than I could have hoped; there aren't any photos that I wish I had gotten. He jumped in a few times throughout the night to get some shots of us that are some of my favorites now. And he was super understanding about us running a little late for our first look (I shouldn't say us, it was just me that was running late). He did a great job at the wedding, and I would hire him a million times over if I had to redo it all (but gosh, I'm glad I don't). The thing about Jason that made me hire him in the first place was how fast he responded to emails. He answered all my questions faster than anyone else, and was incredibly personable and nice. I will be referring him to all my engaged friends! Thanks Jason for everything!
---
Amazing videographer and great service!!
Reviewed on

1/03/2015
Ashley M
Steady State was so easy to work with, flexible to meet our needs and made an amazing end product. We had the package with a trailer and so many of our friends and family commented how well it was put together and such a good memory to hold onto. Jason was always quick to respond to emails and phone calls and Kevin did a great job the day of on checking in with us but also allowing us to enjoy our day. Many of our guests commented they didn't even realize their were cameras around. I would highly recommend Steady State for high quality, good service and affordable price.
---
Professional, Knowledgable and GREAT!
Reviewed on

3/11/2015
Lana G
Steady State Studio captured and produced a perfect producted of what I wanted when I didnt even know what I wanted!!!! I couldnt be more happier with my wedding video - I would choose and recommend these guys over and over again. They were wonderful on so many levels - Our wedding was a bit complicated and Steady State Studio was able to capture everything that was important. They did their homework and spoke with us countless times about what was important to us on the big day! On the day of I didnt even know they were there capturing all the little things that we would never know about. When it came to editting time; Kevin England of SSS put together an amazing video and patienly worked with us through multiple rounds of edits....it's not easy working with a bride and a family who's all over the place. And finally, these guys have the best prices and flexibility in town! I highly recommend them and would give them more than 5 stars if I could.
---
Look no further...These are the guys!
Reviewed on

1/05/2015
Liezl S
Amazing people to work with! The videographers were extremely easy to work with - professional, flexible, and had fun personalities. I did all the coordinating from out-of-state (we live in FL and our wedding was in OR) and they were great at responding to questions and requests quickly. My husband and I were so happy with our wedding video!
---
Amazing
Reviewed on

1/03/2015
L A
This team offers two most important qualities: professionalism and affordable prices. Jason, with whom we worked, provided clear and fast communication ( I was planning a wedding while in grad school, so this part was crucial). The team is very flexible and they are willing to create the video that YOU want, not cookie-cutter piece. Our video gives us warm fuzzies, especially because it has all those little moments that we did not notice.
---
Perfect Choice
Reviewed on

9/07/2014
Stacie
Jason with Steady State Studios provided exactly what I wanted out of my wedding videography! I knew I wanted the ceremony recorded but a $3000+ video package was not in the budget. I discovered Steady State only about two months before my wedding and emailed and talked with Jason on the phone. We were able to create a package that worked perfectly for our needs. Jason was great with the guests and captured all the important moments. Once the video is created he allows you to make changes, however, we didn't see any necessary. We received an edited full length recording and a shorter "highlights" film.
---
Jason is warm and personable, we got great service and beautiful photos,
Reviewed on

9/22/2013
Amanda R
Jason did a wonderful job for us. We are an older couple with a quirky family; and in no way do we resemble Barbie and Ken. He was sensitive to that without our having to say a word. He treated us as individuals and was totally unflappable when almost everything that could go wrong--DID! He was warm and personable, and interacted beautifully with everyone there. Our grandchildren loved him and he drew out their personalities so well, it was like they had always known him. At other times he seemed invisible and got amazing candid shots throughout the ceremony and before and after. He captured our beautiful, funny, unique, happy quirkiness in the most beautiful way, The pictures turned out amazing, we love them and our family loves them. I can't recommend Jason highly enough! Thank you, Jason, you ROCK! Amanda G.
---
Great Wedding Day Experience
Reviewed on

7/23/2013
Jean Y
Jason at Steady State was *extremely* accommodating. He was very flexible with what we wanted to do and open to any changes, even if they ended up being last minute. He was unobtrusive throughout the ceremony, and it looks like he got some great individual interviews with different guests. Several guests even made positive comments about their experience with Jason. I'm really looking forward to seeing the final product!
---
More than just a Videographer
Reviewed on

6/26/2013
Susan M
Jason was absolutely amazing to work with. He is extremely professional, yet totally down to earth and makes you feel like you have known him forever. He was so great at the wedding I didn't even realize he had taken some shots until I saw the video! Jason and I had many email exchanges and he was always prompt to answer any questions. He was VERY flexible and always positive. After the wedding we had talks about the video and any changes I wanted (which were only a couple because it was already so terrific) he was able to change so fast and easily. He went over and beyond what I expected. He definitely knows what he is doing! I would give him 5 out of 5 stars and and an A+++ I will actually really miss him now that we are done with our communication about the wedding and video. It was truly my privileged to have hired him.
---
Gorgeous Videography with a fun team!
Reviewed on

5/17/2013
Cortney C
I cannot say enough great things about Jason and his team! From our very first meeting, Jason's enthusiasm and willingness to work with us to find a package to fit our wishes AND our budget won me over. He is quick to answer any questions, often emailing back immediately. He and his associates are very professional and having them at our wedding was just like having extra friends there (very talented friends). They were efficient, personable, and very enjoyable to work with on the day of our wedding. We've received the first draft of our video and it looks incredible! These guys put so much effort into making our special day look artistic and real on the DVD. Jason even asked my opinion on the draft and made a few minor tweaks to get it just right. If you are looking for a top videography team who can capture your wedding and give you an amazing product at a great value, Jason and his team are it!
---
Fantastic Videographer and Photographer Package
Reviewed on

12/03/2012
Meghan S
From Day one Jason was willing to answer any questions I had about anything having to do with his role in our wedding. He was so accommodating and so willing to discuss and explore the options and what we wanted. Not once did I feel stressed during our big day, and we have so many great photos to prove that. It seemed that my smile was bigger and bigger in each one, showing how truly carefree I was that day. If you want every moment captured, these are the guys to hire. They even hung out with my two year old nephew who took a liking to the cameras! There aren't enough words to describe how great Jason and his team are!
---
OUTSTANDING!!
Reviewed on

8/14/2012
Shaina T
Jason and Steady State Studios are awesome! My daughter's wedding was just a short time away and the guy who was going to video tape it couldn't do it. It was so crazy… I went on the internet every chance I got to search for a videographer. I found Steady States and emailed them. Jason responded quickly and was totally personable, patient and so flexible. He was familiar with the venue having filmed there before. They showed up on time, set up quickly. I had about two minutes to tell him what I wanted but it was unnecessary…he knew just what to do. He coordinated with our photographer and with all the people helping out. Everyone there was so impressed. They totally made sure they got all the key stuff filmed while they were there. The wedding was beautiful and so was the video. We smiled through the whole thing…I cried. I would highly recommend them to anyone. Holly T Mother of the Bride The videographers of Steady State Studios were amazing! They were very kind and understanding to our needs, and approachable too. It was such a relief to have them there because they were very professional; they already knew exactly what to do because they had worked there before. They definitely went above and beyond with their video recording skills and the composition of the video was amazing! The quality was excellent! We are so glad we were able to work with Steady State Studios because they definitely captured the essence of our wedding. They were spectacular! We would DEFINITELY recommend them to our friends and family! Shaina and Kyle H
---
Amazing!
Reviewed on

7/05/2012
Royalynne Rose M
I had them do both my photos and my video and they did a wonderful job. Always moving and getting every angle. I've seen mos the pictures and they are wonderful. I can't wait to see the video!
---
Customer service is stellar
Reviewed on

6/18/2012
Lailani S
I had emailed Jason at like 1am because I was doing some late-night vendor searching. And he responded back almost instantly! And from there I was completely sold on his witty humor and fast email responses to my questions. I literally laughed out loud reading our conversations and I thought to myself that if this is his personality through emails, then I know he's going to be an awesome vendor. He sent me some footage of past weddings I loved his work! On wedding day, they were on time, funny, and blended in pretty well for running around with 2 cameras all day. I can't wait to see the finished video!
---
INCREDIBLE!!!
Reviewed on

3/26/2012
Jennifer H
Jason and the group at Steady State are AMAZING!!! They have been super to work with and VERY responsive. Not only did they produce an amazing video they went above and beyond and helped out at our wedding! Jason even helped serve our wedding cake!!! I've only watched the video about 1000 times, I'm amazed at how little I actually was aware of during the actual day! Thank you is so NOT ENOUGH. I don't recommend business lightly, and I would tell ANYONE that Steady State is "State of the Art!", you won't be disappointed! AND their prices are really reasonable!!! Thanks again Jason for making our day amazing!!! Jay and Jennifer Hughes!
---
Wonderful day on camera
Reviewed on

1/10/2012
Anita O
Steady State did fantastic work with the video of my wedding day- he was easy to work with and the details came through smoothly & efficiently. We are so glad and grateful for thier work! Excellent packages available and they worked with our special concerns in a great way.
---
These guys are the MEN for the JOB!
Reviewed on

10/12/2011
Niki L
I got married in July 2011, and hiring Steady State Studios was the best decision that I made for my wedding. No doubt Jason and Kevan were the right guys for the job. They were professional, friendly, and super patience to their customer. My wedding was a Vietnamese wedding, meaning it took the entire day to shoot, (12-16 hours that day) Jason and Kevan worked so hard on my wedding day, which made me feel so comfortable, relax, and super happy with the result. They were love by my friends and both families. What impress me the most was the language barrier between two families and Steady State. Jason and Kevan smooth their way in with the Vietnamese guests and our family, not knowing or understand Vietnamese, they managed to finish the job, well done! I highly recommend Steady State Studios to any future couples, you will not regret hiring them like me for sure! If you are the type that demand for superior customer service, Steady State Studios deliver the best customer service hands down!
---
Still waiting on DVD, buuuuut
Reviewed on

7/28/2011
Brittany D
I loved working with these guys! They are so professional, and I think, love their jobs. I haven't seen the final product yet but if you have a budget like ours (videographer under $800) than go with these guys. They film you all the way through your day and edit the final product to music/vows/guest interview, etc. I can't wait to see it!
---
Would Happily choose S.S.S. again!
Reviewed on

4/02/2011
Alyssa T
We have received so many complients from our guests, everyone loved that they were so thorough with making sure the bride and groom got a picture with EVERY singe one of the guests. We had them do both the pictures and the video. They were very affordable, and easy to talk to about any concerns we had for the day of. Would definitely use them again!
---
Very personable vendor!
Reviewed on

12/29/2010
brittany e
I cannot say enough good things about Jason and Steady State Studios! They are such an amazing company! I loved that I could talk to Jason through email and actually have a conversation, he got back to me so quickly! When the day came, Scott, the cameraman, was so professional and we hardly even knew he was there! When we did talk to him, he offered to stay past the allotted time to finish shooting the rest of the reception! talk about caring about your customers! They are truly among the best and I HIGHLY recommend them to anyone!
---
Lasting memories for father of the bride
Reviewed on

12/03/2010
Stacy D
As the father of the bride and of an only child I was very concerned about the videography of my daughters' wedding. There are no re-takes. Steady States Studios did a fantastic job! They captured all the important moments and created a fantastic video of the wedding. Just as important, they are quick to respond to any request or concern. They are not just a big cold unreachable business! They understand brides,weddings and families. You are not just another customer to them. As an experienced father of the bride I would highly recommend Steady State Studios. There are to many things you need to get done and be concerned about for your big day. You can check "videography" off that list if you use their services. Mark Hershey
---
BOOK THEM NOW!!
Reviewed on

12/02/2010
stephanie s
I loved Steady Stade Studios! They did such a great job of capturing every moment of our big day. I cried when I got to watch the dvd. It was like re living that magical day over again. If you're debating to have a videographer or not, DON'T debate just do it! Or you wil regret it!! :)
---
Great Videographer! Exactly what we wanted!
Reviewed on

11/29/2010
Kate R
I was unsure about whether or not to get a videographer, and I didn't want to spend an arm and a leg. When I found Steady State Studios, I knew I had found the right company! Jason answered all my questions correctly, and he followed through! He was an absolute pleasure to work with, very responsive to emails, and did a great job the day of. We just watched out wedding video for the first time, and we couldn't be happier! The video quality is great, and it is clear that a lot of thought went into the production. Another aspect that I really like about Steady State Studios is that they give you all of th raw footage. I found a lot of companies who charge twice as much, and refuse to give up all the footage they shoot. I am so happy with Jason, and I would definitely recommend Steady State Studios to a friend!
---
Great vendor!! Steady State Studios!!
Reviewed on

11/27/2010
Deanna C
We searched forever for a videographer and almost gave up before we found Jason of Steady State Studios. We were not only looking for someone who would fit within our budget, but also for someone who would capture not only the beauty and excitment of the day, but also the the reverence of the ceremony as well. We also wanted someone who would capture the fun and relaxed atmoshphere of the reception. Jason of Steady State Studios was fabulous! He was professional and very fun to have at the wedding. He took his time to scope out the best location(s) to shoot from. He wirelessly miked Dylan (the groom) to make sure that the sound was crystal clear for the video. He asked around at the reception for anyone who would like to leave a video message for us on video!! He was so flexible and he made sure he captured all of the special moments of the day!!! Although he was always where we were, he was never noticed because he was in the background and very non-intrusive. He never blocked the view of any of the guests and yet, he was where he needed to be to capture the special moments!! Jason was so amazing. We couldn't imagine using anyone else!! I am so glad he was part of the wedding day!!
---
Send Message