Home

Stella Harper Events
About this Vendor
SHE will make your dream wedding a reality!
Stella Harper Events is dedicated to making your wedding visions a reality. No matter how simple or abstract, our attention to detail is unparalleled. We strive to provide a relaxing, stress-free planning experience resulting in the wedding of your dreams.
Details
Available for Consultation Only, Available for Wedding Day Coordination, Full Coordination Services
Contact Info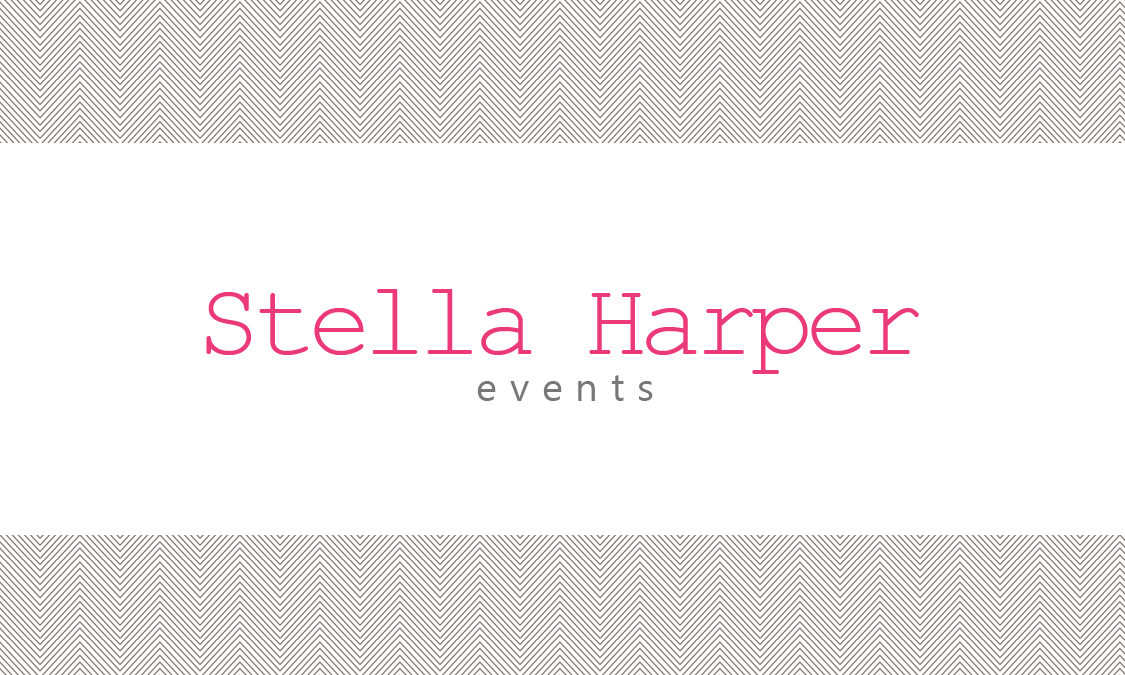 The absolute BEST wedding decision you'll ever make!
Reviewed on

6/13/2014
Lauren M
My husband and I got married in April, and I can truly say that hiring SHE was the best decision we ever made. After meeting with a few potential vendors, we were feeling pretty disappointed because none of them seemed that great. However, immediately after our first meeting with Emily, I turned to my now husband and said, "she's hired." Luckily, he loved Emily and SHE just as much as I did. Emily put us at ease within the first few seconds of meeting. We could tell she was extremely confident and competent, with the experience to back it up. The amazing reviews don't lie - SHE is that good. It's not often you meet such a professional that you can also see yourself being friends with, but that's exactly what happened with Emily! She was there throughout the entire planning process, even though we only purchased the rehearsal and wedding day package . I could always ask her questions, and she would respond so quickly, which is a stressed out bride's dream! Our wedding day went off without a hitch! Emily and her team took care of every single aspect. I did not have to worry about a single thing. I knew that all of the details would be taken care of. It was so nice to be able to let go of my "Type A" personality for the day. I can't stress enough how much Emily and her team went above and beyond. From vendor deliveries, to reception layout, to timeline creation, Emily nailed every single aspect. Everything was exactly how I wanted it. If anything went wrong, I will never know, because Emily took care of any problems immediately, always with our vision in mind. I'm sure all brides will agree that's exactly how it should be. :) Emily put my entire family at ease. My mom simply couldn't stop gushing about how much she did to take care of her. Emily even went as far as to follow my husband and me around with our drinks while we took pictures during the cocktail hour. Now, that's great service! The best part is, Emily was 8 months pregnant at our wedding, and she still absolutely rocked it and worked SO hard to make our wedding day a complete dream! We got WAY more than what we paid for by using SHE. The prices are so reasonable to begin with, and the quality of service SHE provides is well worth the money spent. I could gush for days about Emily and SHE. Hire them - I promise it will be one of the best wedding decisions you'll make!
---
From the Mother of the Bride...
Reviewed on

10/06/2014
My daughter was married in Atlanta on September 27th and as the MOB I am still smiling about her BIG day! We live in Connecticut and I knew that planning the wedding from a distance could be a challenge, but hiring Stella Harper Events with their Complete Planning Services made the entire planning process, rehearsal, and wedding day go smoothly. From the very first moment I talked with Emily, I had an instant connection with her and I knew she was up for the job. She was all that and MORE! Emily has a true passion for what she does! She's enthusiastic and loves weddings. As simple as that sounds, it is important that your wedding planner love her job! Emily was extremely organized. She is able multi-task and enjoys being busy. She was very knowledgeable…recommending vendors, negotiating contracts, attending vendor meetings and taking notes…making sure all details were taken care of and keeping everything on track with timelines and checklists all the while keeping to the vision of our wedding. Emily is a great communicator…and listener. She hears what you are saying, when at times, I wasn't even sure what I was trying to verbalize! As this was our first wedding…we had many questions. She was always there for us…quick with an email back, text or a call. Whatever the situation called for, she was within easy contact. When I couldn't be at a vendor meeting with my daughter, I felt at ease knowing that Emily was there with her, right by her side. The day of the wedding Emily and her team are INVALUABLE. The entire SHE team all worked tirelessly and competently. I can't imagine taking care of all the details and coordination they did that day from beginning to end. Emily and her staff have such great composure…always calm and reassuring...no matter what the situation. I'm sure there was a lot that went on behind the scenes that day, but everything went smoothly. I was able to enjoy the wedding as if I had been an invited guest. We enjoyed Emily's personality throughout the entire planning process…not only is she knowledgeable and organized…she is so friendly and has a great sense of humor! A wedding planner with a sense of humor…is hard to beat! The check that didn't hurt me to write was to Stella Harper Events. Emily and her team deserved every penny and more! I have joked about how hard it was going to be to "break-up" with our wedding planner, but after almost a year of constant communication with Emily…it's the truth. I HIGHLY recommend Stella Harper Events. Emily and her team are worthy of all 5 stars…and more!
---
There's a reason why they're 5 stars
Reviewed on

6/11/2012
Stella Y
I've been married only three weeks and I'm already on Wedding Channel giving Stella Harper Events (SHE) a review. Yes, our experience with them was THAT amazing that I really don't want to miss any of the details before it all becomes a huge blur. To give a bit of background, I was planning my wedding from out of state so I knew that having an event planner would be key. After not getting some call backs (terrible thing if you're a wedding planner, btw), I got in touch with Emily, the founder of SHE, and I fell in love right away. As they say, "You just know". ;) She was incredibly down to earth & funny, and her heart & passion for her work were evident even in the first moments of our conversation. We decided on the "Month of" package and imagine our delight when Emily was responding to emails and random questions, sending us vendor referrals (she is well connected!), etc. far before we even entered the last month. This spoke volumes about her character and showed just how willing she was to help clients even if it wasn't contractually necessary (unfortunately, this is pretty rare in the wedding world…). The last couple of weeks were hectic for me but knowing that Emily was so organized and on top of every single one of my emails (which had accumulated over several months by now!) relating to vendors, wedding day timelines, etc., made my anxiety vanish and I was able to focus on just a few things rather than everything at once. I can't stress these next words enough: Our wedding day was UNBELIEVABLY calm and stress free (even our pastor thought it was so weird to see such a calm bridal party just chilling before the ceremony started)! From the moment we arrived at the venue, I really felt like Emily's #1 priority, and I can't emphasize how important this was for a bride on a day where so many things can potentially go wrong. I had a couple of communication errors with our caterer and Emily was able to step in and rectify the situation right away. Deciding on SHE was hands down THE BEST money we spent. There's simply no price tag on "peace of mind" and I'm so grateful that I can look back on our wedding day and all I feel is a sense of calm – no tears, no freaking out, no Bridezilla moments. I could really go on, but here's what you can expect if you ever work with Emily/SHE: - A "Type A" event planner that is actually pleasant to be around. Top notch professionalism but with loads of humor (the girl is funny!), yet she never misses a beat – not a single one. - Punctuality at vendor meetings and the incredible ability to think of questions on the spot, various scenarios that could occur, and to consider all the moving parts of a wedding as a whole. - Incredible calmness. This is SO important as an event planner! - Bride is the priority: She will always ask how you're doing, if you feel uneasy about anything and if you have any concerns. The second you express any concerns, she's already on top of it. - An event planner that is as involved as you want her to be – she can adjust and adapt to any situation. Lastly...Emily is one of those people you meet and you instantly want to be her best friend, seriously. She's so much more than a "vendor" and this is certainly one relationship that's come out of the wedding planning process that I'll cherish. Emily - Our words are so paltry but if you're reading this, thank you for making our wedding day dreams come true. We adore you and wish Stella Harper Events the best!
---
S.H.E. CREATED OUR DREAM WEDDING!
Reviewed on

5/03/2015
Meghan K
Hiring Stella Harper Events to help coordinate and plan our wedding was the BEST decision we made! We got married April 11, 2015 and had the most STUNNING & PERFECT day! SHE brought to life every aspect of our dream wedding. During the first meeting when I was describing roughly what we wanted and things that were important to us, Emily went above and beyond anything we ever imagined!! When it comes to planning a wedding I was clueless at how many moving parts and details there are involved in the planning. But SHE was incredible at helping us with every part and ensured that we stayed on the planning timeline so that we could have everything we wanted for our wedding day. Emily was incredible and guided us through the entire process and was there each and every step of the way. She was so poised and calm that Emily immediately made me feel at ease and confident. She also made me feel like that my opinion and happiness were the most important! Anytime we had questions regarding any vendors or had a hard time making a decision, Emily was fantastic at talking us through it. If there was anything we wanted, they took care of it promptly. The vendors SHE is partnered with are the ROCKSTARS of their individual fields! Emily was able to get us the most talented and creative vendors, who are incredible at what they do and were able to capture our vision perfectly! I can not express how incredible and easy SHE made the entire wedding planning process for us. Emily took care of things before I even had to ask, she was attentive and checked in with me personally after each vendor meeting to make sure I was happy. The day of our wedding was absolutely FLAWLESS and that is all because of Emily and Brianne's hard work in taking care of things behind the scenes and making sure that there was not one thing I needed to stress about or fix. The best money spent on the wedding was hiring SHE and their beyond brilliant and talented team! We love Emily, Brianne, and all the talented SHE coordinators!!! Meghan
---
Amazing Service and Great People!
Reviewed on

4/07/2015
Ashley R
I cannot say enough about Stella Harper Events! I hired Erin as my Wedding Coordinator and we became instant friends during the process. It was great having her as my coordinator as she was a great guide during my wedding planning process. She absolutely knew what she was doing and provided the best recommendations and guidance. Not to mention, Stella Harper Events also partners with the best vendors as we found our Photographer, Videographer, and Transportation all through them and their connections. Erin was so easy, such a pleasure, and so much fun to work with that we became instant friends during this process. I cannot stress enough how everyone getting married needs Erin in their lives! We also had Courtney as a second coordinator on the day of and we love her also! Two great ladies that helped make our day go so smoothly and without a hitch which then in the end allowed me, my Husband, and our families to have the best time of our lives during the wedding weekend and really during the whole wedding planning experience. LOVE LOVE LOVE Stella Harper Events, especially Erin and Courtney!
---
Made our day seamless!
Reviewed on

1/31/2015
Sarah W
We hired a day of planner via Stella Harper Events, and were blessed to work along side Courtney Drake. Hiring Courtey with Stella Harper was hands down one of the best decisons we made and well worth the investment! Courtney was so sweet and caring, professional and organized, and made sure every "i" was dotted and "t" crossed before the big day. She literally erases all of the stress that comes along with a wedding day and makes sure that you or your family don't have to lift a finger or sweat the small (or big) stuff that come up along the way- we were able to enjoy ourselves and dance the night away without any concerns! The entire timeline of the night went off seamlessly, and Courtney was always available whenever I needed her that night whether it was to adjust something in the schedule or spray my hair with extra hairspray! I don't know what I would have done without the lovely ladies at Stella Harper! Highly recommend to any bride to be:)
---
Absolute best wedding planner!
Reviewed on

10/30/2014
I would not change a thing about our wedding day - and that thought makes me the happiest! It was the best day of our lives and a lot that perfection is thanks to Stella Harper Events and its owner Emily. My family lives in Connecticut which meant as soon as my then fiance [now husband!] and I got engaged, a lot of the wedding planning would be done over the phone/computer, with a few visits made here and there. We hired SHE from very early on in the planning process and from Emily and my first meeting we immediately clicked. She has so many amazing vendor referrals -cake, flowers, caters- the absolute best in Atlanta and I am so thankful for her amazing recommendations. It was so nice to have her by our sides throughout everything. Not only was Emily there for every vendor meeting, she really went above and beyond -- offering to come by our home to go over wedding logistics and even meeting me at a bridal boutique during my indecisive wedding dress phase! She was happy to be there and a part of it all and that meant a lot to me. To be honest, I often forgot we weren't SHE's only wedding. ha! It was so easy too!! Emily was always there for us whether it was an email, text or call back. We were constantly connected and that was huge - I can't stress that enough. Emily would often say how laid back I was, but a lot of that was because of her. A couple days before the wedding I remember thinking what is there left to do? Searching my brain for something! Anything! But no, everything was done and that was the greatest feeling. I was able to soak up so many once-in-a-lifetime-moments because I never had to worry about any last minute details and for that, I am forever thankful. When it came to the actual wedding day - total breeze! My focus was completely on my sweet bridesmaids, my gorgeous white dress and my most handsome groom. Never once did I worry about timelines or place cards or wedding day logistics. I was able to solely focus on the greater purpose, the reason behind all glitz and glam and planning! Emily - thank you so very much. Your friendship, teamwork and guidance are indescribable. I feel so honored to have gotten to know you throughout this amazing process and am so grateful for everything you and your team did along the way to make Septebmer 27, 2014 the best day of our lives. xo!!
---
All Smiles
Reviewed on

10/27/2014
R L
It's been almost 3 months since our wedding day, and as we look back the vendor who made our day complete was Emily and her Stella Harper Events team. They were knowledgeable, professional, and oh so fun. Emily helped refer us to the perfect vendors for our event and kept our big day running smoothly. A million thanks and smiles SHE team!
---
The best decision we made!
Reviewed on

10/26/2014
Kyrslyne M
Words can't even express how thankful and happy I was that I decided to go with SHE for my wedding services. I actually met with 3 different wedding planners and then I met Emily. From our first meeting, she was very professional, knowledgable, full of great advice, and best of all, incredibly sweet with an awesome personality. I decided to go with the day-of services, but she was always an email or phone call away with any help I needed throughout the planning process! On our wedding day, Emily and Courtney were absolutely incredible. These ladies put everything together perfectly and I was able to enjoy the day without being stressed about little wedding details. Minor hiccups happened on the day of the wedding (which is to be expected) but Emily was excellent at "putting out the fires" and worked quickly to find solutions. Courtney is my absolutely hero, she went above and beyond by returning the cake stand we rented to the baker, which I completely forgot about! I can't thank Emily and Courtney enough for everything they did for our wedding day. Going with SHE was, hands down, the best decision we made and our wedding was absolutely perfect because of them! Thank you!
---
Stress Free Wedding
Reviewed on

10/15/2014
Julie F
We chose Stella Harper Events because they were an affordable option and seemed service-oriented. I am so happy that we did because Ashley was fantastic. She was very organized, calm, and super nice. I had the rehearsal + wedding day package. On the actual wedding day, she had an assistant as well. Not only did I have someone nearby (in a non-intrusive way) at all times if I needed water, lip gloss, wine, help with my veil or bustle, but everything ran like clockwork without me needing to check in or be concerned about anything. My husband and I began to panic the next day thinking that we hadn't gotten our marriage certificate signed by the officiant, and then found that Ashley had taken care of it as soon as the ceremony was over. She took great care of us and I would recommend her and S.H.E. to anyone in the area looking for a good coordinator.
---
Stress-free wedding day!!
Reviewed on

10/08/2014
Stella Harper Events, Erin specifically, made my wedding day completely stress free. I could totally trust that every important detail was taken care of. My wedding day time line was planned and arranged with my vendors by Erin. In the month leading up to my wedding, Erin - as I am sure all of the SHE coordinators are - was extremely organized and made sure everything was ready so there would be no last minute running around. All needs of my vendors, myself and wedding party were met. SHE and Erin soared above my expectations. Please consider STELLA HARPER EVENTS when planning your wedding or another event. SHE has my highest recommendation!
---
Best day of our lives, thanks to the SHE team!
Reviewed on

9/02/2014
Jenny B
Its nearly impossible to put in to words how wonderful Emily and the SHE team. We hired Stella Harper for the day of / coordination services, which meant the SHE team would be our planners for the month up to the wedding and the day of coordination team. I recently got married in Atlanta, however I live in New York, and had a very hard time planning a wedding from a distance. This meant much of the responsibility was left to my wonderful Mom to plan my entire wedding, however fortunately she found Emily who basically saved our lives! Not only did she make the last month a complete breeze and stress free, but she was at our side well before that last month, stepping above and beyond our contract. Words cannot express my gratitude for their support and help they provided to my mother. On the day of the wedding, the SHE team was such a joy to be around and was so well organized and coordinated. Thanks to them, the only thing I had to worry about was my next glass of champagne and my food at dinner, and they were already 10 steps ahead of me making my and my groom's husband day such a pleasure. This was genuinely the best day of our lives, and I can't give enough of that credit to the SHE team. To any bride to be, the best piece of advice I could give is to find vendors who you'd want to be friends with, because they'll add so much more love and joy to your day on top of your friends and family. You'd want to be best friends with these wonderful ladies, which is why I can't recommend them enough! THANK YOU a millions times over to the SHE team, you were truly a blessing and delight to work with!
---
Stella Harper Events was great
Reviewed on

8/18/2014
We used Stella Harper Events for day of coordinating. Emily was wonderful. Her list of vendors is invaluable -- I think almost every vendor we used was one of the ones she recommended and we were so happy with all of them. In the months leading up to our wedding, Emily always got back to us quickly when we emailed her with questions. And she completely took over coordinating with all the vendors and the venue in the month or so before the wedding. That was a huge help for us. We were happy to choose vendors and make the major decisions along the way, but having someone else finalize the last-minute details was really nice. The day of our wedding, it was POURING rain in the morning. Our ceremony was set to be outside and even as the time approached it was looking questionable. Emily watched the radar carefully and had everything set up outside, saying she didn't mind rushing everything inside at the last minute if needed. The weather held and we were so glad we had trusted her and not just gone with our indoor rain plan. During the ceremony and reception, Emily and Courtney were great. They made sure everyone and everything was in the right place but in such a way that we hardly noticed they were there. It was perfect. I would highly recommend Stella Harper Events for day of planning if you're someone who's happy to do some of the legwork on your own but wants great suggestions on vendors and someone else to run the show on your wedding day.
---
Emily is sweet!
Reviewed on

7/27/2014
Taraneka S
Awesome lady! She was just the sweetest. Emily answered all my questions and assured me that my wedding would go off without a hitch. Now I will say that certain things happened that I feel should not and that I may have place her on a wee bit to high of a pedestal. BUT Emily was very apologetic and sweet which helped my cope with things that didn't go as planned on my wedding day.
---
A 5 Star Planner Will Ease Your Mind
Reviewed on

7/16/2014
Joan P
Emily, the owner of SHE is a five star planner, and I will tell you why. Our only daughter was engaged in late 2012 and they decided on the date of 3/29/14, 16 months later. Leah, our daughter, researched planners, finding SHE with excellent reviews. We opted to have Emily help us from start to finish and we all agree that this was the best $ we could've spent! Emily scheduled and attended all vendor meetings, always offering great advice, without being afraid to say so if she felt an idea would not work or was simply not the best choice. Emily was prompt, organized , and always got back with us within a short time via text, voicemail, or email. SHE has many preferred, tried & true vendors which offered us substantial discounts just because SHE was handling our event. Emily was always ready and willing to go above and beyond!!!!! During the week before the wedding, I became very tearful, and who did I call? EMILY! Emily talked me through my (very normal) mom of the bride pre-wedding emotions and even told me sometimes we need to go cry in a pillow, which I did, resulting in feeling much better and more emotionally prepared for our daughter's wedding day. : ) Just 3 days before the big day, our groom was looking through the program and (thankfully) noticed an important omission, a mistake on our part. We frantically called Emily and she calmed my daughter and I down immediately, taking charge of having the programs reprinted. Emily even ended up tying the ribbons on each of the newly printed programs because at this point , we were getting ready for rehearsal night. As we reflect on our daughter and handsome son-in-law's day, Emily is always a positive part of our reflection. Even my husband, Father-of-the -bride raves about what a grand decision it was to hire SHE to oversee our only daughter's wedding ! Yes, a five star planner is what eased our mind and SHE will surely ease your mind, as well.
---
Couldn't have done it without SHE!
Reviewed on

6/27/2014
Annie P
When my now husband and I decided to get married out of state in Atlanta, we knew we'd need some help. Meeting with Emily of Stella Harper Events was the first meeting I scheduled, and we knew right away that Emily was the right fit. She is very Type A (like me!) so I knew that we would have a good working relationship. Emily was so helpful throughout the planning process, whether it was via email or making time to meet us on the few visits to Atlanta that we had before the wedding. She was extremely helpful whether recommending other vendors or working through timeline details. She also was not afraid to make suggestions which was great! She also coordinated all the other vendors, including set up and flipping our ceremony space for the reception. On the day of the wedding, Emily and Ashley from SHE managed everything, including keeping us on schedule and making sure we had everything we needed. Hiring a wedding planner was the best decision I made (besides getting engaged!) and I am so happy we went with Stella Harper Events - I'd recommend them to anyone!
---
Great planning and attitude!
Reviewed on

6/16/2014
Belén H
Our experience with SHE was a great one. Before even making any agreements Emily, the founder, was very helpful and gave us sound advice. We chose for the day of package and found this worked out great for us. Erin Stapleton was our coordinator. Even way before the wedding I could count on Erin for guidance and ideas. And the weeks leading up to the wedding Erin aligned with all the vendors and took care of all the loose ends. More importantly she did so in an organized and positive way building a good relationship and planning with the other vendors. She always asked for what we wanted and made sure things were arranged to our liking. This ensured that everything went smoothly on our wedding day. On our wedding my husband and I and our families could really relax and enjoy this wonderful occasion because we knew we were in good hands with Erin. She is a very sweet and caring person and brought a positive and happy energy with her. She is very attuned to the environment which helped her manage our wedding with a natural flow. This made our day feel very relaxed and enjoyable. We would definitely recommend Erin to our friends and family. Thanks so much Erin for being part of our special day!
---
Stella Harper Events Review
Reviewed on

3/25/2014
Amy G
Emily at Stella Harper Events was truly amazing! I was located in a different state and Emily helped take care of everything for me! She took care of all vendors, all emails, anything you can think of for a wedding, she helped me take care of all things. I would recommend her to any one who asked who the to use for a wedding planner, she is incredible, and knows what she's doing. She actually listens to what you want, and doesn't say "no i think you should do this" she lets you plan your dream wedding and she makes sure your vision gets done.
---
Everything I wanted, needed, and dreamed of.
Reviewed on

9/19/2013
Courtney H
I contacted Emily once I'd given up on looking for venues and trying to budget my dream wedding. As soon as I met with Emily I knew she was the missing piece. The planning process immediately got easier and I began to see the light at the end of the tunnel. She has a long and reputable list of vendors while still staying very honest about their strengths and weaknesses. The wedding day went off without a flaw. Anything I needed or forgot she was there to deliver. Now after the big day, I'm happy to call her a dear friend that just so happens to ROCK at planning weddings.
---
Hands down the BEST wedding decision I made!
Reviewed on

8/14/2013
Erin N
I would love the opportunity to tell everyone all about my experience with Emily and Stella Harper Events (SHE). Let me start with a little background about my journey to SHE, offer a little more perspective. My husband proposed to me the night before we left for a week in paradise to celebrate my father's 60th birthday in August 2011. After a week on St. John, I returned home just in time to say goodbye to my grandfather. He waited until I got home before finally surrendering to cancer. I was left devastated, during a time when everything was supposed to be happy. I no longer cared about planning a wedding. The emotional toll of the past year came to a head, leaving me exhausted and apathetic. Fast forward to June 2012... and suddenly I realized I needed to get moving. I met with two planners prior to meeting with Emily. They were both nice, but we didn't "click" and I didn't leave the meetings any more enthused than before. I met with Emily in July and the rest is history! To say we clicked is an understatement. I left our meeting actually excited about planning a wedding! My experience with Emily and the SHE team was fantastically flawless. Normally a complete Type A personality, I felt completely comfortable turning over control to Emily, which totally shocked everyone that knows me. Emily was easy to reach - by phone, email, text. Having her help was absolutely priceless - did I mention that while we met in July, my wedding date was December 30th - so planning quickly was essential. She knows the best in the industry. In less than six months of planning, I had the wedding of my dreams. I worked with the " Dream Team" of wedding planning in Atlanta and Emily was the team captain! From the ceremony design to the send off everything was perfect! I truly cannot say enough good things about Emily, as there wasn't anything she wouldn't do to help me. She listened to what I wanted and introduced me to the right people to get it done. My wedding was gorgeous and everyone, including me, had a blast! I truly could go on forever about how awesome Emily is, but I won't. As the last of my friends to get married and after dating for ten years, I had seen friends enjoy their wedding, loathe their wedding and some just eloped to avoid the stress all together! I knew that I wanted to actually enjoy my wedding. I didn't want to have to worry about setting anything up or making sure the DJ showed on time. I literally wanted to enjoy the party with all the people that I love. Emily and the Stella Harper team made that all possible and for me that is invaluable.
---
Weekend-of coordination by SHE a must!
Reviewed on

7/29/2013
Lindsay A
As a self-proclaimed laid-back couple, we were sure we wouldn't need and didn't want a wedding coordinator. However, after some pushing from my family and a recommendation from our venue, we contracted SHE as our weekend-of coordinator. One month after our wedding, we still think it was the best money spent! Emily, after only one face-to-face meeting (and lots of phone calls), totally got us and what we wanted for our wedding weekend! The first moment I knew she was great was during the rehearsal because, as she coordinated all of our friends and families and got them to listen, my dad and I just sat down and watched. How relaxing! Emily was everything that we needed and more: she was there for our vendors, there for us (always with our best interests in mind), and there for our families. Everything happened on time and smoothly because of her. Isn't that what you want, someone who can read you and your partner quickly and then combine that with all of their professionalism and experience to help you make your event happen?!
---
Above and beyond
Reviewed on

7/27/2013
Katie R
If you're in search of the perfect wedding coordinator, stop your search here. Although we selected the major vendors and worked on the overall design ourselves, we knew we needed someone to make sure the day went off without a hitch, as our venue didn't provide anyone. Although we selected the "day-of" package, the service the SHE team provided was so much more than that. After signing our contract, the first thing I did was meet with Emily, the owner, to bring her up to speed. During our meeting, she was able to recommend vendors for some of the details we hadn't planned yet and sent me home with a list of tasks to keep me from falling behind. I should probably mention that although our wedding was in Atlanta and we knew the area well, my husband and I live about 5 hours south. Although I was in town at least once a month leading up to the wedding, there was just never enough time to get it all done. Being able to hand over all the vendor coordination to Ashley (our main coordinator) and Emily eight weeks before the wedding was a life-saver. They even did the final venue walk throughs with all of our vendors for us, so that we didn't have to take more time off of work or make another trip into town. Everyone at SHE is amazing, but I have to rave about Ashley C.! In the few weeks leading up to the wedding, she let us ship things to her house--like table runners and sparklers--and took as much off our plates as possible. We were dying to do chalkboard signs for station menus and a welcome sign. We made our own antique framed boards, but didn't think we had the skill to write on them the way we wanted them to look. We handed them over to Ashley and she did all four! We saved a ton of money this way and they looked amazing. We even have one hanging in our kitchen as decoration. If it was even possible, Ashley stepped it up even more on our wedding weekend. My husband and I both came down with food poisoning 36 hours before the wedding--talk about a nightmare. We couldn't even make it to our rehearsal. Luckily, Ashley had everything under control. She ran the rehearsal with our wedding party and officiant. Since we couldn't make it, she video taped it for me to watch. On the day of the wedding she ran back and forth between the venue and our hotel, checking in and bringing lunch for all the girls. She also kept us on schedule. At the event, Emily, Ashley and several other members of the SHE team were there. The set up and layout looked just the way we had discussed. They even rolled up their sleeves to cut our wedding cake, saving us a $150 cake cutting charge from the caterer. After the wedding was over, Ashley made sure all of the decor and DIY items we provided made it into the appropriate cars. She also stayed around as the vendors packed up, making sure everything was cleaned out. She also handed out final payments and tips to vendors. The last thing I want to mention is the price of the service they provided. We didn't have a huge budget for a coordinator and were looking to keep it close to $1,000. The team absolutely ensured that our money wasn't wasted. Their pricing is extremely fair for the area. I also felt like we got just as much attention as clients with larger contracts. So, if you need more convincing than this to choose SHE, your perfect wedding coordinator probably doesn't exist. Thank you so much Ashley C., Emily and team! Our wedding wouldn't have been the same without you!
---
More Than An Event Planner
Reviewed on

7/24/2013
Matthew G
Hiring Emily and Stella Harper Events (SHE) was the best decision we made (beside deciding to get married, of course). After finding and booking our venue, we made appointments with several different planners in the area, including Emily. After meeting with all of them, we knew right away that Emily was the right one. Emily is personable and laid back, but then on top of everything at a moments notice. It was immediately clear that she takes her job and company seriously. And, also important, her prices are fair and much more reasonable (for more) than many of other area planners. Emily immediately put us to work meeting and hiring our other vendors (we bought the full package, so we had her for about a year - poor woman). Not surprisingly, we ended up hiring most of the vendors that she recommended. And by "most," I mean that some of the ones we hired were her second or third choice, but still someone she recommended. She has a great relationship with area vendors and came to nearly every meeting with us. Some vendors, such as Affairs, even ended up throwing little extras in without additional cost and I think Emily had a large part in that. Over the course of the year we met Emily every couple of months to go over everything and she was always accommodating to our schedule and the fact that we live in the opposite direction that she does. If she didn't come to our house, then we would meet her somewhere as centrally located as possible so that she could get home to her beautiful twins (Stella & Harper, of course). The point is, Emily did what it took to make our lives as easy as possible. Emily even sat with my wife after one of their lunch meetings as she filed a police report because someone backed into her car in front of the restaurant and Emily also drove all the way to our paper vendor's house to pick up correct invitations after some of them arrived to SHE and were incorrect! Once the wedding finally rolled around we were in excellent shape. Everything went without a hitch and we were able to enjoy the day. Emily was running around and on top of everything and her staff did an outstanding job of communicating and keeping everything moving forward. My mother-in-law accidentally brought my contacts to my wife at our hotel and Emily's assistant Ashley, without even being prompted to, jumped in her car and raced to our house to get the correct ones. I received a call from our gate only a few minutes after finding out that my wife was basically blind right before we were supposed to do our first reveal! Clearly, SHE works together as a team. After the wedding is over we are still spending time with Emily, but she is now our friend, not our wedding planner. We had dinner together after we got back from our honeymoon and are hoping our friendship continues into the future. She is a great person and truly does a tremendous job. You will not regret hiring SHE! Thank you Emily, Ashley, Ashlyn and the entire Stella Harper team! Sincerely, Michelle & Matt June 8, 2013
---
A wonderful experience that led to a wonderful wedding!
Reviewed on

7/02/2013
Nancy S
My wedding was a month ago and with Emily's help, it went perfectly! So perfectly, in fact, that if anything did go wrong, I was completely unaware! What more could a bride ask of her wedding coordinator? I was planning my wedding myself, but using a reception venue that was an empty warehouse space (turning it into an art gallery). While I was able to hire the necessary vendors, I needed someone to coordinate the site on the day of the wedding. The peace of mind of having Emily there and in control of the situation was worth every penny! I interviewed quite a few wedding coordinators and by far, Emily was the most personable, organized and put together of them all! I checked her references from both very satisfied brides to vendors who commented on her professionalism and the pleasure it is to work with her. But what really won me over about Emily was that she was just as excited about my wedding as I was! From the moment I hired her, she was an excellent source of information and calm! She gave me wonderful suggestions for the space and recommended vendors. One month out of the wedding, she completely handled everything, contacting vendors and establishing the timeline, so that on the day of the wedding, I worried about nothing! On the day of the wedding, she was wonderful - making sure the site was together and perfect, and that everything went smoothly. With her help, it was the memorable, fun celebration that I had looked forward to enjoying for 7 months! I could not recommend Emily more highly!
---
Best money I spent!
Reviewed on

6/10/2013
Jayne K
Erin was my day of wedding coordinator, and she was amazing! She was there to answer any of my questions before the wedding and took care of coordinating and dealing with all of my vendors. She was so well organized and truly made the event perfect. This was the best money I spent. It meant that my mom and I could actually relax and enjoy the day instead of worrying about making the event happen. She was such a professional and if there were any problems she sure didn't let me find out! I would highly recommend Stella Harper events!
---
Send Message