Home

Stems And Vines
Details
Centerpieces, Vases, Decorations + Accents, Bouquet Wraps, Bouquets, Corsages, Flower Delivery + Setup, Flower Arrangements
Contact Info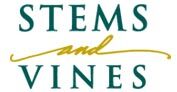 Reviewed on

10/16/2017
Rob W
Working with Cheryl was great! She is very responsive and is ready to help when you need help with something. We had a very unique color for our flowers and she wanted to make sure they got the color right and had ordered a couple flowers for us to come in and preview before the... Read More wedding! Our flowers turned out perfect and we couldn't be any happier with this florist!
---
Reviewed on

10/03/2017
Hannah S
Stems and Vines did a great job with the flowers for my wedding! They were very easy to work with, and the flowers came out beautifully. My bouquet was exactly what I was picturing, and I loved it. Highly recommend!
---
Reviewed on

9/30/2017
Jennifer H
Cheryl and the team at Stems and Vines were great to work with! Any time I made a payment, Cheryl would email me the updated information within 1-2 hours. Our colors were black and white, and I wanted black flowers. After speaking to Evie, black flowers are not common, or in... Read More high demand. I really wanted roses. Evie and Cheryl went above and beyond in making me a replica of my bouquet with roses, and they sprayed the tips black. It gave me a great idea on what they would look like. They were also great with communication and listening to what I wanted, and giving their professional advise on what would work out the best. My Maid of Honor and Personal Attendant went to pick everything up on Saturday Morning, they had no issues and everything was marked on what was for who. They did a great job! I would use Stems & Vine's again for any occasion.
---
Reviewed on

9/18/2016
Paula K
This place is amazing and goes the extra mile to make sure everything was perfect. We went to pick up flowers and noticed the maid of honors flowers weren't there. So they quickly whipped up a bouquet. It was an oversight on both ends and in the end it all was taken care of.... Read More One happy bride and I will recommend you.
---
Reviewed on

5/07/2016
I had ordered the "Full of Love Bouquet" for my mother-in-law. When I stopped by to pick up the flowers, I noticed immediately that it looked nothing like the picture from their website. I mentioned my disappointment with the arrangement and even offered to pay additional in... Read More order to make the arrangement fuller. They weren't very accommodating. They added a few more stems of carnations, set the arrangement in front of me and walked away. Didn't even wait to see if I was satisfied. When I got home, even my husband said the arrangement looked awful and the flowers looked wilted and sad. I was too embarrass to give the flowers to my mother-in-law. (I even took pictures to prove how ugly the arrangement was, if only I can upload my photos). Instead, I went elsewhere, spent more money and bought my mother-in-law a different bouquet. I would never shop at Stems and Vines again. I tried them once. I would never give them my business again.
---
Reviewed on

3/10/2016
Megan W
I enjoyed working with the designer and owner at Stems & Vines, but I did not get what I asked for on my cake flowers, and my cascading bridal bouquet lost a number of flowers during pictures before the wedding - it looked absolutely beautiful, though. I would not deter anyone... Read More from working with them, but if I could go back, I would take the time to meet with them one more time before the wedding to confirm they understood my vision.
---
Reviewed on

2/08/2016
Twyla
Stems and Vines were fantastic! I love supporting local businesses and I'm so happy we have such a gem in our community. They did a great job communicating, executing, and making our day beautiful with the flowers. I requested a fairly unique arrangement in a very short window... Read More of time and they did not disappoint. Cheryl and the ladies were a breeze to work with! I can't recommend them enough!
---
Very Impressed!
Reviewed on

5/19/2015
Jennie O
I was so impressed with Stems and Vines. They did an amazing job with the flowers and did all of our arrangements on site. They were very flexible to work with and let us come up with some of our own concepts, which they executed beautifully. I would highly recommend them.
---
Excellent Florist from start to finish - Top notch Team!
Reviewed on

11/19/2014
We wanted to support local businesses for our wedding. Stems and Vines was the perfect choice for us! From the very first phone call, I knew they would be the florist for our special day. We were having an intimate wedding for a small group of family and close friends.... Read More Cheryl did an excellent job of discovering my ideas and providing seasonal floral recommendations that matched our style, colour scheme and budget. Since I lived outside the US, we relied on Stems and Vines' expertise to provide us with guidance for the overall look. Cheryl provided detailed descriptions of each arrangement, the cost as well as sample photos via email and phone to make sure we had the same vision. Nothing was too much for this florist to make us happy! Stems and Vines did an amazing job bringing our classic romantic vision to life. When I saw the attention to detail they put into everything from the boutonnieres to my bouquet, it took my breath away. The colours (cream and lavender) were exactly what we wanted. They were very fresh and vibrant flowers (including roses) the day of our nuptials. It was very obvious they took time to select, package and delivery our flowers on time and in excellent shape. The quality was outstanding. We couldn't have asked for better. Kudos to Stems and Vines for being a part of our very happy day. Thanks again for your excellent work and customer service!
---
wedding flowers
Reviewed on

10/29/2014
Cheryl and staff were wonderful...we went with a wild flower theme and they did just that for us!!!
---
Perfection at it's Best!
Reviewed on

9/05/2014
Jodie H
Stems and Vines did an absolutely amazing job at customizing my floral arrangements exactly with how I wanted it!!! They also worked really hard at staying within my budget needs and gave me options to work with. The service was always wonderful and cheerful every time I had a... Read More meeting!! I enjoyed visiting with them and would recommend anyone I know to go there!! They also have some fun rustic and vintage gifts in there adorable shop!!!
---
Exceptional flowers at a reasonable price
Reviewed on

7/03/2014
Jeanne H
We are very impressed by Stems and Vines floral of Prior Lake, MN The staff was so professional and polite and made our floral planning easy for our wedding day. I showed them a photograph of what I wanted for bouquets and they made it even better than I could have envisioned.... Read More The flowers were beautiful for all of the attendants and special guests in our wedding. We also had them create floral arrangements for all of our tables at the reception, which turned out amazing. We received so many compliments on the flowers. Everyone was impressed by the flowers, including myself and my husband. I will be referring anyone I know to go to Stems and Vines, since they are reasonable with their prices and experienced in their floral design. Thank you, Cheryl and staff for making our wedding day beautiful and adding that extra special touch with the flowers. Sincerely, Scott and Jeanne M.
---
September Wedding
Reviewed on

11/13/2013
Renee K
Stems & Vines did a FANTASTIC job with the flowers for my wedding this past September. From the first meeting where the designers listened to my desires and came up with some amazing suggestions to satisfy my "vision", to the incredible follow up from the owner in making sure... Read More everything was going smoothly and doing MULTIPLE quotes for my changing whims, to the beautiful execution for my wedding day. Extremely top notch service, quality, value and care - I may have gotten more compliments on my flowers than my dress (and my dress is beautiful!) :)
---
Amazing to work with!
Reviewed on

8/29/2013
Tonya H
I decided last minute to do flowers at the whole reception and for the wedding party. Stems and Vines was able to accommodate my requests on such short notice. They had books and we were able to go through them and tell them our ideas and put something together. They made... Read More gorgeous arrangements that looked amazing! And they delivered and set them up for us.
---
Beautiful Flowers, Great Company, Reasonable Price
Reviewed on

3/14/2013
Jessica A
Overall, just loved this place. They were great to work with and I know NOTHING about flowers. I pointed at a picture in a flower book that I liked, and they adopted that to go with my wedding. They were even wonderful in dealing with some last minute changes that I wanted.... Read More Price was great too.
---
Amazing Flowers!
Reviewed on

8/26/2012
Brittany E
My husband and I went through Stems and Vines for prom in high school and we are so glad that we went through them for the wedding! They took our budget and gave us exactly what we wanted without breaking the bank. Our flowers blew everyone away and we perfect! Thank you to... Read More Cheryl and the team for the perfect touch on our wedding day!
---
Seashells, fruit and Beauty
Reviewed on

8/11/2012
Buffy S
Donna and Dawn provided us wonderful service. They incorporated our seashell from the beach, fruit from the farm and made the most gorgeous bouquets. They put thought and variety into every table center piece and kept our cost in budget! I could not have found better service!
---
Florist
Reviewed on

6/14/2012
Libby N
We really enjoyed working with the staff at Stems and Vines, they were so nice and very creative! They worked with our budget but made sure we got exactly what we wanted!
---
Beautiful!
Reviewed on

3/27/2012
Holly K
We received so many compliments on our flowers. They looked amazing. I looked around and they were the best and compared in pricing.
---
Stems and Vines
Reviewed on

10/10/2011
katie k
MY flowers were fantastic and so BEAUTIFUL!!!! I couldn't believe my eyes when I saw my bouquet. It was exactly what I imagined and even better. I couldn't get over how beautiful they all were. They were very helpful, they got back with you in timely manner. They even went an... Read More extra mile to find a dragonfly jewel for me few days before my wedding. I was very impressed with them and would recommend them to anyone.
---
A Bit Under Par
Reviewed on

7/14/2011
Jesse W
Flowers showed up on time and all the flowers we ordered were there, the colors were just not as vibrant as what we'd talked about and the bouquets were not nearly as large as what we had talked about.
---
Beautiful flowers!
Reviewed on

6/29/2011
Angie N
Loved my flowers, they turned out better than I imagined! Prices were very reasonable and Donna is really sweet and easy to work with!
---
Stems and Vines Floral Studio
Reviewed on

4/30/2011
Kimberly W
The flowers that Stems and Vines provided turned out absolutely gorgeous (they were both simple and elegant, and more than I could have asked for). The staff also provided quality work in a professional manner, and they genuinely wanted your day to turn out beautiful. It was... Read More evident in their work that they were both skilled and artistic florists (able to provide you with the look you wanted). I'm so happy we found them! We had so many compliments on the flowers!
---
Your can't redo a wedding.
Reviewed on

11/17/2010
Tammy C
I felt the final product was very poor. Some of the roses had brown edges to them in the bouquets at the time of delivery. Three out of the four bouquets were falling apart during the photos before the ceremony even started, including the brides. Would not use them again.
---
beautiful flowers
Reviewed on

9/23/2010
Brianna P
We had to get our flowers at the last minute and they took on the job and gave us really beautiful flowers for a really reasonable price. Really cute shop!
---