Home

StoryCapsule
About this Vendor
The Perfect Gift...
Share your story with family & friends for generations to come. It's the perfect gift and only you can give it! Story Capsules condense your engagement story into a fun highlight video that's an instant heirloom. So when your daughter gets engaged one day, she can hear your Story and see what you were like at her age. Story Capsules are the perfect Registry item. They're fun to give and free to share, so everyone can have a copy! Check us out at iStoryCapsule.com
Details

Reviewed on

10/31/2017
It's free to film, so there's no downside to checking it out!
---
Reviewed on

10/31/2017
Kyle M
Jason and I did a video a couple of years back and I have to say I am really impressed on how knowledgeable he is with his work. He is very professional and takes special care of his work and the comfort level of his customers. I highly recommend him to anyone who wants to... Read More shoot their video and tell their story. You will not be disappointed. 5 out of 5 stars.
---
Reviewed on

10/31/2017
Jeff H
"What are you waiting for? Do it!" ~Shia L.
---
Reviewed on

10/31/2017
Adam G
I've done a few videos with Jason. I always had a good time making them, but I most enjoyed sharing the final version with my friends and family. Highly recommended.
---
Reviewed on

10/31/2017
Julia B
We often think the right words are important when spending time with someone, but this process takes the most special parts of the conversation: the laughter, goofy faces, and the meaning behind the stories, and shows what it's really like for unique individuals to come... Read More together. It's easy, a lot of fun, and you get something wonderful out of it!
---
Reviewed on

10/21/2017
Julie L
This was like making memories come to life. I love that my family and I will still be able to see it years later.
---
Reviewed on

10/21/2017
Jake Y
I thought this video idea was really cool, especially that my Fiancée and I could make something that will last forever.
---
Reviewed on

10/21/2017
Jenn M
SO.WORTH.IT. They did an incredible job. We saved a lot of money using this and still got the video we wanted.
---
Reviewed on

10/21/2017
Jeff D
Wow! I didn't fully understand the value of Story Capsule until I saw our final video. This is a treasure that our family will cherish and pass down.
---
Reviewed on

10/20/2017
Kim L
Story Capsule gave me a professional-looking product that I couldn't do on my own. I like that it's something that my family and I will use over and over again.
---
Meet The Owner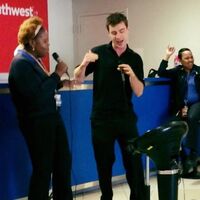 Jason Larch
I fell into Story Capsule. I love movies, so I tried to make my own. After releasing our first project, I learned that people prefer 1-2 minute videos...I also learned that videos are amazing gifts. Our first Story was an impromptu going-away present. A year later I made one as a wedding gift and everyone loved it. 7 months later I was laid-off and at my going-away party, a friend told me Story Capsule was the most thoughtful wedding gift he'd ever seen. Viola! Our goal is simple: to help you tell fun and memorable stories that your kids and grand-kids can one day enjoy too. Thanks!