Home

Sue Kelson Events
About this Vendor
Hospitality is an Art
Details, details, details! When you hire Sue Kelson Events, not one detail will be overlooked. Organization and anticipating your needs are trademarks of her team. Sue has 30 years of hospitality experience, and a B.S. in Hotel and Restaurant Management. This team's passion is planning weddings!
Details
Available for Consultation Only, Available for Wedding Day Coordination, Full Coordination Services
Contact Info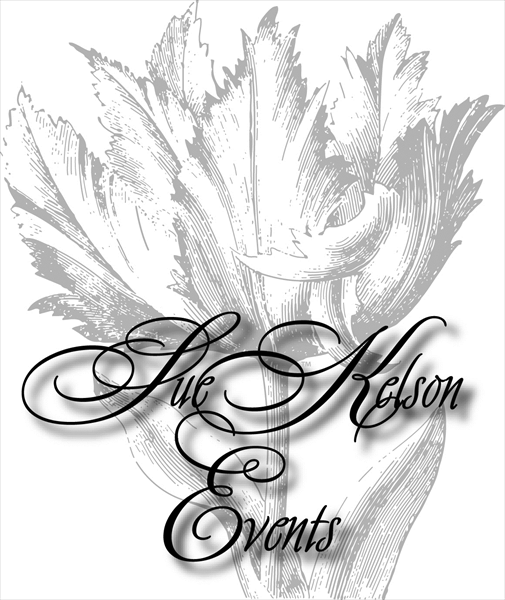 5068 West Plano Parkway, Plano (Serving DFW Area), TX
Sue Kelson goes above and beyond!
Reviewed on

9/23/2014
Ermarie M
Where do I even begin on Sue Kelson? She demonstrates every attribute of what a professional event planner should be. Throughout the years, Sue has helped us plan a variety of events including a wedding, Christmas parties, major fundraisers and everything in between. Because of her expertise and supreme professionalism, from the moment when you first approach her to plan an event, until the last linen is removed, your experience is beyond all expectations. Her ability to put clients at ease and anticipate their needs and concerns puts her in a league of her own. In the end, we felt that we had the event planner of our dreams, but we also felt as though we had gained a friend! Her dedication and passion to the job is what will keep us coming back time and time again. Sue is more than a wedding planner – she is a life concierge!
---
Best team around!!
Reviewed on

7/09/2014
Kelsey W
Sue and Beverly are quite the team!! They are phenomenal at what they do, and you will be very pleased you selected Sue Kelson Events. They are extremely professional, prompt (in returning calls/emails and getting stuff done), knowledgeable, creative, and easy to work with. They know their etiquette and can help plan, down to the smallest of details, every part of an event. They helped to create a wedding of my dreams, even when I never really envisioned what my wedding would look like. I highly recommend them :)
---
Dream come true!
Reviewed on

9/27/2013
Kimberly H
I had the most awesome wedding reception EVER, which I have dubbed, "My Party!" My husband and I met with Sue Kelson several times to go over everything, and I mean everything! Sue covered every last detail (things we didn't even think about). Sue listened to us, really listened to us, asked lots of questions and made suggestions, many of which we implemented. She kept in constant contact with us which was so appreciated and my stress level was kept at a minimum. I was one of those really organized, obsessed, wanting to be in control brides with a binder that went everywhere with me and never left my sight. I was thrilled when Sue had all my information, contact numbers, etc at her fingertips as well! I KNEW I was in good hands and I was right! It was at the rehearsal dinner I turned over the reigns completely to Sue. I was not the least bit apprehensive in doing so either. I was so confident MY DAY was going to be perfect and Sue would see to it...She did, without fail! Every single detail, large, down to teeny tiny was done! I did not have to do anything except get ME ready! I remained calm the entire day, because in Sue's gentle voice, she would inform me of where and what was happening next. A gentle touch on the shoulder, a whisper in my ear, a slight nod of the head, Sue was there! We had lots of stuff going on at "My Party"...guest greeting, food, photo booth...etc. I did absolutely nothing except have the time of my life! My husband and I DID have the perfect reception...Sue saw to it. The tables were beautiful, food fantastic, lighting perfect, timing for cake etc was done at the best time (and not at my doing as Sue kept everything flowing perfectly!) lots of laughter and the smile never left my face! I have nothing but praise for Sue Kelson Events! Sue was everywhere, tending to everything, but funny thing is, I don't recall seeing her other than when she would tap my shoulder and whisper my ear "it's time for..." I know she was busy behind the scenes keeping the reception going. In fact, our 200 guests are still talking about "My Party." Everyone is saying it was the wedding/reception of the century and the best one they have attended! SUCCESS! If you want your event to be perfect, Sue is your lady! Her experience, calm demeanor, gentle voice and ability to take care of every detail is priceless! I cannot express my gratitude and appreciation towards Sue. She's amazing and I am forever grateful for her. Thank you Sue Kelson!
---
Professional+Awesome
Reviewed on

5/12/2015
Qi W
I only had two months to prepare for my wedding. The limited time and being pregnant made me feel overwhelmed. My husband and I were not sure if we could make it within a certain budget in two months. However, we were lucky to find Sue to help us. Her professional experience and resources gave us lots of confidence and saved our time and efforts. We appreciate all her help to make our wedding so smooth and perfect. It is my wisest decision to have her as my wedding planner!
---
Hands down the best out there!
Reviewed on

1/31/2015
Jennifer F
When I came here (theknot.com) to do a research on what I thought it was a good wedding planner, I did not know what I got myself into! When I went to meet Mrs. Sue and Mrs. Beverly I was so scared, I did not know what to think or where to start. But, for my surprise they started asking us questions about our big day and everything went smoothly. They understood what we wanted and worked from there to make a VERY special and beautiful event. Mrs. Sue is very detailed oriented, and she would not let anything pass by without her noticing (and I mean ANY THING!!!) She is very fun to hangout with too! She will be there, by your side in every meeting to make sure everything is what you want. Overall I had a very very special day thanks to Sue Kelson Events! I cannot thank you enough for your work, your PATIENCE, and your time! HANDS DOWN THEY ARE THE BEST OUT THERE!
---
Day of Coordination
Reviewed on

12/05/2014
Iana G
My day of coordinator canceled on me. So I need to find someone just a few days before the wedding to help. Sue stepped in and asked all the right questions and pulled everything together perfectly in just two days!
---
Our Daughter & Her Husband's Wonderful Wedding Day!!!
Reviewed on

10/29/2014
Sue Kelson Events: No need to look any further to find the most competent, honest and efficient Events Coordinators. Sue Kelson and Tina Yampanis gave our daughter and her husband as perfect a wedding as we had envisioned for them. They are true professionals in their field and there are not enough complimentary adjectives to describe these 2 ladies. When our previous coordinator bailed out on us at the very last minute, Sue & Tina pulled off the impossible when they stepped in within 3 days of their wedding and gave them the wedding of their dreams. I don't think there was a moment that day when our daughter and her husband did not have smiles on their faces. We were reassured within 15 minutes of speaking to Sue that our daughter and her husband would have a phenomenal day to remember and it was. They handled every detail before, during and after with such care and efficiency. "Perfect" was heard repeatedly by most of our friends and family. As an extremely satisfied Mother and Father of the Bride, we wholeheartedly recommend Sue & Tina.
---
Sue Kelson Events -- EXCELLENT CHOICE
Reviewed on

10/18/2014
My niece was married this past summer, and I suggested that she use Sue Kelson Events, as she has helped me plan numerous events together in the past. Wise choice, as no one in our family had to worry about a single thing - Sue and Beverly took care of every single thing the entire day of the wedding. A button came off one of the groomsmen's tuxes, and Sue, even with a broken wrist, sewed the button back on so he was ready to go! My niece and her husband enjoyed their day, while Sue and Beverly kept them on schedule. It went off without a hitch! I would recommend Sue Kelson Events to any bride for a flawless day.
---
Wedding
Reviewed on

10/16/2014
larae h
Sue and Beverly were a gift to Rob and I from the moment we met them. Both of us are busy professionals, we knew we wanted a tasteful and elegant wedding (not the first for either of us) but having the time to plan all the details and bring the right vendors to the table was overwhelming YIKES! Sue and Beverly did "all the heavy lifting!" They spent time getting to know us, discovered some of our favorite things - rain and umbrellas, deep rich royal colors, and devoted their time and talent to making the entire weekend perfect. There were family and friends from age 10 to 90 and they all had a marvelous time. They planned the "get pretty party" for the all the girls in the wedding, the wonderful meals, gathered up a terrific band and photographer (who was so inconspicuous you didn't even know he was there), arranged the rehearsal dinner and finally the end-of-the-weekend send off luncheon when we said good-bye to out of town guests. Through out it all they were professional, patient, pleasant and hilarious when it was time to be. So getting together with them for planning meetings was never a chore, it was always fun! Couples tell stories and laugh about that little guffaw that happened on their wedding day - we didn't have one, we had Sue and Beverly - no way that was going to happen!
---
Vegas Renewal of Vows
Reviewed on

10/10/2014
Jinger F
Although Sue is my sister-in-law, she was also my wedding planner for my wedding in 1997, and my husband and I renewed our vows this past August in Las Vegas. Once again, I turned to the expert in the family to plan our event! All of our guests came from out of town, and Sue helped to arrange for transportation, hotels, and of course, the wedding chapel and reception. My husband had a few surprises up his sleeve, which Sue knew about and did not let me know, and our guests went crazy! At the end of the night, we were informed that we were nearly $1,000 short of meeting our food and beverage minimum. Sue stepped in and spoke with the manager, and arranged for ½ bottles of wine to be given away as party favors for our guests. Everyone got a big kick out of taking away a nice party favor, and our money was spent wisely. Everyone had a great evening, and I had no worries as Sue took care of all the details! You will not be disappointed, as she is very organized and thinks quickly on her feet – nothing will ruffle her feathers!
---
My Daughter's Happy Day
Reviewed on

10/01/2014
As the Father of Bride, it was a very emotional day to give away my little girl. Sue Kelson Events made the day less stressful, knowing that she was always near, to answer my questions, and even helped me with my Welcome Speech to our wedding guests. She assisted my wife in planning each and every aspect of the wedding from assisting in choosing my daughter's wedding gown, to selecting the band. My job was much easier, but Sue helped me plan the golf tournament for the men, the day before the wedding. At the end of the night when my wife and I were very tired, Sue and Beverly helped get all the gifts into the car, along with the leftover wedding cake. My wife and I did not need to lift a finger. It was a wonderful day, and Sue Kelson Events was a big part of the success of the wedding!
---
Wonderful Experience & Excellent Planner
Reviewed on

9/30/2014
My son was married this past summer, and Sue & Beverly made the wedding perfect! The mother of the bride lives out of town, so I did most of the planning for her. Without the help of Sue Kelson Events, I would have pulled my hair out! They helped me find the reception site, the DJ, and the perfect florist – all within our budget. The day of the wedding we enjoyed our guests and did not worry a single thing. Sue and Beverly had it covered!
---
Perfect Evening!
Reviewed on

9/22/2014
Sue Kelson Events helped plan my wedding and I could not have done it without her help! Sue and her team took over all the details, so I did not have to worry about a thing. As I was finishing my studies in NYC, I had little time to plan, and it's also very hard to plan a wedding long distance. Sue and her team worked with my parents in Dallas to find my venue, florist, and band. It was an amazing night, and my husband and I enjoyed every moment, not worrying about one single detail. Sue told me when it was time for pictures, time to cut the cake, time to dance, and even made sure our reception site had a meal waiting for us when we arrived! We ate before we went into the reception, which was brilliant, as we were both so hungry! I would recommend Sue Kelson Events for your wedding or any special family party!
---
Excellent!
Reviewed on

9/22/2014
debbie p
Sue Kelson Events helped me plan my daughter's wedding from start to finish. I am a very busy mom who did not have time to look for a reception site, or a florist, and Sue found my daughter the perfect site! She listened to what my daughter wanted for her wedding, and she followed through on every detail. She was helpful to me, as she always returned my calls right away, or answered my emails within just a few hours, even on the weekend. On the day of the wedding, I knew I did not have to worry about anything, as Sue checked on all the vendors in advance, making sure everything was in place. The wedding was perfect, and my daughter was very happy! I would highly recommend Sue and her team!
---
Sue Kelson Events
Reviewed on

7/25/2014
I can only say superlatives to the way Ms. Kelson and her assistant Beverly handled the rehearsal and the WEDDING including reception. They handled everything so I as father of the Bride really only had to walk daughter down the isle leaving me to mingle with the guests. Anticipated everything without missing a beat
---
Sue Kelson makes this work!
Reviewed on

10/04/2013
Kelley B
Sue did a wonderful job planning & executing our wedding reception. Prior to our official entrance, she carted my wife and I off to her office where 2 complete place settings awaited us (along with Advil & our favorite beverages). This was a nice touch because we were able to relax & eat before being bombarded by guests! Sue also expertly dispatched pesky children that were running around which ensured our photos we nice & memorable. Details like these (and many more) that most people, my wife and I included, never even think about is what makes Sue the perfect choice to handle your wedding and/or reception.
---
True Professional
Reviewed on

9/30/2013
Cheri R
Ms. Kelson is a true professional. Her many years of event planning experience at a variety of venues makes her the perfect choice to plan any type of event. We've used Ms. Kelson to plan five-star corporate events as well as holiday parties, private birthday parties and large-scale political fundraisers. She has top-notch contacts she can leverage for any imaginable service you may need. When we have an upcoming event, our first call is always to Sue Kelson Events to get the ball rolling. In addition to our company needs, Sue Kelson was also instrumental in my personal wedding planning. On short notice, she secured a venue and planned an extraordinary wedding and reception that we will always cherish. I would recommend her services to all of my closest friends and colleagues.
---
Perfect Hawaiian Wedding
Reviewed on

9/28/2013
I wanted a destination wedding which was a bit scary in the beginning. Then I got in touch with Sue Kelson to help coordinate the long distance event. She worked directly with the hotel, photographer, florist, musicians, and even the minister. Once Sue was working with me, I had no more fears. She is the ultimate professional. She knows what you want before you do! Her attention to detail is every woman's dream come true. If not for Sue I would have been a nervous wreck with all the details. She even took care of a bouquet crisis without batting an eye!!! The woman can do everything! You can trust her. The fact that Sue was there allowed me to really focus on enjoying the entire day as every bride should.
---
Simply the best
Reviewed on

9/25/2013
Sue Kelson is in the process of helping me plan one of the most important events in my life - my wedding. I was so overwhelmed at the daunting task ahead of me. When I contacted Sue, she immediately put me at ease which enabled me to finally relax and enjoy the adventure. Sue's recommendations and contacts have been spot-on. Any time I have a question, she has responded immediately. She helps me think through what my vision is and then puts it to paper. I feel like she really cares that every detail is addressed. I would be lost without her. I know that when my wedding day arrives, she will be holding my hand every step of that day.
---
Excellent Wedding Planner
Reviewed on

9/23/2013
I had my wedding at a local country club in 2009. Sue Kelson was the wedding planner and she was fantastic! Every detail was handled with the utmost professionalism and attention. Everything was perfect! We met a few times before the big event to line out what I wanted. She was on hand for the entire event, all the way to seeing us to our limo at the end of the night. The ceremony was perfect, and the reception was a blast. People are still telling me what a great time they had!! Thanks Sue!!
---
Excellent Wedding Planner
Reviewed on

9/23/2013
Maryam Z
I would highly recommend Sue Kelson events for your wedding with no reservations. Very organized and attention to details. She can think of things that did not even cross our minds for wedding arrangement. Very experienced and you just feel an amazing confidence working with Sue and the peace of mind that you need especially as you get closer to the big day! She is a wonderful, professional wedding planner with a real passion for what she does! We were extremely happy with her!
---
Susan Scullion
Reviewed on

9/22/2013
Susan S
First class all the way! From the selection of the venue and the food to her recommendation for the flowers...awesome! She was very organized and easy to work with...no stone unturned. The best thing for me as the mother of the bride was that I could relax and really enjoy my daughters wedding. I would recommend Sue Kelson Events for any large or small gathering! Simply the best!
---
KSI Girls
Reviewed on

9/22/2013
Sue Kelson Events is my "go to" resource for any special event that I have planned! Building a relationship with Sue Kelson Events has ensured a wonderful, personal touch to each of our milestone family celebrations. Hiring a professional to coordinate and oversee the details of planning, budgeting, and getting creative is the smartest thing I've ever done! I can sit back, enjoy the moments and watch the event unfold! I'm always amazed to see the concept that we've worked on together come to life. Sue's experience, expertise in event planning and sense of fun gives my events that special touch that opens the door for those sweet, lifelong memories.
---
Ms. Hubler
Reviewed on

9/22/2013
You will not get a better wedding planner than Sue! She is the best as what she does!
---
Sue Kelson Events - Outstanding!
Reviewed on

9/22/2013
In the past Sue Kelson has helped me with many events! I have seen the results of her work and expertise from anything from weddings to formal dinner parties to award ceremonies and more! I couldn't have chosen a more reliable, organized and personable expert. She handles any situation professionally and calmly and to top it off she is fun to work with - not to mention her honest opinions helped steer me in the right direction for every event.
---
Send Message