Home

Sugar Chef
Details
Cake Accessories, Cake Tastings
Contact Info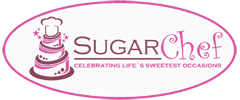 Delray Beach, Delray Beach, FL
Serving Tri County Area
Reviewed on

3/21/2016
Natalie D
The cake tasting was terrible and I would not recommend this vendor. From the moment, I walked in the Sugar Chef I felt they were very unprepared and they did not know anything about my wedding or what I was interested in having for my wedding cake; even though I sent a picture... Read More of exactly what I wanted my cake to look like and all of my wedding details. I was very disappointed in their service. Furthermore, the cakes were very dry and they did not taste well. I suggest you try a different bakery for your wedding.
---
Reviewed on

2/16/2016
Jennifer J
Our cake came out exactly the way we wanted. The flavor and moisture was perfect. The frosting was so good. I would highly recommend them. Sugar Chef Delray Beach is perfection!
---
Beautiful Cake
Reviewed on

10/09/2015
Loren G
We were referred to Sugar Chef through our wedding venue and we could not be happier with the way our cake turned out! They made a gorgeous silhouette cake that perfectly told our story. The cake looked and tasted amazing. I would highly recommend Sugar Chef!
---
Beautiful Cake
Reviewed on

8/04/2015
Ali G
The cake was exactly what we wanted and tasted delicious!
---
Absolutely Delicious
Reviewed on

7/27/2015
Shelly L. M
With our wedding summer special at our venue, it provided us with Sugar Chef as our cake decorator. From our tasting to the day of the wedding, we loved working with this company. The cakes are absolutely incredible especially with the gorgeous detail with each cake. The hard... Read More decision came down to which cake and flavor. We loved the red velvet with cream cheese filling for one tier and vanilla cake with grand mariner raspberry filling. Incredible! We will definitely use Sugar Chef for future cakes!
---
Reviewed on

7/26/2015
Tanya H
We went with Sugar Chef for our wedding cake on 7/17/15 and couldn't be happier! They made it easy to chose our flavors and design for our cake and it was absolutely delicious!
---
Beautiful and delicious!
Reviewed on

5/20/2015
Megan B
Sugar Chef is an amazing company! Not only do they bake yummy cakes that are designed beautifully, but they also provide great customer service. I had the pleasure of working with Rebecca - she answered my emails and phone calls quickly (within 24 hours) and was so helpful... Read More during the design process. I provided images of what I wanted my cake to look like and they did a great job replicating it. The cake was moist and full of flavor - so yummy! They designed my wedding cake and a groom's cake. Both were beautiful and everything I asked for. I would highly recommend using Sugar Chef.
---
Service
Reviewed on

1/14/2015
I went in to Sugar Chef, to meet for a wedding cake, for my wedding. I was not impressed by her attitude. She was very short, rude, and upset that I had questions. I could not believe how rude she was. When I was done, I told her I would talk about it with my fiancé. She was so... Read More disgusted that I did not give her an answer then, and there. I decided to go with someone else. I would not recommend.
---
Not good customer service
Reviewed on

12/27/2014
Jessica C
they did a good job, but the customer's service was not to good.
---
Amaqzing!
Reviewed on

12/14/2014
Nicole M
Sugar Chef was a pleasure to work with, our cake came out beautiful, tasted amazing and our guests loved it! My husband and I went for a tasting, to get pricing, talk about our vision etc. Then we went to their shop, and picked up more samples to take home before making our... Read More final decision. They send you the write up of exactly what is needed/wanted so you can make sure everything is perfect. Couldn't have asked for a prettier or more delicious cake!
---
Delicious & Beautiful!
Reviewed on

7/28/2014
Anessa G
We LOVED our cake from Sugar Chef. We found this baker through our venue as the cake was included in our package. We couldn't have asked for anything more beautiful. She listened to exactly what we wanted. It tasted great too! We got a lot of compliments!
---
Holy cow this is good cake!
Reviewed on

4/08/2014
Alyson G
"You know I don't like chocolate cake, but this was so moist and delicious." This is a quote from my grandmother and she isn't kidding...she hates chocolate cake and chocolate brownies. Wedding cake is usually not worth the calories. I rarely ever eat it. This is different. I... Read More can't even begin to describe how good our cake was...chocolate cake with chocolate fudge in between the layers. It's so good, we're breaking tradition and eating the top layer now (we can't stand the thought of wasting something this good!). I got more compliments on the cake than anything else. As for the look of the cake, it was beautiful. We showed them pictures of elements we liked from other cakes and they incorporated them all to make a really pretty cake. Overall, we were thrilled with them and would recommend them to anyone. In fact, once the cake topper is gone, we're going to head to their cupcake shop in WPB!!
---
Beautifu and delicious
Reviewed on

10/10/2013
Joanne B
The cake was so perfect. It was better than the photograph. The filling, white chocolate, was so scrumptious. So many people told us it was the best wedding cake they had ever tasted. We couldn't wait a year for the anniversary - we ate it the next day!! I cant comment on... Read More the value - it was included with the venue.
---
An amazing wedding cake!
Reviewed on

10/07/2013
Cecilia D
Our wedding cake was truly a work of art. The creativity and design were just what we were looking for from the "Sugar Chef" The coloring was spot on and the fold in the ribbon on the lower layer was so realistic. The cake was so moist and absolutely delicious. Thank you for... Read More making our cake such a special part of our big day. Cecilia
---
Cake Tasting
Reviewed on

7/28/2013
Erik E
I went in for a cake tasting from over 1.5 hours away. I wish she would have told me only chocolate and vanilla were offered during the tasting. You can request other flavors for $5 each, to take home and try, but I don't want to drive 1.5 hours to go get them. They were not... Read More available at the first tasting. Jen was nice but very quite, and I expected her to take the lead. It was a bit awkward. I had to do most of the talking, asking of questions and finally just said please write me out a quote. Quite expensive, but she is very talented.
---
Stunning and Delicious
Reviewed on

6/02/2013
Halie G
Sugar Chef does an amazing job. The tasting was so much fun. The flavors are all delicious. We chose a lemon cake with buttercream filling and fresh blueberries. The work on the buttercream icing was flawless and the cake was absolutely delicious. The cake from Sugar Chef was... Read More included as part of my venue's food package so we only paid for some of the upgrades.
---
Beautiful Cake
Reviewed on

4/24/2013
Thais F
My cake was included in my benvenuto package so I went with Sugar Chef. The cake was beautiful and it was delicious but it's a bit of a hassle to try different flavors. You have to call in advance and let them know what specific flavors you want to try a few days before the... Read More tasting and pay extra. I didn't mind paying extra but I live pretty far from the location and didn't know you had to request other flavors in advance so i didn't get to go back and try any other flavors.
---
Gorgeous work!
Reviewed on

3/10/2013
Shari S
My cake turned out amazing!!!! Way more beautiful then expected... And it also tasted great! My only issue was the cake tasting-you only get to try chocolate and vanilla. You have to buy each additional flavor for $5 per slice and you can't get them while at the tasting.
---
Fabulous signature cupcakes
Reviewed on

2/24/2013
Gaylene B
Our reception venue had a desert included with our meal so we wanted our guests to be able to take piece of wedding cake home with them to enjoy the next day. The best way to do that was with cupcakes. We chose the signature/filled cupcakes that Sugar Chef specialise in. We had... Read More key lime, New Yorker and Toffee Turvy as our flavors. The guests commented on how much they enjoyed them the next day. We had 47 cupcakes/one per guest, individual boxes and a topper cake. It was delicious!!! Thank you Sugar Chef
---
Last minute Cake...
Reviewed on

1/27/2013
Jen G
My dad's 65th birthday was 3 days before and I had no cake? I read about sugar chef and it was in my area so I read the reviews on wedding wire and took a big chance!! The cake was 2 tiers and fishing themed! It featured a beautiful underwater scenery with corals and small... Read More cute fish all around both tiers! The cake was strawberry shortcake filled and delicious buttercream frosted in aquatic blues!! They were very professional on day of pick up and provided a large box to transport! I would definitely recommend them to anyone!!
---
Beautiful and Tasty!
Reviewed on

11/13/2012
Tyna Z
My caterer recommended 3 different bakers for our wedding. After visiting each website, I determined that Sugar Chef was the one for us. We went for a tasting and we discussed options. We decided on a coconut cake with key lime filling. The cake design was winding branches with... Read More three dimensional purple and blue flowers. It was beautiful. I did notice when we were about to do the cake cutting that there were 2 indentations where flowers once had been. I have no idea if they fell off on the way to the venue or when the caterers brought it out. I'm sure it was not noticable to the guests so it wasn't a big deal. The cake was so DELICIOUS!!!
---
wedding cake
Reviewed on

10/16/2012
diana e
very good flavor hard to keep hands off. def worth every bite
---
Tastiest AND most beautiful cake EVER!
Reviewed on

8/06/2012
Vidya P
I showed the Sugar Chef a photograph of the cake I wanted, a tiered cake with an ornate fondant saree draped over it. She customized based on my colors and executed it PERFECTLY! She also did the wedding cake and groom's cake (an upright snare drum with the Purdue logo) at my... Read More sister's wedding, and they were incredibly pleased, too. I haven't even told you how DELICIOUS the cake tasted. She uses all fresh ingredients and customizes based on dietary needs as well. The fondant doesn't taste pasty, either. I would recommend the Sugar Chef ANY day!!!
---
Lovely cake!
Reviewed on

6/27/2012
Christine M
The cake design was just as we had planned. It was elegantly done and tasty too!
---
Mother's Day Wedding 2012
Reviewed on

5/30/2012
Vanessa I
Great cake!!! Moist, perfect decoration!! And most important, yummy and delicious! Cake delivered on time, no problems or drama! Very professional!
---
Use our messaging tool to connect with vendors anytime, anywhere. Stay organized, all in one place.