Home

Surveyor Creative
Details
Artistic, Documentary, Lifestyle
Getting Engaged, After Party, Rehearsals + Parties, Wedding
Destination Wedding Packages, Destination Weddings, Online Proofing, Digital Files, Photo, Second Shooter Available, Social Media Sharing, Full-Length Video, Highlight Video, Video, Photo + Video
Contact Info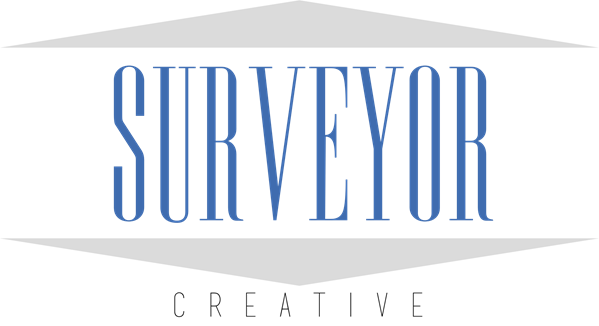 Reviewed on

11/15/2017
Jessica H
I can't say enough good stuff about Surveyor Creative! They were so amazing for our special day and I"m so glad we went with them to capture our memories. Cameron was amazing for our engagement session and was so flexible with schedules and travel.
---
Reviewed on

11/09/2017
Kara G
Cameron was so easy to work with for our engagement photos! He made the process seamless. The photos not only turned out fantastic with the fall feel we were looking for but we got them all back within 7 days! Highly recommend photographer within the KC area!
---
Reviewed on

11/09/2017
Maigan B
What can we say, but WOW! Cameron and Danielle are so fantastic and a joy to work with. They captured our engagement photos and our wedding day. From the first time we met, my husband and I felt very comfortable working with them. They are such a pleasant couple and makes... Read More everyone around them feel at ease! We received so many amazing pictures! And we got our pictures back so quickly. We are so glad we went with Surveyor Creative to capture our wedding day and we would recommend them to anyone!
---
Reviewed on

11/08/2017
Haley Y
Amazing job!! Cameron and his team worked so well not only the day of the wedding but before and after. Truly extraordinary work and would recommend to anyone. Thanks Surveyor Creative!
---
Reviewed on

10/26/2017
Ashley M
We loved working with Cameron and Dani. They are super chill, and very talented. We loved that they were committed to being with us for the entire day, from start to finish. They made sure to get all the pictures we wanted. We were blown away by how they turned out.
---
Reviewed on

10/05/2017
Erishyll I
Absolutely stunning work. These two are so professional and sweet! Love the pictures and the price! 10/10 recommend!
---
Reviewed on

10/04/2017
Katherine T
ABSOLUTELY AMAZING!!!!! That is all it takes to describe this crew. Such amazing people and we loved having them join us for our wedding!
---
Reviewed on

10/04/2017
Katie H
I would definitely recommend this photography team! They are reasonably priced and they delivered high quality photos. Their energy is great and they will make sure you get what you want. Danielle even noticed little details throughout the day; when I was cold she went out to... Read More her car to get me a blanket without me ever saying anything. Very nice couple and very talented photographers!
---
Reviewed on

7/26/2017
Kelci T
Cameron and Danielle are the BEST photographers hands down! From the moment we met for our gorgeous engagement they made us feel relaxed and natural, and we had a BLAST! They truly are the best in the business. I spent a long time researching wedding photographers in my area... Read More and was hit hard by their work, they automatically went to the top of my list! After having the opportunity to meet, it was clear how their personality and passion matched their talent, these guys are a force! They know how to capture every moment and how to take fun and unique photos that you will love every time you look at them. Never could I have imagined how wonderful photos could be until I saw these! Their work has a very artistic and editorial edge to it, which we LOVE! Not only are they both extremely talented photographers, they are some of the nicest people we have ever met! We didn't think twice about taking them to Mexico to photograph and video our destination wedding this coming November. We wouldn't entrust anyone else to capture the most special day of our lives!
---
Reviewed on

7/06/2017
Alexis Y
We used Surveyor Creative for our photography. Cameron and Dani were so sweet and went above and beyond to get all the shots we asked for on our day. It was about a million degrees outside and they didn't wrap up until they knew I was happy with the shots we got. I'm hoping we... Read More will be able to continue to use them for other memorable moments! They made such a great team and they had to deal with a big wedding party and even bigger family!
---
Reviewed on

7/01/2017
Annie S
Surveyor Creative is INCREDIBLE. My husband and I had a BLAST at our engagement session and got absolutely gorgeous shots. The owner, Cameron, is very timely and professional. Cameron got us our pictures a week after the engagement session. Our wedding went so smooth. There were... Read More two photographers and they stayed from 11:00am to around 10:00pm. I have heard some of the group wedding pictures can be stressful, but that was not the case for us. The photographers had amazing leadership skills that made group photos stunning and capture the day perfectly. We could not be happier.
---
Reviewed on

6/21/2017
Cassidy R
Surveyor Creative Rocks! They take some of the best engagement and wedding photos I've ever seen. They really knew how to pose us to make us look good, which was really helpful and took a lot of the pressure off of me. They are a breeze to work with. They helped my husband and I... Read More feel so calm on our crazy wedding day and went out of their way to serve us.
---
Reviewed on

5/23/2017
Devin C
Seriously could not have asked for a better team. Communication with Cameron was always a breeze. The day that we drove to Lawrence for our engagement pictures was a day my husband and I will always remember - it was so fun! Thanks Cameron for being adventurous that day to get... Read More amazing shots! Driving back from Lawrence we received our finished engagement pictures. Say whaaa? We were pumped and even more excited at that point to have Surveyor Creative shoot our wedding day! When Cameron and Danielle showed up the day of our wedding they were ready to work hard. As the bride, I really appreciated that Danielle would direct everyone for the pictures, taking stress off of my shoulders. Cameron and Danielle were very personable throughout the entire day, making us very comfortable in front of the camera. We loved having them there and so did our wedding party. Y'all. Exactly a week after our wedding, my husband and I were spending time on our honeymoon looking at the finished pictures. I am so thankful and appreciative of how hard these two work. I love their authenticity and consistency.
---
Reviewed on

5/19/2017
Kaylee T
Our wedding was just a couple of weeks ago (I don't even have our wedding video back) but I just couldn't wait to write them a review! Cameron and Danielle are beyond amazing. Seriously you all, they are just the sweetest pair. They were going above and beyond to make sure... Read More they got every shot - they stayed til the very end of the night and still had the BEST attitudes. The bridal party and guests were amazed at how present the pair was for everything but not in a overly obvious way. I feel so lucky to have them there on our big day and can't wait to see the final result! Just cannot say enough good things about them. Thank you all!
---
Reviewed on

1/10/2017
Alyssa C
Cameron and Dani were so, so awesome! We couldn't have asked for anyone better. My husband and I were so pleased with our highlight video we have watched it dozens of times already! Seriously, Surveyor Creative is the. way. to. go.
---
Reviewed on

12/27/2016
Kristin S
Surveyor Creative did a phenomenal job with our wedding photos they made the day so much easier and were so nice. They fit in like they were part of the family and we absolutely loved having them part of our day. You would be missing out if you didn't hire them for your special... Read More day.
---
Reviewed on

11/19/2016
CAMERON P
They did a great job on our wedding video! Couldn't be happier. -Cameron, groom
---
Reviewed on

10/02/2016
Madelyn R
Before hiring Surveyor Creative I had fired my previous photography and was a bit worried moving on with the wedding planning, but Cameron and his crew took care of everything!! Cameron was attentive and very professional when setting up our wedding session. He had to contract... Read More out to a different photographer and took on the editing himself. Our contracted photography was AMAZING. Immediately Emily fit right in with my group of bridesmaids. She was so kind, funny, and creative. 30 days after my wedding I got to relive every detail while glancing through my photos. Never in a million years did I thick I would receive this kind of service! Thank you and God bless!
---
Reviewed on

8/27/2016
Bailey B
Had a wonderful experience with Surveyor Creative! Cameron was very responsive and we got an awesome video plus our raw footage. Very happy!!
---
Reviewed on

8/25/2016
Katelyn D
Surveyor Creative is fabulous. They are extremely creative and talented. The video they produced for my wedding far exceeded any expectations I had and it is such a sweet memory of the night. They are flexible, laid back, professional, and dedicated to getting the best shots. I... Read More loved my experience!
---
Reviewed on

8/21/2016
Cody H
AMAZING WORK! We used Surveyor Creative as our videographer and were extremely satisfied! Cameron truly has a talent for weddings. You will not be disappointed! I am writing this review voluntarily because I am so pleased with the work he did for my husband and I on our wedding... Read More video. Check him out! Cameron is extremely easy to work with, responsible, and kind. He even offered and gave us a ride on our wedding day after our first reveal. He really cares about his work and is significantly talented. I recommend you check him out! I am so grateful we found Surveyor Creative. Thanks again, Cameron! -Hayley Hullman
---
Reviewed on

8/08/2016
Amanda L
They spent all day with us and took amazing photos!
---
Reviewed on

6/25/2016
Myah K
Awesome job! Cameron and his whole crew were amazing. They spent the whole day with us, and are people we have never met. But they made it feel like we had been friends for awhile. I was so comfortable (the bride). Cameron is so talented and knows what he is doing! His team... Read More not only took pictures but guided us through cutting our cake, help moved wedding decor around, etc. Cameron was at our venue by 10 am and stayed until 11 pm..... CRAZY! We were so grateful that he stayed that long and did not charge extra for it. He captured every minute of that day. I HIGHLY recommend Cameron. You will not be disappointed!!
---
Reviewed on

6/05/2016
Bethany F
Working with Cameron was anything we could have hoped for and more. He went above and beyond the call of duty and provided INCREDIBLE pictures for us to remember the big day. We look like a magazine! We definitely recommend Surveyor Creative!
---