Home

Sweet Discoveries
About this Vendor
You dream it, We bring it to life..
Details
Cake Accessories, Cake Delivery + Setup, Cakes + Desserts
Contact Info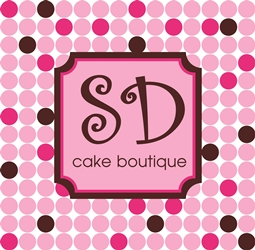 388 Lake Street, Antioch, IL
So many choices!
Reviewed on

10/29/2013
Sara G
They did an amazing job designing my cake and providing so many choices and combinations :) So yummy!!!
---
Perfect!
Reviewed on

7/26/2013
Colleen V
Luda was fantastic to work with. I came in with a picture of my bridesmaid dresses and she made the cake to match them. I'm not a cake eater, so I personally can't rate the flavors, but everyone seemed to loved it. We had a top tier of a cake for us to cut and then the rest was cupcakes. It was adorable. We had vanilla cupcakes, chocolate cupcakes and lemon delight. Everyone raved about the lemon delights. For the Vanilla cupcake, we had white frosting and white sprinkles. I found out later that many people thought the white sprinkles were coconut and didn't want to eat them. I wish I would have realized it was going to look that way beforehand because we had a lot of Vanilla left over after the wedding. I don't think we could have found a better price for the cupcakes. Other places I was looking, they were about $0.50 more each, which really adds up quickly. I would highly recommend working with Sweet Discoveries. They are so creative and willing to work with any idea.
---
Wedding Cake/ Cupcakes
Reviewed on

7/24/2013
Meghan H
I used Sweet Discoveries for my wedding cake a few weeks ago. They did a phenomenal job and I couldn't have been happier with how the cake turned out. Not only did it look good, but it tasted AMAZING!!! I would recommend them to everyone!!!
---
Amazing!
Reviewed on

7/16/2013
Jessie L
We showed Luda from sweet discoveries the champagne flutes and cake cutting utensils we bought to use the wedding and she based the cake off of them. The cake itself turned out better than I ever could have imagined and it was delicous, we got nothing but conpliments! We also showed her a picture of a penguin cake topper I saw online and she recreated them from rice krispy treats covered in fondant. They looked exactly like the picture I showed her!
---
Sweet Discoveries
Reviewed on

7/07/2013
Hailee R
The cake was delicious and the look of it was everything that I ever wanted for my wedding cake. Luda really did a good job in capturing exactly what I wanted!
---
Julie
Reviewed on

7/06/2013
We were totally pleased with our experience in working with Sweet Discoveries! We chose a cupcake tower design with a six inch round topper. The four flavors we choose were: vanilla bean, red velvet, chocolate raspberry and banana with peanut butter frosting. When my daughter and I visited the area, we sampled 3 different bakeries and Sweet Discoveries was at the top of our list. Our wedding guests just raved over the cupcakes!
---
Amazing Cakes
Reviewed on

7/03/2013
Emily M
The cakes are delicious, unique, and beautiful!
---
Bride
Reviewed on

6/09/2013
Susan C
I would recommend Sweet Discoveries to anyone. Great people to work with!!! Have a variety of delicious cake and frosting flavors!! Able to provide a detailed beautifully decorated cake!! Cake was delicious!!! Many of our guest commented on how good the cake was, and we recommended they stop in their store for cupcakes or cheese cake!!! Excellent service and delicious CAKE!!!
---
The perfect cake
Reviewed on

6/09/2013
Nicke W
The cake was perfect. It matched my dress. It was everything we decided to have. The cake tasted amazing and was delivered on time with no problems. I loved our cake.
---
Excellent
Reviewed on

6/09/2013
Jinah S
Everyone at Sweet Discoveries is very friendly and helpful. They created exactly what we wanted and it turned out even better than we had imagined! We ordered cupcakes and a two tiered cake for our wedding and it was delivered at the right time and everything tasted delicious. Thank you guys so much!
---
Bling It On
Reviewed on

5/26/2013
Nancy A
I first found out about Sweet Discoveries from a bridal expo that I attended. From the first meeting to the last one, Luda and Laddie were very professional, quick to answer all my questions and caring and kind people. I knew right then and there that I was going to entrust them to make my vow renewal cake for my husband and I of 25 years. I tasted a couple of their cupcakes and fell in love. I then went to a tasting and tried several more flavors to include the ones I had already tasted and the consistency and great taste were the same. I set up a consultation and Luda put all my ideals down on paper and drew up my bling-bling' over the top elegant cake. What impressed me most is that she really cares about the products she presents and puts her heart and soul into each one. She wants only the best for each client. When I saw the finished product...I was very pleased on how beautiful and tasty my cakes were. My guests were just as pleased and complimented us on how beautiful they were and how good they tasted. I would highly recommend Sweet Discoveries to friends and family and if I ever need a cake again...she will be my number 1 pick!! I still plan to visit the bakery regularly to get more of their tasty cupcakes and treats!!!
---
Jen
Reviewed on

5/23/2013
Jennifer K
Luda did an AMAZING job on both cakes!! My husband had an Avengers cake as his grooms cake and everyone was commenting on what a fantastic job she did! The cakes were delicious, especially the Red Velvet!! I highly recommend Sweet Discoveries for wedding cakes. You will not be disappointed!!
---
WOW - The wedding cake was AMAZING !!
Reviewed on

4/18/2013
Debby D
Luda; Not only was your service wonderful, but you had the cake to back it up !! We loved your service, but the cake was SO much more than we expected. It was beautiful, simple, elegant, detailed, and was a reflection of our family. The Zucchini cake with cream cheese frosting was to die for. The banana chip with cream cheese divine, and the carrott a classic but amazing addition. Your driver was early and did a beautiful job setting it up. Your cake was the "icing" on the day :0) Pete & Debby
---
Sophie
Reviewed on

10/30/2012
Sophia J
Our wedding was in October, we went with a fall theme, they did excatly as is asked with the color sceam. My husband commented later that he wished they would have air sprayed the fondont with some fall highlights. And we would strongly suggest that you have a sample of fondont at the tasting if you customer is going in that direction. We had severel guest comment that the fondont was blaugh, we thought it would have some tatse to it that would have complemented the taste of the cake choices, we went with Banana cake with a strawberry filling and a pumpkin with a cream cheese filling. Only we had a little issue with the fondont. We had a hard time cutting it. All and all it was great. I would order from them again only i would not go withthe fondont. They gave us everthing we asked for, all our guest said thumbs up with exception of the fondont othwise we are very please with the whole experience.
---
Amazing cupcake and cake tower!!!
Reviewed on

10/28/2012
Carissa D
Luda is an artist! She made exactly what I was envisioning come to life! I kept getting compliments all night. So much so that my venue wants pictures of my tower to showcase. The cupcakes were amazing tasting with my favorite flavors and fall flavors to die for!!! Absolutely will be using again!!
---
AMAZINGLY DELICIOUS AND BEAUTIFUL!
Reviewed on

10/14/2012
Nancy S
Sweet Discoveries is the only wedding cake vendor you need to know. I HIGHLY RECOMMEND IT TO ANYONE. Luda is wonderful and was great to work with. She was able to take our vision and our wedding theme to make a cake that was unique and perfect for us. She used my wedding dress, invitations, and flowers to create sketches we could choose from. Not only was the cake absolutely beautiful, but it tasted sooooo goood! My husband and I don't usually like cake, but Luda's ingredients and frosting is the best we're ever tasted. Everybody was asking who made the cake, and til this day guests are still talking about how delicious our cake was. And as a bonus, Luda also makes the best cupcakes :)
---
Amazing Topsy Turvy Cake
Reviewed on

10/09/2012
Melissa D
Luda at Sweet Discoveries did an amazing job! After meeting iwth her a couple of times to figure out the style of cake we wanted, she literally helped bring our vision to life. It was absolutely spectacular. With her help, we created a Topsy Turvy Cake that looked like it was straight out of a fairy tale! It not only looked amazing, but every single person complimented how delicious the taste was as well! She was such a pleasure to work with and I have already gone back for my husband's birthday to have more of her fine treats to eat! Thank you Luda for helping make our day a fairy tale with your beautiful work! It was better than Ace of Cakes!!
---
Beautifully Delicious
Reviewed on

10/01/2012
Stephanie W
We tried Sweet Discoveries cupcakes and were sold at first bite. Every flavor we tried was fabulous...which led to our only problem: picking a select few for our wedding's cupcake assortment. It was very easy to work with Luda and her creative flair worked wonderful with our beach inspired cake and cupcakes. My family goes back regularly just to pick up some cupcakes!
---
Excellent- Sweet Discoveries
Reviewed on

9/24/2012
Michelle M
I found this bakery and the owner, Luda because they are one of the 3 bakeries we could get a cake through for the IL Beach Resort. I tasted cake from all three and Luda's were by far the best. Her cakes and fillings are delicious. We ended doing a banana cake with peanut butter merigue and a chocolate cake with a triple berry merigue. So delicious! Luda can make any type of decorations needed. She is very creative and artistic. She can make any type of design you can dream of. She is willing to work with cost as well. My cake was free, but I wanted some embellishments. I didn't want to pay a fortune so she found some lower cost options for me, which worked out great. She was very accomodating and we went back and forth on the design until it was perfect.
---
patient, creative, affordable!
Reviewed on

9/13/2012
nicole f
we worked with Luda for what seemed like forever to design our wedding cake! she was SO patient with all the changes we were tossing at her and continuously created a more intricate detailed wedding cake that worked in our budget. my husband (which was super interested in designing the cake for some reason..) absolutely loved my necklace i was wearing on our wedding day and thought it would be a great idea to incorporate it into the cake and a garland effect. all in all...everything was great! unfortunately, we did not even get to eat our wedding cake on the big day because our venue servers cleaned it up too quickly! However, we know that at our one year anniversary we will reminisce on the SUPER moist and flavorful red velvet cake that we experienced at our tasting event and all of our guests LOVED! thanks luda! you are so talanted.
---
Simply the best
Reviewed on

8/31/2012
Kristen M
Luda made a custom Memorial Stadium cake for our grooms cake in our June 30, 2012 wedding. She was simply the best to work with. It was made exactly like Memorial Stadium down to the last detail, from the lettering to the lights. Luda and her crew spent so much time and energy into making this cake perfect for us. I would recommend her to anyone and everyone. She did such a great job that our cake even made it into The Chicago Sun Times, Omaha World Herald, Sports Illustrated, and several other local newspapers. Thanks Luda and Sweet Discoveries!
---
Luda is So Talented!
Reviewed on

8/07/2012
Sarah H
We sat down with Luda to design our cake and made 3 different drawings. She put all of our ideas together and made a cake that not only looked amazing but tasted delicious! It was so moist and flavorful!
---
Sweet Discoveries Wedding Cake
Reviewed on

7/03/2012
Kallyna H
Sweet Discoveries made our cake for our June 22, 2012 wedding. Luda did the most amazing job ever! She was so friendly and helpful during our meetings. She asked us what we wanted in a cake and then she started sketching. It was the coolest thing to see our wedding cake forming right before our eyes. When our cake arrived on our wedding day, it looked even better than I could have imagined. She had designed our dream cake!! I would recommend Sweet Discoveries for your wedding cake! You will have an amazing experience and your cake will not only look great, but it will also taste absolutely incredible as well.
---
Sweet Discovery wedding cupcake review
Reviewed on

6/28/2012
Cynthia K
Our wedding guest favors were four scrumptious  cupcake flavors:  Keylime, Cherrychip, Strawberry delight, and Chocolate delight. Our family and friends have savored them all. My father fully expects Sweet Discovery Bakery Goods when I visit. It was a pleasure doing business with Luda and look forward to our next bakery order. CjK.
---
Everything was perfect!
Reviewed on

6/25/2012
Michele M
Sweet Discoveries created an exquisite cupcake tower with a cake topper for my wedding. The cupcakes were so delicious - all our guests raved about them (especially the sprinkles!) Luda was so easy to work with and provided great recommendations. We also had a short engagement, and Luda was able to work within our budget and timing restraints - no problem. Sweet Discoveries is also very flexible and was able to deliver the cupcakes & stand to our reception which was all the way in Lake Forest. It was one less hassle we had to worry about. I highly recommend Sweet Discoveries for any event!
---
Send Message