Home

Sweet Memories Bakery
About this Vendor
A Wedding Cake You Will Remember Forever
Details
Cake Accessories, Cake Delivery + Setup, Cake Tastings, Cakes + Desserts
Contact Info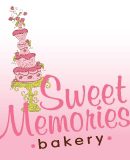 800 W Williams Street (Hwy 55), Apex, NC
Delicious & Perfect Wedding
Reviewed on

5/05/2015
Allison B
Sweet Memories Bakery created my dream wedding cake. I came in with a few pictures from Pinterest and was able to pick and choose the decor and flavors for the cake. The taste testing was fun, and delicious! We went with a 3 tier cake with Cassada (Amaretto) on the top and bottom tiers and Dark Chocolate Cappuccino in the middle. I am very pleased with how it turned out. It looked just how I imagined and tasted even better! I love how they provide a fresh made top tier for our 1st anniversary to share. I'll be looking forward to tasting it again! I definitely recommend Sweet Memories Bakery to any bride!
---
Yummy & Delicious
Reviewed on

12/29/2014
Sweet Memories Bakery is absolutely delicious! They did both our cake and our catering for our wedding. Guests are still complimenting on the food and saying how the cake was the best they had ever had! Donna was wonderful to work with and we enjoyed meeting with her and talking about all of our different foods. The only issue we had was with the flexibility of the assistant at the bakery. Overall though the food was amazing and it was a pleasure to work with Donna. I would highly recommended both the bakery and the catering to anyone looking for good food at a good price!
---
Good Cake, Bad Execution
Reviewed on

12/09/2014
Melissa J
When I met with Danielle, I was pleasantly surprised: she sketched the perfect cake that was exactly what we wanted, and the cake tasted great. I was also sold on the fact that I didn't have to freeze my top tier, they would bake an anniversary cake for us on the first anniversary. So, we went with Sweet Memories. Unfortunately, Sweet Memories did NOT follow-through with what I was expecting from such a well-known and well-reviewed bakery. Our cake was fairly basic (no fondant or intricate details or colors), just white buttercream frosting with white piping "lace-like" swirls and accents. On the top tier, I wanted my husband's and my first initials (M and N) separated by a big ampersand (& sign). Danielle sketched the design, and assured me she knew exactly what to do. On the wedding day, my cake arrived and read "MEN" in all capital letters... There was no ampersand, and nothing resembling an ampersand on the cake, it was definitely just an "E," and our last name does not begin with "E." My event coordinators called the bakery, and were told that "this is what the sketch design shows," so it became obvious that there is a serious disconnect in communication between the designers and the decorators. Danielle obviously did not decorate the cake herself, and did not inform the designers that the symbol she drew was an ampersand. There was no, "I'm sorry for the miscommunication" or suggestion to fix the "E," only "that's what's in the sketch." Luckily, my event coordinators were awesome and took a fondant fleur des lis from the back of the cake, and placed it inside the "E" to make it not look so obviously like an "E." Then it came time for the one year anniversary cake- yay! I was looking forward to some good cake. I would think that they look back at the sketch of your wedding cake and attempt to model the top tier, or at least put something resembling your wedding cake on the anniversary cake. Maybe a "Happy Anniversary." I picked up our cake, and it had RED fondant poinsettias on it...? So, I get it, we got married in December (early December), but my wedding cake was completely WHITE with NO fondant flowers at all and NO Christmas decorations? My anniversary cake is a Christmas cake. Needless to say, I was very disappointed in the fact that they didn't even bother to look back in their books and see what they made for us a year ago. The anniversary cake was a big reason we picked this bakery, so that we would receive a fresh tier of "our" wedding cake. Well, we received fresh cake, but it's careless and doesn't resemble our wedding at all. To summarize, I would not recommend Sweet Memories if you expect attention to detail in your cake, or even attention to you as a customer when you pick up your anniversary cake. The cake is good, but when I'm paying so much for a wedding cake, I expect it to be what I want. I wish I had read some more honest reviews about this bakery before I booked them, so I hope I'm helping someone else in your wedding plans.
---
Multi Cake Wedding
Reviewed on

10/25/2014
Jennifer D
It was such a pleasure working with Danielle. She's very personable, efficient, timely, and accommodating. We came in with several ideas and she turned them into reality. Instead of having one traditional wedding cake, we opted to have several different types of cakes (six in total). Each was artfully decorated and delicious. Our guests raved over them, especially the tiramisu. Luckily we live close enough where we can visit the bakery whenever we wish. We really can't say enough good things about Sweet Memories!
---
Beautiful and Yummy Cake!
Reviewed on

10/09/2014
Katie O
Danielle's cakes are the best! My new husband and I are so happy that we had the opportunity to work with Sweet Memories Bakery to have our wedding cake made. From our first consultation and cake tasting to the day of the wedding, working with Danielle was a breeze. Not only did they have excellent flavor choices but also several design options as well. Couldn't be happier and they have our highest stamp of approval! Thank you so much!
---
Beautiful & Yummy!
Reviewed on

5/14/2014
Lindsay U
Our wedding cake was 3 layers and we kept it simple. The cake flavors were so delicious and moist. I was very happy with our choices and the staff was very helpful with design and during our consultation. I would highly recommend them for any of your cake or cupcake needs.
---
Delicious!
Reviewed on

1/07/2014
Lindsay D
Sweet Memories Bakery created our wedding cake and a groom cake. Danielle was highly responsive and routinely touched base with me as the big day approached to ensure that she was ready to execute my vision. Often times, wedding cake looks better than it tastes, but that was not the case with ours! The cakes were beautiful and delicious. I would highly recommend working with Sweet Memories Bakery for your wedding cake!
---
Delicious Wedding Cupcakes
Reviewed on

12/06/2013
Elizabeth B
Wedding cake/cupcakes were included in the price of our venue as they work with Sweet Memories Bakery to provide this service. My husband and I met with Danielle at Sweet Memories and had a great time not only tasting over 10 types of cake but sharing fun stories with each other. She was wonderful to work with and made a delicious product. We went with wedding cupcakes and then the top tier was a cake made out of their Southern Aristocrat cake (sweet potato cake with white chocolate mouse) which Sweet Memories decorated in a buttercream icing and then made dots in the "hidden mickey" to pay tribute to our Disney Honeymoon. We chose 3 different flavors for the cupcakes; Vanilla, Cappuccino and Southern Aristocrat. Each one was more delicious then the next. We received tons of compliments on not only what a great idea it was to have cupcakes instead of wedding cake but how delicious they were as well. We would absolutely recommend Sweet Memories Bakery to anyone and will definitely be going back in the future.
---
sooooo GOOD!!
Reviewed on

12/05/2013
Lily J
White chocolate cake is delicious!
---
YUM x a million
Reviewed on

10/22/2013
Kristen K
DELICIOUS cake!!! Sweet Memories provided our groom's cake for the rehearsal dinner and the wedding cake for the reception. Both cakes were delicious (groom's cake = chocolate with oreo cream filling, wedding cake = tiers of chocolate and vanilla with raspberry filling and butter cream icing) AND beautiful. Danielle was very responsive and helpful as well!
---
Great Cake
Reviewed on

7/03/2013
Caitlyn D
Loved everything about my experience with Sweet Memories-- I chose the flavor and described my vision and they took care of the rest! Our raspberry cream and chocolate layer cake was delicious, and beautiful to boot!
---
Taste just like a piece of Heaven
Reviewed on

7/03/2013
Tameka T
Sweet Memories Bakery was the second and final cake tasting I experienced. The flavor selections were awesome! I had such a hard time deciding. I enjoyed the texture of the frosting as well as the moistness of the cake. My cake tasting went very smooth and the staff was very pleasant and professional. The first bite of our wedding cake on our wedding day reminded me of my cake tasting with Sweet Memories Bakery! It was just as fresh, moist, and scrumptious! We received a lot of raves about her wedding cake.
---
Sweet Memories-Yum! :)
Reviewed on

6/03/2013
Carolena N
Sweet Memories did an amazing job with my wedding cake and dessert bar! Everything was delicious and Danielle was wonderful to work with throughout the planning process!
---
Awesome Wedding Cake!
Reviewed on

2/06/2013
Julia S
Danielle was amazing to work with, very creative and flexible! Sweet Memories made my wedding cake beautiful and it tasted great! They also did my Groom's cake which we had for the rehearsal dinner, also amazing with great detail! I would definitely recommend Sweet Memories Bakery to any future brides as well as for any other functions needing cake!!
---
So yummy and beautiful!
Reviewed on

12/02/2012
Ashley H
Sweet Memories Bakery made the PERFECT cake for my wedding. I wanted a cake that was entirely fall themed with pumpkins, leaves, and a fall inspired flavor. They had plenty of choices for us and we decided to go with their sweet potato cake (which was amazing)! The design was also exactly what we had hoped for. I highly recommend this bakery for your wedding!
---
Awesome Cupcakes!!!
Reviewed on

11/18/2012
Meghan M
Sweet Memories did a great job, our cupcakes and 2 tier cake were so tasty and amazing! It was so much fun doing our tasting with them and trying to narrow down all of the great flavors they offer. They did a great job and we can't wait to go back to the bakery to get cupcakes and remember our special day! We would highly recommend using Sweet Memories for your wedding!
---
Delicious
Reviewed on

11/17/2012
Caroline F
My cake was beautiful and tasted amazing!! I just wish I was able to taste more than a bite!! We look forward to our one year anniversary when this give us a complimentary cake topper to eat!! Danielle was so great to work with!!
---
Yum! Thank you Danielle
Reviewed on

11/05/2012
Robin Y
Our Sweet Memories cake was beautiful and delicious! Danielle was a pleasure to work with, helping us figure out exactly what we wanted our cake to look like. This was one of the easiest steps in the whole wedding process.
---
DELISH
Reviewed on

11/04/2012
Hadley N
Some of my friends are still talking about our cupcakes, and have gone to the bakery to get more! The cake was amazing!! My only concern was that some times it was hard to get in touch with the folks there, but over all they were very helpful! It was also pretty hard to cut the cake because it had a cardboard piece that was smaller than the cake underneath so I didnt know it was there. It was REALLY hard to pull the piece of cake out. but it was super tasty!
---
Yummy Cake
Reviewed on

9/18/2012
Nguyet T
Sweet Memories did a wonderful job on our cake. The cake was delicious and everyone at the wedding couldn't stop talking about it.
---
The Best Wedding Cake!
Reviewed on

9/04/2012
Chisse C
Great service, execution, coordination and reliable!
---
Addicted to Sweet Memories
Reviewed on

8/26/2012
Bethany H
Cake tasting is by far one of the most fun things about planning a wedding! My husband and I went to 4 cake places to find the one we wanted. Sweet Memories won hands down! The cake in incredibly moist, full of flavor, and quite simply it melts in your mouth. The first thing we did in our cake tasting adventure was before we made a single appointment we went to the places we were going to try and just bought a variety of the cupcakes that they offered. We wanted to see how they tasted on a day to day basis not just when we booked an appointment and they knew they had our business on the line. Needless to say, we not only used Sweet Memories for our wedding cake and grooms cake but are now addicted to their cupcakes. The variety of flavors they offer was another reason we chose them. We were surprised that some places limit their options down to 4 or 5. Not at Sweet Memories. My husband and I hate coconut, however, it was our top choice at this bakery! I never knew coconut could taste the way they made it! It's incredible. Other top flavors included: Cappuccino, White Chocolate, Red Velvet, and Pure Vanilla. Did I mention you can mix and match the flavors you want as well? As for the design they nailed it. We asked for a very simple design going up the side and they nailed it! Danielle was our contact person at the shoppe and she is amazing. She did our tasting and then helped us come up with a design we wanted. She also helped me surprise my husband with his groomscake, which had an aviation theme. If you're looking for a bakery then I cannot urge your enough to try Sweet Memories!!!!
---
Delicious & Unique
Reviewed on

8/20/2012
Maria V
We tried so many cake weddings. The tasting was my Husband's favorite part of the wedding preparation, lol. And in between all the tasting Sweet M B was our definite choice. It was obvious to us. The price was good, and compare to the rest, S B M has the best tasting cakes. It is delicious and simply fine. Everyone with no exception loved our wedding cake of 3 tiers and two different flavors.
---
Wedding Cake
Reviewed on

8/14/2012
Nicole L
The Cake was amazing!! The staff was very helpful, and help me to create a beautiful cake.
---
Most beautiful and delicious wedding cake ever!
Reviewed on

7/29/2012
Rachel B
Sweet Memories Bakery recently made our beautiful and delicious wedding cake! The cake was just as I had envisioned it and went so well with all the other decorations at our reception. Every expectation and request was met by Danielle and the rest of the team at Sweet Memories. Danielle was always professional, friendly, a clear communicator and prompt during the planning process. And not to mention how delicious the cake tasted- we went to a lot of cake tastings before deciding to go with Sweet Memories and they had by-far the best tasting cakes and the most flavor varieties! Many of our wedding guests said it was the best wedding cake they had ever had as well. The slightly higher cost(compared to other area wedding cake vendors) is definitely worth the quality of the cake and the hassle-free service from Sweet Memories!
---
Send Message