Home

Sweet Pea Wedding Studio
About this Vendor
Every wedding needs a special sparkle
And that's exactly what we do. Our flawless execution, passion and creativity leaves no detail unpolished. Whether it's a simple soiree or a lavish affair, we make every wedding as sweet and chic as can be. You'll have many reasons to smile on your big day. When we're there, you'll have one more.
Details
Available for Consultation Only, Available for Wedding Day Coordination, Full Coordination Services
Contact Info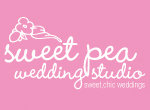 Sweet Pea Wedding Studio is a wedding must have!
Reviewed on

11/03/2011
Jeannie C
I cannot say enough good things about Kristin and her Sweet Pea Wedding Studio. Her rate is unbelievable considering how much work she put into my wedding. Not only did she give me thousands of good ideas but she also executed them. She was always there for me. Day or night she was available via email or phone. And the big cherry on the sundae was her performance on my actual wedding day. She did most of my decorations and flowers in under 3 hours. I could not have gotten married without Sweet Pea studios. Kristin knows all the ins and outs of weddings and I was clueless without her. Even when I thought I had figured out ever detail I wasn't even close. A good wedding planner like Sweet Pea is a necessity. She directed our entire ceremony. Letting musicians known when to start playing and telling everyone when to start walking. I mean who would have done these things if I hadn't hired her? I am recommending her to all my friends. She really is the best.
---
A MOB's BFF
Reviewed on

10/01/2013
Pam M
Hiring Kristin at Sweet Pea Wedding Studio was one of the best choices I made when selecting vendors for my daughters wedding. She was a dream to work with and showed sincere interest in making the day special for us. She listened attentively and offered suggestions to improve our ideas. Her guidance throughout the planning process was helpful and kept us on track as the big day approached. As the MOB, I can honestly say that I would not have been able to enjoy the wedding and reception nearly as much without having Kristin on board. Her pleasant and professional presence was both comforting and invaluable. If you are considering a wedding planner, look no further, Kristin is the one.
---
Awesome!!
Reviewed on

11/04/2011
Ruth K
Kristin was amazing! She was so supportive in getting me through all the craziness of wedding planning. It was so nice to have someone to turn to and talk about everything that was going on. I could seriously pour my heart out about whatever was going on and she totally heard everything I said and was there to keep me focused and get through it all. She found us amazing vendors and I don't know if I could have gotten through it all with out having her to talk me through it. Seriously, if you are planning a wedding...hire a wedding planner!! And hire this company...she is always there if you need her!! Thank you Kristin!!
---
OUTSTANDING Wedding Planner and Day of Coordinator
Reviewed on

10/06/2013
Julie N
All I have to say is that Sweet Pea took all the stress out of wedding planning and day of coordination. Kristin and team are organized, professional and offer realistic advice. Bumps are going to happen and I must say, I felt completely stress free the weeks leading up and the day of my wedding. They take complete control over all communication to vendors, wedding party, etc. a few weeks before the actual day (if you're the type though that likes to keep ownership, they certainly will back off. I am not!). What a relief that was! And having them as the "go-to" on the wedding day allowed my friends family, future hubby and I to focus on what really mattered...enjoying the day.
---
Sweet Pea Is As Amazing As Can Be
Reviewed on

11/04/2012
Moira O
Sweat Pea Wedding Studio is not just a wedding planning service; they are professional experts with the goal of making your big day the most memorable of your life. Kristin Galbraith, founder of Sweet Pea Wedding, was a delight to work with from beginning to end. She thought of details that were uknown to me, but so very vital to a successful wedding. I consider myself a pretty laid back bride and did not even fathom all of the little details that should be accomplished on the day of the wedding. Kristin helped to plan a beautiful exit from the church and also suggested a dramatic entrance with the front doors of our church. Looking back, these are details I would have NEVER thought of, but now these details have created memories that I honestly could not have lived without. Another example of her amazing work is when our venue put our place settings in order by table, which would have made the location of these seatings quite challenging. Kristin quickly organized these names in alphabetical order and communicated to me a last minute table change. In addition, she is the queen of important touches. She discovered that my husband's nieces' purses were left at the church and she placed them at their table seating. Examples like this prove that Kristin is the super hero of wedding planning. She organizes and plans every detail with such professionalism. Then, she coordinates the day of wedding events with poise and grace. I honestly did not have to think of one detail the day of my wedding. My mother is still raving about the fact that she could enjoy the wedding from beginning to end. If you are debating about having a day of wedding planner, I strongly suggest that you contact Kristin. You will be immediately impressed with her ability to make your wedding day a dream come true.
---
Love Sweet Pea!
Reviewed on

11/03/2012
Noelle O
Kristin with Sweet Pea Wedding Studio has truly taken a HUGE weight off both my mom and my shoulders. After one meeting, we knew we no longer had to sweat the small stuff. She is always available to answer even the smallest questions I have along the process (and with such expertise and though). My dream is to get married outside, but with a late fall wedding, I have fears of how cold it will be (but am committed to the cause) - she thought of the idea to incorporate hand warmers in a box next to the programs with a sign that says, "To Have and To Hold...and To Keep Your Hands From Getting Cold" - so cute and such a perfect way to ease my fears - and a fun addition to the wedding. She is always sweeping in and coming with ideas and suggestions to make my wedding more perfect! It was one of the best moves of my planning to date to hire Sweet Pea Wedding Studio - don't have enough nice things to say! Highly recommend!
---
Words Cant Say Enough
Reviewed on

10/30/2012
Carrie F
Good Things about Kristin and all of the work she put into my wedding. To say that I was overwhelmed by the whole wedding process is an understatement. From the moment I said yes, I knew I wanted to work with Kristin as she was not only a good friend of mine, but a wonderful planner. The thing that was the best about Kristin is she always provided some realistic feedback when I told her what my ideas were and where my budget was at. She would take the information in regarding what I was looking for and provide thoughtful feedback to help me make the ultimate decision. The single detail that stands out as being the VERY BEST PART was how detailed she was. Not only with speaking with the vendors that we had hired for our wedding, but also with the schedule for the Weekends Activities. The schedule she completed was down to the minute and for a detailed orientated person like myself it helped me get organized. For example on the day of I had 11 girls getting both hair and makeup done and with her help and organization we not only finished on time, but we were AHEAD of schedule. I would recommend Kristin to anyone out there as she takes the time to figure out what a couple truly wants from their wedding day and works to provide them with the day of their dreams.!
---
Amazing!
Reviewed on

9/11/2012
Elizabeth F
My Husband and I both agree that hiring Kristin was the best money we spent for our entire wedding! She was personable, friendly and helpful, but could get vendors and people moving when necessary. Additionally, when we lost our photographer a week before the wedding, Kristin had 4 options pre-screened for us to choose from within a few hours. I truly don't know how we would have gotten through our wedding with our her and her assistant Renee! It was sad to see her leave, but luckily she'll be assisting my sister with her wedding next year because she loved her too! You will not be sorry for booking her to coordinate and/or plan your wedding!
---
Fantastic!!!
Reviewed on

12/05/2011
Lizzie G
Words don't express how amazing Kristin was. Looking back she was by far the best wedding vendor we used. She is wonderful to work with, really knows her stuff, and has an amazing way of making those around her calm during the chaos of wedding planning. She was our day-of planner, but was so much more than that. Her attention to detail is spot on, and she understands what it means to stay within a budget. I would definitely recommend Kristin to all brides.
---
K. Pea gets it!
Reviewed on

11/08/2011
Emily M
Not everybody got where my husband and I were going with our idea for a Mexican-saints-newspaper-themed wedding. Kristin at Sweet Pea did. Since our wedding also was small and intimate, it was important to us to show off our city and our ridiculously talented friends -- the jewelry, the cake, the music, the photography all were done by friends. And as we planned and talked about the wedding and averted hair-tastrophes together, K. Pea definitely became a friend, too. My dad (the father of the bride and founder of the feast) still is talking about how amazing our wedding day was (even though he really didn't get where the Mexican banners were coming from at first) and how incredible, Sweet Pea!
---
SweetPea=Wedding Perfection!
Reviewed on

11/04/2011
Stephanie M
I don't think my wedding would have been the same without Sweetpea and the owner Kristin! She did such a fabulous job keeping me organized through out the whole process. She made recommendations to me about florists, DJ's, and photographers.....all of them I ended up using and the night went off perfectly. Kristin made such a detailed timeline for the day of my wedding- it was so helpful. There are so many little details that I would have forgotten if it was not for her. She also created a little less detailed timeline for the day of, for my mom and groom's mom so everyone knew where to be and at what time. I also had the time to work with one of Kristin's assistants and she did a professional and fun job as well! I felt like I was in great hands even at the meetings I had without Kristin. Overall, Krisitn and SweetPea did an amazing job! I would suggest that all brides use SweetPea- it makes the whole wedding planning process fun and wayyyy less stressful! So thank you again SweetPea for making my wedding perfect! I will be telling all my future bride friends to call SweetPea!
---
The Best in the Business
Reviewed on

11/03/2011
Jeff G
Of all the moves we made, hiring Kristin to be our wedding vendor was the smartest thing we did. We wanted an unconventional wedding and Kristin jumped on board immediately. She was creative, fun, supportive and organized. We were so fortunate to have snagged her. From beginning to the end, she was absolutely outstanding.
---
Sweet pea Was My Wedding Hero-Erica Kirkwood Weddi
Reviewed on

10/25/2011
E M
I knew from my first meeting with Kristin that she was the wedding planner for me. She came to the meeting prepared with a vision book and ideas for my Ship Themed wedding! I thought nobody would be able to work in conjunction with my Bridezilla style but Kristin was just what the doctor ordered. We chose her full service wedding planning package. She was with us from start to finish. She kept us in line with all of our payments. She even sent me deals for items she knew I needed for the wedding. She was responsible for us saving so much money on things! She did our centerpieces and our bouquets. She sent me casting information for the show Four Weddings and I ended up being cast on the show. Kristin is a wonderful planner and dynamic at multitasking. She came to our wedding with two assistants and they were exactly everything we needed. She calmed me down from my weather worries and my day was Sunny and Clear! They made our wedding day spectacular and I highly refer her for any size wedding. Kristin is very personable and she fits with any Personality.
---
Enjoy your Wedding Day
Reviewed on

10/24/2011
Leah M
Hiring Kristen at Sweet Pea was the 1st thing we booked for our wedding, knowing we both wanted to enjoy our wedding day, and not stress about the details. Kristen was incredibly helpful in negotiating with our vendors and gave us great recommendations. Kristen knew just how to deal with my control freaky self. She was helping with all the details even up to her OWN wedding day! and was all over our wedding as soon as she got back from her honeymoon. We enjoyed our wedding day knowing everything was taken care of.
---
Amazing service and value!
Reviewed on

12/17/2010
tamara g
My wedding went off so smoothly and I owe so much of that to Kristin and her team. Even though she is a "day of coordinator" she came into play the week before and starting fielding phone calls and dealing with vendors. She was nice and easy to work with, always available via phone or email and always professional. I would recommend her to anyone. My mother couldn't believe how little we paid for what we received and when you can please the mother of the bride then you know you did something right.
---
Don't think twice..use Sweet Pea!!!
Reviewed on

11/03/2010
Claudia R
I hadn't even heard of a Day of Coordinator until a few months before our wedding. Kristin @ Sweet Pea was recommended to me from a fellow knottie after I had a bit of a falling out with our banquet coordinator, I looked her up, talked with her over the phone, met with her once and felt an instant connection. Kristin is a ROCKSTAR! I still can't believe how even though she coordinates numerous weddings, she treated ours like it was her only one. She truly seemed to care about our day...and that's what you need in a coordinator! She brought an assistant, Katie, who was also wonderful. All in all, they went above and beyond our expectations, above and beyond what is listed in their Day Of Coordination package...making lists, and putting together timelines, helped me w/booking our limos, and was there for every single phone call & e-mail in the weeks before the wedding. Sweet Pea was - by far - my favorite wedding vendor and I would recommend them to anyone!
---
Best Decision EVER
Reviewed on

11/02/2010
michelle b
Kristin was by far the best choice I made while planning a DIY heavy wedding. If I could stand on top of the roof tops and tell the world how wonderful she is I would! My wedding day was more than I could have ever imagined. I was at COMPLETE ease knowing I had Kristin there. Her wheels were constantly turning and she had so many creative ideas to make our wedding day unique. I know she had several other weddings besides mine, but she always made me feel like our wedding was her priority. She was never pushy or snobby, always down to earth and so much fun to be around. In the beginning of planning our wedding I thought I could do it on my own. Towards the end I became so overwhelmed I knew I needed help…..that's where Kristin came in. What a blessing! The best advice I can give to future brides: YOU ONLY HAVE ONE DAY TO BE THE BELLE OF THE BALL…..WHY WASTE IT WORRYING ABOUT THE SMALL THINGS!?!
---
You Need Sweet Pea!
Reviewed on

10/05/2010
Shadia S
I would highly recommend Sweet Pea! Katie was my DOC and she also brought an assistant. Katie was the "on site" coordinator and her assistant was the coordinator that traveled with us. It was great to have someone there to ask her questions or to communicate with certain vendors. The weeks leading up to the wedding, Katie and Kristin (the owner) spent a lot of time helping me with timelines, contacting vendors, and general assistance. All of my family and 3 of my bridesmaids were from out of town so I relied on Sweet Pea a lot the weeks leading up to the wedding and on the day of the wedding since they were really the only ones that knew of all the details. They even stayed later than the time they were supposed to in order to get all of our things (overnight bags, cards/gifts, etc.) to our honeymoon suite that they decorated! I was stress-free on my wedding day and that was largely due to the fact that I knew Katie and the Sweet Pea team were capable of handling everything.
---
Most valuable vendor
Reviewed on

10/03/2010
Amanda B
I would NEVER have had made it to this day without my Day-of-coordinator Kristin and her Sweet Pea Crew! She handled everything and I stayed calm throughout the entire week before and day of because Kristin handled everything. She even attended my rehearsal on her birthday without mentioning it was her bday! That is dedication and she truly cared that the attention remained on me and my new husband. Although there is a list of services she provides for each package, Kristin and her assistants went above and beyond the call of duty! I will recommend her services to anyone and everyone that asks and will never foget how she helped make my day so perfect!
---
Send Email