Home

Sweet William Photo & Films
About this Vendor
Our Approach to Wedding Photography
Since 2007, Sweet William Photo & Films has been documenting wedding days in a style that is true to life, artful, and (most importantly) faithful to who our couples are. Often working with a combination of digital and vintage film cameras, we combine unobtrusive documentary photography with naturally posed portraits to create a timeless record of your wedding day packed with real moments and emotion.
Details
Artistic, Documentary, Dramatic, Vintage
Bridal Portraits, Day After Session, Engagement, Trash The Dress
Getting Engaged, Rehearsals + Parties, Wedding
Destination Weddings, Digital Files, Film Photography, Online Proofing, Photo, Printed Enlargements, Second Shooter Available, Social Media Sharing, Wedding Albums, Photo + Video
Wonderful experience
Reviewed on

10/12/2012
Samantha P
Will was extremely accomodating for us regarding tight time-frames, rough weather, and difficult family members. Our wedding was on a Sunday, and he met with us on Saturday morning before the wedding to do a sort-of engagement photo session at the Albuquerque Biopark even... Read More though he had a wedding that evening. The photographs were fantastic, and we are extremely excited to see how he will put the photo album together based on the samples I saw while interviewing him. His services are a little bit pricey, but we decided that photography was exactly the place we wanted to splurge. My only caution is to double-check his charges (we had some confusion) but he was very willing to work it out with us.
---
Fantastic Photography
Reviewed on

9/11/2012
Megan E
Wonderful. Unfortunately he is so good and popular that it is taking a few (3) weeks to get photos. But for the quality, waiting is worth the wait!
---
This is the one!
Reviewed on

5/17/2012
Faith P
After looking at dozens of photography websites, I kept coming back to Sweet William Photography, and it was the best decision I could have made. Will is a real artist, and managed to make even my camera-hating hubby comfortable; I never thought I'd have a picture of him looking... Read More at the camera and smiling, but now I do! Will really IS sweet, and fit into our offbeat wedding perfectly. He was never intrusive, and besides all that, he looks like Hugh Grant. You can't go wrong here.
---
Reviewed on

4/09/2018
Ana M
I owe Will a very very over due review of all his services, talent, patience and time he has provided to my husband and myself. We initially were booking Will for our engagement photos only as we were getting married in Southwest Florida, Marco Island to be exact. After a meet... Read More and greet he offered us a quote for traveling and doing the wedding as well. After comparing travel and board plus the photography we calculated Will to be way more reasonable than any vendor in SW Florida. So financially we were sold but we wanted to see how his photos and of course personality matched with ours. From the moment we saw him interact with our dog, which we had at our engagement photos we knew he was the one! He was so easy to get along with which in my opinion is very important. You spend at least 75% of your wedding with the photographer or near and around him. All of our photos from the engagement photos in various breweries, Elena Gallegos Park,down to the beach in Florida were absolutely gorgeous. All were in different times of day, various lighting and venues and he honestly showed his talent and photography knowledge by executing perfect images every time. Our wedding size was roughly 60 peoplewhich Will covered alone. Our priority was getting photos of my husband and less so of family. We also had a sun setting time constrain which Will handled very well getting us many shots in the 45 minutes we had. Lastly I have to add how patient he is with all the action, drama and hectic schedule of a wedding day. I had a bridesmaid that was less than cooperative and Will was always respectful and courteous to kindly put the interest of my husband and I first. I'm not sure other photographers would be able to handle this in the manner that he did. He helped capture such an important moment in my husband's and I's life for that we thank him so very much.
---
Reviewed on

6/05/2017
Myra F
My husband and I chose Sweet William for our niece's winery wedding in Tennessee. His work is outstanding and knows all the right photos to make, which include proper lighting and backgrounds, great photos with lots of great memories. We could have gone with someone local but... Read More really glad we flew he out to Tennessee to make him part of our niece's special day. Great job!!!!
---
Reviewed on

4/05/2017
Kady S
I have had the pleasure of working side-by-side with William for a couple of years. I was also lucky enough to use him as my own wedding photographer back in October, 2016. Now, you may say this is a biased review and I guess that's somewhat true, but keep reading. Having seen... Read More both the professional working side of Sweet William Photography as well as the bride side of things, I can't say how totally amazed (and shocked) I was at how he morphed into our dream wedding photographer. I have seen Will work with so many couples. He never falters in his grace and kindness with all of them. He never falters in his ability to see them as uniquely special and a truly treasured addition to his business and his art. I expected great photos (I mean, look at his work - how could you not?), but I never expected the experience. As somebody I considered a friend, I expected the "friend treatment." You know, when you know somebody and then you hire them and it's a more casual thing. My now husband and I were totally shocked and pleasantly surprised at how Will transformed into the professional I had experienced so many times before. Afterward, my husband kept talking about how amazing and professional and truly pleasant William was. I had seen that side of him before with brides many times, but I can't begin to describe how awesome it is to be on the receiving end. Will truly made me feel like a bride and my husband a groom. I cannot say enough about the treatment you will receive as a Sweet William Photography bride. So, again, having experienced both ends of the spectrum, I can truly and honestly wholeheartedly recommend Sweet William Photography to anybody looking for class, care, and a truly professional and talented wedding photographer.
---
Reviewed on

10/22/2016
Aly W
Will is absolutely fantastic. We were very happy with our engagement session but our wedding photos are more than we could have hoped for. Every moment and emotion we wanted captured Will did that and more. We are so happy with our experience and Will's eye and expertise. We... Read More truly enjoyed our experience and couldn't be happier with the wonderful photos we now have that captured the day in its true essence. Thank you Will!!!!
---
Awesome!
Reviewed on

1/20/2015
Kara L
Will is a great photographer and captured so many memories and details I'm sure to forget! He did our engagement photos as well and received so many compliments! He is very easy going and nice to work with.
---
William is the man!
Reviewed on

9/13/2014
Sophia M
I booked with Will before I even had a set venue! He was helpful and insightful the whole time. He had a calming personality, which helped my photo-phobic husband and I relax and have fun and take pictures. He's so quiet, you won't even know he's there taking pictures! My... Read More husband and I were looking through the ones we just got back, and kept asking ourselves, "When did he take these?" If you're looking for a calming presence to take amazing photos for you to cherish for years, Will is your man!
---
Great work!
Reviewed on

2/03/2014
Kimberly D
Will did a wonderful job at our wedding in October! He was very professional and the pictures are beautiful. We did have to wait a little while for our pictures - he had originally estimated 3-4 weeks, I e-mailed him after 4 weeks and got the pictures a day or two later - so... Read More just be aware that it can take some time but it is worth the wait. I would definitely recommend Will, my husband and I really enjoyed working with him and we all love his pictures.
---
Best Wedding Photographer Choice!
Reviewed on

11/05/2013
Thomas K
Sweet William Photography was a great vendor for our wedding. William worked with our engagement photo shoot, answered all of the many questions we had and his work is awesome. He was always professional, creative and had a knack for great timing. After we received our... Read More pictures, we couldn't be happier with our choice. If you're considering a wedding photographer, we highly recommend Sweet William Photography!
---
I love Sweet William Photography!
Reviewed on

10/23/2013
As mother of the bride we gifted our daughter with picking out the photographer of her choice. She choose Sweet William Photography and I'm so glad she did. He and his assistant were magnificent!!! Sweet William not only caught EVERY important moment as you would expect from... Read More a true photography professional....he was also innovative and so delicately sensitive to small details that I was in awe of his creative eye....and that statement comes from a graphic designer professional (myself). THANK YOU, Sweet William!
---
Sweet William Photography is AMAZING
Reviewed on

9/05/2013
Taylor G
Sweet William Photography was one of the best decisions we made when it came to our wedding. Not only that, but William was worth every penny. He's fast with correspondence (we were planning from across the country), always ready to listen to any ideas or concerns, and is... Read More honestly an amazing photographer. Our wedding photos make me tear up every time I look at them! Will really captured the moments just like we remember them and was an all around delight to work with. Thank you, Will!!
---
good photos
Reviewed on

4/14/2013
Joy A
william was very nice and did great pictures, our wedding pakage was a good price, but make sure if there is a specific shot you want tell him before hand.
---
Great Service
Reviewed on

8/10/2012
Brooke L
Will did a great job! His work is terrific!
---
Love it!
Reviewed on

6/21/2011
Leia M
We had William and his assistant (his wife) do our wedding photography in Santa Fe. They were GREAT. I was so stressed out on my wedding day, but they were really easy & fun to work with and really helped me relax. I don't really like having my picture taken, but they made... Read More it so easy. William had never been to my wedding site before, so I was a tiny bit worried that he might not find good spots to take pictures at - I shouldn't have worried. He chose great spots, and its even kind of nice because we don't have all the same pictures as everyone else who gets married there. We just got the pictures back last night, and they're great. There's a ton of shots too. I love that we can review them online to choose what we like for our album and prints. Even more than that I love that he gives you shared copyright on the pictures, so we can print up some cheap copies on our own anytime we want. I would definitely recommend Sweet William photo.
---
Meet The Owner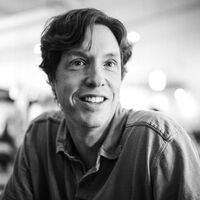 William Bledsoe
William Bledsoe brings over 20 years of photography experience to the table. Having devoted the last 10 years to wedding photography, his eye for storytelling moments and stunning natural light rank him among the best wedding photographers in New Mexico. Serving Albuquerque/Santa Fe/destinations.