Home

Sydnee Event Productions
About this Vendor
Event Designers/Florists/Stylist/Planners
We are event designers, florists, stylists and planners with a talented team who can flawlessly weave and fuse the emotional elements and individual style of each client into the event so that it is a unique and personal experience for them and their guests.
Contact Info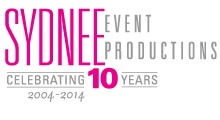 6703 Levelland Rd, Suite A, Dallas, TX
Reviewed on

5/03/2015
Kyra K
I loved everything about our wedding day! Working with Sydnee Event Productions was wonderful! They took our ideas and turned them into a beautiful Indian wedding and our stage was the most beautiful I have ever seen. They were so easy to work with even though we changed our guest count from 300 to 500 at the last minute. Sydnee Event Productions were able to handle the changes beautifully. We were very impressed with their event design and floral designs for our wedding and our guests are still talking about our beautiful stage draping and lighting. I have already started referring friends to Sydnee Event Productions because they are professionals who go above and beyond to make your wedding day special.
---
Valentine's Day Wedding
Reviewed on

3/12/2015
LaSteshia R
My husband and I originally had a small intimate wedding 10/4/13. We decided to have our big white wedding on our year anniversary and thought we had found our florist. Our date changed due to travel arrangements, and it was at that time we realized that, that florist was unreliable. I found Sydnee Event Productions via The Knot with very good reviews. I met with Shaunette, owner and instantly felt comfortable doing business with her and her company. She took the time to listen and come up with a plan that fit our budget. She understood my vision and even took time to send me pictures to make sure we were on the same page. She would contact me regularly with updates and to just see if I was ok. The day of our wedding, she delivered as promised, on time, the beautiful arrangements. She provided the decor for our ceremony, reception, bouquets, and boutonnieres. I would definitely recommend her and will use her again in the future.
---
My wedding was flawless
Reviewed on

11/26/2014
Ashley J
Ms.Shaunette and her team did an amazing job with my wedding. I feel like they went above and beyond to make sure that my decor was flawless. They executed my winter wonderland theme with great precision. They were always very professional and polite. They where my dream team that made my day a day that is still talked about months later.
---
Smith Wedding 5.23.15
Reviewed on

6/22/2015
Lauren G
Shaunette was amazing to work with! She called me prior to booking her company to get to know me, my style and what I envisioned my wedding to look like. I had a limited budget and she stayed within my budget and was very knowledgable and helpful. She met my now husband and I at our venue to get a better idea of where my flowers would be and how the ceremony was going to be done. She was patient and very personable and had my best interest at heart. Sydnee Event Productions made me the most beautiful bouquet and all the bridesmaids, parents and groomsmen looked amazing with their flowers! Plus, Shaunette and her team hand delivered all the arrangements in plenty of time, making the day run more smoothly. Plus, my bouquet dried amazingly well! I highly recommend Sydnee Event Productions to any bride! Thank you so much for taking part in such an important day in my life and giving me one less thing to worry about. Everything was fabulous!
---
A wedding to remember!!!
Reviewed on

5/19/2015
Whitney C
I can not even begin to thank Shaunette with Sydnee Events and her team enough for all of their hard work and support with my wedding!!! My mother and I initially consulted with her about the floral arrangements, that is until we saw her designs! She does it ALL!!! Everything turned out so beautiful and we couldn't have asked for a more professional planner and designer! She knows her stuff!!! Thank you thank you thank you for making my wedding undoubtedly the most beautiful day of my life!
---
More than we imagined
Reviewed on

5/01/2015
Michelle K
We were referred to Sydnee Event Productions by friends of my mother and I must say we received way more than what we imagined. Our wedding was so beautiful, every attention to detail was paid to the décor, floral, linen, draping, lighting, I can go on and on. We also hired Sydnee Events for partial planning service and Michael and I are still talking about how attentive Sydnee Event was to all of our needs. We were able to relax and enjoy our wedding day because they took care of everything beautifully.
---
Good but Pricey
Reviewed on

3/31/2015
Kayla S
Sydnee event productions is a great company and provides great customer service to an extent we I lost my job and was unable to pay the remaining balance and I asked her if she could work with me the response was I was already past my date for making changes. I did not agree with the price because I was making my own center pieces and bringing many of the supplies she needed to decorate so I didnt really understand what I was paying almost 2000 for. Other than that she was a good person to meet and i feel guilty we were not go all the way but business is business.
---
Breathtaking Designs
Reviewed on

3/12/2015
Our wedding day couldn't have been more perfect with the beautiful floral and décor from Sydnee Events. Working with the staff and Head Designer was a very pleasant experience because they listened to our ideas and were able to incorporate our personality into our wedding. Happy to recommend them.
---
Final Review
Reviewed on

9/23/2014
danielle j
Sydnee Event Productions was very professional. I meet with her only once during our planning process. We talked on the phone alot and email. She responds promptly to emails and text messages. I would often call with changes or ideas and she would always get back to me with suggestions and an updated quote. The only thing I regret doing was not seeing a actual example of what my center pieces would look like. I think it worth the extra money just to get a look at what you're acutally putting together. My husband and I were not a fan of the final outcome. But that totally falls on me since i did select the flowers indvidually. They just didn't come together as one piece as i would have like. Other than the shortcomings of myself with the planning process. Sydnee Eveent Productions earn a Job Well DOne in my book. Just make sure you see a final product before making your final Selection.
---
Great Service!
Reviewed on

9/22/2014
Crystal L
Shaunette provided me with the utmost professional service! We saw eye to eye on design ideas and even when I had to make some last minute tweaks, she was so accommodating and helpful. We had a great bond and she kept me calm during those omg moments. I would recommend her to ANY bride who comes my way. A+ service!!
---
Good deal
Reviewed on

6/24/2014
ANNA W
Sydnee Event Productions provided flowers for my wedding. The service was very professional and dependable.
---
Great Experience!
Reviewed on

12/24/2013
Megan F
I stumbled upon Sydnee Event Productions through a referral from a friend of mine. Shaunnette is the owner and she was wonderful to work with. She did her best to cater to my schedule as far as the initial consultation and all meetings that followed. I gave her a budget and she did everything possible to stay within the figure I gave her. The thing that I appreciated the most was that I didn't feel pressured to spend more. I gave her my vision of what I wanted the flowers to look like and she made it happen. The day of the wedding, everything was beautiful. I also took advantage of this company's "Day of" services. Everything went off without a hitch. Shaunnette and her staff were a pleasure to work with.
---
Hat's Off to Sydnee Event Productions
Reviewed on

11/29/2013
Thanks to Shaunette Smith-Mays for making the floral portion of my wedding a complete success! Her professionalism and expertise made planning my wedding so easy! She had so many creative ideas that turned a plain church sanctuary and gym into an elegant and beautiful place. Our guests are still talking about it!
---
Wedding
Reviewed on

4/05/2013
Ebony R
Sydnee Event Productions did an amazing job on the floral design for my wedding and reception.The whole process from design to execution on my actual wedding day was seamless and all products were just as I requested. If you are looking for wonderful service, unique designs for every budget, LOOK NO MORE!!!
---
Wedding 7/13/12
Reviewed on

1/05/2013
Constance F
I decided to use Sydnee Event Productions after a referral from Shaunette's (owner) daughter. My now husband, went to college with her daughter, which sparked our connection. I contacted Shaunette early January and was given a thorough consultation; she provided my mother and I with great explanation and detail. Shaunette and I remained connected throughout the entire wedding planning process, she always made me feel like my millions of questions weren't a bother at all. On my wedding day, her staff arrived on time, with every exquisite design in place. The wedding was hands down more than I had ever imagined. Her work? Impeccable. My wedding was the talk of the year, amongst our peers and I couldn't be a more satisfied bride. Everything was just beautiful! Thank you soooo much Shaunette and staff!!!!
---
Worry Free Wedding
Reviewed on

12/13/2012
Eryn C
I began with only decorator services with Sydnee Productions. I was under the assumption that my venue provided a day of coordinator. When I found out the contrary, I reached out to her for day of services. 1. My budget was always respected! 2. Nothing was ever pushed on me and I never felt pressured to have a certain type of wedding. Although I didn't know what I wanted, they helped me figure it out. 3. The day of coordinators were the sole reason I had a WORRY-FREE wedding day. I enjoyed the entire day with my family and friends. Even as I made last minute changes, they made it happen with no hiccups. My only worry was not to pass out walking down the aisle. I HIGHLY recommend the coordinator services. 4. The team at SP was prompt, involved, and punctual. They honored everything promised in their contract to the letter. I could not have enjoyed my wedding day as intended had it not been for SP. I highly recommend them!
---
The Very Best
Reviewed on

6/13/2012
Chasity R
Could not have ask for more. Attention to detail
---
Friendly and Responsive
Reviewed on

11/15/2011
Kim K
Shaunette was one of my favorite vendors as she was incredibly friendly and really connected with what I was looking for. During my initial consultation, I explained to her that we wanted to find ways to commemorate my late mother in law through symbolic pieces we wanted to include in our wedding day. Since my mother in law was a second grade school teacher, we thought it would be neat to include apples in our centerpieces. She was great in helping me add some finishing touches to the ideas that I brought to her. One of the most impressive features of her service was that she was always so quick to respond to emails. I always heard back from her within 24 hours (and trust me, there were a lot of emails)! She was also very patient in making changes along the way. I would highly recommend this company if you are looking for a friendly, responsive service. I was also very impressed with her follow up after the wedding to see if we had any feedback. She was the only vendor that did this, so it gives credit that her service does not end when she receives the final payment.
---
Great experience and beautiful decor came with it
Reviewed on

9/28/2011
kathy c
Sydnee Event Productions was wonderful to work with. Shaunette listened to what I wanted and delivered her services as promised and then some. Shaunette worked within my budget and really made me feel at ease throughout the process. My centerpieces were beautiful! My guests loved the decor and constantly commented on how beautiful the centerpieces were. My decor to my ceremony was intimate and breathtaking. I loved what was done for my big day. It was memorable! Definitely would recommend Sydnee Event Productions to everyone.
---
Send Message