Home

Tang's Alterations
About this Vendor
Wedding Gown /Suit Alterations Specialist
Hi. My name is Xiao-Yin. I have been working with wedding couples for most of my life. My goal is to remove all the stress from your Gown or Suit decision as you plan for your Wedding. Our years of experience in fitting you to look your best is our speciality and we do it in a fun relaxed environment. We listen carefully to what you want and make recommendations based on your wants and our expertise. We are not finished with your alterations until you are 100% happy. Getting fitted properly is just the beginning though. Now we want you to be comfortable wearing it. We can give you easy pointers on how to pose, walk and dance without worry. We are also very excited to announce that we are carrying Maggie Sottero Gowns.
Reviewed on

3/30/2018
Sara M
You can trust tang's to take care of your garments. Their work is of high quality.
---
Reviewed on

9/06/2017
Hannah B
About a year ago, my husband and I got married in Vermont and Tang's was integral in helping me prepare my dress! She instinctively knew just how to make my JCrew wedding gown fit my figure better and did it for a great price. I was a no-fuss, easy-going kind of bride doing an... Read More outdoor wedding and she had great advice about that too. The Tang's team works together seamlessly and quickly. I observed the way they handled a variety of clients--difficult mothers, tearful brides, etc--while I was waiting for my appointment and was quite impressed with they way the remained professional and controlled under pressure. Our wedding photographs turned out beautifully and I treasure my gown because of the work that the Tang's team did. So much LOVE!
---
Reviewed on

9/02/2017
Tiara L
Tang is so sweet! I got the custom dress of my dreams made with her team. So professional and fast! Would definitely recommend to all of my friends!
---
Reviewed on

8/26/2017
Katelina J
I bought my dress from a different spot and brought it here for alterations. The place I got my dress doesn't have good reviews on alterations. I didn't want to test my luck. I found Tang's on yelp with very good reviews. My seamstress was very professional and gave good... Read More feedback after I told her what I wanted to get done. I got a bustle, size alterations, and a belt sewn in. I was shocked at the sticker price (especially the bustle) but apparently it's comparable to other alterations shops. They were a tad cheaper than where I bought my dress. All in all I would recommend the place. I felt beautiful on my wedding day!
---
Reviewed on

6/05/2017
Kristina J
Tang was a pleasure to work with! From the very first minute I entered her shop I knew my dress was in good hands. She made me feel comfortable and listened to every request I had with my dress. She even helped me select jewelry. The team in general was phenomenal- every time I... Read More walked in I was greeted by name and a smile! You will never go wrong with Tangs!
---
Reviewed on

6/02/2017
Marybeth S
Tang is amazing!!! After several recommendations from friends, Tang did the alterations on my wedding dress and my Mom's mother of the bride dress. Both of us just loved her spunky, sweet personality and hilarious sense of humor. She takes so much time with each of her brides,... Read More assuring that bridal appointments are outside of regular store hours so she can really take her time and give 1-1 attention. Her work is impeccable and she made my dress fit like a glove! 5 days before my wedding I expressed my concerns about dancing in a strapless dress during the reception (it fit perfectly, but I was worried about adjusting it throughout the night). Tang quickly sewed on beautiful straps that were hidden inside the dress that I was able to put on during the reception and it worked perfectly!! Her pricing is incredibly reasonable and she is very flexible with turnaround time. Her husband manages the shop and is so organized and helpful with making appointments. Highly recommend Tang's!
---
Reviewed on

5/10/2017
Annick M
This is the place you need to go to for your wedding dress alterations, scratch that for ANY alterations. They are amazing and quick! My dress was pretty figure hugging so if the alterations were done wrong it would have been obvious. But that was never an issue because it was... Read More perfectly tailored to my body. If you need your dress altered, you have found the place to go!
---
Reviewed on

5/07/2017
Lindsey M
Xiao-Yin and the entire team at Tang's made my wedding dress dreams come true! I ordered my dress about a year in advance, and gained a few pounds afterwards. I tried on the dress about 4 months before and it didn't fit -not even close! In a panic, I called Tang's and they set... Read More up an appointment immediately. Within minutes, Xiao-Yin made a few expert snips in the bodice and it fit like a dream! From that moment on, she did everything to make my dress absolutely perfect - she added straps from extra lace and more volume to the bottom. She sculpted the dress to my body and made me feel like the most beautiful bride. I will be taking ALL of my alteration needs to her from now on, from a blouse to an evening gown. Cannot recommend enough!
---
Reviewed on

4/11/2017
Erica G
Tangs was absolutely amazing! I had a pretty tricky wedding dress which I bought off the rack. It was 4 sizes too big and about a foot to long. The bodice has lots of lacewood and details including pleated colored fabric in a V-shape. Tang's had no problem handling the... Read More complexity. When I put my dress on I finally knew and could tell that this was "the one". Tang's was super quick and I only needed to bring my dress in about a month before the wedding. The price was extremely affordable. While it was a drive from where I live in Vienna it was totally worth it! I highly recommend you work with Tangs!
---
Reviewed on

11/16/2016
Marieke K
WOW! Tang can work some magic! She single-handedly saved my dress! She was able to diagnose fit issues quickly and efficiently and did a fantastic job making sure that my dress fit and I looked perfect for my wedding. Working with her is easy, pricing so super reasonable and you... Read More will be pleased you contacted her. She will be opening a bridal boutique soon, so be sure to check that out too!
---
Reviewed on

9/27/2016
Stevhe B
She has done my dresses in the past and does an amazing job. She is so in tune with re-sizing anything to your body and it only takes her minutes to eye it. My last gown she re-sized for me took her 2 minutes to pin and 5 days to sew. She even relined it. I paid $65 and it fit... Read More like a glove. Currently she has my bridesmaid gown for my friend's wedding and I cannot WAIT to see it.
---
Fast, Affordable & Friendly!
Reviewed on

8/16/2011
Becky W
My dress came in 2 weeks before the wedding, she had it altered in no time! The shop that sold it to me said it'd be $500, Tang's did it for $120. She's there to help you, not over-profit. LOVED THEM!!
---
Meet The Owner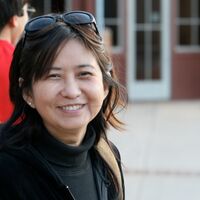 Xiao-Yin Byrom
Xiao-Yin Byrom is an award winning Chinese-American artist whose great love for clothing design, interpretation, and creation led her to open Tang's Alterations in Manassas, VA. Xiao-Yin's fine arts background, and her passion for artistic rendering, perfectly compliment Tang's team of skilled and dedicated staff. Xiao-Yin first came to the United States in 1979, moving first to Alaska and then to California where she won numerous art awards in high school. Xiao-Yin is a graduate of Auburn University, receiving a fine arts degree in 1990.