Home

Tastefully Yours Catering
About this Vendor
Celebrate Your Special Day!
Create lasting memories for you & your guests! Our attention to detail and complete individualized service is unique. For your most important day, expect nothing less than perfection. Our innovative menus are crafted from a combination of hand selected premium ingredients and locally grown produced, then prepared fresh for your event. We guarantee flawless food, impeccable presentation and polished service to take the stress out of your special day. Offering catering for your bridal shower, rehearsal dinner, wedding reception, and wedding brunch! Wind down after a busy weekend filled with friends and family, and relax as your first day as a married couple with a decadent brunch! Call now to customize your menu!
Details
African, Cajun, Hawaiian, Northeastern, Southern, Southwestern, American, Chinese, Eastern European, French, Greek, Indian, Italian, Japanese, Korean, Latin American, Mexican, Middle Eastern, BBQ, Fusion, Seafood, Specialty, Thai
Dairy Free, Gluten Free, Halal, Nut Free, Organic, Sugar Free, Vegan, Vegetarian
Buffet, Catering Clean Up, Catering Delivery + Setup, Chef Stations, Menu Tastings, Passed Appetizers, Seated Meal, Servers, Food + Catering, Service Staff
Contact Info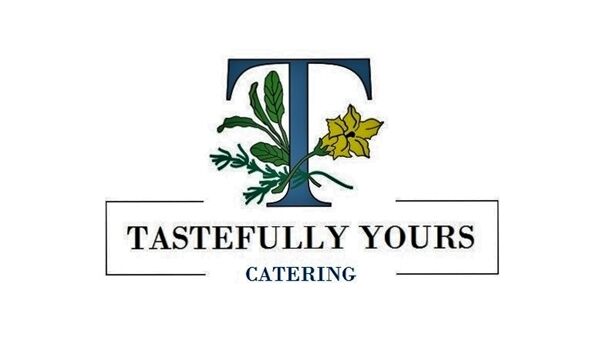 Reviewed on

5/18/2017
Michelle D
Choosing Tastefully Yours Catering was the best decision I made throughout the entire wedding planning process. Lisa and Andrew are just great people. Lisa listens and understands what you want and what you can afford and Andrew is an amazing chef. The tasting was fantastic so... Read More no doubt the wedding would be as well. Everyone at the wedding raved about the food, from the cheese plate, the grilled pineapple & grapes to the extra tender filet and chicken and those Parmesan mashed potatoes! They also raved about the about service. They're team went above and beyond. I'm pretty sure Claire, the head caterer at the reception is my new best friend. She helped keep me calm during set up and took a lot of stress off me and also kept a drink in my hand the entire night! All the servers were fantastic and made sure everyone was happy. This is an all around great catering company!!
---
Reviewed on

3/28/2017
Tayler H
Lisa and Andrew were amazing. From the tasting to everything leading up to the big day they were very helpful and accommodating. Our guests raved about the food and the beautiful way they set up the buffet and cocktail hour. It does not look like your typical silver tray buffet!
---
Reviewed on

10/30/2016
Morgan M
Tastefully Yours did an AMAZING job catering our wedding, I couldn't have asked for better! The food tasted so good and the buffet setup was picture perfect. I highly recommend Lisa and her team to anyone in the DFW area!! She is excellent and definitely went above and beyond to... Read More make our special day perfect!
---
Reviewed on

10/18/2017
Madison S
The food and service from Tastefully Yours is unmatched in DFW!! Lisa and Andrew went above and beyond with every detail in catering our wedding! We did food stations at our wedding and the food was delicious and presented in the most beautiful way. No stainless steel "buffet... Read More servers!!" All of it was in beautiful dishes and presented in a stunning way! I would choose Tastefully Yours for any future event! We had more people tell us after the wedding that the food was the best food they have ever had at a wedding!! As a bride that is exactly the reaction that you want!! They were a joy to work with and they are willing to do whatever is needed to make sure your vision comes to life!
---
Reviewed on

9/19/2017
Meredith K
I have had the great opportunity to work with Lisa, Chef Andrew and their fabulous staff on numerous occasions but Sept. 2,2017 was my favorite! Our daughter got married and the food, attention to detail and professionalism of staff was amazing. I love working with you Lisa and... Read More appreciate the hard work from you and your staff. Thank you for being such a special part on such a special day for us!
---
Reviewed on

9/04/2017
Lauren D
AMAZING CATERER! The food is absolutely delicious and Lisa is so great to work with and thought of everything. She was always available to reach if I had any questions throughout the whole process. We were skeptical about doing a buffet but Lisa assured us that the process would... Read More go smoothly and she was absolutely right! During our final talk through about the day she was more than willing to make the changes that we had talked about and we are so appreciative for her and her staff. She has a full room of different table decorations to go on the tables with the food and being able to go through and pick out different decorations to go with the theme of our wedding was so special. Lisa and Andrew truly do care about all of their events and know how to make each one special!
---
Reviewed on

8/31/2017
Jacqueline C
Lisa and Andrew at Tastefully Yours Catering were amazing to work with for our wedding this past June. Lisa was great, she really goes above and beyond to meet the needs of her clients. The tasting dinner was wonderful...Not only did Chef Andrew personally serve us dinner,... Read More they even boxed up all our leftovers! Additionally, Lisa was a HUGE help with a number of our rentals. We have absolutely zero complaints and will recommend their service to everyone we know !
---
Reviewed on

7/21/2017
Jacquetta R
Tastefully Yours was very professional and personal. We loved working with Lisa, Andrew and Cara did a wonderful job of taking care of everyone at the wedding. We can't wait to have a party and have them cater it for us. We highly recommend them for your special occasions.
---
Reviewed on

7/20/2017
Chrysanthi H
LOVED working with Lisa and her team!!! We asked for a Greek inspired menu (who finds that in Dallas!??!) for our June wedding and we were blown away with the presentation and flavors that Tastefully Yours put together! Not only did the food look beautiful but it tasted GREAT... Read More (even a day later when we finally got to eat it!) They carefully packaged appetizers, salads, a meal, dessert - everything - which my husband and I were so pleased to find. I can't wait to use their services again!
---
Reviewed on

7/09/2017
Alaina W
Lisa was more on top of my wedding than I was! We met her a year before for a tasting, and before we even finished the appetizers we knew we wanted their food. Every bite was delicious; their attention to detail really made our day special. Tastefully Yours helped dress up the... Read More tables and make them look wonderful, and the food was just as good as the tasting. They made sure to save the wedding party some appetizers (since everyone inhaled them.) Working with Lisa and her team, you could really tell the passion in their work by the level of service and attention to detail she and her team provided for our wedding day. Absolutely above and beyond service from everyone on the Tastefully Yours team.
---
Reviewed on

8/31/2016
Latarcia A
Great vendor!! Made it easy for planning bartender and servers.
---
Reviewed on

5/26/2016
Eden B
Lisa with Tastefully Yours is the caterer you are looking for! She has a heart bigger than Texas and she goes above and beyond in all ways! I would recommend her to everyone I know, and I can not wait to get an opportunity to work with her again!
---
Reviewed on

11/25/2015
Kate B
We were very happy to find Lisa and Andrew (the chef). From the first sit down we could sense the professional direction of Lisa and the confidence of her team. We were blown away with the decadent flavors of Andrew's food at the tasting that they provided for six of us. They... Read More make everything from scratch and it taste so fresh. The day of, we were so blown away by the beauty of food set up. Lisa goes to extremes to artfully display their tasty treats. She and her waitstaff team made the day very smooth with their professionalism. I highly recommend them if your looking for a strong culinary team for your occasion. Sincerely, Kate Padgett
---
AMAZING FOOD!!!!
Reviewed on

4/21/2015
Ali C
We love Tastefully Yours. Lisa and Andrew are absolutely amazing. The food was fantastic at our wedding. When we first talked with Tastefully Yours, we were immediately impressed by how personable Lisa was. Then, we knew we made the right choice when we tasted Andrew's food.... Read More Wow. Everything I tried tasted like heaven. Before the wedding, we had a tasting to finalize our menu and we were allowed to bring some friends. We had a great time trying the different courses, and it made picking our final menu easy. On the day of the wedding, they arrived when they said they would, and the food was exactly what I was expecting. It was perfect. They also had a great wait staff. While we were taking pictures after the ceremony, they brought down trays of appetizers to make sure that we got to have some. Then they brought down wine for everyone. It just made our photos a lot more fun for us and our bridal party. After the wedding, they made us a to-go bag filled with all of the different courses from our meal. We ate on it in the limo on the way to the airport, at our gate in the airport, and even in our room when we arrived at our honeymoon. It was that good. I would rehire them in a heart beat. They are great people who make great food.
---
Gourmet Catering on limited budget!
Reviewed on

1/14/2015
Carrie M
Lisa and Andrew at Tastefully Yours Catering were so awesome to work with for our wedding. I fell in love with their passion for food and commitment to quality clean ingredients. When our initial proposal was over our budget Lisa was great at working with me to adjust things... Read More and get us within budget. They were totally on board with the ideas we brought to the table and took them and made them fabulous! Our tasting dinner was one of our absolute favorite planning moments...they were so welcoming and personally served us dinner and boxed up leftovers! Seriously amazing service and zeros complaints here!
---
Best Wedding Cake in DFW!
Reviewed on

12/04/2012
Taylor L
Ruth Robbins, owner of Tastefully Yours, happened to be a friend of my Mother-in-Law's and was actually invited to our wedding. She had me over to her house to do a cake tasting and presented about 15 different cake and icing flavor combinations. All of them were delicious and I... Read More had a difficult time deciding which to pick! I was able to narrow it down to three....we used one for our engagement party, one for the brides cake, and one for the grooms cake. I brought in a picture from Pinterest and Ruth sketched it and I was so pleased to see at the wedding it was exactly what I had envisioned. At least 20 people told me it was the best cake they have ever had. Her prices are extremely reasonable and service was top notch. I would highly recommend her services to anyone!
---
Incredible, Incredible, Incredible!
Reviewed on

1/26/2012
Emma H
Wow, where to begin...Lisa and Andrew from Tastefully Yours are some of the most genuine people I know. Lisa runs the business and her husband Andrew is the chef. He has quite the resume too, with a history of very high profile clients (including Selina Gomez!). The food is... Read More amazing and Lisa and Andrew work very closely with you to make the exact and perfect menu for your big day. My husband and I went the non-traditional route by having "breakfast for dinner" so Andrew set up an extensive tasting for us of all our favorite breakfast items (savory crepes, fritattas, veggies, breakfast potatoes...). Amazing. Not only that but I really wanted a S'mores themed dessert bar so Lisa worked with me to make my vision come true, and come true it did! All of our guests were raving, and I mean Raving about the food...and no one ever remembers wedding food! It was phenomenal. Lisa and Andrew went so above and beyond to make our day stress free and exactly how we envisioned it. Not only that, but Andrew makes incredible homemade granola, which we used as our favors. Guests still talk about it and ask if we have extra :) Tastefully Yours is a high taste company without the high price tag. Lisa worked to make sure we didn't have to sacrifice our vision to stay in our budget. We not only found a wonderful catering company, but wonderful friends as well.
---
Great food and price
Reviewed on

12/28/2011
Kerry B
The food from Tastefully Yours is wonderful. We enjoyed everything we had - it was hard to choose because of their large selection. They were very easy to work with and accommodating on the types of foods we wanted. The prices are great and they work diligently to help you get... Read More what you want within your budget. They know what to do on a wedding day and I didn't have to worry about a thing on the wedding day.
---
Amazing food!
Reviewed on

7/07/2011
Jennifer A
They were extremely helpful and friendly...and they worked with lots of options to stay within our budget. They were extremely helpful on the day of the wedding! Our food was amazing!
---
SPEACTACULAR Cater!
Reviewed on

9/01/2010
Jelena
I am so glad my initial pick of catering did not follow through. 2 weeks before the wedding I met with Lisa and she worked with me on everything, from cost to food choices to fold of napkins. The food quality, freshness and presentation is of a premium restaurant, we had... Read More overwhelming compliments months after the wedding about how great the dinner was! As the bride, my biggest compliment is that Tastefully Yours exceeded my expectations, not only was the food great and tasted delicious but they warmed the plates, added beautiful flower arranged glass cylinders to decorate the buffet tables, tier levels of the food on gorgeous servers, nicely stacked beverage tables with beautiful hardware and the service staff was very professional throughout the night. From all of our vendors that we used, this would be my top recommendation for a vendor that offered great selections, fresh choices and follow through the entire event , Lisa with Tastefully Yours was an amazing blessing.
---
Review for Tastefully Yours
Reviewed on

9/30/2007
Theresa O
everything
---
Meet The Owner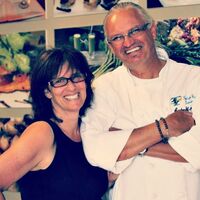 Lisa Huszar
With 25 years of marriage, Lisa and Andrew share more than a family; they share a passion for food. Andrew has a deeply rooted love of food and all things culinary. Lisa felt it was imperative to support that passion and love of service. Thus, in June of 2007 Lisa and Andrew moved to Grapevine and bought Tastefully Yours Catering was created to continue Andrew's commitment to providing customers with a complete culinary package. The desire to create exquisite culinary experiences permeates throughout the catering company.