Home

Taylor Creative Inc
About this Vendor
Taylor Creative - Modern Furniture Rentals
Taylor Creative offers an exclusive rental collection of modern furniture ideally suited for ceremonies & receptions, as well as showers, engagement parties, & social affairs. With locations in New York & Los Angeles, we are the go-to rental choice for the industry's top designers nationwide.
Details
Lighting, Decorations + Accents, Chairs, Lounge Furniture, Tables, Rentals + Equipment
Contact Info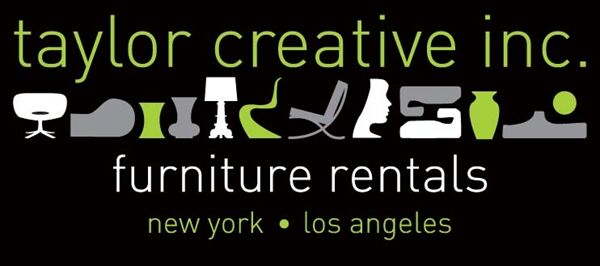 Reviewed on

10/14/2015
Carly J
My husband and I used Taylor Creative for our dining chairs, bars, and some soft seating areas for our wedding. We are both architects and are very particular about using REAL pieces rather than knockoffs like a lot of the other rental places which is why we chose Taylor... Read More Creative. They were very reliable, responsive, and friendly. Overall a real breath of fresh air from some of the other vendors we used! I would highly recommend using them.
---
Reviewed on

1/16/2018
Melissa G
I used Taylor Creative to rent clear chairs to help bring my ceremony together, as it took place in a clear cube and the chuppah was clear as well. Christina was a pleasure to work with and I truly feel the chairs pulled the room together so nicely. I'd highly recommend them.
---
Reviewed on

11/18/2017
M | I
Taylor Creative Inc was informative, responsive, and professional throughout the process. We rented a glass table with a white banquet as our sweetheart table and white couches (see pictures attached). They were perfect & added to the ambiance of the evening!!!
---
Reviewed on

11/11/2016
Pinsi L
Great vendor! Seamless and easy- not to mention the furniture was beautiful!
---
Reviewed on

10/20/2015
kate r
Taylor Creative did an amazing job collaborating with us to transform our client's outdoor venue into something spectacular for their engagement party. Every vision we had, they made into a reality! Their inventory is filled with amazingly unique items (guests were trying to... Read More purchase their rentals at the event), and having been hired with a short time to execute a huge event, they contributed to it running seamlessly. In addition, their team was extremely helpful in placing all of their inventory, and moving things around per our request. They also arrived on time for pick ups and deliverers. The Gold Leaf Event Design & Production team will absolutely be working with them again. Five stars all the way!
---
Reviewed on

9/24/2015
Ashley J
I will be using this place for my wedding. Their prices are extremely reasonable and not to mention beautiful.
---
Cool Furniture
Reviewed on

7/19/2015
Zina S
If you have enough money to invest in a few interesting furniture pieces, then definitely go with them. They are courteous and ontime with deliveries and pickups. Also showed us how our horse lamp worked. Everyone loved it!
---
Wedding of my Dreams!
Reviewed on

10/30/2014
Jamie R
Without a doubt Taylor Creative played a huge roll in making my wedding day absolutely magnificent! I was running late that day and was running into the venue to put on my wedding dress; I had to go through the reception area to get to my bridal suite and all I can remember is... Read More stopping dead in my tracks. I took a quick second to look around and instantly I knew, late or not the day would be perfect! If you want to add a little pizzazz to your reception area than the Lounge Modular's are the way to go. Not only are their multiple colors and configurations to choose from, Taylor Creative can provide accent pillows to die for! My husband and I chose the white Lounge Modular with the Millerstripe, Pinch, Orange Poppy and Tonus accent pillows. The Modular's were set up around the dance floor which turned out to be a perfect location. It was a great way for everyone that was on the dance floor to take a quick rest without having to go back to there seats or for people that weren't dancing to keep close to all the action. The Modular's were extremely comfortable, classy and added a one of a kind touch to the room. We also decided to use chairs for the tables from Taylor Creative rather then the venue's chairs. We went with a combination of the Victoria Ghost and Louis Ghost, which created lots of space for our guests. Now my absolute favorite piece was our sweet heart sofa (Madison Banquette) with the Hour Glass table. That set gave off such an intimate and romantic vibe that I felt like all the love was just beaming from that one area. The Hour Glass table has the ability to light up, such a fabulous added bonus. The extravagance didn't just surround the reception area! The white Bellini chairs added such an elegance to the ceremony, they blended so well with the entire theme. Finally, the ambiance that surrounded our cocktail hour was amazing. We were fortunate enough to have indoor as well as a patio area for cocktail hour, which provided our guests with tons of room to move around. There is only one word for the Avalon Collection "stunning". We had Calvin side tables next to the Avalon Collection which was perfect, because guests weren't forced to hold their plates at any time. If guests didn't feel like lounging on the Avalon, we had Flex Barstools that went with the Edge Pedestals which provided additional room for guests to lay there plates on and chat it up. Once cocktail hour was over guests were still permitted to use the outdoor area during the reception, the Bijoux lit diamonds provided exceptional lighting after the sun set. The Bijoux diamonds are not something you see everyday, I can definitely see where the creative comes from in Taylor Creative. It was extremely difficult to limit myself, their website is full of the most unique items you will ever come across. I love the fact that more and more of their furniture is being made in house and the staff; well that's another review in its self. The sales team is extremely professional, friendly, very accommodating and if you can't figure out just what you need, they have tons of ideas to take your event to the next level. The delivery men were on time, polite and very helpful, I was very impressed. The highest compliment I received from my wedding was "You had the type of wedding girls dream of having". I know none of that would have been possible without Taylor Creative, so thank you for making our special day a dream come true! Mrs. Z
---
A Wedding Planner's Favorite
Reviewed on

10/21/2014
Danielle G
As the owner of Curtain Up Events I rely on my vendors to make me look good and make magic happen. Taylor Creative is one of my "go to" vendors. They are reliable, knowledgable, and have clean and stylish furniture. Their delivery people are always on time, helpful and polite... Read More and know how to make the room look great. The sales people are some of my favorite people in the industry. Always ready to be of assistance, timely with their proposals and super friendly. If you want stylish furniture from an incredible company, I can't recommend Taylor Creative enough.
---
Cocktail Hour Decor
Reviewed on

9/30/2014
Jodi M
We used Taylor Creative rentals to help spruce up our outdoor cocktail hour space. The space was basically just a large concrete area with a white tent and so it really needed some extra décor. We wanted a lounge feel for the cocktail portion so that guests could relax outside... Read More in the beautiful summer weather and the rentals certainly made the space. We also rented bars so that the space really looked more like a lounge environment with real bars as opposed to just clothed tables. All of the guests loved lounging and relaxing and wish I personally could have spent more time in the space but was a bit distracted by my bridal duties. Both my husband and I work with Taylor often in our professional careers, I handle events on a corporate level and have always found them reliable and easy to deal with and the quality of their rentals totally add to any event environment.
---
fun extra for your dance floor / lounge!
Reviewed on

7/21/2014
L C
I'm finally getting around to writing my reviews (after writing our thank you notes;)... I found Taylor Creative from some friends who are in the PR/events industry and I was SO psyched that they clued me in to them. I wanted a clean modern look (no draped/bowtied linens around... Read More highboys etc that is NOT my style) to complement our venue and flowers/decor. I worked with them on picking some accent pieces (white ottomans & side tables for the dance floor perimeter) and some fun but chic mirrored highboys... The items looked great (as our sales rep assured me they would) and they worked with my day-of planner to get the items delivered and picked up- she said it all went smoothly (i wasn't involved in that part obviously). Great selection and customer service - i've referred a bunch of friends to them so i definitely recommend them.
---
Great selection, good prices
Reviewed on

8/09/2010
Sophie-Anne D
We wanted to have a little lounge area with some couches, chairs and side tables. The folks at Taylor Creative worked with us to find the look that we wanted and suggested a lay out based on the space available. We were happy with what we got!
---