Home

The Ballroom at Church Street
Amenities + Details
Amenities
Bridal Suite

Handicap Accessible

Liability Insurance

Indoor

Reception Area

Wireless Internet
For more details about amenities, please message the Venue.
Food + Catering, Planning
Contact Info

225 S Garland Avenue, Orlando, FL
Most Beautiful Reception Venue in Town!
Reviewed on

11/29/2013
Tiffany S
The Ballroom at Church Street is spectacular, and is exactly the elegant venue we were looking for! The stained glass, chandeliers, columns and brick are just an incredible backdrop for photos and for guests to enjoying a marvelous evening! And, the ballroom is a perfect space... Read More for a large wedding! Plus, the Puff n Stuff staff who helped with planning and catering were outstanding and the food was amazing!
---
Magical day
Reviewed on

11/01/2013
Erin K
Loved location. Minutes from fun bars and hotel. Downtown Orlando. Loved event. Service was great on day of. Head lady in charge, Sandy, was difficult at times but we worked everything out eventually. Got everything right by the day of. Certainly great event overall.
---
AMAZING VENUE
Reviewed on

10/10/2013
Jennifer P
At the Ballroom my wedding was a dream come true. The second my husband and I stepped into the venue we were completely smitten. I worked closely with Sandy George, whom was always professional, detail oriented, patient, and friendly. The entire planning process with Puff and... Read More Stuff Catering at the Ball room was extremely easy. The day of the wedding the event ran smoothly without an issue. The onsite staff and even supervisor took care of everything so that we could enjoy our night. The food was AMAZING, in fact our guests still talk about the food. The ball room is gorgeous and does not require much décor. You will not be disappointed if you book with Puff and Stuff and the Ballroom.
---
Reviewed on

5/14/2016
Lauren P
The Ballroom + Puff N Stuff Catering were amazing!!! The venue is so pretty it really doesn't need much decor. We were in love with our photos and the beauty of the location is that you have the natural lighting of an outdoor wedding, but you are inside. We also loved that we... Read More could have the ceremony and reception in the same location! It was amazing, vintage, delicious, wonderful and came together perfectly! I'm one happy bride!
---
Reviewed on

11/24/2015
Meagan W
The Ballroom at Church Street was perfect for our 1920's style wedding! They were able to accommodate almost all of our requests and worked with us to make sure our day was perfect. Brittany and Amy did everything they could to make the planning process as smooth and stress free... Read More as possible. They always answered my questions in a timely manner, even after my 10th question of the day. We had a very hard time with our wedding planner who made the planning process a living hell and Brittany and Amy stepped in to help us plan the wedding and make sure everything was the way we wanted it. We ABSOLUTELY recommend having your party here!
---
Reviewed on

11/13/2015
Laura H
The perfect venue for a wedding. The venue is breathtaking with a gold staircase and the stained glass Atrium. We had our ceremony in the Atrium and the pictures turned out amazing. Brittany and Amy took such good care of us throughout the wedding process. They were very... Read More responsive and accommodating to any request we made. The food and service was impeccable! Our guest were raving about their meals and what a great venue we chose. We would highly recommend the Ballroom at Church Street to anyone who is looking for a wedding venue. We cannot thank them enough for making our wedding perfect! It literally was a perfect wedding and we owe that to the amazing team at the Ballroom.
---
Reviewed on

7/15/2015
Jennifer K
The venue is gorgeous. We were very happy with cocktail hour in the atrium (it rained so the part outside was not used). The ballroom was decorated beautifully and very spacious. When using this venue you have to use Puff-N-Stuff for catering. Our contact Brittany was very... Read More professional and helpful throughout the whole process. The food we chose at our tasting was delicious! However, the kitchen changed our chicken dish the day of our wedding and didn't notify us which was a problem because they added cheese and several people (including the bride!!) are lactose intolerant. Puff-N-Stuff has since reimbursed us for part of our chicken order. Also, I was very disappointed with how our plated dinner was served. I spent many hours finding out exactly what guests ordered and then putting specific stickers onto their place cards to show who is eating what (chicken, beef, vegetarian, vegan, kids meal). The point was so the servers knew exactly what people ordered and didn't have to ask. Well that was a mess because they ended up serving several vegetarians chicken!! Also several people who ordered beef got vegetarian. I was also disappointed to hear that some tables had no champagne for the toast, and no cake served. When asked if they could have cake they were told we ran out! Which was absolutely not true because I had lots of leftover at home the next day!! Overall loved the venue but disappointed with the catering.
---
Perfect
Reviewed on

4/24/2013
Susan C
This venue was worth every penny. It was stunning for photographs! The stairwells and structure of the building just made us feel like royalty on our special day. It was also extremely spacious and I loved that the cocktail hour could be inside, outside, or both. We did both and... Read More I heard wonderful things about my guests experience.
---
Gorgeous!
Reviewed on

1/06/2013
Tara C
We had our reception only at the Ballroom at Church Street on 10-12-2012. The cocktail hour was outside in the courtyard and in the stunning stained glass atrium and people are still raving about it!! The service was top notch and ballroom as gorgeous feel with the chandeliers... Read More and beautiful carpet and woodwork. We were so pleased with everything!!
---
The perfect Venue!!
Reviewed on

11/30/2012
Emily H
Everything was absolutely perfect! The ballroom itself is gorgeous so little added decor is needed downstairs and upstairs! They only use Puff N' Stuff catering but they are awesome as well! Food was delish! The only problem we had........ the front elevators were out of... Read More service during my wedding and someone fell down the stairs. It was an uh-oh moment. Everything turned out fine but it was really scary. Just make sure the elevators are working!
---
Wonderful Venue!!!
Reviewed on

10/02/2012
Melissa H
I had been to a few events at the ballroom prior to getting engaged. I loved the atmosphere and venue. When I got engaged, I contacted the ballroom, and heard back from them very quickly. I booked the date, and I couldn't have been happier with the service and the venue. They... Read More made sure everything was taken care of at my reception, and they did an amazing job! I would highly recommend this location!!!
---
Beautiful Venue
Reviewed on

8/02/2012
Claudia V
This venue is beautiful! and the service was great :)
---
Our Beautiful Venue
Reviewed on

7/19/2012
Claudia V
Our experience with the Ballroom at Church Street was excellent. The personnel was very helpful. We would highly recommend this venue :)
---
Elegant
Reviewed on

4/28/2012
Anna L
This gorgeous venue is a hidden gentle in the heart of downtown Orlando on the corner of S. Garland Ave and Church St. With wall to ceiling stained glass, chandeliers, and double stairs, you couldn't ask for a more elegant venue in the Orlando area. Another great aspect: you... Read More reserve the whole building--no sharing the common areas with other parties. After the reception, just walk half a block and you and your friends and family are in after-party heaven. The company that rents it (Puff n' Stuff) was professional and courteous. Only downside, no free parking nearby though you can rent spots at a lot next door to the building.
---
Gorgerous venue
Reviewed on

4/11/2012
Whitney C
THe ballroom is beautiful-its breathtaking when you walk in-we got married in the atrium on the stairs-it was magical. Sandy, from puff n stuff was awesome and really worked with us on keeping to our budget,which wasnt a lot-it is only catered by puff n stuff-whom i recommend... Read More regardless of where your wedding is-food was aweseome. make sure to ask about your rehearsal as they have a lot of weddings there-but only 1 at a time, we had to have ours off sight because of the open times.
---
AMAZING VENUE
Reviewed on

2/06/2012
Rachel K
I can't say enough about The Ballroom at Church Street. Beautiful venue and amazing staff.
---
Beautfiful
Reviewed on

12/16/2011
Thea D
All I have to say is BEAUTIFUL. One of the best things to happen to my wedding was the Ballroom itself. Good service and good food too!
---
A Dream Come True!
Reviewed on

12/09/2010
Brie F
The Ballroom is truly one of the most unique and exquisite venues in Orlando. A true gem found in the hustle the bustle of downtown, the site provided a private evening with my friends and family to share one of the best nights of my life. Puff N Stuff Catering is exclusive to... Read More this location, and we couldn't have asked for anything better. From cocktail hour through dinner, my guests are still raving over the food! I can't wait to see my pictures from the gorgeous stained glass atrium.
---
Ballroom at Church Street Wedding
Reviewed on

10/18/2010
Melissa J
We had our wedding here Oct 1 2010. The location was BEAUTIFUL!!! The pictures are gorgeous. The waiters and bartenders were wonderful, and Darby my contact with Puff N Stuff who set everything up for me was GREAT! She was very patient in going through all my changes. Our... Read More food was fabulous and my cake was out of this world, everyone had a blast and the staff were so wonderful to us! It is kind of pricey, but was worth it to me!
---
A fairy-tale reception venue
Reviewed on

6/28/2010
Louise H
My favorite things about this venue are too numerous to mention! Their staff comes first on the list, and the amazing decor is a close second. If you don't want to spend a lot of money on flowers or other decorations, you should consider The Ballroom, because it is beautiful... Read More just as it is. The food was great, the service was good, the staff was friendly and their Event Planner was amazing! She worked with us for months before-hand to make sure every detail was just what we wanted. We called her for food tastings, color matching, vendor recommendations and many other details. She was always caring, courteous and right-on-the-money with her advice. She went out of her way to accommodate our unique ideas (like sangria fountains and serving Italian ice). You should know that if you choose The Ballroom, you are limited to Puff 'n Stuff catering because they are currently the sole lessee of the building, but that just saves you another decision. The one difficulty we encountered was parking, but if you give your guests specific instructions about where they can park and what it might cost them, and if the weather is good, it's not really a problem. You must go see this place as part of your decision-making process.
---
Meet The Manager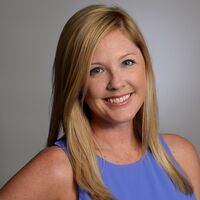 Brittany Davis
From the basics of menu development and linens, to offering ideas for event themes and timeline planning, Brittany Davis, will help bring your vision to life. She can even recommend quality vendors for any services you might need. Having worked in the hospitality industry her entire life, Brittany's creativity, attention to detail, and event planning experience ensures that her clients expectations are exceeded.