Home

The Barn at Valhalla
The Inside Scoop
---
FROM THE KNOT EDITORS
The First Look
Many couples enjoy celebrating their marriage over an entire weekend. For those in North Carolina, The Barn at Valhalla, located just 10 minutes from Chapel Hill and 30 minutes from Raleigh/Durham, is an ideal location for a weekend of celebration. With lodging options for up to 26 guests, this 30-acre property features a scenic mix of pastures, fields, water and woodlands perfect for a host of spectacular photo opportunities. Blending rusticity and elegance, the structures and landscape create the foundation for a wedding celebration that guests will talk about for years to come.
The Barn
Polished wood floors, soaring ceilings, exposed beams and romantic wall sconces provide a warm ambiance for wedding receptions in The Barn. Outside on the wraparound deck, guests enjoy beautiful lawn and pond views with romantic strands of Edison lights suspended above.
The Loft
Upstairs in the Barn, The Loft provides an elegant Bridal Suite, comfy space for the bridal party to get ready, and lodging for up to 18 guests. Notable details include an elegant crystal chandelier, charming vanity, plump chairs and couches, cozy master and bunk beds, and two double shower restrooms. The entire loft and bridal suite were designed and decorated by Pottery Barn while filming their online advertisements.
The Lodge
Located across the bridged walkways, The Lodge contains a more intimate banquet space and a stunning master suite featuring a soaring rock fireplace, sitting area, hot tub, baby grand piano and waterfall wall. The main level also features a sitting room, a full kitchen, dining room, guest room with full bath and a private deck with outdoor furniture. A hidden door leads to the ultimate game room, a convenient place for the groom and groomsmen to entertain themselves pre-wedding or for reception after-parties. This entertainment area offers a wine and beer fridge, poker table, pool table, foosball, darts, putting greens, ping-pong table and an 80" 4K television with PlayStation.
What You Should Know
The Barn at Valhalla is unique in the area as it provides you the entire weekend from Friday to Sunday for your dream wedding. You are allowed to arrive anytime on Friday to begin a stress-free set up. Departure time on Sunday is 12:00 PM so feel free to snooze and enjoy provided coffee with your loved ones the morning after your wedding.
The Barn at Valhalla has several gathering locations for each part of your wedding. There is ample room for your rehearsal dinner, ceremony, reception, after party and brunch. The staff at The Barn at Valhalla will work with you to recommend the best location for the different pieces of your event based on your wants, needs, and the expected size of the party.
The Barn at Valhalla offers a blank canvas for couples to personalize. You are welcome to bring your own caterer, decorations, DJ and more. The staff can offer recommendations, but any licensed vendor is welcome. Parties may also bring in their own alcohol for a reception as long as they hire a licensed bartender. A liquor license is required to serve hard alcohol.
Rental parties provide setup for events and the venue breaks down tables, chairs and other property-owned items. The site provides ceremony chairs, reception tables, and ample guest parking. The Barn at Valhalla staff also provides clean up of the entire facility, including bedding.
There is no curfew for wedding receptions, and there are sleeping accommodations available for up to 26 guests when you are ready to end your reception or after party. This includes a luxurious honeymoon suite featuring a waterfall wall, hot tub, fireplace, and large en suite. Sparklers are permitted and a fire is allowed in the Lodge fireplaces, outdoor hearth area, and fire pit. The Gazebo is available for guests to use as desired. It is perfect for small rehearsal dinners or as a backdrop for photos.
Extra Perks
In addition to scenic views, comfortable accommodations and plenty of relaxation time, the Barn at Valhalla offers a number of other benefits.
150 chairs
Tables for at least 150
Rehearsal dinner, brunch, and after-party space
Overnight accommodations for 26 people, including a Honeymoon Suite
Full man cave
Over the water gazebo
Ample parking for at least 150 vehicles
80" 4K HD 3D Sony TV
Heating and air conditioning in all buildings
Two portable bars for indoor or outdoor use
A state-of-the-art serving kitchen
SubZero refrigerators and freezer
From the Vendor
Where your event becomes a destination experience!
The Barn at Valhalla is nestled on 30 pristine acres of meadows, pines, and water in Chapel Hill, NC. Although the property is tucked away and private, it remains convenient to Raleigh, Durham, and Greensboro. The secluded site includes a Barn, private Lodge, Gazebo, Hearth Deck, and a lake. With a Friday – Sunday rental option and the ability to accommodate 26 overnight guests, it is unique in the area as a local destination wedding venue. There are numerous indoor and outdoor areas for your rehearsal dinner, brunch, ceremony, and reception. The flexibility of the space and the natural beauty of the meadows, pines, lake, unique Barn, and charming Lodge provide the perfect setting for your most memorable wedding! Let your wedding become a destination experience at The Barn at Valhalla!
Amenities + Details
Amenities
Bridal Suite

Handicap Accessible

On-Site Accommodations

Indoor

Outdoor - Covered

Outdoor - Not Covered

Reception Area

Wireless Internet
For more details about amenities, please message the Venue.
Contact Info
Reviewed on

4/04/2016
Amy B
We had our wedding here this past week and it was absolutely perfect! During the planning process, the manager Barbra, was friendly and attentive. I was also able to get detailed information about what the venue provides, which was very helpful when working with my caterer and... Read More other vendors. We had reserved the Lodge at Valhalla as well as the Barn, and had plenty of space for our out of town guests to stay! No one had to get a hotel. They all commented on how nicely decorated and comfortable the accommodations were, not to mention convenient, which made me feel at ease because I had been workin g so hard planning everything, and I really wanted my guests to enjoy themselves. We had the whole property to ourselves for days, it was like a vacation with my favorite people! And the honeymoon suit was to DIE for, there was even a hot tub and rock waterfall just for me and my husband in our suite! Talk about romantic! I also thought the Barn and Lodge was a great value for what we got and the money my guests saved in hotel costs made a difference. The ceremony and reception went flawlessly and I would 100% Have my wedding over again at the Barn at Valhalla!! Maybe we will, 10 year anniversary?!! Thank you Barn at Valhalla! 😄
---
Reviewed on

9/01/2016
Hunter O
The Barn at Valhalla was such an amazing place to have my wedding! The barn is so naturally beautiful that it really doesn't require much more décor, but at the same time it is easily customizable with whatever theme or look you desire for your wedding. It is also a lovely bonus... Read More that it has air conditioning, which was much appreciated for our hot June wedding. We also used the lodge for our wedding weekend, which made it like a destination wedding without the stress of actually planning from really far away. It really made the whole weekend that much better (and less stressful) that we could stay the night with our wedding party from Friday to Sunday. With the boys getting ready in the man cave in the lodge and the girls having the entire upstairs to the barn for ourselves, it was really just the perfect setup. Everyone at the barn is so easy to work with and they really do everything they can to make your day exactly how you dream it!
---
Reviewed on

4/30/2016
Brigitte D
We had our wedding at The Barn at Valhalla two weeks ago and everything about our day was perfect! One of my favorite things about the barn is that we were able to see the amazing upgrades and work that the owners put into the barn. We booked the barn over a year before our... Read More wedding, so every time we looked at pictures/visited the site new things were updated (like the speakeasy and the Gazebo). Each time we saw the venue it got better and better!! Something that sets the barn apart from other venues is that we had access to the venue for the whole weekend (Friday-Sunday) which was wonderful for setting up. We used the house at the barn for our rehearsal dinner and the space was perfect for a family dinner (of about 60 people) . Our families could not stop commenting on how beautiful the venue and the surrounding grounds were. Another major advantage is that our entire bridal party was able to sleep at the house and above the barn the night before and the night of the wedding which saved everyone from having to book a separate hotel! We had our ceremony by a tree on the grounds and the property manager had no problem cutting the grass to fit our ceremony site perfectly. We rented a tent which attached nicely to the barn and had our tables for the reception under the tent. We had our dancing and other details in the barn, which was a perfect set up. During cocktail hour we utilized the hearth which was perfect because our guests were able to explore the grounds and not be too confined to one space. So much was included at the barn that booking it as our venue was a must! We could not be happier about our wedding location and would recommend The Barn at Valhalla to friends and anyone looking for an awesome venue!
---
Reviewed on

5/17/2017
Jessica B
We recently got married at the Barn at Valhalla and could not have been more happy with choosing this venue for our wedding. We booked the Barn and Lodge Thursday through Sunday for our Saturday wedding and hosted our international and out-of-town guests on site for the weekend.... Read More Having the space to keep our family and friends close to us throughout the weekend was amazing. We definitely used the venue to its fullest - we had our rehearsal dinner in the lodge (~30 people), the wedding outside on the grounds (~90 people), the cocktail on the barn deck (~90 people), dinner inside the barn (~55 people), and a brunch the day after the wedding on the hearth deck (~30 people). Barbara, Dillon, and Carly were all extremely kind and helpful in the months and days leading up to the wedding, and willing to work with us to make all of our wedding dreams a reality. We really believe that second to its charm and beauty, the best part about booking the Barn at Valhalla is the ability to turn your wedding day into a wedding weekend and extend the time you have to enjoy every moment of this special time. We were able to set up the day before and clean up the day after, eliminating the need to worry about stopping the party to pack up and leave before midnight. We 100% would recommend hosting your wedding at the Barn at Valhalla.
---
Reviewed on

2/02/2017
Persis S
I can honestly say that The Barn at Valhalla was my absolute favorite vendor to work with! My husband and I chose the Barn at Valhalla for our wedding almost a year before our Dec 10 date. We were looking for a Barn that fit both of our needs--rustic yet elegant. And the Barn... Read More was perfect! One of the greatest things about the barn is the ability to have it the whole weekend! That's huge! The price is probably a bit higher than most venues, but it's well worth it. You don't have to rush and worry about setting up or breaking down because you get ample time. We also elected to rent the lodge, and we are so glad we did! The lodge includes a beautiful bridal suite that my husband and I enjoyed for the magical weekend. With renting the lodge, we also were able to allow all of our immediate family to stay the whole weekend with us. So no one in our immediate family had to rent hotels or motels. That's a huge plus! The lodge also provided a separate space for the groom and his groomsman to get ready. The basement game room was also a hit with the kids who were in our wedding party. We also hosted our rehearsal dinner in the lodge, which was amazing! Other things to highlight include the many beautiful areas to take pictures. Our couples pictures from the wedding were taken in the field in front of the barn, and the pictures look magical! Unfortunately, the pond was pretty green for our December wedding, so we didn't utilize it for pictures, but I can imagine how gorgeous it looks in the Spring and Summer. I visited the barn several times before our actual wedding day, which isn't always possible at other venues. However, the manager (Barbara) is excellent and understands a Bride's need to plan!!!! And each time we went to the barn there was a new upgrade or new furniture. It always looked better than before! It truly felt like we had a destination wedding! All of our family and friends thanked us for choosing such a beautiful location! And who knows, we may have our 10-year anniversary here :) I have the most beautiful pictures and memories from the barn! This was one of the best decisions we made for our wedding!! I highly recommend! Thank you for such a great weekend!!
---
Reviewed on

11/16/2016
The Barn at Valhalla made my job as mother of the bride easy! As a mom, you want everything to be perfect for your daughter. The venue and the staff made that possible! The venue was flexible with arrival time the day before and their multiple day rental made it so much less... Read More stressful because we had plenty of time to get things just how we wanted. I've never heard of a venue providing that extra time. On top of that, the venue was gorgeous! There were so many beautiful areas on the property (inside and out) that the guests couldn't get enough of. Pottery Barn decorated the entire venue and each room is so beautiful! No detail is overlooked. I'm so glad my daughter chose The Barn at Valhalla! I was one happy Mom!
---
Reviewed on

11/15/2016
Marshall B
beautiful, peaceful place to gather with family and friends to truly celebrate.
---
Reviewed on

11/14/2016
David B
Incredible venue. I could not have been more pleased. The owners were amazing. Easy to work with and knowledgeable. It was no problem to make changes. I give it 5 plus stars and a check plus smiley face!
---
Reviewed on

5/24/2016
My sister got married at the Barn at Valhalla last month. It was such a beautiful and wonderful experience. We were able to be on the property from Friday-Sunday. It was so nice to be able to stay at the venue the night before and the night of the wedding. The barn was... Read More beautifully furnished and the bridesmaids had more than enough space to get ready for the day of the wedding! The main house was a great event space for the rehearsal dinner and a cool place for the groomsmen to hang out and get ready before the ceremony. The property as a whole made this weekend so special for my sister and our entire family. The lawn was the perfect backdrop for the wedding ceremony and wedding photos. Having dinner in the tent was a great addition to the party space in the barn. Again, I cannot say enough about how awesome it was to not have to travel for any part of the wedding weekend. The owners were extremely helpful and definitely added to everyone's positive experience!! I did not want the weekend to end because I did not want to leave this beautiful property!
---
Reviewed on

11/11/2015
Dawn G
Just had my daughter's wedding at the Barn of Valhalla, and although the barn and grounds were beautiful, we are very unhappy with the management. When we arrived on Friday, November 6th, it was quite warm outside. We noticed immediately the air conditioning was not working... Read More properly upstairs. We called management right away, and were assured that a service person would arrive by the next morning. First, you would think that since we paid $4500, they would be on top of any problems IMMEDIATELY! But we waited—and after suffering a hot and humid night, we called again in the morning. The wedding party was trying to get ready and it had started raining. It was very hot and steaming upstairs. Hairdo's failed, makeup ran, and people suffered. The poor photographer about had a heat stroke! Still not a word from management! Another detail….the outside decorative lights did not work; that was part of the appeal of the place. We waited a few days to see if anyone would contact us about these issues, but sadly no one has…In my opinion this is no way to run a business! Also a word of caution for future brides—check dates to see what's going on in Chapel Hill before you book. We happened to book over homecoming weekend, and motel rates skyrocketed….traffic was a disaster! Many of our guests could not come because of this; I wish management would have been forthcoming... But I take partial blame for this. Overall, it's a lovely property, just be cautious! I feel like once they have your money, you're forgotten.
---
Beautiful location!
Reviewed on

5/27/2015
Sarah H
I loved the Barn at Valhalla! I got so many compliments on how beautiful it was, and I enjoyed having a secluded place. It was great to book the location for Friday-Sunday, for about the same price you would pay for 8 hours at a banquet hall! I did hear, however, that the price... Read More went up about $1000 since we booked it last year. I'm not certain we would have felt it was as good of a value if it were a higher price. We did have an issue where we were confirmed to stay at the Barn until 3pm on Sunday because we had scheduled brunch, and the manager booked the next party to arrive at noon. She said she would push it to later and be there for the transition, but they arrived at noon and did not know we would be there until 3, and she was nowhere to be seen. Additionally, there is a good inventory of major items like tables, chairs, etc, but other items like pots and pans for the kitchen, enough blankets for the pull out beds, and other smaller items were difficult to find or not available at all. We had to overpack for a lot of things because we just didn't know if it would be available. Lastly, and this wasn't an issue for me, but may be for other brides, if you use the stone hearth for the ceremony, there is no back entrance, so you cannot walk down an aisle. You enter from the front, so the bridge is your aisle.
---
BEST VENUE !!
Reviewed on

4/23/2015
We had our wedding this past weekend at The Barn at Valhalla and can't say enough about the beauty of this venue!! The value of getting this venue for the entire weekend was incredible!! They have sleeping for 18 on the second floor so our family was able to enjoy staying... Read More there for the weekend (and this is included in price!). Just wonderful - made our day that much more special!!
---
Meet The Owner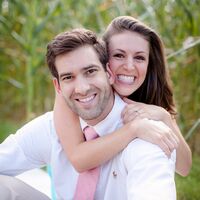 Carly and Dillon Manship
We are Carly and Dillon Manship, the owners of The Barn at Valhalla. Dillon and I didn't try to find a wedding venue. It found us! We were searching for a house to buy and found The Lodge. To our surprise, it came with a venue. Before we knew it, we quit our other jobs to work full time at The Barn! We are newlyweds and know how exciting but stressful wedding planning can be. That's why we strive to be flexible and accommodating whenever possible. The primary contact person for The Barn is our wonderful manager, Barbara. It is truly her pleasure to answer any questions you have along the way!