Home

The Carolina Girl Yacht
Amenities + Details
Amenities
Handicap Accessible

Liability Insurance

On-Site Accommodations

Indoor

Reception Area
For more details about amenities, please message the Venue.
Planning, Rentals + Equipment
Contact Info

95 Ripley Point Drive, Charleston, SC
Fabulous Rehearsal Dinner Venue
Reviewed on

5/15/2014
Paige G
We hosted a dinner cruise aboard the Carolina Girl for our guests the night before the wedding. We could not have picked a better venue - everything was fabulous, and our guests had a wonderful time! It was such a beautiful setting, and the food from Jim & Nick's was... Read More delicious. Camille was incredibly professional and punctual with responses during the planning process. She quickly responded to all emails and made sure all of our (many) questions were answered to our satisfaction...she is the best! The night of the cruise, Ashley was incredibly helpful. She made sure we had enough food and beverage and kept us abreast of the timeline and events of the evening. The entire staff was professional and attentive, and they made the experience so enjoyable for everyone. We would definitely choose the Carolina Girl again!!
---
BEST Venue in Charleston
Reviewed on

4/03/2014
Kerin S
The Carolina Girl is the BEST venue in Charleston! I found The Carolina Girl online while researching venues for our destination Charleston Wedding. We wanted to do something different and once I found The Carolina Girl website online I knew had found our venue. Camille was a... Read More dream to work with in the planning stages of our nautical themed wedding and always got back to me ASAP when I had questions or concerns. She provided a list of preferred vendors and that's how we found our amazing caterer Hamby Catering and fantastic photographer Red Shutter Studio. Captain Bob was a fantastic captain and officiant. He added that special something to our wedding ceremony and was great with all of our guests during the reception. We also loved the Captain's crew and bartenders for their professionalism and expertise during our wedding. I know our party kept the bar busy all night long! While I was hesitant at first about not being able to meet our day of wedding coordinator before our wedding day, all of my worries went away once I met Ashley. Ashley was extremely organized and we had a blast with her! When I forgot to bring the music for our first dance she was on top of it and made sure we had it downloaded before the boat left the dock. Ashley always made sure Ryan and I were taken care of with a drink or anything we needed. She kept the night running smoothly and I cannot thank her enough. Many of our guests have told us that it was one of the best weddings they have gone to in a while and The Carolina Girl is in large part the reason why. I would recommend the Carolina Girl to anyone planning a Charleston Wedding!
---
Best Wedding EVER!
Reviewed on

10/04/2011
Megan S
From start to finish everyone at the Carolina Girl yacht ensured that I had the wedding of my dreams. I couldn't have asked for a more unique and special setting with a wonderful group of people to work with!
---
Reviewed on

7/30/2016
Robert L
By far the most beautiful yacht in Charleston,S.C. Everything about the Carolina Girl says awesome. Everyone from the Capt. to the service staff make your time aboard special. It is obvious to anyone that has had this experience that it has happened many, many times in the past... Read More to have come to this moment. I would recommend anyone to use this service without hesitation! Each and every one of your needs will be meet above and beyond your expectations. Thank You Again, Capt. Bob and the Carolina Girl
---
Reviewed on

7/26/2016
I recently attended my sister's wedding aboard The Carolina Girl, and I can say with certainty that it was the most remarkable and memorable wedding I've been to. We were blown away by the staff and their fine attention to detail. This day was such a special occasion that we... Read More have dreamt of our entire lives, and due to the staff, the beautiful Charleston Harbor and the stunning yacht every expectation was met. Ashley, the in-house event planner, executed every aspect of planning from start to finish with great care and was an absolute pleasure to work with, and Captain Bob was so much fun, everyone enjoyed his presence throughout the evening the night of the event . We knew we were in great hands from the time we began the planning stages before the wedding all the way through the end of the evening of the event and could not be happier with my sister's very special day!!!
---
Reviewed on

7/26/2016
This was the BEST wedding I have ever attended. My girlfriend recently got married on the Carolina Girl. If you are looking for something really special and unique, this venue is it!! The yacht is beautifully appointed and Captain Bob and his crew are very nice and... Read More attentive. Ashley took care of every detail and the wedding went off without a hitch. They even provided wheelchair service to help the elderly folks get on board. I really love that we traveled around Charleston harbor with its spectacular views. The DJ system was the best I have heard and we all danced and had so much fun!! My girlfriend was so happy that she chose this venue and I can tell you that I will never forget this wedding and how much fun we all had. Thanks Captain Bob and crew!!
---
Reviewed on

7/25/2016
Great venue and staff!! Loved working with Ashley!
---
Reviewed on

7/25/2016
Bjorn C
I loved every second of my time on The Carolina Girl celebrating a special day with friends and family! The setting was perfect, and the staff was amazing (especially Ashley). She made me want to skip my flight back to Norway and stay in Charleston!
---
Reviewed on

7/25/2016
Melissa S
Ashley and the entire staff of the Carolina Girl were so wonderful to work with. They took care of everything. They were very organized and professional. The boat looked amazing and the food was delicious. Ashley was super easy to communicate with. She went above and beyond in... Read More every way. Thanks guys!
---
Reviewed on

7/25/2016
What a lovely boat and nice venue on the Carolina Girl. Just enjoyed a wedding on the boat but wanted to share a few tidbits for brides to be aware of. The boat is actually docked about 1/4 mile away from the dock which is a very long walk, especially in high heels or with... Read More elderly guests with disabilities. We were expecting a small boat to ride us to the big boat, by the time we got on the boat most were sweating, feet hurting and elderly verging on heat exhaustion. Once onboard we were greating by Captain Bob who was very nice to all. The dining room was beautiful, flowers exquisite but if your looking for the perfect finihsing touches just be aware. We sat down at a table serving Chinet from Wallmart, Linen on the tables with plastic pic forks and Knives. It was weird because our entree was Filet Mignon and after I broke and snapped two forks trying to cut into that steak, I gave up eating my meal, my boyfriend tried to the same avail, and took his steak and pierced it and ate it with his hands. The caterer should have been aware not to serve this using plastic and it just made the whole gorgeous spread look painfully tacky. The Boat itself is clean and orderly, and the staff working that evening was very nice. However, another thing I noticed when getting off the boat (Which was very hurried) at 10PM is that the Brides mother was told by the wedding planner she would have her things off the boat and on the dock. Now when you pay a wedding planner to do a wedding one would assume, she would execute the end of the evening taking care of this. Brides parents had a bus waiting on all guests and they needed to get us guests back to our hotels, mom and dad did just that. However all the Gifts/ cards/ items for family and florist were left unattended at the dock near the boat. The parents had to go back and retrieve all items with nobody watching guard of any of their items. This could have been stolen so easily. What was said is that "There are Wheelbarrows for you to put your stuff on to schlep all the way back 1/4 mile to your car. You would think after spending a lot of money for this sort of venue they could have at least offered a better solution than that. As a guest, I enjoyed it so much but If I had been the parents of the bride and groom I would have been FURIOUS. You can not change what happened the event is over and will not happen again so there is no second chances here. So If you decide to choose this venue be certain to work thru what is mentioned here. Concept is great, it needs to be fine tuned and more attention to details.
---
Reviewed on

7/23/2016
Carolyn M
My granddaughters wedding was spectacular on the boat. Captain Bob is very personable and his staff was very attentive to our guest. Be sure To clarify what Linens are included. The proposal states "Linens Provided". Upon arrival there were no Cloth Napkins to go with the... Read More Tablecloths. When I questioned the missing Cloth Napkins, I was told they only provide Tablecloths. Too bad such a beautiful event had to be tarnished by Napkins.
---
Reviewed on

6/16/2016
Callie M
The Carolina Girl Yacht hosted our rehearsal dinner and it could not have been a more perfect evening. Our guest were completely blown away be the experience. Leading up to the event the planning process was very simple. Ashley was very helpful and quick to answer any question... Read More I had. They provided a preferred vendor list and you really cant go wrong with any of the vendors. Leading up to the event the DJ provided a link to a site to select music. The site was very easy to use and had every song imaginable. The staff was very professional, a ton of fun and very engaged with the guest. Captain Bob was extremely outgoing and kicked off the night on the mic with a short intro and a great start to the party. They made the evening that much more enjoyable for everyone on the ship. I would highly recommend The Carolina Girl Yacht for your rehearsal dinner or wedding.
---
Reviewed on

6/09/2016
Caitlin S
Fantastic venue!!! If you want a fun, unique wedding that your guests will love, book them now!! The breeze, the beautiful view at sunset and the fact that you're on a yacht is reason enough. So many people are still telling me it was the best wedding they have ever been to.... Read More Captain Bob is personable and creates a fun, exciting atmosphere while Ashley (my in-house wedding planner and head events coordinator) made sure everything went flawlessly. She even bustled my dress!!! Who does that? :) She's amazing! They truly went above and beyond and gave us the perfect day.
---
The Carolina Girl
Reviewed on

9/16/2014
Rachel R
Hats off to The Carolina Girl and its crew!  Captain Bob and Ashley were phenomenal!  This was an experience my family, friends and I will never forget! Everything was executed perfectly! If anyone ever asks me where they should get married my response will be "the only place... Read More to get married....The Carolina Girl!"  
---
Best Wedding Ever!
Reviewed on

8/21/2014
The Carolina Girl not only met but exceeded our expectations and contributed to making this special day extraordinarily exceptional. We chose the Carolina Girl for our wedding and reception after evaluating several different venues. Like others, we wanted something unique and... Read More exciting. We chose them for our wedding based on our experience with the people we interacted with like Capt. Bob and Camille and based upon feedback from others who had used them in the past. We could not have been more pleased with the professionalism and care the staff showed both preparing for the event and during the wedding. As an event planner, Camille took great care to help us identify and recommend several different options for everything we needed including caterers, flowers, pictures, etc. She ensured everything went smoothly leading up to the wedding and that nothing was left to chance. All of her preparation paid off as everything happened exactly when it was supposed to on the day of the wedding and the boat staff was fully prepared. The day of the wedding, Ashley was a consummate professional and handled any issues that arose quickly and effectively. We even had a problem with one of the vendors however Ashley jumped in and immediately handled the situation without any fuss on our part. She was a pleasure to work with; we could not have pulled this off without her. The staff was extremely professional and on more than one occasion went out of their way to make this event special not only for us, but for our guests as well. We want to personally thank Captain Bob as he was forthright about ideas for making the event great and providing insights into what he has seen that works best while keeping the wedding unique to our tastes. As others have shared with their feedback, all of our guests described it as the best wedding they had ever attended! We highly recommend this venue and staff to anyone.
---
Excellent! A unique and memorable wedding!
Reviewed on

1/22/2014
Sarah M
The entire Carolina Girl staff and crew were amazing! They were there to help me out with every little detail to make our wedding day perfect. They provide planning assistance and a coordinator for the day of the event, which is a BIG bonus! I would highly reccomend this... Read More venue for any event, especially a wedding. We had our wedding in January and even though the weather was not ideal, everything was still wonderful.
---
Awesome Unique Venue with Great Staff
Reviewed on

5/23/2013
Cheryl B
The Carolina Girl is a unique venue with a wonderful crew who impressed us every step of the way. From the very beginning we could tell that the Carolina Girl employed the best of the best - very helpful, passionate, personable, and knowledgeable employees. We were a bit... Read More uncertain on how a destination wedding would turn out, but the Carolina Girl did an outstanding job. The communication between the follow up phone calls, emails, and meeting Camille and Captain Bob on board the Carolina Girl made us confident that the Carolina Girl was the perfect venue for our wedding. We are so amazed with the way everything turned out and we wouldn't change a thing. The Carolina Girl is the perfect location for any event! We will definitely recommend the Carolina Girl to everyone in the Charleston area. The only changes I would recommend would be to talk more with the DJ regarding the lighting. The blue lights on the top deck were blinking to the beat of the music the entire time and in the video of our wedding it looks bad and gets really annoying, it was also like that during our ceremony (looking at the video I really wish the lights would have stayed solid or been turned off). Then only other thing is they serve cans of beer - I would have liked the beer to be poured into cups for a more classy look. It was an expensive venue but all our guests really enjoyed sightseeing around the harbor and we loved being unique and having a memorable venue.
---
Amazing.Venue.for.ANY.Event!!!
Reviewed on

5/19/2013
Alice C
Love.Captain.Bob.&the.crew.of.the.Carolina.Girl! I've.known.Cap'n.Bob.and.his.family.since.I.was.a.young.girl,so. it.was.pretty.special.to.have.him.marry.us.:-)....The.planners.a re.great.with.corresponding.quickly.They.truly.try.to.accommodat... Read More e.any.of.your.requests--(some.things.are.just.not.possible.due.t o.boat.safety...)But,they.can.tailor.to.any.style/type.of.event. --Nice.being.able.to.get.ready.below.deck,as.the.bride.so.I.woul dn't.have.to.walk.the.dock.in.my.gown,and.nobody.saw.me.before.t he.ceremony.Great.sound.system!!!Geat.having.everyone.stay.for.t he.whole.ceremony&reception--no.one.dining&dashing,haha. Plus,only.ONE.venue.to.pay.for. Having.the.hotels.right.there.by.the.boat.at.the.marina.made.it. cheaper&easier.for.guests.Just.a.stroll.to.the.boat(no.worry ing.about.drinking&driving)You.can.get.a.discount.on.hotel.r ooms.through.the.Carolina.Girl....It.was.SOOO.much.FUN!!!!.Every one.said.they.had.a.blast&are.wanting.to.have.their.weddings .aboard.a.boat.now!
---
Anchors Away!
Reviewed on

9/06/2011
Kerri J
We hosted a "Anchors Away" sunset tour of the Charleston harbor for our out of town guests. They were blown away with the size and decor of the boat. The crew was helpful and helped make the welcome party amazing.
---
Awesome wedding!
Reviewed on

6/07/2011
Caroline W
I love the fact we got married on a boat. It is an experience not like many others. The staff of the Carolina Girl were more than helpful, and helped every bit along the way.
---
Meet The Director of Sales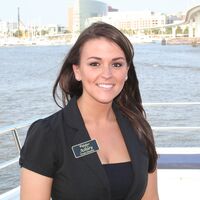 Ashley Davis
Having been involved with The Carolina Girl since its launch, Ashley Davis is "Director of Sales & Events" and is an invaluable part of all events from beginning to end. Ashley's services are provided for each and every event, whether it is a wedding or corporate function. Her role consists of walking clients through the planning process offering the client's choice of either limited coordination or full service event coordination. From the initial site visit all the way to the event, her expertise is valued by each client.