Home

The Casino San Clemente
Amenities + Details
For more details about amenities, please message the Venue.
Contact Info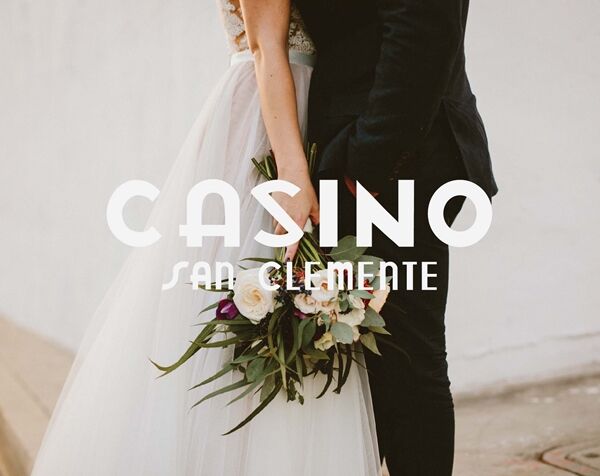 Reviewed on

4/12/2017
Alicia H
This is the perfect venue if you are looking for a unique, initimate, and beautiful wedding venue with outdoor and indoor options that include ocean views, astonishing architecture, and a wonderful community and staff to help with everything along the way. I was so incredibly... Read More happy with this gem of a location from start to finish. Jill the Venue manager was beyond helpful and kind. The flow of the venue was perfect for a unique guest experience with a large group while still feeling personal and close. In addition, the venue came with the majority of rentals making the whole process that much easier. I highly recommend this venue!
---
Reviewed on

6/21/2016
Jackie B
We got married here about 3 weeks ago and guests are still informing me about how beautiful the venue was. A very memorable night for everyone that joined us and we could not have accomplished this without the casino. Amazing staff and incredible location.
---
GREAT VENUE - UNIQUE AND AMAZING!
Reviewed on

9/23/2015
Laura Mae F
We had our wedding at the Casino in September 2015. The venue was perfect for a beach-themed wedding that didn't involve sand getting everywhere. The staff was great and answered all of our questions promptly. We planned our entire wedding while living in Maryland, and they... Read More were very accommodating toward us which was very helpful. The only reason we gave 4 stars for Service is the fact that any weekend event requires you to use their preferred catering company, Jay's Catering. Since we lived out of state, we had some unique challenges in tasting the food ahead of time which caused us some headache at the beginning. Everything worked out great though and we couldn't be happier. The biggest plus is that the wedding, reception, and cocktail hour all happen at the venue, so shuffling guests in between events went seamlessly.
---
Wonderful
Reviewed on

4/09/2015
Nahall S
We got married here in July of 2014. This venue is absolutely gorgeous! I knew right upon walking in this was where I wanted my husband and I to get married. What's great about the Casino is that it already has such beautiful structure, so you don't need to spend that much on... Read More décor. The venue was a perfect design for our ceremony (Rock Garden), cocktail hour (Patio of the Stars), and reception (Grand Ballroom). We even rented out the West Wing in order to accommodate our buffet line and Photo Booth area. The parking is free (after 6pm) and its location is beachside so it made for some amazing photos. Our wedding was on a Friday so we were able to bring in an outside caterer, which worked out perfectly for our Persian buffet. Working with the venue manager Micki Marlow was a pleasure as well. She responds quickly to email inquiries and makes great budget-friendly recommendations. You really feel she wants the best for you on your wedding day. We are so happy with the decision we made to get married here.
---
Amazing!
Reviewed on

3/24/2015
Jenae B
Micki and the rest of the staff made the whole process so easy. The day of went so smoothly and I couldn't have asked for a better venue!!!
---
Timeless Beauty
Reviewed on

10/06/2014
Taylor M
The Casino has a beautiful atmosphere and calming vibe. The history of the building and the surrounding areas is so meaningful to the City of San Clemente, which is important to me and my fiance, as we live here and will have a family here. The service has been wonderful. There... Read More are several different areas of the venue to rent. I simply fell in love with the Rock Garden and couldn't imagine walking down the aisle anywhere else once I saw it. The venue is kept up very nicely and has an elegant, yet simple style for any couple to build on. It was important to us to have an outdoor/indoor wedding where we could have both aspects incorporated. I love succulents, market lights and outdoor fireplaces so it was an easy sell for me.
---
Beautiful Venue!
Reviewed on

9/10/2014
Katie O
I got married at the Casino San Clemente. It was GREAT! Everyone raved about how nice it was there. The ceremony, cocktail hour and reception were all on site so no one had to travel around. The venue is right at the beach so we were able to go take pictures on the sand during... Read More cocktail hour. Its cozy but not crowded there. They did everything they could on the day of my wedding to make things easy for me. Overall it was a great experience!
---
Beautiful Location
Reviewed on

5/21/2014
Allison A
This venue is beautiful! It has been renovated beautifully and is very well maintained. The owners are very interested in continuing to improve it. In the year that I had the venue (contract date until wedding) they had made many changes - replaced entryway, hung cafe lighting... Read More in ceremony site, opened cafe next door (Jay's Catering), etc. The venue is just beautiful. The staff was friendly and helpful. I did meet a few different reps, so not sure what the turnaround time is for staff. This venue is great because it's large (ceremony site max of 170 seated I think and ballroom max of 300ish) and you can do everything in one place! The Patio of the Stars overlooks Ole Hanson Beach Club and the ocean - beautiful at sunset! The ballroom is gorgeous - domed ceiling with exposed beams. Everyone was very helpful in answering any questions or concerns I had - and our day turned out beautifully!
---
Clean it up
Reviewed on

11/20/2013
Monique F
Planning with the Casino is no small task. You will have to stay on top of them and make sure every detail is squared away. However, when it came to the day of our wedding it was magnification and I loved it. In the planning process, they have you plan with the caterer and... Read More not the venue. Bad idea, nothing is relayed. Set a meeting with the venue coordinator who will be your onsite coordinator day of event. All of our guests were so pleased with the space, as was I. However, I wish they had cleaned it better. IE: the footprints on the fireplace. =/
---
Great venue by the beach!
Reviewed on

8/11/2013
Julie H
Casino San Clemente was a great venue that accommodated all of our needs and was in a great location by the beach! We had a beautiful outdoor ceremony in the Rock Garden, a gorgeous cocktail hour in the West Wing and courtyard that had a view of the beach and blast of a... Read More reception in the central Ballroom. The only complaint was the gravel in the Rock Garden that got into my bridesmaids shoes as they walked down the aisle (mine too). The staff was great and they provided great amenities - garden chairs for ceremony and chiavari chairs for the reception included! Loved this venue!
---
Amazing Venue!
Reviewed on

6/05/2013
Heather P
This venue was more than I ever expected. I had my ceremony and reception there in May and it was gorgeous. Everyone who worked there was great to work with and on the day of the wedding they took care of all of the small details for me. Everyone that attended the wedding raved... Read More about how gorgeous it was!
---
Casino October wedding
Reviewed on

11/21/2012
Carley E
The Casino is absolutely beautiful! The garden was perfect for our ceremony followed by our reception in the grand ballroom which was perfect for eating, dancing & a great time! The price for the venue includes chivari chairs, tables, set-up & take-down. I highly recommend this... Read More venue! All our guests raved & loved it!
---
Best Wedding Venue HANDS DOWN!
Reviewed on

10/15/2012
Lauren F
This location and the what they offer is simply hands down top notch with an affordable price! The staff is experienced and willing to work with your needs. The Casino has such a great feeling of history and nastalgia that your guests are guaranteed to be entertained. They also... Read More include tables and chairs in their pricing. I will forever have this place in my heart- it made our wedding day so incredible memorable!!!
---
Beach Venue with Romantic Feel
Reviewed on

9/03/2012
Bianca G
From the minute my husband and I stepped into the venue we knew this was the perfect location for our beach wedding. The venue has such amazing energy and we had an amazing wedding thanks to Kelly and her team.
---
Perfect Venue
Reviewed on

7/23/2012
Amanda C
The Casino has an old town San Clemente vibe and all of the staff was very helpful. Kelly and Jack were efficient and helped make our day very special. The ambiance with outdoor fireplaces and architecture helped the photos turn out beautifully.
---
Awesome venue
Reviewed on

3/06/2012
Amy Z
I loved having my wedding at the Casino. The entire team was very helpful, and it was great to have a "day of" representative to help me executive my dream wedding.
---
Gorgeous Venue!
Reviewed on

11/02/2011
Stephanie K
Casino San Clemente See All Reviews Services Used: Ceremony & Reception Venue 5.0 out of 5.0 Quality of Service: 5.0 out of 5.0 (5.0/5.0) Responsiveness: 5.0 out of 5.0 (5.0/5.0) Professionalism: 5.0 out of 5.0 (5.0/5.0) Value: 5.0 out of 5.0 (5.0/5.0)... Read More Flexibility: 5.0 out of 5.0 (5.0/5.0) Edit Review We had an absolutely wonderful experience with The Casino and their general manager, Kelly. The venue is gorgeous - there is a garden for ceremonies, a ball room if you have a large wedding, or a west wing room and patio for smaller weddings. We used the garden for our ceremony, patio for the cocktail hour and west wing for the reception. They even provide chairs for the ceremony, bar height tables for the cocktail hour, circular tables, rectangle tables, chivari chairs, and some outdoor adirondack chairs for the patio (I'm sure I'm forgetting things but they really provide all the furniture type stuff you need). All of my guests had a wonderful time and loved The Casino. I can't say enough good things.
---
Great Place to Get Married
Reviewed on

10/05/2011
Meg G
I loved our wedding location. Our wedding was less than 100 people and we used the West Wing for our reception. It felt intimate and romantic and I thought it was way better than the ballroom.
---
A-MAZING
Reviewed on

10/04/2011
Bailey B
I had my wedding here in September and it was beautiful! The guests commented on how great it was to be able to flow from room to room as the night went on. Vendors also commented on how accessible everything was.
---
the PERFECT Venue
Reviewed on

8/13/2011
Amber P
I had my wedding here and I would not change a thing. The manager of the venue, Kelly, was such a pleasure to work with and was so helpful. She made sure that the process was always flowing smoothly for us and made our day even more special. The venue is absolutely beautiful... Read More with it's old spanish style, and we got so many compliments on it. It is even more beautiful since it is steps from the beach. I loved having my wedding here and don't regret a thing. PERFECT!!
---