Home

The Collection Bridal
About this Vendor
An Exclusive Designer Atelier
A Dream, a Vision, a Memory. The Collection Bridal serving the most fashionable brides worldwide for over 30 years. Come experience what everyone is talking about. We carry designers such as Monique Lhuillier, Vera Wang, Inbal Dror, Naeem Khan, Reem Acra, Lazaro, BLISS, Martina Liana, Mikaella, Paloma Blanca, Carolina Herrera, Stephen Yearick and many more!
Details
Bridesmaid Dresses, Flower Girl Dresses, Mother of the Bride Dresses, Shower + Party Dresses, Wedding Dresses, Dresses, Alterations, Bridal Stylists, Custom Designs, Dry Cleaning + Preservation, Private Appointments Available, Fashion
Contact Info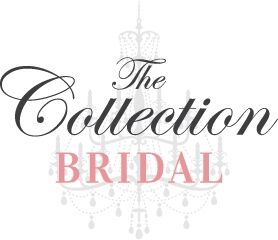 Love my dress!
Reviewed on

8/08/2013
Danielle B
My MOH booked the appointment at The Collection for the experience of trying on the expensive fancy dresses. i still tried on dresses no more than a hundred over budget, but figured my selection was small. However, once we were in there I tried on two dresses before Mimi pulled... Read More out a dress and asked me to humor her. I tried it on and fell in love. it was everything I wanted but wasn't properly explaining. Not only that, but it was under budget and less expensive than the other dress I liked. I still haven't had my alterations done, so I'll be sure to update my review if needed, but I really don't see it happening.
---
Loved my dress!
Reviewed on

11/08/2013
Jennifer D
Found the perfect Monique Lhuillier Bliss collection dress. Staff were very attentive, and while the prices may be higher than at other shops, the shop's beautiful ambiance and their on-sight tailor's attention to detail made it worth it.
---
Sample Steal!
Reviewed on

6/04/2013
Lizabeth W
Such an amazing deal on a designer dress. Last minute needed to buy a dress off the rack after some misfortunes & The Collection saved my day! Made the entire process exactly what wedding dress buying should be.
---
Reviewed on

8/27/2017
Erika B
Amazing service it was my first time trying on a wedding dress and Christina Alves made it unforgettable, I would recommend her and this place the gowns are to dream for and within reasonable pricing.
---
Reviewed on

8/24/2017
LaShell T
The Collection was the one and only bridal salon that I visited in search of my dream wedding dress. I had a second appointment lined up the day I tried on dresses and decided to cancel it after my wonderful experience here. My bridal consultant, Christina is truly a gem. She... Read More helped me find exactly what I was in search of and has been so warm, pleasant and professional. In fact, all of the staff are sweet and welcoming. I can not wait to wear my dream dress at my upcoming wedding!
---
Reviewed on

8/22/2017
Shaleece M
The Collection is a great name for this bridal shop, with so many different styles to try on so you can see what you love. Christina was fantastic, kind and excited to help me find THE dress. She asked me a lot of questions to figure out my style and help guide me to try on the... Read More perfect selection of this collection. This is the place I said YES to the dress!! I found a dress with beautiful straps but I was set on strapless, the seamstress and manager came out to help me see if they could make my dream a reality! I want to say thank you the whole team for making me feel so special and for using their talents to make this an amazing experience. I highly recommend any bride to this shop for their wedding dress shopping and if you can get an appointment with Christina you will have a great experience with a sweet and helpful lady.
---
Reviewed on

8/06/2017
Sarah G
Still can't believe I found my dress! On a random Tuesday evening just before closing time, my future sister-in-law and I walked in to "browse", never expecting to be able to afford anything in this beautiful store. Christina was happy to assist us and even squeezed me in to try... Read More on dresses. She helped me find my inner voice and make a decision to be happy for me; so thankful for her. I think about my dress every single day and can't wait to put it on and marry the man of my dreams!!! Can't believe I'm a CollectionBride, came in under budget, and happened to find a one-of-kind dress that is totally me! I am so looking forward to rocking my Mikaella gown on my wedding day! :)
---
Reviewed on

7/31/2017
Allison A
My first experience at the collection bridal was amazing! Christina was my stylist and she made trying on all of the dresses so much fun! Not once did I feel pressured or rushed. Can't say enough about Christina, a pleasure to work with!!!
---
Reviewed on

7/31/2017
Chelsea H
This salon is awesome! Shainna is AMAZING! She made my first dress experience one of a kind and one I will always remember! I cannot thank her or the salon enough! The Collection Bridal is a must see!
---
Reviewed on

7/28/2017
Maria R
You truly experience a 5-star service and undivided attention at The Collection Bridal. Their bridal gown selection is absolutely unique. Christina was amazing and quickly understood my style and taste!
---
Reviewed on

7/01/2017
Ashley V
I worked with Christina during my appointment and she was so helpful, kind, and patient! I needed a consultant who would walk me through the process and encourage me along the way. So grateful that she was so patient and remained within my desired price range! Great and... Read More personalized experience.
---
Reviewed on

6/05/2017
Sarah B
Christina and everyone at The Collection helped me find the perfect dress for me! I went by myself, which I was nervous would make me sad or be difficult, but it was the best experience I could have asked for. They made me feel so at home, beautiful (but they were honest) and... Read More just so caring! I can't wait to go back for my fitting.
---
Reviewed on

5/31/2017
Marcela
Amazing bridal salon! Christina was extremely helpful throughout the whole process. A beautiful selection of dresses - highly recommended!
---
Reviewed on

5/19/2017
Victoria W
I bought the third dress I tried on and it is perfect! I can't wait to wear it in September. My stylist, Christina, was highly recommended to me and she didn't disappoint. I am a very happy bride-to-be.
---
Reviewed on

5/08/2017
Heather S
I loved the experience and made me feel special! My dress was perfect for the big day!
---
Reviewed on

5/01/2017
Stacy T
Christina was an amazing stylist and I'm so grateful for her helping me find my dream dress. This place is amazing and filled with stunning dresses.
---
Reviewed on

4/23/2017
Risa A
I just got my dress from The Collection and am leaving on cloud nine. The salon alone is beautiful and intimate but Shainna truly made our experience. She was a great listener while still supporting me in making decisions. I would recommend this location and Shainna for any... Read More bride looking for her perfect dress!
---
Reviewed on

4/20/2017
Melanie F
Shainna was absolutely AMAZING! She was so incredibly sweet, professional, knowledgeable, and patient, she made me feel so comfortable and confident. I ended up going to a total of 6 different stores to find my dress, and Shainna was by far the best consultant I had. She made... Read More the experience everything you hope it would be. She was wonderful and while I found my dress elsewhere, I am very thankful for her and the experience I had at The Collection
---
Reviewed on

4/03/2017
Gabriella G
After looking for my perfect dress and going to several stores and leaving disappointed I then made an appointment at the collection bridal with SHAINNA. Let's just say she is the bomb dot com. Her service and attention to what I'm looking for paid off and I said yes to the... Read More dress. She made it so simple and headache free. She found my mother a dress and my bridesmaids dresses. I recommend her to any bride to be. :-)
---
Reviewed on

3/27/2017
Fahima J
This store was absolutely the best. I wasn't sure if I would find my dress here so I had 2 other bridal salons I was going to go to. I didn't even need them in the end. My bridal stylist Shainna listened to exactly what I wanted and was very respectful of my budget. If she... Read More thought of a dress that was outside my budget she always asked if I wanted to try it on first before even showing me which I am very grateful for. She was so friendly and honest about everything. My mom and sister were also impressed by her. Shainna helped me feel comfortable throughout the entire experience and once I found my dress we celebrated with champagne. My dress with veil included was under my budget and I was beyond excited. Thanks Shainna and the collection for making my experience so special!
---
Reviewed on

3/24/2017
Dominique C
My experience at Th Collection was very positive! I had only looked at dresses once before coming to the shop and was worried I wouldn't have enough of an opinion to make a decision. My consultant, Christina, was able to read my mind after seeing just a few pictures of what I... Read More THOUGHT I liked. We were all stunned when I ended up with a Lazaro that she picked, because I probably never would have guessed! The staff were both kind and helpful througohut the whole process. My mother and I were there for quite a while (we closed the store!), yet we never felt rushed or ignored. So glad to be a Collection bride!
---
Reviewed on

3/09/2017
Alyson W
The Collection is a top pick for bridal experiences in Orlando, FL! After trying on multiple dresses at many bridal boutiques, I started to get discouraged because I just didn't seem find anything I liked and never felt that "bridal" moment. That was until I made my appointment... Read More with The Collection. Christina is an expert at her craft and finally made me feel like a bride! The she provided world class service from helping pick designs to her fitting technique. Make sure you check out this boutique if you're a new bride-to-be and ask for Christina!
---
Reviewed on

3/06/2017
Skylar L
in the last week I recently started searching for "The Dress" for my big day, which is still some time away. It takes time, though. The dresses you thought you loved online actually do not fit like you thought they would. It also depends on the theme you are going with. So many... Read More factors go in to choosing the perfect dress. I could not wait for my appointment at The Collection Bridal. I had heard so many wonderful things. Unfortunately, my first time trying on dresses was a huge disappointment. I felt as if I were rushed through the entire process. I did not have any time to actually look at myself and experience each dress. I was only there for thirty minutes in total. I suppose that since I did not plan on buying a dress that day, the consultant, Shaina, thought that I was just a waste of her time. If you want to get the sale, you should be more personable, to make the bride want to return. I can proudly say that I will not be a Collection bride.
---
Reviewed on

2/04/2017
Kate B
I found my dream dress at the Collection Bride! Everyone was so attentive and helpful and made me feel like such a special bride!! Shainna Bryson was so incredible helpful, sweet, and amazing!!!! Anything I needed there was there to help. She helped with every details and was... Read More always there smiling and laughing. She MADE the experience!!!!
---
Reviewed on

2/01/2017
Katie L
I had a wonderful experience at The Collection. My appointments were with Christina and she was so helpful and super sweet. I had not shopped much at all for a dress and did not have a specific style in mind. Christina did a great job at helping me figure out what I liked! She... Read More did not give too much opinion, but asked the right questions to help me know and feel confident that I was choosing the right dress for me. When I did decide on a dress she helped my mom and I celebrate and was genuinely excited for me - overall such a fun experience!! I can't wait to go back when my dress comes in!
---