Home

The Counterfeiters
About this Vendor
The Ultimate 80s, 90s, etc. Party Band!
Warning: This is not your parents' wedding band! One of the hottest acts on the N.Y./N.J. scene, The Counterfeiters are the best party band you will see. Period! Combining stellar vocals, incredible live performance, and top notch musicianship, The Counterfeiters will make your special day one you'll be talking about for years to come. And, after all, the party is what everyone will remember, so why not throw the best one you can? Hiring the Counterfeiters virtually guarantees that! Whether it's 70s disco, 80s/90s classics, today's pop anthems, or even a little Sinatra, There's no better band out there at getting both the old kids and the young ones out of their seats and onto the dance floor. If you want your wedding to be the best party ever, simply drop them a line anytime!
Details
Guitar, Harmonica, Keyboard, Percussion, Piano, Saxophone
After Party, Rehearsals + Parties, Ceremony, Reception, Wedding
Live Music, MC Services, Recorded Music, Sound Equipment, Music, Equipment
Contact Info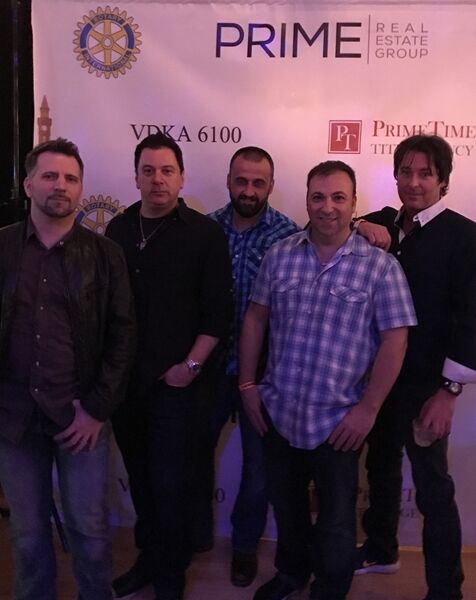 Reviewed on

7/23/2016
Jennifer O
The Counterfeiters are phenomenal! They made our wedding day (July 15th) so incredibly fantastic. We have so many wonderful memories! We loved everything the Band played! My husband loves the Rolling Stones - and he is super critical of bands playing Rolling Stones songs -... Read More the Counterfeiters surprised us with 2 Rolling Stones songs and my husband started his rooster strut! My husband absolutely loved the Counterfeiters' singing the Rolling Stones songs! All of our guests loved the Counterfeiters! There was never a moment our dance floor was empty! Our guests could not stop raving about the Counterfeiters. We were constantly asked - Where did you find that band?! One of our guests commented: That Singer (David) was like a parrot! Every song he sang, he sounded like the original! From our initial conversation, David of the Counterfeiters was wonderful! I knew instantaneously that this was the right Band for our wedding. He is super friendly and easy going but super professional. During our first conversation, David said - We like to make this easy so you can focus on the real stuff! David put my mind at ease and he was in touch as we got close to the wedding date to finalize details and ensure we were on the same page. We love the Counterfeiters and are planning to go to one of their shows. We really wish we could have an anniversary party every year and hire the Counterfeiters! Words truly cannot express how we feel!
---
Reviewed on

5/17/2016
Emily S
We saw them out years ago at Talkhouse and thought they'd be a perfect fit for our wedding. Thankfully we found them on the knot and were able to make it happen. We can't say enough good things about this band...and our guests haven't stopped telling us how good they were. They... Read More played to our audience and kept the party going. The dance floor was filled the whole time! Having the counterfeiters there made our wedding reflect who we are. This was a great choice!! We highly recommend them!
---
Reviewed on

4/19/2016
All we can say is, "WOW!" I would've never believed a band could be this good. You guys made our entire evening, from top to bottom, such a gloriously happy and uplifting experience, we can't thank you enough. The energy, the song selection, the amazing vocals, and David's... Read More hilarious interaction with our guests, were the highlight of the night. If anyone out there is reading this and you're looking for a band, GET YOUR ASSES TO A COUNTERFEITERS SHOW BEFORE THEY'RE BOOKED! Amazing. Grateful. Fans4Life. Alexis and Darin Meyers Princeton NJ
---
Reviewed on

7/18/2016
The band made our day. Everyone danced for three hours. Dave is very attentive and easy to work with. Thank you for making a memorable day. Gina and Craig
---
Amazing band!
Reviewed on

9/27/2015
My husband and I absolutely loved The Counterfeiters! They are so talented and every song they played was such a hit with everyone at the wedding. We were all dancing from the 1st song they played. Our wedding song was a bit obscure and they nailed it! Dave, the lead singer,... Read More was so engaging and charming with our guests and we all had such a great time. I even got to sing a Journey song with them on stage! We are still getting texts and emails from our friends saying this is the best band they've ever heard at a wedding. -Antoinette and Michael
---
FUGGEDABOUDIT!
Reviewed on

9/11/2015
There are so many good wedding bands out there, but, if you're a bride to be looking for the most absolutely fun and AMAZING BAND for your wedding, I would insist on THE COUNTERFEITERS! Not only is their song selection the best I've ever seen, but their vocals, stage... Read More performance, and musicianship is second to none! Trust me! My husband and I are music snobs, we hate everything on the radio today, and we were blown away! The Counterfeiters rocked our wedding to the bone and they will rock yours as well! Party on, guys! 500 STARS!!
---
The Counterfeiters Rocked We didn't want the night to end!
Reviewed on

9/06/2015
The Counterfeiters were an amazing wedding band. We found them at the Patio Bar in Point Pleasant. The band totally made the night. They had everyone up on the dance floor - even our guy friends who don't dance. They were so amazing they had my grandmother dancing with our... Read More groomsmen to Jesse's Girl. They played every song we love to dance to and stayed overtime. Our friends said it was the best wedding band they'd ever heard. Not cheesy at all. Just a rockin good time. Also they were able to handle the flow of events and were easy to work with. We didn't want the night to end
---
Reviewed on

9/06/2015
The band was great. The Counterfeiters were exactly the type of band we were looking for for our wedding. Fun, energetic and they rocked the house! They kept the dance floor going the whole time. The music they played was the best songs from the 90s along with our own special... Read More song requests. Everyone at the wedding knew all the songs and had a great time dancing and going crazy. They are professional and accommodating. I would absolutely recommend them.
---
The Counterfeiters ROCKED our wedding!
Reviewed on

9/04/2015
Planning a wedding isn't exactly a breeze, so when my husband and I discovered The Counterfeiters at another event they played, we were psyched. Wedding band? CHECK! Not only are they awesome musicians and great energy, but everyone in the band is super nice and professional.... Read More They are NOT your typical wedding band. They are ABOVE & BEYOND! And, David, the lead singer/front man, is really funny (and cute) and an awesome entertainer! If I can brag, I think we had one of the funnest weddings ever and we have The Counterfeiters to thank for making magic on the dance floor. Our guests were raving. Everyone danced the night away AND even the old fogies in attendance were rockin' out to the band. The Counterfeiters will rock your wedding!
---
Best Wedding Band Ever!
Reviewed on

9/04/2015
The Counterfeiters are the best wedding band you will ever see, bar none! We couldn't be happier to have you guys as the entertainment for our special day. You were the best decision we made. Thank you from the bottom of our hearts!
---
THANK YOU!
Reviewed on

9/04/2015
The Counterfeiters made our day so amazingly special - from the amazing music, to their flexibility in learning songs, i.e. last minute requests by my mother! To their amazing ability to get everyone up and dancing! Truly a wonderful day! My friends and family are still talking... Read More about it! Thanks again!
---
Meet The Coordinator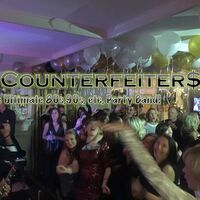 David Fagin
David grew up with a mom who sang in the Catskills, so music was in his blood from the time he could walk. An 80s fanatic, David possesses more useless musical knowledge than anyone in the history of mankind. Professionally, David has appeared on Howard Stern and Carson Daly, shared the stage with acts such as No Doubt and Duran Duran, and even composed the theme to a CBS sitcom. His original music can be heard on teeny bopper shows all over the world. David is also a contributing writer to The Huffington Post, the most widely read liberal news site on the Net. He is also a food snob.