Home

The Deck at Harbor Pointe
About this Vendor
Waterfront destination weddings...close to home
Amenities + Details
Amenities
Handicap Accessible

Liability Insurance

On-Site Accommodations

Indoor

Reception Area
For more details about amenities, please message the Venue.
Ballroom, Waterfront, Hotel, Restaurant
Bar + Drinks, Cakes + Desserts, Food + Catering, Planning, Rentals + Equipment, Service Staff
Contact Info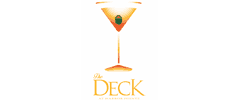 101 Taylor Ave, Essington, PA
Aims to please!
Reviewed on

8/30/2013
Toni C
We had our wedding there 8/13, absolutely beautiful! MJ is the best, you tell her what you want or need and its done! She has great ideas, we couldn't get married on the upper deck because 1 of my brothers who "walked" me down the aisle is in a wheelchair, so we had it on the outside dance floor, she wasn't happy with the condition of the floor so she decided to put sand down! it was the first time she had ever done that and it turned out fabulous, ended up being a keeper for the nightclub! She is a feisty little firecracker, so if there are any problems, she'll have them fixed before you even know! Its your day and everything is all about you and she will do whatever it takes to make, and keep, you happy. Also a perfect location, the river makes for amazing pictures, nightclub for wedding after party, and hotel 2 feet away for stumbling too after!! On a side note...her florist is AWESOME!!! She has great ideas and is beyond affordable. She's isn't listed on TheKnot.com so I had to give a shout out to Tunie and her daughter Amanda at Tunies Floral Expressions!!
---
Great Venue!
Reviewed on

4/12/2013
Tabitha M
I had my wedding at The Deck at Harbor Pointe and it was great! The food, venue and staff were amazing! There were only a couple small things I didn't like, the first is that flowers (included in the wedding package) on the tables were nothing like we had discussed, and the cake(included in the wedding package) didn't have the topper on it that we had discussed with the baker. Other then that it was a great night!
---
Planned Everything in 5-1/2 weeks! It was FANTASTI
Reviewed on

11/07/2012
Kristi B
My husband, Marc, and I were married at The Deck on July 6, 2012. Marc is from England and moved here this past April so that we could be together. Because of his Visa, we had only 90 days to tie the knot. We were planning on a small elopement up until the end of May, when we both realized how much we wanted an actual wedding. From the minute MJ answered the phone, we knew we had to meet her and see The Deck. When we saw the venue and got the details, Marc and I knew we need not search anywhere else. This was it! So when my husband and I dropped our unrealistic timeline of 5-1/2 weeks until D-Day, she unexpectedly welcomed us (and the challenge) with open arms and promised it would be a spectacular day. Spectacular was an understatement. Every aspect of the day was perfect. July 6th was one of the hottest days this summer, 98 degrees. The ceremony was outside on the second level deck overlooking the water. Yes, it was hot, but when I look back, it was nothing but beautiful. We had photos taken in the park directly adjacent to the property which is also right on the water. The cocktail hour and dinner food was delicious; our guests raved about it as well. Since we were strapped for time, MJ recommended a few vendors for us, all of which were exceptional. The reception was held in the Water's Edge Room which is absolutely beautiful with a high sloped ceiling and exposed beams. The entire room has windows around the perimeter, which overlooks the park and the water. I really enjoyed the space because the surroundings really set a romantic mood. Marc and I wanted to keep the party going after the reception because we were just having so much fun, so MJ and the staff set up the VIP lounge in the nightclub for us, our wedding party, and several guests. It was fabulous. There is a Holiday Inn Express right next door to The Deck (a very short walk) which was super convenient, inexpensive, very nice, and kept everyone safe. Marc and I were worried that 5-1/2 weeks was not going to be enough time to plan the type of wedding we wanted. But all of our priorities were met: location, food, overnight accommodations, a romantic yet fun-loving atmosphere, a space to capture unique photos, and obviously, a great relationship with the planner herself! It was literally a dream come true. Clearly MJ and her staff at The Deck can host a fantastic event, but given our unusual situation and un-realistic time restriction, they exceeded our expectations with giving us our dream wedding. Thanks MJ!
---
Everything We Hoped For!
Reviewed on

11/07/2012
L R
We loved having our wedding at The Deck. Mj is awesome. She really takes the time to make your day special. The deck venue is gorgeous. The food was amazing! Our guests are still talking about how delicious the filet was!
---
Couldn't of asked for a more perfect day!!
Reviewed on

11/06/2012
Ashley B
My husband and I came to the The Deck on a bright sunny day in April of 2011...Immediately I was smitten with the place. We HAD to have our reception here, I thought. The feel, the vibe, the accesability, the over night conveinence. It was really a no brainer...And then we strolled through the door. We haven't even walked inside to officially meet MJ and already I was in love. I shot my husband a hopeful questioning look although admittedly, I was nervous. That feeling soon went away when we met MJ. A fabulous whirlwind of a women. Right from the start she had me hooked. It didn't take much for my husband to hop on board. Before I knew it we were flying through planning and MJ was there every step of the way. She does everything in her power to makes sure you're getting the experience you're looking for. And let me tell you, MJ and her team at The Deck did not disappoint. Everyone raved about how gorgeous the place was, and the phenomenal food! ( a friend of mine even admitted she liked our food better than the food at her own wedding) It really was a wonderful time. My husband and I could not have pictured a more perfect night. And it's all thanks to MJ and her team at The Deck at Harbour Point.
---
Perfect Package
Reviewed on

11/06/2012
Melissa H
My husband and I would have loved a destination wedding, but we knew all the guests we wanted to invite would not be able to make it so far. So, we wanted to find a place that offered a different experience with the destination feel. From the moment we walked in, we knew The Deck was the perfect place to hold our Cinco de Mayo wedding!! It offered the "ultimate" package! The park next door offered a convenient location for photos, the florist and baker were already taken care of, the beautiful outdoor deck on the water was just right for our outdoor cocktail hour, the club allowed us to continue the party past our reception hours, and the 2 on-site hotels offered guests a place to crash after having so much fun! On top of all that, the food was absolutely delicious---and not typical in the least. Who could ask for more, right? Well more is what we got! The owner MJ has a personality you can't help falling in love with. From the minute we arrived, she made us feel like we were family, and we knew she would take care of us. Throughout the entire planning process, she accomodated every detail requested--and I mean every last crazy request! She even threw in her own personal surprises for us which just perfected the night! Afterwards, so many of our guests contacted us about how much FUN and phenomenal the entire experience was. If you are looking for a unique venue, on the water, surrounded by palm trees, where you are treated like family by the entire staff instead of just another customer, then this is your place!! LOVED, LOVED, LOVED every part of it and would aboslutely do it again! I'm thinking an anniversary party might be in need--haha! Thank you MJ from the bottom of our hearts! Love, the Gerrishes
---
Everyone Should Get Married Here!
Reviewed on

11/06/2012
Katie A
The title of this review is actually what I said to Mj (the wedding coordinator with The Deck) the day after the wedding. I went into my wedding day thinking that something would go wrong because that typically happens, but I can honestly say that everything went off without a hitch. I was absolutely stunned that Mj made sure that everything was perfect! Even when the wedding cake arrived that afternoon, Mj thought that the decorations weren't as perfect as they could be, sent it back with the baker, and when I finally saw it, it was perfect and I had no idea that happened until much later (probably a good thing not to let the bride know until after the fact). Another thing that blew me away when we toured The Deck was all of the items they included in their price. I couldn't believe how much I got for the price! And the food! People are still telling me how good the food was nearly 5 months later. And who really goes to a wedding and expects every plate to be perfectly prepared and delicious? The bottom line is that Mj and the staff at The Deck work hard to make sure that your day is perfect and planning it to be perfect is their specialty.
---
Destination Wedding After Party
Reviewed on

11/01/2012
Angela M
I had a fabulous experience at the Deck at Harbor Pointe! My husband and I were married June 2nd in Key West and had an After Party at the Deck. The process was a breeze. I gave a budget and MJ did the majority of the work for me! She had great recommendations, we did a simple setup, but it was still outside, on the beautifully landscaped deck, by the water, at sunset. With video setup, DJ, and private premium bar. Food was excellent, the day was excellent. My guests raved at how lovely it was. Highly recommended.
---
Our July Wedding
Reviewed on

11/01/2012
Alicia M
We were married July 7th 2012 at the deck, even though our wedding day fell on the hottest day of the summer MJ and the crew rolled with the punches and beautifully executed our outdoor ceremony and reception in the waters edge room. Every detail was carefully planned out which allowed us a worry free day. The food that we chose to be served was a favorite among all the guest. We had complete faith in MJ from our first meeting to saying our goodbyes after the reception and will recommend the Deck to all of our friends in need of a venue for their wedding.
---
bohemian wedding
Reviewed on

10/19/2012
Zach N
My husband and I were looking for a unique, down to earth, and beautiful venue to host our wedding ceremony and reception. We came across The Deck on TheKnot.com and decided to check it out since it's close to Philly. When we fist stepped foot on the grounds we were sold. If you decide to have your ceremony outside on the deck it will be the best decision you have ever made (so long as weather holds out, which ours did). If it ends up raining The Deck has a beautiful indoor "Plan B" room. If you decide to use The Deck as your venue you will not be disappointed; especially when working with MJ. MJ and her husband own the deck and she will take it upon herself to cater to your every need. From the start, we were clear about wanting a bohemian-themed wedding and I was skeptical about whether or not it would be possible. MJ took care of everything and allowed us to bring many "props" from home leading up to our big day. The best part of The Deck is all of the amenities of the site. We had our reception, outside, at 4:30 and then had cocktail hour right after (5-6) on the deck. At 6 we moved into the reception room until 10 and then when it was time to wind down everyone walked next door to the hotel. NO DRIVING, anywhere- one stop shop! If you want your wedding to include: A wonderful wedding "planner", MJ An amazing head server , Janeane The Delaware River with amazing view A beautiful park NEXT DOOR for photos A BRAND NEW Holiday Inn Delicious appetizers/four course meal Open Bar Cake Reception flowers then The Deck is for you! Do yourself a favor and check it out!
---
MORE THAN I COULD ASK FOR!!
Reviewed on

10/01/2012
Meghan L
I truly cant say enough good things about having my wedding here! the staff was awesome and of course the event planner- MJ! I looked forward to every time we had an appointment to plan for the big day, we had such a great time! We took full advantage of the facilities by having the ceremony, cocktail hour, reception, and after party there. The Holiday Inn Express is so convenient your guests can spend the night without having to organize any type of transportation!! LOVED EVERY MINUTE OF IT!!
---
Perfect fit
Reviewed on

10/01/2012
Emily S
My husband and I wanted someplace big enough to fit our somewhat large guest list (about 180), but not stuffy and generic like most big spaces tend to be. We had a beautiful ceremony outside over the river, cocktails on the deck, and the reception in the club. We started at 2pm and with our after-party, didn't go back to the hotel until 2am. I'm still hearing from our guests how amazing everything was - the food, the view, the space... MJ was awesome in making all of our oddball requests happen and she made sure everything went smoothly. I didn't have to think about anything the day of!
---
BEST EVER
Reviewed on

10/13/2011
Jess S
The venue was perfect!!! MJ was amazing and I couldn't have asked for a better day. Everything leading up was perfect also, meeting any time I felt was necessary. GREAT service!!! 100% recommend.
---
best venue ever!
Reviewed on

8/26/2011
Yomari M
I had my reception at the The Deck on June 4th, 2011 and what a beautiful reception it was. First, I must thank Mj for being the most amazing, patient, and flexible wedding coordinator in the entire world. I had met with several venues before stumbling upon The Deck and once I spoke with Mj on the car ride home I said to my now husband, "we found our venue". It was so easy and calming to talk to Mj that I knew I had found the person I wanted to work with. I first went to see the venue in the winter when the outside was not ready yet, and was worried that I was taking someone's word about how nice it was going to be out there once all of the tropical foliage was planted. Mj is that kind of person that just took my worries away in an instance and I knew I could trust her and I am so glad I made the decision to. She will not let you down! We chose the Ultimate package, and the food was AMAZING!!!! I am a huge foodie and wondered how can the food be that good for that price, I mean the package includes so much…well the food was indeed amazing. Nowhere near wedding food caliber, it was of high end status…we had steak and bass and my husband who hates fish could not stop eating from my plate ( I had the bass)…it was that good. We had our cocktail hour outside and the rest was inside in the ballroom. The cocktail hour was so incredible that people did not want to go inside for dinner because of how gorgeous it was out there. People still brag about how amazing being out there was . Mj did such an AMAZING job making my vision a reality. I must say I did have some insane ideas for outside and inside, and Mj executed them all beautifully. I wanted lighting and she even referred me to an amazing company, and the baker she works with…OMG! The cake was incredible and he too is super flexible, full of ideas… I drew blanks when it came to my cake and he patiently worked with me to create the best tasting masterpiece. I cannot wait until I can eat my anniversary cake…so yummy! Aside from the yummy food, and cake…do not forget the hotel being right there and the amazing photos you will have. I did block rooms at the hotel and worked with Steve. He too was great to work with. I just can't say enough great things about everyone at The Deck. Thank you Mj and staff for making my dream a reality! You exceeded my expectations!
---
The absolute best!
Reviewed on

7/25/2011
Ty Makia D
The owners and staff at The Deck were absolutely wonderful! They were professional, yet very pleasant and accommodating. For a nice, small, elegant, party-type reception, this is definitely recommended. The food was phenominal! The cake, which was included in the package, was the best we've ever had. This place also has the perfect backdrops for photo opportunities.
---
Dream Wedding/Reception
Reviewed on

7/17/2011
Samantha B
We got married on May 22, 2010 and we chose The Deck for our reception site. We COULD NOT have chosen a more perfect place for us. It is the absolute most amazing site that we looked at with so much to offer. The way the deck overlooks the harbor with the sunset is breath taking and is such a perfect photo op especially for wedding photos. MJ (our coordinator) was like our best friend during this time because we really felt that she was there every single step of the way leading up to our big day. She truly cared about every little detail. There was no idea to big or to small that we had that was overlooked.. MJ accomodated everything we needed and wanted. The food was outstanding, the scenery was breath-taking, and the staff was phenomenal. We had our cocktail hour outside on the deck and our reception inside in the ballroom. We wanted a separate area for the bridal party cocktail hour and MJ set up the banquet room that has the whole wall of windows overlooking the water for us! The point of this review is that we couldn't have asked for anything better! Our family and friends are still talking about our perfect day! The best part is, people estimated that we paid about 5x more than what we really did. That will be our secret though :-) Samantha and Danny
---
Hawaiian Style
Reviewed on

12/16/2010
Tracey K
Absolutely an Awesome job with every aspect of my daughters wedding reception. The coordinator MJ was so helpful and really made my daughters reception beautiful. Being from Hawaii and having certain traditions in celebrating the union of marriage MJ really excited us with her creativity and scheduling so that my daughter could welcome my son in law into our family in the traditional Hawaiian Style. From the beautifully decorated banquet room to the delicious dinner and dessert bar, everything was just absolutely perfect. If I ever decide to marry again, even if I have moved from the area, I would come back just so MJ could handle my wedding and reception. Great Job and from the bottom of my heart MAHALO (thank you) Aloha, a very pleased mother.
---
Finally...The Reception
Reviewed on

10/22/2010
Dawn S
Engaged for two years before the wedding...We started out planning a wedding at the Jersey Shore, on the beach. As I drove past my church one day, I realized that I didn't want to get married anywhere else. Now, how was I going to find the beach, in Delaware County? We realized that we had our own beautiful waterfront right on the Delaware River. We had checked out a few places by the time we came upon The Deck. Once, we met Mj, we knew that this was the place. She put us at ease, immediately. Not only was the location and the view absolutely breathtaking, but we also got to work with someone who only wanted the best for us in every aspect. Words cannot describe the gratitude that I have for Mj. She was such a big help, I could not have pulled it off without her guidance and support. When we had our tasting, we were floored, it confirmed that we had picked the best spot. The food was delicous and everone at the reception thought so too. We got so many compliments on the venue, the view and the food. We were told by several people that ours was the best wedding that they had ever been to. The staff was so friendly, and helpful; catering to Bill and I as if we were royalty throughout the entire reception. One of the staff even chased a wedding card down the river and scooped it out before it was gone with a wedding gift inside! There are so many little stories that I could share, but you might not have the time to read them all. :) All in all, I highly recommend The Deck! We are so happy that we chose it! As a last thing, we left all of our gifts there and Mj's husband came down to meet us to give them to us on Sunday, when they were closed. Such personable, lovely people. I cannot say enough, about how wonderful it was to work with such a great group of people. P.S. At the end of the day, after much ado about nothing, I had a mini meltdown and there was Mj, by my side, still taking care of me. She was more than our wedding coordinator, at that moment she became exactly what I needed, a friend!
---
Amazing Experience for the Best Day Ever!
Reviewed on

9/29/2010
denise t
When my (now) husband and I were looking for a place to host our wedding, we were just not sure where we'd be able to do what we WANTED, yet have a beautiful setting, and be local for all of our guests. We researched a bit online, and found The Deck (which we were only familiar with as the old "Lagoon" near our home). The pictures online looked beautiful, so we made an appointment with the manager (the ever wonderful MJ!). We walked in, walked around, and decided on the spot that it would be perfect! The outside deck is beautiful and overlooks the water, there is a bar right next to it for a "cocktail hour", and we chose the smaller of the two reception rooms which overlooks the park & water as well. Our evening wedding was GORGEOUS! The guests couldn't stop talking about how beautiful the venue was, the night was, the view was. And the food was phenomenal! If people were not talking about the view, they were talking about how delicious the food was. Of course the build-up to the wedding was a great experience as well. As a couple, we're pretty laid back... and a bit "off-beat". MJ was completely open to whatever ideas we had (We released butterflies at the end of our ceremony... it was beautiful!), and also had many great suggestions to make everything come together & look perfect (for example, she showed an example of some menu cards another bride had used to "dress up" the table settings...and so I made some, and they looked perfect!). As well she was willing to work with us around our budget, which helped us out MAJORLY. On top of MJ's personalized help, we also had a group of staff members that were genuinely happy to help us out the day of (and in the months approaching) the big day. Major shout out to Mary, the best bartender ever! I will definitely be suggesting this as a venue to pretty much anyone that needs one in the future! Weddings, receptions, parties, anything. They were great!
---
Destination Wedding without Leaving Home!
Reviewed on

8/26/2010
Danielle F
My husband and I searched high and low for the perfect place for our wedding and nothing felt quite like what we were looking for until we came to the Deck. We were treated wonderfully from the second we walked in to see the place to even know if we contact MJ and say we are coming down for couple drinks. Our ceremony was beautiful!!! Everyone that sees my pictures has asked what island we got married on! Delicious food! Top shelf alcohol! Gorgeous room! The sun was setting during dinner and we ate by candlelight. MJ took care of everything! Her and the staff are truly professional with nothing but a focus on making sure our day was perfect. I didn't have to lift a finger! So we couldn't go to the tropics so we brought the tropics to us!!!! I wish I could do it all over again!!! MJ thanks for everything, you are truly the best at what you do!
---
AMAZING Venue and Staff!!!
Reviewed on

8/18/2010
Kristina C
I had my wedding at The Deck on May 15th, 2009, and it was absolutely amazing. I was living in Virginia at the time and was just about to go insane trying to find the perfect place in Philadelphia, as we were going to be relocating soon. Then....I found The Deck and suddenly sanity was retured. The Deck came into my life at the perfect time, and the staff was so amazing to work with. Everything that I wanted and needed they were there to listen and help make it happen. And working with a long distance bride isn't always easy, but they are total professionals and kept reassuring me that everything was taken care of, and it really was! When my soon to be husband (at the time) and I came an toured the facilities, we were blown away, it was modern, it was large and spacious, it had options on top of options for whatever I wanted. And then we walked outside to THE DECK.....and I was speechless. I envisioned our ceremony on the upstairs deck, overlooking the water at sunset, and then coming down to our own lower deck space with all of our guests.....and that is exactly what we got. You couldn't have a more beautiful setting, the food was amazing and no matter if you are inside or outside, the experience will be like no other! Everything that I needed was there, and the pricing was so on point, and with the work that they put into my wedding, I feel like I should have paid more! All of my guests and even my parents absolutely could not get over the amazing atmosphere of the people and the venue, it gives me chills just talking about it. Overall, I just can't say enough good things about this venue for our wedding....it was the wedding of our dreams, and if you are planning a wedding in the area, this is a MUST SEE!
---
Our June 26, 2010 Wedding!
Reviewed on

8/18/2010
Adrian A
If you are in search for a tropical / caribbean style vibe for a wedding scheme without having to get on a airplane, and you live the Philadelphia / Delaware Area; I highly recommend this place. I am originally from Trinidad & Tobago, however, I currently live in Reading, PA (Berks County). My wife and I had been married 6 years prior; before actually having our Wedding. So after visiting "THE DECK' in Essington, PA in September 2009, and meeting with MJ; My wife and I decided that this was the place where we were going to have our Wedding, so we decided to renew our vows and I decided to give my wife her dream wedding. We were extremely glad we choose this venue for our wedding..... This is a one stop shop for a beautiful ceremony and an awesome reception all at the same place..... I could not have asked for a better wedding planner the MJ (AWESOME), she made my life so easy for being the groom. Her staff is extremely friendly, down to earth, hard working; catering to your every needs throughout the entire day. By the way, my package was the 'ULTIMATE'. I highly recommend this; awesome food selection and everything is so delicious :) If you want it to be perfect... This is the place!
---
A little something different and on the water!!!
Reviewed on

7/14/2010
Melissa N
I was so sick of going to the same weddings, at the same places, and seeing the same things. The Deck has so many options and was so flexible to my needs and budget. Their wedding/event planner walked me through everything, but was open to try new things and make my wedding unique. Other venues I had contacted made me feel like I was just another bride that was going to get the same package as every other wedding. The wedding planner at the Deck made me feel like anything I wanted she would make it happen, even though I was on a tight budget. I went to the Deck one night before I decided to have my wedding there and the service and food completely won me over. The bartender knew us all by name and the food was fantastic! You can get married outside overlooking the water, move right on to the deck for cocktails, then have your reception in a glass room by the water/park, in their night club (which is where I had mine), or in their traditional ball room, finally you can continue your party after the reception with the indoor/outdoor club. Most of the time weddings fly and the reception is over before you know it. But with the Deck you and your guests can stay as long as you like and keep the party going. It may not look like much from the outside, but once you get in and on the water it is a beautiful, tropical venue that I would highly recommend to any bride looking for something a little different from your typical wedding.
---
Send Message