Home

The Gardens at The Kelly Gallery
Book Your Wedding with The Gardens at The Kelly Gallery
---
A BACKYARD IN OVERLAND PARK, KS
About Us
The Kelly Gallery in Overland Park, Kansas is a 10-acre private garden estate that's home to numerous flowering trees and shrubs, wildlife and English garden walkways. Created by photographer and artist Kelly Daniels, the gardens have been featured in national publications for their beauty and uniqueness. From the stone bridge over the small pond, to the tree swing, to the gazebos surrounded by flowering archways and trees, every part of the gardens has been carefully and creatively designed for photography and wedding parties. The gardens can easily hold outdoor wedding celebrations of up to 150 people.
Main Tent.
The main tent hosts the reception following the ceremony. A large white tent near one of the gazebos that guests will walk to after experiencing the exchanging of vows can be custom decorated to fit the tastes of the couple. The tent has a dance floor, sound system and party lighting.
Gazebos.
Three different styles of gazebos are scattered throughout the property. These gazebos are ideal for exchanging vows and doing wedding photography.
By the Water.
The small pond has a gazebo that overlooks the water, a dock and plenty of grassy areas shaded by trees. Couples can choose to marry on a grassy spot or under a gazebo overlooking the water. Guest chairs line the grass and walkways during the ceremony.
The On-site Carriage House.
This quaint house sleeps four. Couples can reserve it for a minimum of two nights.
What You Should Know
The Kelly Gallery hosts only one wedding per day, so that wedding parties can have exclusive access to the gardens. Wedding planners or family members will have access to the grounds at 10 a.m. to begin decorating and preparing for the wedding or reception. One hour is allowed for cleanup and tear-down and one hour is granted for rehearsal the night before. Couples use their own vendors for all food, entertainment, wedding cake, flowers, wedding planning and coordinating. Parties that want to use their own photographer will need to pay an additional fee for photography rights to an outside photographer.
The wedding package chosen for the event determines the amount of time allowed for the wedding, including the ending time. The Serenity Package allows for a five-hour booking with the party over by 10 p.m. and tear-down complete by 11 p.m. The Harmony Package allows for a three-hour event on any day but Saturday and must be over by 8 p.m. with tear-down complete by 9 p.m. The Unity Package is a lower-cost evening package for up to 50 people. The wedding must take place between 6 and 8 p.m., with tear-down complete by 9 p.m. The Tranquility Package is a two-hour afternoon package from 12 to 2 p.m. for no more than 30 people, with tear-down complete by 3 p.m.
Extra Perks
The Kelly Gallery offers other amenities as well. These include:
A suite for the wedding party to dress and prepare
Tent heaters for weddings in colder weather
A small pond stocked with fish that younger guests will enjoy feeding
From the Vendor
Outdoor Wedding Perfection
The Kelly Gallery in Overland Park, KS offers 10 acres of beautiful flower gardens, gazebos, a peaceful pond, and numerous locations with the sounds of nature for your ideal outdoor wedding venue and small wedding reception. A perfect venue for the most important people to share in your most memorable day.
Amenities + Details
Amenities
Bridal Suite

Handicap Accessible

Liability Insurance

On-Site Accommodations

Indoor

Outdoor - Covered

Outdoor - Not Covered

Reception Area

Wireless Internet
For more details about amenities, please message the Venue.
Interfaith Ceremony, Non-Religious Ceremony, Religious Ceremony, Same Sex Ceremony, Second Wedding , Vow Renewal Ceremony
Backyard, Barn, Waterfront, Garden, Historic Venue, Museum, Park, Tented, Trees
Planning, Rentals + Equipment, Service Staff
Reviewed on

10/24/2016
Jenna F
My husband and I had the most perfect wedding at the Kelly Gallery. Hands down the best outdoor venue. The grounds there are absolutely stunning. Kelly and Bri did an amazing job with our photos as well. Bri was extremely helpful to me with the wedding preparation and did an... Read More amazing job keeping me calm and collected. Kelly is such a wonderful photographer. I could not say enough about how perfect the Kelly Gallery is. I will never forget the beautiful wedding that we had here. My guests all had amazing compliments for the scenery. PERFECT VENUE!! LOVE THE KELLY GALLERY!! AMAZING STAFF, AMAZING PHOTOS, AND AMAZING SCENERY!!
---
Wonderful Experience
Reviewed on

10/08/2013
Jenn B
This place was a wonderful find! It is well away from the hustle and bustle of Kansas City--all you can hear is the wind in the trees. Beautiful outdoor venue, and Kelly takes beautiful photos. Her compositions are so natural, and have such appealing light quality and feel... Read More like "moments" she just captured. She has a good eye for catching these kinds of moments, and her place is designed specifically for photographing. The atmosphere and Kelly herself are very relaxed. Every time I met with her to discuss my wedding plans, I left feeling less stressed and that getting married was actually pretty easy. The actual day of the wedding, she was a HUGE help, going above and beyond our expectations. She has recently installed a permanent onsite reception tent, which we used in our wedding. My entire family (and my now in-laws) were impressed by her venue and her photos. I highly recommend, especially if you want to work with someone who is relaxed and want to get married somewhere tucked away from the city and tranquil. It was perfect for our small outdoor wedding.
---
A Fairy Tale Wedding
Reviewed on

10/03/2013
Gina E
My daughter found this venue and knew from the minute she saw it, she wanted to have her wedding here. She made a fantastic choice! The garden setting, pond and big white tent offered the perfect background for her special day. The grounds were obviously well-loved and cared... Read More for. I look at the photos of the wedding and still find it hard to believe this was my daughter's wedding. It was like being in a fairy tale. I highly recommend The Kelly Gallery for anyone dreaming of a fairy tale garden wedding.
---
Reviewed on

11/18/2017
Venue was great, we were able to visit several times to coordinate everything we would be doing and thankfully everything went smoothly! We also had Kelly do our photos, I will update this review to include the photography as soon as I get photos.
---
Reviewed on

8/16/2017
Savannah V
I fell in love with the Kelly Gallery the minute I saw it! I received great service from both Kelly and Bri! I felt very comfortable while staying at the carriage house. Kelly is very laid back and easy to work with. The Kelly Gallery is like no other venue! I toured many other... Read More venues who were very expensive and had many rules and restrictions. The Kelly Gallery is gorgeous and very reasonable in price! Not to mentioned the amazing pictures that both Bri and Kelly captured! I was very surprised to see so many great photos as I had four young children in my wedding party who were very active and hyper during the shots. Kelly and Bri worked very well with the children in my wedding party. Thank you so much for make our Big Day so special!
---
Reviewed on

6/17/2017
Nissa A
Magical nature escape! Every time my family and I come to The Kelly Gallery, we are in awe. We booked our wedding here, have had family portraits done by Kelly, and we also attend the Blue River Forest School hosted here. Kelly and her staff are down to earth and ensure all... Read More guests are taken care of, as if we are family. The gardens are breathtaking and romantic, complete with a pond, ducks, gazebos, secret paths, a fire pit, an open sky for the perfect sunset views, a big white tent for hosting, and a carriage house for event use, as well. The Kelly Gallery sets itself apart from all other venues because of its uniqueness and Kelly's loving approach to all activities hosted here.
---
Reviewed on

6/09/2017
Kristen M
You WILL NOT find a more gorgeous and convenient garden venue than The Kelly Gallery. The property is so lush and scenic. I love the pond with the ducks and the amazing willow tree to be married under. Also, there is a cute little carriage house you and your hubby to be can stay... Read More the night in. You'll wake up the day of your wedding in a gorgeous white room to the sounds of nature. Kelly and Brie are super sweet, accommodating and helpful as well. You can feel their love of photography, nature and weddings. Trust me and choose The Gardens at the Kelly Gallery for your perfect outdoor ceremony!
---
Reviewed on

10/09/2016
Bailey P
We LOVED having our wedding at The Kelly Gallery! Kelly and her crew were amazing. They captured the most beautiful pictures of our day, and asked us what we wanted so that everything was personal and meaningful to us. They answered all of our questions and helped us plan for... Read More the ceremony and reception so that there were no unanswered questions or concerns on our big day. We are so thankful we chose to get married here!
---
Reviewed on

9/15/2016
Breann F
My wedding couldn't have had a better venue! The Kelly Gallery was the perfect choice! Wonderful staff, and amazing help, made my planning less stressful.
---
Perfect Outdoor Wedding Location
Reviewed on

6/10/2014
My daughter just had her wedding at The Kelley Gallery. It is an absolutely beautiful location for a smaller outdoor wedding. The tent with the wood floor was a really nice plus for us since we had a rainy week before the wedding. Also, it was perfect for families with kids,... Read More since they were able to feed the fish in the pond, actually fish and catch the fish, and have room to run around. After the wedding we all felt like we would not have changed a thing if we did it over again. The bride and groom were very happy with their special day. We hired Sara, who works at the Kelly Gallery to help coordinate the day of the wedding and she was fabulous. We couldn't have managed without her help. I highly reccomend this venue for your wedding or event.
---
Beautiful Property. Inexperienced & Unprofessional Owner/Management
Reviewed on

10/21/2013
Jessica C
The property is beautiful and well maintained. This is the main reason I booked the venue and to that end it met my expectations. However, in all other ways, it did not. I have grown up in the wedding business. My mom is a well-known coordinator in the KC area and we have... Read More successfully managed hundreds of weddings/events. Based on our experience, I can tell you reception venues have an event manager. They are responsible for following (or setting) a timeline (we provided a very detailed timeline to the owner Kelly and spent two hours during our final meeting reviewing it and doing a property walk through). In addition, the manager makes sure your vendors arrive and things run smoothly. They are responsible for making sure the bride and groom and families are happy and have everything they need. There responsibility is to MANAGE the event. To this end I was EXTREMELY disappointed with Kelly. She promised us she would fulfill certain responsibilities outlined in the timeline (highlighted for her convenience) and would manager the event with an assistant. She was not even at the event. The only thing I can credit Kelly with is getting tent heaters because it got pretty cold on our wedding day. Now, where to start... We got ready at the house which was dirty(cobwebs and dead flies in the room). Kelly also does portrait photography and her ethics are very questionable. We hired an outside photographer (you pay a fee to do this) and we specifically asked Kelly not to take photos but to focus on the event management. Our photographer is one of the best in KC so we didn't need her photos too. Kelly actually had the audacity to ask her "assistant" to follow our photographer so she could copy his photos! We know this because her assistant told us. We had to ask her to kindly stop twice. Then, during the ceremony, Kelly was sneaking around behind us taking photos. Our hired photographer had to go out of his way to make sure she wasn't in the shots (many had to be trashed). Shortly there after, she posted her photos on Facebook taking credit for the event as her own. She had no permission to do so and didn't give credit to our amazing florist or event designer. After the ceremony, Kelly and her assistant were no where to be found. My friends who actually took over running the event saw her take plates of cookies off our display before we had even cut the cake (or guests had gone through - a huge no no in this business)and retreat into the house. There was no manager working with the catering company to ensure dinner was served on time, no one that checked up on us to see if we needed anything, etc. She never even came into the tent or said congratulations. Later in the night, I went to the house and I found Kelly entertaining her entire family (who was in town) around the dinner table. We helped get Kelly's business off the ground initially-we were the second wedding she booked and she asked my mom for her industry experience. My mom spent countless hours planning her Open House, writing her contracts, putting her in touch with vendors, giving advice, etc. We worked professionally with Kelly on her open houses and her ethics were questioned here as well (not giving credit on FB). She cares about bettering herself and she ruined my wedding day. My mom and I were beyond stressed and I am so embarrassed my friends had to work b/c Kelly didn't do her job. Moral of the story if you book here-hire a outside planner!
---
The Kelly Gallery Rocks!
Reviewed on

6/02/2013
Erica
The Kelly Gallery was THE ONE AND ONLY place to hold our special event and it only made sense to have her photograph the wedding as well. I've already seen some of the pictures and they are amazing! We held our wedding ceremony in the private gardens, and it was everything we... Read More had hoped it would be. The gardens and flowers, the gazebos, the ducks swimming in the pond... It all made for a wonderful day. We held our cocktail hour and reception under a beautiful tent that just topped off the entire event. I have to say, the tent was impressive and the view was to die for. The venue is so private and secluded and Kelly and her staff make you feel like you are right at home. Everyone on the staff has such a beautiful positive energy and everything was stress free from day one. I would go back there every year to have an event because the place is just so breathtaking and I loved working with everybody involved. Also, my guests keep talking about how awesome the place was. Thanks, Kelly!
---
Meet The Owner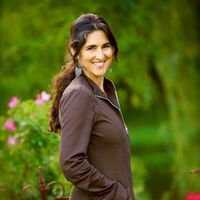 Kelly Daniels
Creating artwork for people has been a passion for Kelly Daniels ever since she was a child. When she was 11 she drew a layout of the design of her future home gallery. She received her Bachelor of Arts degree from Central Missouri State University in 1983. She has owned her own gallery for 20 years and for 25 years has created artwork for clients all over the United States. Her artwork and gardens have been featured in national magazines such as Midwest Living magazine, Kansas City Homes and Gardens magazine, Kansas City Home Design magazine, and the Independent magazine among others.