Home

The Grand Estate at Hidden Acres
Book Your Wedding with The Grand Estate at Hidden Acres
---
A BACKYARD IN FREEPORT, PA
About Us
Nestled away in Freeport-Pittsburgh area, The Grand Estate at Hidden Acres is truly a hidden gem for wedding ceremonies and receptions. Dating back to the 1970's, this stunning, classic estate house has had several remodels and updates to offer the perfect mansion experience, combining classically elegant architecture with sleek modern amenities. The Tuscan-style mansion is decked out in sophisticated vintage-inspired decor, boasting 32 genuine crystal chandeliers, a stunning three-story spiral staircase and a warm, gold color palette evoking Old Hollywood glamor. Intricate wood work and high vaulted ceilings complement opulent features like private whirlpool baths, oversized plush furniture and canopy king beds.
A prime attraction is the estate's vast, immaculate grounds. Guests enjoy exploring 13.5 acres of expertly manicured gardens, complete with shaped hedges, seasonal blooms, a cascading waterfall, babbling brook and rich green ponds. The tranquil space is full of vibrant colors and natural beauty—the perfect backdrop for breathtaking first-look photography. Vows are exchanged in a charming 15-foot-tall gazebo, intimately hidden among the garden's greenery, followed by a relaxed outdoor reception for up to 300 guests. A spacious wedding-white tent is glammed up for the occasion, adding chandeliers and luxurious table settings to the relaxed garden scenery.
What You Should Know
A nonrefundable deposit of 50 percent is required upon signing the Wedding Venue Contract to secure an event date. Wedding rehearsals are encouraged and the estate house can be reserved for rehearsal dinners pending availability. Due to local sound ordinances, all events, music and other loud noise must end by 11 p.m. and should be planned accordingly. The Grand Estate at Hidden Acres is a BYOB facility and does not serve any alcohol, but allows hire of a professional bartender or alcohol to be consumed at guests' responsible discretion.
Pyrotechnics, sparklers and other flammables are not permitted on the grounds, but decorative candles can be used if safely encased in glass (for example, glass lanterns). Guests can throw birdseed or blow bubbles for traditional wedding and reception farewells, but never inside. Rice, confetti, flower petals, balloons and glitter are not permitted. All wedding decorations must not leave a mark, hole or any other damage to any part of the venue or equipment, therefore tape, wire and screws are not permitted.
Extra Perks
Full access to the extensive garden grounds including stone patios, fountains and more
Luxury amenities available to hotel guests (whirlpool bath tub, pool facilities, bocce court, library, flat screen TVs)
Bridal changing room
Full assistance in wedding planning and organization
Customizable event packages and ceremony details
From the Vendor
Exquisite Wedding Venue/Bed & Breakfast
A fairytale weekend of your own design northeast of the city of Pittsburgh. Its beautiful Mansion with picturesque scenery, a perfect wedding venue for elegant, formal and intimate weddings. Celebrate your wedding ceremony on any of the 13 acres, followed by a reception on the tented tennis court.
Amenities + Details
Amenities
Bridal Suite

Handicap Accessible

Liability Insurance

On-Site Accommodations

Outdoor - Covered

Reception Area
For more details about amenities, please message the Venue.
Backyard, Ballroom, Castle, Estate, Historic Venue, Hotel, Tented
Bar + Drinks, Cakes + Desserts, Destination Wedding Packages, Destination Weddings, Food + Catering, Planning, Tents, Rentals + Equipment, Service Staff
Contact Info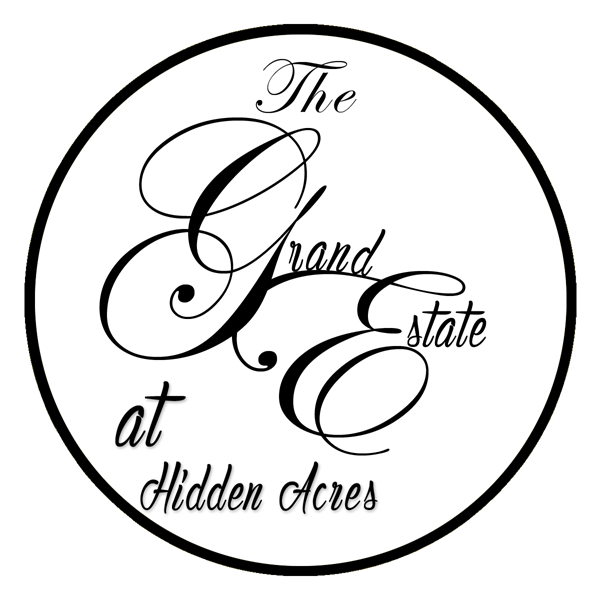 Reviewed on

6/22/2017
Shannon T
The Grand Estate was the absolute perfect venue we were looking for. We wanted an outdoor wedding but of course needed a good rain plan for back up and they were completely prepared for both scenarios. The outdoor reception tent is unlike anY other tent I have seen before.... Read More Lights and chandeliers hanging from the ceiling and absolutely beautiful. And the mansion itself is extremely well kept and so beautiful. We felt like a royal family staying the night there! The staff were incredible from the moment we set foot on the property until we left, any request was met with ease! They provided both our venue and acted as our day of coordinator, which made such a big difference! They made our wedding absolutely flawless and a dream come true! We cannot thank them enough for the amazing day they gave us!
---
Reviewed on

11/17/2016
SD E
Mel and Tom are wonderful people and just go out of their way to make your wedding weekend amazing. We rented the property for us and our guests for fri and sat nigh and everything was phenomenal. Their staff were also very helpful. They all made sure things were going perfectly... Read More the day of the wedding without being fully present to the guests. We love the venue as it is gorgeous and our pictures were amazing because of that. The mansion is to die for and is so luxurious. We would definitely recommend this venue to others! You can tell Mel and Tom really care about their business and their patrons!
---
Reviewed on

6/18/2017
Shane H
The Grand Estate was absolutely INCREDIBLE for our wedding day. Melanie, Tom, Alli, and the rest of the staff were so accommodating and it is absolutely GORGEOUS. Our guests still cannot stop talking about the venue. We held our ceremony in the back gazebo outside. The... Read More landscaping, flowers, and area were impeccable. The staff got all of my wedding party prepared and made the ceremony seamless and beautiful. Even things that we forgot or were not prepared for, they were prepared for, had options, and were always willing to go above and beyond to make everything perfect. We held our reception in the tent on the grounds. It is beautiful with the chandeliers, lighting, and was set up perfectly to our tastes. They simply know how to do weddings, accommodate to bride, grooms, and families. We used many of their preferred vendors, who were all exceptional. I wholeheartedly recommend you look at The Grand Estate for your wedding. I promise the experience will be worth it and it will make your wedding perfect and memorable :)
---
Reviewed on

6/14/2017
Michael F
The Grand Estate is amazing! Not only is it a beautiful venue, but very cost effective and bypassed a lot of logistical headaches for guests and the wedding party. One of my favorite things about it was that our whole wedding party was able to stay at the venue the night before... Read More and after the wedding. That meant instead of seeing everyone for a just a few hours at the wedding, we got to spend the whole weekend with family. There were no complicated logistics to deal with. The guests too did not need to relocate after the ceremony. We also had a beautiful rehearsal dinner around the pool at the estate. The grounds, the accommodations, and the reception tent were all phenomenal. The staff, especially Melanie and Tom, put so much heart and attention into every detail of the wedding. I was so impressed with the extent to which they were hands on and kept things moving without a hitch. We even had to relocate the ceremony inside the tent last minute for sake of rain and they did a seamless job making it all work. My wife and I visited many venues in several states and this one was the obvious choice, head and shoulders above the alternatives. I can not recommend this venue highly enough!
---
Reviewed on

6/14/2017
Danielle B
This is hands down the best place to have your wedding. Tom and Melanie are so helpful, sweet, accommodating, professional etc etc! We simply could not have gotten through the day without them as well as the rest of their staff. Our day was absolutely perfect and we could never... Read More thank them enough for everything they did to make our so special and perfect! Thanks Tom and Mel! We will definitely be back ☺️
---
Reviewed on

12/13/2016
Rosemary L
I truly cannot imagine having our wedding anywhere else. Everything was seamless (at least if it wasn't i had no idea!) Mel and Tom were absolutely amazing and you can tell love their job.. and they are good at it! From the day we toured the venue, The Grand Estate team... Read More made everything easy for us. Their list of preferred vendors was very helpful. The pictures online of the tent does NOT do it justice. It is stunning. We were their last wedding of the season, 11-12-2016, and they made us feel like it was their first. I can't wait to visit the bed and breakfast again and see Mel and Tom!
---
Reviewed on

11/05/2016
Nathan R
First and foremost, the following is solely based upon our experience at the estate. That being said, I hope that it serves as a cautionary tale for anyone who is potentially considering hosting their wedding or any other event here. Do not be fooled by the beauty of the... Read More Estate, which I can assure you is entirely wasted on its current management. We had our wedding here on October 29, 2016 as well as spending the entire weekend there, and from the moment we stepped foot onto the estate, we and those of our friends and family staying in the house (~25 people) felt more like unwelcome house guests than well-paying customers. We spent over $13,000 to host our wedding weekend here, not including what we spend on outside vendors, decorations, etc. and I can say that even if it were free, I would still have flabbergasted by Melanie and her staff's lack of hospitality and disregard for customer service. Throughout our entire wedding reception, the only time that they checked in with us was Melanie getting into a disruptive and unprofessional verbal altercation with one of our bridesmaids at our sweetheart table over the money dance "shots", after the money dance had just concluded, and we were in the process of taking them away. Other than that, the staff, save the outside vendors, were no where to be found. Our DJ was fantastic, as were the caterers, and did more throughout the night than the owners of the estate. If you have the extra money to hire a wedding planner, I urge you to do so if you are set on having your wedding here. The staff at the estate will only cause you grief. It is one thing to have things that aren't how you expected, but it is quite another to not have things how you were promised by someone providing you a premium service. And again, it is quite another to not have your concerns addressed at all. Melanie chose to ignore all of our concerns throughout our stay. I can only imagine that she had her $13,000+ in the bank, so it didn't bother her how our experience was. My only solace is to write this review in the hope that those reading it avoid the same mistakes we did. From the water not working intermittently throughout our stay, including when the bridesmaids were attempting to get ready, to them scooping ketchup, whipped cream, and other condiments back into their container after they had sat out for communal consumption, to their overall and complete lack of hospitality during our stay, we are entirely dissatisfied with our choice to have what should've been the happiest day of our lives at the Grand Estate at Hidden Acres. I have sent a detailed e-mail to the owner, Melanie, to which she has yet to respond. We did nothing to hide our dissatisfaction with our experience, and when I spoke with Melanie upon check-out, all she could manage was a non-apology in the form of "I'm sorry you feel that way", completely avoiding all culpability in the situation. Melanie, As I mentioned in my e-mail, I hope that you recognize the emotional distress and hardship that this has caused us by ruining what should've been the most memorable day of our lifetime. Since you chose not to address our concerns throughout our stay at your property, and with the e-mail I sent you 4 days ago, we are giving you yet another opportunity to do so now, but simply an apology is too little too late at this point. Please do something to try to make this right.
---
Reviewed on

11/02/2016
Lauren R
If you want a venue where you become family with the owners this is your place! Tom and Melanie and there daughters were beyond what I could have imagined! Always helpful and so genuine. They are on top of helping your wedding be the best day you have always imagined. Mel was... Read More there for the rehearsal and through the day of to make sure nothing went wrong and to keep us running smoothly. I have so much respect and gratitude for all that they did and for giving us the opportunity to have our dream wedding at the estates! We put a lot of faith in being the first wedding ever to book with them and boy am I so glad I did! I not only had an amazing wedding but I also gained a great friendship in the Waddell's! The estates is beautiful! Seemed surreal to have the honor get to stay for the whole weekend with my family. We had so much fun and would recommend anyone getting married to rent the whole place for the weekend! It was so relaxing and I had no stress at all! I honestly have nothing bad to say!
---
Reviewed on

7/20/2016
We had our dream wedding at the Grand Estate! From the moment we went to look at the venue, we fell in love. I didn't want to have the wedding anywhere else. Melanie and Tom were very accommodating. They allowed us to do what we requested to do and didn't push anything on us. If... Read More a problem arose during the rehearsal/wedding, they handled it. Having a wedding here makes it more of an experience instead of just a one day/night thing. Staying in the mansion just adds to the elegance and glamour of it all. Our photos are fabulous. The guests also enjoyed taking photos at all the great spots on location. I wished we had rented the mansion out the following day too! As if I thought the wedding couldn't get any better, my parents surprised us with a firework display towards the end of the night. It was amazing! I am so happy with my wedding. It was truly the best day of my life. I would highly recommend having a wedding here to anyone, especially because it is so different from a typical wedding. I would also enjoy attending a wedding here and going back! We can't wait to go back for our anniversary stay! My family is considering holding other events here in the future. Thanks for everything Melanie and Tom!
---
Reviewed on

6/05/2016
Absolutely Amazing I can not thank Melanie enough for making my sons proposal to his girlfriend PERFECT .. She decorated the gazebo with flowers candles and lights!! It was more beautiful than the Cinderella Story it truly was a fairytale evening ! I highly recommend this venue... Read More for weddings it is first class place and the owners are the BEST.. Thanks again Melanie for making Billy & Kristens a night to remember Elizabeth OBlock
---
Reviewed on

6/02/2016
Cath F
Emily and Tyler's wedding was on May 7 2016. Can't begin to even cover all of the amenities that were provided by the owners Tom and Melanie! There experience in the rental business made the transition into the Venue/ Bed and Breakfast just so professional, personal and down... Read More right Amazing! The Estate was the 1st venue Emily and Tyler looked at and it quickly became clear that The Estate "Had It All". From the beautiful grounds(awsome photo opportunities!) to the Georgeous Estate and Bed and Breakfast! Rooms for so many guests to stay the wedding nite! The swimming pool was beautiful! And the Gazebo for the Ceremony was exquisite! The Elegant and Huge Tent with chandeliers and dance floor and ambient lighting were such a beautiful setting for the reception! Melanie is the type of person who could immediately be your bestie! And question is too small and she answered my e-mails within the day! I couldn't say one thing that I didn't thoroughly enjoy and was pleasantly surprised at each and every meeting we had at the Estate. They just thought of Everything! The Harpist was just such a Touch of Class! And there is even a dog boarder close by for those who want their four legged friends in the wedding! The Florist Bettis Floral Design, Amazing! And the Caterer Suggestion Hostoffs Restaurand was just Too Die For! If you live in the Pittsburgh Area I highly recommend you take a look at The Grand Estate at Hidden Acres! Will never forget how we were treated with such care! Thank you So much Tom and Melanie for giving Emily the wedding of her Dreams!
---
Beautiful!
Reviewed on

12/04/2015
Emily P
I had my wedding shower here and it was breathtaking! So beautiful and elegant, everyone LOVED it!
---
The Grand Estate At Hidden Acres
Reviewed on

9/09/2015
Jamie M
Perfect Day! Perfect Venue! The Estate is truly perfect for weddings or any other event. The grounds are beautiful. The house was perfect for our family to stay and prepare for our daughters wedding. We woke up to a delicious breakfast that everybody loved (even our vegan... Read More daughter:) After the wedding was over, family members swam and when we got out of the pool Melanie had towels waiting for us!!!! It was not a planned swim so we were not prepared and we needed a lot of towels:) The tent area was so beautiful with the chandeliers and ceiling draping. The tent was large enough for food, dancing and a lounge area. The bride and groom even spent the wedding night there and they LOVED it. Like I said "Perfect Day- Perfect Venue" Thank you again for the wonderful service!!!!
---
Reviewed on

8/06/2015
Jenalee P
This is the place to have your wedding! Or anything for that matter! Its beautiful, stunning, and the comfort level is out of the this world. The owners are the best ever and make you feel so comfortable. There is no need for a wedding planner with this place as well!! We were... Read More the first wedding there and it was flawless! That is us in the profile picture! Thank you so much for everything!
---
Reviewed on

8/06/2015
Jenalee P
Incredible place to have ANYTHING! It rained on our wedding day but everything was still absolutely gorgeous!! everything was coordinated perfectly. Went smoothly and the venue is a knock out! Thank you so much for everything!!
---
Beautiful and Flexible
Reviewed on

4/16/2015
Amanda M
We just started wedding planning and toured a view venues, The Grand Estate being one of them. We just went back for a second look with our parents and booked it for our 2016 wedding. I just wanted to write an initial review because so far Melanie and Tom, the owners, have... Read More been so welcoming, warm, and accommodating for my fiance, myself, and our families. We're so much looking forward to working with them within the upcoming year on our wedding because I know that it will be exciting planning it with them. Thanks Melanie, Tom, and the Grand Estate for your wonderful hospitality so far!
---