Home

The Grande Hall at Hofmann Ranch
About this Vendor
Country Elegance in the Texas Hill Country
The perfect mix of Elegance & Texas Hill Country. = Hofmann Ranch! Your special day would include the use of The Grande Hall, the Brick Patio, and the Pavilion.
Amenities + Details
Amenities
Handicap Accessible

Indoor

Reception Area
For more details about amenities, please message the Venue.
Planning, Rentals + Equipment
Contact Info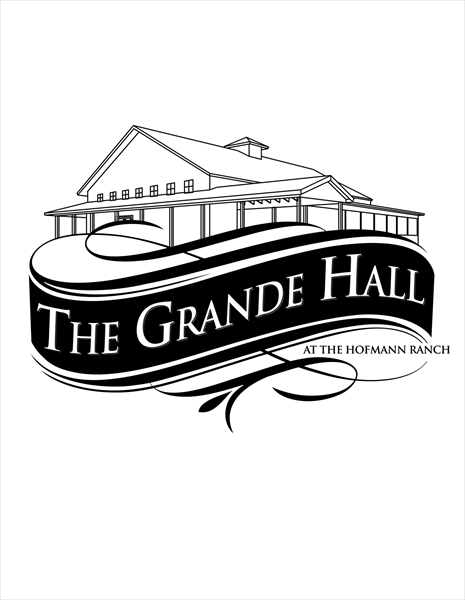 448 Private Road 4742, Castroville, TX
LOVED THEM
Reviewed on

6/16/2015
Kelly S
Loved the venue and loved the Hofmanns!!! You have multiple options for the ceremony in just one venue. The one and only thing I wish was different was that they only allow you to decorate 3 hours before the wedding. This made the day a little more hectic but other than that it was great!
---
Wonderful Venue
Reviewed on

6/01/2015
The Grande Hall at Hofmann Ranch is not only a beautiful venue, but it was a pleasure to work with everyone from the ranch. Planning a wedding can be very stressful, so it was nice to work with a group of people who want to make sure everything goes smoothly on your wedding day. We were able to have a plan for both good and bad weather. Knowing that your guests will be comfortable no matter what the weather brings was great. We had multiple guests compliment us on how gorgeous the venue was. Whether you have a lot of decorations or keep them to a minimum, this venue will make for some beautiful pictures. We highly recommend Hofmann Ranch. Thank you, Lauren and Randall
---
Gorgeous Texas Venue
Reviewed on

5/13/2015
Rebekah M
I used Hofmann Ranch for my April 2015 wedding, and I am so happy that I did! The staff was wonderful, very flexible in meeting with me and e-mailing back and forth with little details. They also provided me with an option of several on-site coordinators, which I have to say was really nice to be able to choose. I worked with Heather, who was absolutely wonderful before and during the wedding! The venue itself is really wonderful because you get several different settings when you rent so you have lots of options! We did the ceremony at the antique gates, cocktail hour on the patio, and the reception in the covered patio. The look of the venue was beautiful for my Texas glam rustic but not oo rustic wedding. :) It was beautiful! I found that everything being so close to each other was a major bonus for my guests. My only qualm is that they could use a better sign so that guests see the venue off the road easily. If you haven't considered having your event here, please schedule a visit soon!
---
A Winter Wonderland Event
Reviewed on

2/19/2015
Emily H
Rain or shine, Texas heat or winter sleet this venue will go above and beyond to make your day a success! My husband & I chose The Grande Hall at Hofmann Ranch for our January 2015 wedding and we have no regrets. The Grande Hall is beautiful with it's polished wood feel that is unique enough but also neutral enough for any event theme from rustic to modern elegance. It has a beautiful two story balcony, a hardwood dance floor, a couple of built in bars, rustic accent pieces, wooden columns, a double staircase and metal chandeliers. The staff was exceptionally attentive, especially Cindy and Kendra. They made themselves readily available to myself and my family anytime we wanted another walk-through to plan the layout, had questions about the reception timeline, etc. They handled all the details of my vendor arrivals, decor set up times, table layouts, linens, basically everything the week of my event. All I needed to do was cross my fingers for good weather and show up! Kendra even kept our reception on time when the sleet slowed us down and forced us inside. She handled the changes of inclement weather smoothly with a Plan A & B and it all came together so beautifully no one knew we had originally planned something different. She ensured my husband & I had a chance to eat, got family photos taken, provided me with guidance when to cut the cake, do our first dances, and was always nearby to get get me anything I needed. She was very sweet, calm, professional and attentive. Overall our experience at Hofmann was flawless. I would recommend them to anyone for any event that deserves impeccable attention to detail in a unique environment!
---
Absolutely memorable place!
Reviewed on

1/26/2015
Veronica A
From the scenic outdoors, to the spacious yet intimate indoors...the Hofmann Ranch provided many memorable, beautiful memories for our wedding. We wanted the beauty of the Texas hill country to radiate for our guests, especially those from out of town, and the Hofmann Ranch had that "It Factor" we just couldn't resist. It was meant to be with an affordable price, especially for a Sunday wedding. Cindy, and Mr and Mrs Hofmann worked so patiently and kindly with us. Cindy helped tremendously with the preferred Vendor list, options for the layout of tables for our guests, answering my millions of questions, and providing advice that helped for a smooth wedding rehearsal. They were like family making sure the place was perfect from the Hen House to the outdoor and indoor locations. We also got all our requests from the sheriffs with their horses to the Chiavari Chairs. Our dream wedding was made a reality. Highly recommend the Hofmann Ranch!
---
Hidden Gem
Reviewed on

11/05/2014
Jessica D
Very much enjoyed working with the folks at Hofmann Ranch and they made our wedding day very special. We had so many compliments on the venue. The venue sets the tone for your whole wedding, so it was a vital decision to create the setting I had envisioned in my mind. Utilizing the outdoors was really key, but obviously dependent on the weather. Texas is hot most of the year, so we tried to stay on the cooler side and picked October. While the weather was a little warm for the ceremony, it cooled down so fast and was pleasant to have dinner outside in the pavilion. They are flexible to work with many vendors of your choosing, so that was nice not to be restricted to one or two. Gorgeous venue for a Texas hill country feel, would recommend it to anyone who has the budget for it! I cannot wait to get my pictures to re-live it and see how it all turned out, as a bride, you miss many of the little details the day of!
---
Unique and Beautiful Venue
Reviewed on

10/28/2014
Lucia V
When looking for a wedding venue, we wanted a place with a Texas feel AND a great outdoor ceremony space. Although there were other venues that were similar in style to Hofmann Ranch, none of them had outdoor covered spaces. This was important to us since we didn't want to get rained on or have the sun beating down on our guests, and we didn't want to be forced inside for the ceremony either. All our guests loved the setting and we got so many compliments on our beautiful wedding venue. There are a ton of spots for great pictures, and our guests took advantage of those too. The only things I would caution other brides about is the time. You have access to the venue, including the hen house where the bridal party can get ready, 3 hours before the ceremony start. With two people doing hair and one doing makeup, that was barely enough time for me, my mom and 2 bridesmaids to get ready, and my bridesmaids did their own makeup. Someone with a larger party would need more hair/makeup people since they won't give you more time. The other thing that could be an issue is getting everything out of the hen house an hour after the ceremony's done. That wasn't an issue for me since I had such a small bridal party, but if you have a larger one or people who aren't very helpful, it might be more stressful. In the end, we had a wonderful time on our wedding day and I am glad we settled on Hofmann Ranch!!
---
Great venue!
Reviewed on

10/26/2014
Jessica G
This venue was amazing! Not to mention the family was so helpful and kind to us. I do not have one complaint about this place or the Hofmann's. From the outdoor pavilion to the grande hall everything is beautiful. I would highly recommend this venue to anyone.
---
Fantastic Venue
Reviewed on

10/19/2014
Jana G
Hofmann Ranch is a gorgeous, well-equipped venue for any type of event. Our daughter's wedding went off "without a hitch" largely due to the welcoming Hofmann family who worked tirelessly to make the event flow smoothly from start to finish. Cindy, Kendra and Charlotte offered encouragement and support throughout the wedding planning process. We definitely recommend this venue to anyone who might be looking for a unique, pristine event location.
---
Dream Come True Venue!!!
Reviewed on

10/17/2014
Clarissa B
I got married on June 7, 2014 and used this venue for all of my wedding needs: getting ready, ceremony, cocktail hour, and reception. This venue is absolutely beautiful and the service goes above and beyond to make your dream wedding come true. This venue is wedding ready without a lot of decoration needed but is to die for adding a few flowers or whatever to the tables. With the Hofmann Family and using Gary as my caterer, you don't even need a coordinator. They take care of everything and both were super amazing to work with. Gary took care of all of my decorating needs and I would recommend using him also! I wasn't even stressing over how things were going to look or turn out because the venue was perfect already, and this is coming from a bride who planned her wedding that was about 300 miles away! It's well worth the cost. This venue is only 30 minutes away from downtown San Antonio and is just far enough away that you don't feel like your in the city anymore but it's just a short trip away. My guest were so blown away when they saw the venue and they all absolutely loved it! I would HIGHLY recommend this venue! Definitely worth the trip to at least go see and consider.
---
Beautiful venue
Reviewed on

10/15/2014
Laura B
The Hoffman ranch was the perfect place for our wedding! Cindy and everyone at the ranch was always so helpful and gave such great recommendations. The catering from Gary was amazing and everything went so well! All our guests were so impressed with the venue and raved about how great and beautiful everything was.
---
Great Venue!!!!
Reviewed on

6/18/2014
Laura F
We got married at the Hofmann Ranch just a little over a month ago(May 2014). I could not have been more pleased with picking this venue! The Hofmann's are a great family and really care about their venue and their brides and grooms. We picked this venue 11 months before our wedding and Cindy did a great job contacting us through out this time to check in and answer our questions. Hans Hofmann also went out of his way to help us put together a sign before the wedding. We had multiple people come up to us through out the wedding and after to comment on how amazing the venue was! Our ring bearer even left his little jacket at the venue and they ended up shipping it to them. I would definitely recommend booking the Hofmann.
---
A Dream Come true
Reviewed on

1/28/2014
The venue is beautiful and you can tell they leave no detail unnoticed. I never had a worry when working with them and the Castroville Cafe which is a blessing because planning a wedding is very stressful. They were always so helpful and all the vendors they recommend are amazing. The night was truly perfect and not a thing went wrong. I was so blessed to get married here on November 9, 2013. Everything was so beautiful and I got marry the man of my dreams. That night we accidentally left several items including our card box. They held everything for us in a safe until we were able to pick it up almost 2 weeks later. Charlotte and her husband are such sweet people. This venue is beautiful and the owners are beautiful people which made it even better!!
---
Couldn't have asked for more!
Reviewed on

1/22/2014
Danielle O
I used the Hofmann Ranch for the cocktail hour and reception for my wedding on November 30th. The drive out to the ranch from San Antonio as the sun began to set was amazing and being able to see the sun set out in the hill country, under the pavilion during cocktail hour was absolutely breathtaking. I love that the Grande Hall has two floors. It leaves room for people to take a break from dancing and sit and chat if they would like.The screened in patio was the perfect place for our photo booth and the outdoor patio and outdoor fireplace was the perfect place for a breath of fresh air while looking at the stars in the open sky out in the hill country. The one thing we said when we began planning was we didn't want something like a hotel because you sometimes feel trapped. If you want to take a break or a change in scenery, there isn't really anywhere to go. The Hofmann Ranch was the perfect setting and everything we dreamed of for our wedding!
---
Magical Venue
Reviewed on

11/11/2013
KRISTEN N
If you're looking for a touch of elegance in a country setting, look no further than the Grande Hall at Hofmann Ranch. The entire Hofmann family will take care of you from the time you walk in for the first tour, to the time you exit after your reception. We received several compliments about the venue - the setting, the lighting, the patio, the staff, the landscaping - I could go on and on. When you book with Hofmann, explore your catering options available to you, but I highly recommend going with Gary Carter and the Castroville Cafe. Gary knows the venue and the owners and this makes the reception flow flawlessly. The only drawbacks - and this just takes forethought and planning - 1. make sure your video that you plan on playing during the reception is in DVD format and not a powerpoint. Get it to them EARLY to test it out. Also, 2. if you are planning on cocktail hour inside and dinner outside, make sure your DJ plans on having music playing in both places or 3. make sure that you have communicated with Hofmann about having an iPod or some other medium for music ready to go.
---
perfect day
Reviewed on

9/12/2013
Veronica O
The Grande Hall at Hofmann Ranch is a beautiful venue and I could not have dreamed of a better place to be married. From the first day we went to scout out where we'd tie the knot, to the end of the reception, The Hofmann's were extremely helpful and pleasant to work with. Even when a cold front comes to Texas in the middle of May and we had to make a last minute decision to move the dinner from the pavilion to inside - the transition was flawless. The property is beautiful, the Hen House is so convenient for the bridesmaids to get ready and the layout of the hall, the patio and pavilion makes for a perfect wedding venue.
---
Loved!!!!
Reviewed on

8/29/2013
Lauren B
The Grande Hall at Hofmann Ranch was the setting for my perfect wedding. It has the comfort of a country wedding but definitely had an elegant flare. The grounds are filled with several different beautiful blooming plants that give you stunning scenery and photo backgrounds. I can't say enough good things about the ranch and the staff. The whole process was efficient and completely stress free. Thank you Hofmann's for everything!
---
The Grande Hall is an Amazing Wedding Venue!!
Reviewed on

7/01/2013
Kristen S
I recently had my wedding at the Grande Hall and it turned out to be everything I could have dreamed of. I knew I wanted a hill country wedding and the Grande Hall stuck out to me because there are so many different areas of use. When comparing prices of different site this venue gave a lot for the price. I used Gary for the catering from Castroville Cafe and he was absolutely amazing and reasonably priced! He took care of everything from food to running the day to the flower arrangement and table arrangements. My day was so care free and I would just enjoy my wedding day without having to stress. I would absolutely recommended them to anyone. I had approximately 140 people. We had the ceremony under the pavilion, dinner in the hall (downstairs) and reception outside under the pavilion. Gary did the switch flawlessly and it was perfect! I got so many compliments from friends and family on how beautiful everything was. Again this is an absolutely gorgeous venue for a great price. If you do choose this venue I highly recommend using Gary because he really knows how to make the place perfect!!
---
Amazing!
Reviewed on

4/03/2013
Jackie G
We chose The Grande Hall at Hofmann Ranch because we wanted an outdoor wedding & if there would be any rain, the actual hall would serve as "plan b". As soon as we saw it, we fell in love with the place. It had everything we were looking for. The Hofmann's, Charlotte, Hans & Cindy were amazing & very helpful. Cindy would even reply to my late night emails whenever I had a worry or concern. We loved working with them & we enjoyed every minute of it! Everyone loved the place and were curious on how we found it, through The Knot. All our guests were just in awe of the beauty of our venue & how spacious it was. The Hen House was perfect for the Bridesmaids, mothers of the bride & groom & of course the Bride get ready. Everything turned out perfect, it was our dream come true! The image I had in my mind of how our wedding would be was all that and much much more!
---
Hofmann Ranch was wonderful
Reviewed on

12/05/2012
Kim B
I had my wedding reception at Hofmann Ranch and everything was great. It went smoothly and everyone had a great time. The caterer Gary knew just how to make a wedding perfect and customized it to what we wanted. The owners Charlotte and Hans were also ready to help with anything we needed. It was totally worth the money spent!
---
Our Wedding October 27th
Reviewed on

11/06/2012
Cassi L
Nothing Short of Amazing!!! We recently got married at the Hofmann Ranch and could not have imagined it any other way! First of all, the whole planning process with them was easy and stress free. Charlotte was a joy to work with and her daughter Cindy helped out at the end and made sure the day of that everything was running smoothly. They let us visit the ranch several times to take pictures and ask questions. We received so many compliments on how beautiful the ranch was and how much our guests loved just being there and how comfortable they felt. Everything is set up just perfect. My 7 girls+ some and I prepped in the Hen House in the back of the venue, which was cozy and rustic with plenty of room. We took our decorations the night before to them at rehearsal, that we had purchased and prepared. They have a Caterer that you have to use if you book with them, which I was weary of at first because I wanted choices, but we could not have had the wedding of our dreams without him. Gary, the caterer, is absolutely a GEM! He ran our rehearsal and was in contact with me from day one. He runs a café in Castroville also so he was not always available the minute I called him, but he was swift to get back to me. He was delightful and professional and went ABOVE AND BEYOND! He set up all the décor and put his own twist on things, in my style. He was more like my wedding coordinator. It was amazing how he was able to fill things in and even make necessary changes and still completely do what I wanted!! He is creative and has a brilliant sense of style! The food was phenomenal; the service was impeccable; the flow of the venue was perfect; the landscaping was divine! I just cannot stop raving about how happy we are with them and how wonderful and special they made this day for us! I highly recommend them! It may be a bit of a drive, but it is well worth it! Another advantage of Gary, my DJ was a no show and had contacted another DJ to fill in, but he did not know anything about what songs to play or what to do. Gary informed me, then listened to me, and then took charge and made it happen. He saved the musical aspect of the wedding and saved me a TON of stress!! Since we live out of town (about 5 hours South) Gary and Charlotte gave me many recommendations on who to use for certain details and they were very helpful. We dealt with almost everything with them over the phone and they were very clear and understood what we wanted/needed. The Hofmann Ranch is simply perfect to say the least!
---
Blown Away
Reviewed on

10/18/2012
Kelsey C
All of the staff are extremely helpful and knowledgable. Using the Grande Hall made my wedding absolutely perfect.
---
A Wonderful Day
Reviewed on

9/19/2012
Aspen S
Charlotte and Hans were wonderful. Despite some unintended glitches (broken water pipe, for example) the wedding and reception were both fabulous! The venue is beautiful, although a little remote (would definitely consider an earlier wedding start, since many of the guests left before we planned to end the reception due to long drive home)
---
A Princess for the day!!!
Reviewed on

4/09/2012
FALENA B
Our wedding was on March 17, 2012!! the venue was the one and only venue in which i looked into for our wedding. It was so beautiful! We used all three parts to their facility: the hall, the patio, and the covered patio area. It was so beautiful the scenery was wonderful with the flowers blooming!!! I am so happy to have found this place. Charlotte & Hans Hofmann are such wonderful and down to earth people. They ensure that you have everything that you need and just watch from the sidelines to ensure that your wedding runs smoothly. The venue is a working ranch, but we still had for our guest who were children to enjoy them selves. I would truly recommend this venue to someone who would like to feel like a princess!!!!
---
Stunning Wedding
Reviewed on

1/30/2012
Brittany C
I had my wedding at the Hofmann Ranch January 7, 2012 and I am SO glad that I did. The wedding was gorgeous, the scenery was lovely, the hall was spectacular. It was so cozy and intimate. Charlotte and Hans are just as sweet as they can be and accommodating. The caterer Gary from Castroville Cafe is AMAZING. He made the wedding go smoothly and off without a hitch. I can not say enough great things about him and his work. You can definitely relax and trust that everything will be flawless and run smoothly with Gary in charge. You will definitely not regret having your big day at the Hofmann Ranch!
---
Send Message