Home

The Groomsman Suit
About this Vendor
Stylish suits and tuxedos for less than a rental!
The Groomsman Suit (TGS) is proud to offer suits and tuxedos priced below the cost of the traditional rental at $179. Our suits and tuxedos feature an updated fit, high quality fabrics and construction, in a solid variety of colors perfect for today's wedding trends. The TGS brand is unique in that we are focused on only selling men's wedding wear online. Not only are we a simplified and affordable option to get your guys suited up for your Big Day, the TGS team is on-hand to make style recommendations ensuring the groom, groomsmen, and bridesmen will look sharp and stand out from the guests! For fashion and planning inspiration, you can follow them on Facebook, Instagram, and Pinterest.
Reviewed on

10/26/2017
Doug S
The Groomsman suit was seriously the easiest and best decision we made when planning our wedding. I've been in several weddings before, and had to wear a suit that didn't fit well and of course only got to wear it once. The Groomsman Suit is the complete opposite - not only do... Read More you get to keep the suit, but the fit is excellent. I received so many compliments my groomsmen and guests. Some of my groomsmen will now be using The Groomsman Suit for their own weddings, and I bought some of their other suits for personal use because I loved them so much. On top of all of this, their customer service is top notch - Diana and her team are seriously the best.
---
Reviewed on

10/19/2017
ELise L
The tuxes worked out so great! My husband has reworn his suit at least 5 times in the 14 months since our wedding. The suits are very high quality and the folks at Groosman Suit were awesome to work with!
---
Reviewed on

8/10/2017
Katy E
We were so lucky to find The Groomsman Suit through our wedding planner. We knew that we wanted our guys to purchase suits, because the cost of a rental is such a waste. I couldn't believe that we found an option for them for only $179! My husband wore the Navy and our groomsmen... Read More wore the Gray and they looked perfect together. We have gotten so many compliments and the guys all LOVED them! Thank you Groomsman Suit!
---
Reviewed on

11/06/2017
Colton K
The groomsman Suit was absolutely Incredible!!! Diana Ganz was our customer service rep and she made everything so easy. Several goomsmen had to try out different sizes and she was so hospitable and propt with everything. Most phone calls are answered on the first ring even. The... Read More Suits are top quality, even my Uncle who sold suits for several years for dillards commented on the quality of both the cut and the fabric. You WILL NOT find a better deal that the groomsan suit absolutely Incredible.
---
Reviewed on

10/23/2017
Brandon C
Can't say enough positive things about my experience of working with Diana and the Groomsman's Suit! Everything fit perfectly the first time and everything from customer service to the product was top notch. The wedding party received so many compliments and I was already able... Read More to wear the suit again to other weddings and work related functions! I would recommend The Groomsman's Suit to anyone looking to outfit their groomsmen for their wedding!
---
Reviewed on

10/19/2017
Bessie C
It was so easy to coordinate suits for all the guys with the help of Jeanne & Diana! They helped ensure that all the guys ordered on time and that they ordered the right items. The suits are great quality and the fits were fantastic! For the groom, they were even so kind as... Read More to send a sample suit first. I highly recommend this!
---
Reviewed on

10/19/2017
Claire D
The Groomsman Suit was such a great company to work with. Everything arrived with plenty of time to exchange if needed. Everyone that worked with us is extremely responsive and helpful! And the suits were perfect and so reasonably priced!!! Would recommend them to anyone!
---
Reviewed on

10/19/2017
Wesley M
The Groomsman Suit was one of best vendors I have ever used! Every aspect of working with them was a pleasure. When I originally reached out to them with an inquiry they got back to me immediately and it wasn't an automated reply, it was a real human being. I think that was my... Read More favorite part about this company. You are communicating and working directly with the employees/owners and they do everything they can to get you exactly what you want and need. I was so stressed during the wedding planning process, but TGS helped to put me at ease. They followed up with our groomsman (unprompted by us) to make sure everyone had placed their orders in a timely manner. The suits looked great and arrived quickly. My husband's jacket did not fit correctly when we first received it, but TGS provided a return shipping label so we sent it back and got a new, perfectly fitting jacket a day later. Also, the price is right with this company. The suits are good quality and they don't break the bank. Our groomsman were so happy with the price point and were happy to purchase a suit that they could wear again. I wish more companies operated the way The Groomsman Suit does. I would work with them again in a heartbeat!!
---
Reviewed on

10/19/2017
Dylan L
Diana and the entire team were a pleasure to work with throughout the wedding planning process. As any groom will find out, it's often challenging to get everyone to place their orders in a timely fashion. Diana and her team made sure to follow up with all of my groomsmen to... Read More make sure they ordered everything they needed for the wedding. I would highly recommend thegroomsmansuit. The tux fit perfectly, and all I had to do was get the pants hemmed. My friend also used thegroomsmansuit for his wedding, and we bought the brilliant blue suits. I wear it to other weddings and events and get at least one compliment on it every time. Highly recommend!
---
Reviewed on

10/08/2017
Paulina C
TGS was such a great company to go through to get the groom/ groomsmen suits. We had a destination wedding so renting a suit and returning it in a timely manner was going to be complicated. TGS had great reviews so we decided to try them. We loved that they offered to ship you a... Read More suit for free to try and see what the material was like and the groomsmen liked that they got to keep their suits! They were so prompt in responding back to emails, getting sizes switched out, shipping was fast, and the suits looked and felt good. They kept me (the bride) updated on who still needed to get their suits and made us feel like a priority. I would definitely recommend them to future bride and grooms.
---
Reviewed on

10/03/2017
AJ E
We used The Groomsman Suit for our wedding and I tell everyone I know to purchase their suits from them. Their customer service was awesome and I have already worn my suit twice since my wedding. I can't wait until I have an excuse to buy another one.
---
Reviewed on

8/09/2017
Jonathan Z
The Groomsman Suit ROCKS! Diana and Jeanne were such a treat to work with! They are so friendly, accommodating and knowledgeable. I have used several online places that are similar and The Groomsman Suit is hands down the best. I chose them for my wedding and couldn't of... Read More been happier. I received a ton of compliments and even my photographer asked where I got the custom suit, because it looked so classy and fit so well. My groomsmen were so excited that they got to keep the suit for the price of renting them and even more excited when they saw how good they looked and great they felt on. Thank you so much Diana and Jeanne for making myself and the groomsmen look so great on my wedding day and the days to come.
---
Reviewed on

8/02/2017
Sav J
Our groomsmen loved their TGS suits. We had a groomsman that was 6'6" and one that was 5'6" and TGS covered the whole spectrum. Since we were having a spring/beach wedding, I was worried about having the boys in navy suits since navy can often photograph dark/black. When I saw... Read More their brilliant blue color option, I knew it was perfect for the lighter colors and feel of our wedding. Thank you for making it all possible!
---
Reviewed on

7/25/2017
Caitlin R
We loved The Groomsman Suit. We wanted to offer the groomsman a chance to own the suit after paying for it instead of just using a rental. I stumbled across The Groomsman Suit on social media and initially was somewhat hesitant for fear of ordering online without trying on.... Read More However, the experience was wonderful. Their customer service was impeccable and they were extremely responsive. They sent multiple sizes for try-ons and we very easy to work with. The groomsmen looked sharp the day of the wedding and now have a suit to show for it afterwards as well! Would definitely recommend!
---
Reviewed on

6/08/2017
Michele O
We had all our groomsmen order their suits thru The Groomsman Suit and we were so pleased with not only the service but also the quality! Our groomsmen vary in height, shapes and sizes and we were so impressed with the fit for each of the 5 groomsmen as well as my groom!... Read More Alterations were minimal for all the guys! Our wedding was outdoors in Florida and the groomsmen were extremely comfortable in the lightweight breathable fabric. We selected the grey suit and my groom ordered the vest with his to stand out and he just looked so handsome! I wish we could attach a photo to the review to show just how great they all looked! Thank you groomsman suit!
---
Reviewed on

6/07/2017
Merit B
We love The Groomsman Suit!! Their suits are super sharp and the fabric was perfect for our summer wedding. Best of all, they coordinated orders for all our guys making sure everyone showed up to our big day in a great fitting suit. Our wedding pictures looked amazing! Not only... Read More will your guys love the $179 price, they will enjoy the experience of getting suited up with TGS. Highly recommend!
---
Meet The Owner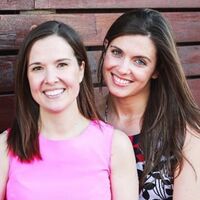 Jeanne Foley and Diana Ganz
After graduating with a Fine Arts degree in Fashion Design from the Illinois Institute of Art, Jeanne has engineered apparel fit and construction for the last 12 years as a Technical Designer for major fashion brands. In 2014, Diana graduated with an MBA from the MIT Sloan School of Management and was recognized as a Top 40 Under 40 Professional by the Boston Business Journal. Together, they manage The Groomsman Suit with a serious commitment to the highest quality products and excellent customer service. They are dedicated to their couples and helping their guys look sharp.