Home

The Historic Magnolia Ballroom
Book Your Wedding with The Historic Magnolia Ballroom
---
A BALLROOM IN HOUSTON, TX
About Us
Located in Houston, Texas, The Historic Magnolia Ballroom was built back in 1893 and takes you on a journey through time inside its vintage rooms. With space for both ceremonies and receptions, this venue is classically decorated and the large windows give way to a lot of natural light, creating a lovely backdrop for newlywed pictures.
The Historic Magnolia Ballroom has a covered balcony that overlooks the Buffalo Bayou and its charming décor is ideal for smaller, more intimate events. The rooms need very little extra decorations to create the perfect atmosphere for your dream wedding. The high ceilings along with marble and dark wood accents bring in the historic feel that makes the whole setting very romantic. The Historic Magnolia Ballroom can accommodate anywhere between 150 to 200 guests for both the ceremony and the reception.
The venue offers an on-site venue representative who can assist with any vendor recommendation or suggestion. Representatives ensure a smooth and flawless event from start to finish. A worry-free planning process for the bride and the groom is the priority here and the team goes above and beyond to provide that.
What You Should Know
The Historic Magnolia Ballroom is an antique building and the access to upstairs floors is mainly via the grand staircase. Handicap access via a limited service elevator is also available. The venue must approve all decorations; they don't allow the use of rice, birdseed, confetti and other similar products. The facility can be used for up to ten hours on the day of the wedding. Four of those hours are destined for set-up, up to five for the event itself and one hour is used to tear down the decorations. Valet parking or shuttle service is suggested as the venue does not have a parking lot, but lot rentals and street parking is also available. Dressing rooms for the bride and the groom are provided, as are all necessary tables and chairs. Security is also included.
Extra Perks
Not only does The Historic Magnolia Ballroom offer a beautiful location for receptions and ceremonies, but there are also some amenities available for couples who choose to host their weddings at the venue. These perks include:
Complimentary votive candles
Outdoor lighting
Prep kitchen facilities
Coat check
From the Vendor
Become a part of history at this Historic Ballroom
Allow our Venue Representatives to take you back in time to become a part of Houston's History. Our team can get you in touch with some of Houston's finest Event Professionals to ensure that your day goes off without a hitch and is truly the wedding of your dreams!
Amenities + Details
Amenities
Bridal Suite

Handicap Accessible

Liability Insurance

Indoor

Outdoor - Covered

Reception Area

Wireless Internet
For more details about amenities, please message the Venue.
Contact Info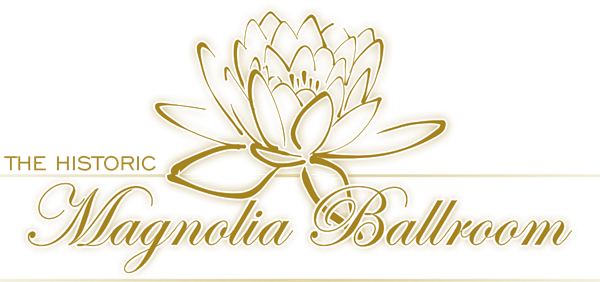 Reviewed on

4/02/2017
I wish there was a six star option. My daughter found the Historic Magnolia Ballroom and didn't want to look anywhere else until we saw the ballroom. The venue was charming and intimate in so many ways, from the antique piano to the original bar, balcony, floors and fixtures.... Read More Joa worked very well with us and he ensured that the wedding would be the perfect party for Annie and Aaron and their guests. All of our guests have gushed about the venue and even a friend with a 3 year old daughter has decided this is the place for her eventual wedding. We're also wishing we could schedule work happy hours! Thanks a million to Joa and the rest of the staff at the Historic Magnolia Ballroom.
---
Reviewed on

7/11/2017
Wade C
Renee is an absolute dream come true to work with! Renee helped make our dream wedding come true and she makes you feel so comfortable and secure that it will all work-out to meet your expectations! The Historic Magnolia Ballroom is such a beautiful venue and was praised by all... Read More of our guests as they entered for the ceremony and then reception. The beauty of the building and decor is breath-taking. My husband and I love Downtown Houston and being able to marry and celebrate in such a Historic part of Downtown Houston has made our Memories that much grander for life! Starting our future being a part of this buildings history is something we will hold in our hearts forever! With the deepest gratitude to The Magnolia Ballroom, Renee and Joa...we will never forget you! - Wade & Nicolas
---
Reviewed on

7/10/2017
Olivia F
My husband and I fell in love with THMB the first time we visited. It is a beautiful historic building with unique character. Joa Gomez was extremely friendly and helpful. Throughout our engagement, he was responsive, met with us several times, and periodically checked to see if... Read More I needed help with any planning. He was determined to make our wedding day perfect for us. Renee Pool, the Venue Manager, was also very kind and helpful. Both Renee and Joa were our wedding day coordinators. They are so talented and make an awesome team - I can't thank them enough for making everything run so smoothly! The only "down side" to THMB was the limited seating capacity. The main ballroom only fits 15 tables (150 people), so we had to keep our guest list a bit short. We only ended up needing 13 tables, which was still a little tight, but we had a good amount of dancing room left. However, we were very happy with our decision. We received compliments on the venue from so many guests and everyone had a great time!
---
Reviewed on

7/10/2017
Cindy M
Renee Pool was an amazing resource through all of my wedding planning. Her venue has the historical significance I was looking for as I celebrated living in Houston for all of my adult years. The Historical Magnolia Ballroom created the backdrop for the wedding reception of my... Read More dreams. I loved the way the party kept going in the ballroom and we could have great conversation at the beautiful bar with the stained glass angel ambiance. Renee and her team orchestrated a seamless dinner with no lines at the buffets and easy communication with the guests. I have received thank you notes from my guests saying what an honor it was to be included in a wedding that was planned with perfection in mind.... everything was done with great thought and meaning. Thanks to this team!
---
Reviewed on

5/07/2017
Steve V
My wife found this venue and fell in love with it. It was an easy sell to me due to the brewing history of the location. The facility was amazing!!! From our first visit until our leaving on our wedding night, the Magnolia Ballroom treated us extremely well. Joa Gomez was... Read More exceptional and made sure everything went off without issue. We got married on the terrace on a very warm and humid day. It was very hot, so keep that in mind if you want to use the terrace. However, the terrace was beautiful and we would not have changed it. The layout for the venue is good but we had 16 tables an it was tight but OK. The bar area is very nice and has a nice antique vibe. We used several of their recommended vendors and were pleased with all. All in all, we highly recommend this venue. It was a magical evening for us and our guests and the Magnolia Ballroom made it possible.
---
Reviewed on

3/11/2017
Megan S
When I got engaged I started looking at several venues in the Houston area before finding The Historic Magnolia Ballroom. My (now) husband and I were looking for something with some historical significance and a little bit of its own personality since we are both interested in... Read More architecture. The Historic Magnolia Ballroom met all of these requirements and more! Not only is the building a historical landmark with a beautiful exterior and interior but the staff here is AMAZING! Renee was so helpful during the planning process and the day of the wedding. We had our ceremony at a nearby Catholic church and Renee was able to make sure that the things that needed to get done while we were at the ceremony site getting married were completed by the time the reception started. We received compliments all weekend on how beautiful the space is and I cannot recommend this venue enough!
---
Reviewed on

11/18/2016
Franciska M
My husband and I had our reception at the Magnolia Ballroom, and it was absolutely perfect. We had been searching for a venue that was less mainstream than a standard hotel ballroom or a barn (when in Texas...), and this was just the place. As a historical landmark and a former... Read More brewery, Magnolia had a charm and character that was unmatched by other venues. Our guests loved their experience, and we were very pleased with our decision!
---
Reviewed on

8/04/2016
Jessica N
WOW! Everything about our experience with Magnolia Ballroom was amazing. It was everything we wanted in a wedding venue...quaint, historical, beautiful, and original. Dewayne is WONDERFUL to work with. He was extremely responsive, met with us several times throughout the wedding... Read More process, and make us feel extremely confident and comfortable with everything. Because of him, our planning process was very smooth. Him and his colleagues ensured everything was set up perfectly for our big day. I could go on and on about how great it was.... would recommend to ANYONE who is getting married!
---
Reviewed on

7/22/2016
Julie G
First, I truly enjoyed working with Dewayne Ross, the venue's coordinator. He offered great suggestions regarding the linens, the cigar bar, etc., and he did an amazing job placing & decorating the ballroom with photographs & other items I had brought. He has amazing vision. We... Read More were so pleased with the vendors (catering & flowers), too. The venue - being 100 years old - is beautiful itself, so we did not have to do much to accentuate its beauty, but with the flowers & linens, the venue turned to be more beautiful than I had imagined. I am so very happy we choose the Magnolia Ballroom.
---
Reviewed on

3/26/2016
erica d
My husband and I just had our wedding ceremony and reception here and it was absolutely perfect! It totally fit our styles and taste. We looked at two other venues before we chose this one and as soon as we walked in and saw all the old pictures on the wall and just the whole... Read More place in general we knew we had to get married here. Dewayne and his team were so so helpful and made the entire night go by smoothly. I couldn't imagine now doing our wedding anywhere else and I'm so glad we chose The Historic Magnolia Ballroom!
---
Diamond in the rough
Reviewed on

7/27/2015
Alison O
We were so lucky to stumble upon this place per my mom's recommendation. I was really skeptical since the venue is located above a sports bar and the exterior of the building is not the prettiest. However, the inside (especially at night) is so gorgeous and unique. This is not... Read More your standard cookie-cutter event hall. It has charm, personality, and history. The price was great for us since the wedding was on a Friday in July. Dewayne was a pleasure to work with and provided great insight on the floor plan, reception timeline, etc. Elizabeth was the actual event manager and was great as well. She helped us set up the day before and kept everything under control with the many vendors on the wedding day. We were also lucky to be able to pick up our linen rentals and other decorations the following morning rather than stick around after the reception to load everything in the car. Dewayne and Elizabeth were very accommodating throughout the entire wedding planning process, and I couldn't have asked for a more beautiful reception venue.
---
Such a wonderful place
Reviewed on

11/04/2014
Phoebe Y
My husband and I are both very particular people and when it came to the wedding we both had very specific ideas of what we wanted. We went to an open house at the ballroom and fell in love. Dewayne was so helpful and made the process very easy. I will say that the venue has... Read More a list of caterers they prefer and you have to go with their bar people. For us it worked less choices made it easier to decide.
---
Absolutely beautiful!
Reviewed on

12/15/2012
Jennifer D
When I got engaged I knew I wanted something small, intimate, romantic, and unique. We looked at a few venues and weren't really impressed with too many of them. There were some that were just way too expensive and wanted to charge a fee for nearly every little thing. We... Read More noticed some venues were nice but needed a lot of extra decorating to make it our own and unique. Like many couples nowadays, my Husband and I paid for the majority of our wedding so we were on a tight budget. I went to the Bridal extravaganza and came across Merinda with the Ballroom. I was familiar with the Ballroom because when I was younger I was part of a dance company that had a gala at there and I remembered how beautiful it was. Merinda was very polite and she didn't seem like your typical Venue owner that just wanted your money, which I liked. The whole process was lovely. She responded to emails promptly and was always willing to do whatever she could to make things happen for us. The venue itself is just amazing. It is a historic building so it has charm inside and out. We didn't have to bring hardly any decorations because it alone was simply beautiful. The venue basically came with everything except the cake, DJ, and photo/video. I loved that it included everything in one price. We were able to set up the day before and we had forgotten a few things but Merinda was willing to come back the day of the wedding and let my Mom bring some last minute details to set up. The food was fabulous and everyone told us how much they loved it. There were no complaints on the food at all or the service by our guests. Merinda made sure we had a plate of food and something to drink so we didn't have to worry about missing out on it. The night ended with us making our grand exit with bubbles. Merinda made sure to hand out bubbles to all of our guests for us. It was just so awesome!! The only thing that we did have a slight problem with was the parking. There was free parking available to our guests and there were suppose to be 3 spaces saved for the wedding party yet no one ever managed to find those spots. People from our wedding party had to circle the block a few times to find parking which made us wait a few minutes until everyone made it inside. We were told there was only room for 40 or so parking spots so maybe they were all full by the time we got there but we aren't sure. It was just a slight delay but just a minor flaw in the overall experience of the night. Another thing to mention is that because it is a historic building there is not an elevator and there are quite a few stairs up to the main floor. If you have elderly/handicapped guests or small children please keep this in mind. If you want a venue that everyone will be in awe of and won't cost you an arm and a leg this is the place for you. I'm sooooo pleased with this venue and very happy we were lucky enough to have it available for our date and use it for our wedding reception. Our wedding date was 11/30/12 on a Friday evening from 8-11 reception only.
---
Absolutely Fabulous!
Reviewed on

11/04/2011
Jessica R
I met Merinda at the Bridal Extravaganza in January and went to check out the Venue soon after. I absolutely fell in love with the Magnolia Ballroom. It has the historic feeling I was looking for with lots of windows, high ceilings, marble, dark wood features, covered balcony,... Read More and pictures and paraphernalia from the brewery. All of my guests loved the unique feel to the site. I loved the fact that they had an assortment of bridal packages. They handle the catering, linens, bar, staff, security, parking, etc. Merinda is very easy to work with and she is very prompt in returning emails and phone calls. The wedding was absolutely perfect and the venue lovely, especially at night. Very romantic. We all had an excellent time. When my transportation failed to show up Merinda went above and beyond to save the day. She ran out and tracked down a Horse and Carriage to whisk us away. It was absolutely perfect. I could not have picked a better venue!! It was a delight working with Merinda!!!
---
Review for Magnolia Ballroom
Reviewed on

5/10/2010
SARAH R
The Magnolia Ballroom is a historic building. It's decorated beautifully with a huge chandelier and lovely painted murals. There is a lot of ornate wood paneling and marble accents. There are also clusters of photos and memorabilia on the walls from when the building was the... Read More Magnolia Brewery years ago. The building and interior are already put together and decorated so little else is required other than flowers. The staff was courteous and polite and the on-site coordinator (Cidnie) was extremely helpful and kept everything running smoothy. She needed minimal direction to get things looking exactly as I'd hoped. We also used this venue for our ceremony. It was amazing how quickly the staff was able to turn a ceremony set-up into a dinner/dancing configuration. The transition was seamless. Catering was included in the wedding package but that wasn't a problem because the food options were varied and all were delicious. One of their signature items is a Louisiana bread pudding -- my husband's favorite dessert! We had than instead of a groom's cake! I have zero regrets about choosing the Magnolia Ballroom. I loved it and our guests did too -- I got tons of comments about how cool the place was.
---
Meet The Manager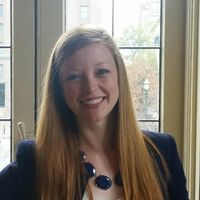 Renee Pool
Renee is your venue representative, dedicated to ensuring you find the best possible venue fit for your wedding! Her specialty is attention to detail and making every effort to ensure you have the wedding of your dreams!