Home

The Inn at Longshore by OnTheMarc
About this Vendor
...enjoy the beauty of each and every season...
The Inn at Longshore by OnTheMarc is located in Westport on Connecticut's idyllic Gold Coast. The sole waterfront event space in Westport, The Inn faces the Long Island Sound and offers incredible views of the picturesque Connecticut shoreline.
Amenities + Details
Amenities
Handicap Accessible

On-Site Accommodations

Indoor

Reception Area
For more details about amenities, please message the Venue.
Ballroom, Waterfront, Country Club, Historic Venue
Food + Catering, Planning, Service Staff
Contact Info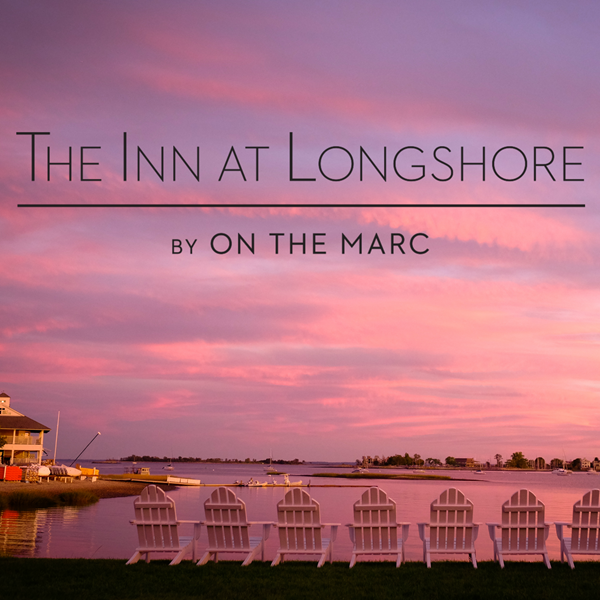 260 Compo Road South, Westport, CT
June Wedding at the Inn at Longshore
Reviewed on

6/19/2014
Jessica M
I had a wonderful experience at the Inn at Longshore. We got married on June 1st on a beautiful sunny day. The venue's location cannot be beat! My guest enjoyed our cocktail hour on their beautiful lawn overlooking the Long Island Sound. I have received so many compliments on the venue that day and the weeks since the wedding. EVERYONE LOVED IT! I really enjoyed working with the staff, they are very accommodating and down to earth I never felt pressured or cheated about anything. My only wish is that cocktail could have been longer because it was such a gorgeous day no one wanted to go inside. It was such a magical experience I wish I could get married there again and again. I highly recommend this venue!!
---
Beyond My Expectations!
Reviewed on

4/16/2014
Kristen C
Our wedding on 3/29/14 at Longshore was absolutely perfect. The service from the wedding coordinators to the day of was flawless. We didn't have to worry or stress about anything. Our guests gushed over the food, the atmosphere and danced all night. I would highly recommend Longshore to any bride!
---
The Inn at Longshore/Wedding Ceremony and Reception
Reviewed on

12/26/2013
Candice C
I can't say enough positive things about my experience with The Inn at Longshore. From the beautiful view of the sound, the charming rooms in the Inn and the exceptional staff- all were just wonderful! If your considering having your wedding there, do it! We knew right away after meeting Christine, the director of sales, that this was the place for us. She was so accomodating and wonderful to work with. Kacy, the event coordinator, was another pleasure. She was extremely organized, accomodating and helpful in offering any help when needed. Then there were the day of banquet managers, Lacy and Eddie--- just amazing. I actually ate at my wedding because of them and the night all and all was managed beautifully thanks to them. The amount of compliments I received from my family, bridal party and guests were abundant all raving about the food, the ambiance and the accomodations. Love it here! Can't wait to return for my anniversary!
---
Reviewed on

5/20/2015
Shauna P
Having our wedding at The Inn at Longshore was one of the best decisions we could have made! Everything was perfect the entire night. It was easy to plan with them leading up to the wedding and they really surpassed our expectations for the cocktail hour and reception. The food was amazing and our guests are still talking about it. Laina was our banquet manager the night of the wedding and she checked in with me and my husband all night to see if we needed anything and made sure that we had plenty of chances to eat. She also checked in with both of our parents throughout the night to make sure that they had everything they wanted. We were all very happy!
---
Best Day Ever!
Reviewed on

1/19/2015
Jackie B
We recently celebrated our wedding at the Inn at Longshore on NYE, and it was the most amazing day of our lives. The staff at the Inn made sure the day went perfectly from start to finish. We were met at the door with champagne in hand and from then on treated like royalty. All of our guests had the most amazing time, the food was excellent, the drinks were flowing, and the venue looked beautiful. All of the staff at the Inn worked hard to make sure our day was everything we had imagined. I highly recommend the Inn at Longshore as a venue. If I could do it again, I would chose them in a heartbeat!
---
Unprofessional staff
Reviewed on

12/14/2014
I rarely leave comments, but I recently had the most disappointing experience working with Christine, the sales coordinator at the Inn at Longshore. She double booked our appointment to view the site, which she said was "only a little bit" her fault, and mostly due to "Google messing up". Honestly, this would have been fine, but she never called us the morning of and instead just met us in the lobby at our scheduled time and told us to wait an hour without even introducing herself to us. I had traveled in from NY to see the Inn and thought this was quite inconsiderate. When I asked her why she didn't call us, she just turned her head in the other direction and did not respond. We ended up touring with another couple, and she essentially refused to look at us the entire time. At the end of the tour, she abruptly handed us a menu, and told us we were done. We didn't even realize she was saying goodbye until she started walking away with the other couple! No follow-up email or phone call, either. Aside from her behavior, the ballroom is actually quite nice and the view is beautiful. As others have commented, the grounds are covered in bird feces so you could not wear open toed shoes on the property. We would have considered Inn at Longshore, but the service was so far below what we have seen at other venues that we would never spend any significant money with such an unprofessional individual.
---
I can only hope that everyone can have their wedding here!
Reviewed on

10/01/2014
Amanda F
My husband and I just recently got married at the Inn at Longshore and I have to say, it was the best night of our lives. Everything was way beyond what I expected as far as service, food, and flow of the night, went. The perk was that our weather was absolutely gorgeous, so it made this venue that much better. The staff at Longshore is nothing but professional and our wedding coordinator for the night made sure the flow went smoothly and that my husband and I were taken care of. From my guests, I couldn't have gotten more compliments on the food. They loved all the hors d'ouveres we served at cocktail hour, and we had numerous people compliment how the entrees came out nice and hot. At no point in the night did we feel rushed and we were incredibly sad when it was all over with. Days after, a lot of our guests told us that this was the best wedding they have ever gone to. I can only hope that everyone can experience their special day at such a special venue :-)
---
Wonderful
Reviewed on

9/21/2014
Emily T
The Inn at Longshore was a gorgeous venue for our August wedding. As a child, I sailed at the Longshore Sailing School. I always dreamed of getting married on the Inn's lawn overlooking the water. Throughout the planning process, Christine and Kacy were very helpful and responded quickly to any questions we had. My sister has a severe allergy, and they reassured us that it wouldn't be a problem at all. The tasting is a unique event, which allows the couples to experience Longshore's service, presentation, and food through the eyes of a guest. We loved it! It was like getting a preview of your wedding. Eddie and staff the night of the event were very professional and did all of the thinking for us, so we could enjoy our day. The ceremony, cocktail hour, and reception were wonderful. The food was delicious, and we received so many compliments. I highly recommend having your wedding here!
---
The Best Venue in CT
Reviewed on

9/18/2014
Kelly H
We are truly at a loss for words to describe how magical our wedding day was at the Inn at Longshore. The minute we arrived on the lawn one year ago we knew this was where we wanted to have our reception. Chrissy was wonderful to meet with and gave us lots of information without making us feel pressured to make a decision at that time. We booked the next day. As a couple getting married at the Inn, we were invited to a tasting where we had a wonderful night of gourmet food, wine, and dancing... with bonus dessert bar (that was far enough before the wedding where we weren't watching calories yet :-) and a cigar bar! What a wonderful way to get us more than excited for our own wedding day. I am the first to get married in our family and we had many, many questions about the flow of the day, the vendor deliveries, etc. With the Inn at Longshore, there is no reason to have a wedding planner! They did EVERYTHING. Kacy and Laina were fantastic to meet with up until the day. They had us lay out a flow for the event, the night, even an excel spreadsheet with the meal pricing to budget for all of our guests' meal choices. The reception day, Eddie could not have been more fantastic - helping us to stay on schedule and making sure our glasses were always full :-) The staff were so professional and accommodating throughout the entire night. You will think you are at a five star restaurant with the quality of the food here at the Inn, which gave our guests just another thing to rave about! And the open bar, of course, was a total hit. Overall, we could not be happier with choosing the Inn to host our wedding reception! Thanks to the Inn and our other incredible vendors, my husband (I love the way that sounds!!) had the absolute BEST day of our lives. Thank you, thank you, thank you to everyone at the Inn, from the bottom of our hearts.
---
Great Venue!
Reviewed on

9/08/2014
Kate M
If you are looking for a beautiful venue in CT that does it all, then use the Inn at Longshore! They really know the routine so everything went smoothly and my guests and I had a great time. My day of coordinator was fantastic and I never had to worry about a thing. They made sure all of the vendors had what they needed and were taken care of. I was a very happy customer! The only reason I gave the Longshore a 4 (a 4.5, but I can't do 1/2 stars) is because... 1) the Splash restaurant is much more of an imposition in the summer than they originally made it seem. Its loud and kind of creepy walking down the isle with all these strangers watching you who, sometimes very rudely, yell out things during the ceremony. 2) While my day of coordinator was a true star (really could not say enough nice things about him!), I felt handed off to several Longshore representatives throughout the process. Everyone there really knows their stuff, so it didn't effect the wedding, but as a first time bride I felt I would've liked to have my hand held a little more and have the planning experience from start to finish more personal.
---
Amazing!
Reviewed on

6/27/2014
Jenny L
Everything went perfect! They set everything up just the way that I had imagined it. Eddie and Kacy were totally amazing! Made our day perfect!
---
Amazing!
Reviewed on

10/22/2013
Shannon M
I chose the Inn at Longshore because I always wanted to have my ceremony outside on the water. The grounds and views are absolutely gorgeous. That being said, the inside where the ceremony would take place if the weather was not cooperative was gorgeous too. The staff was amazing, from my initial viewing of the Inn, to the banquet managers that were onsite the night of my wedding. The banquet managers ensured that we (the bride and groom) had appetizers and our dinner, as well as drinks throughout the night. In addition, the event coordinator worked with me throughout to ensure that my wedding day/night was perfect; she answered my tons of questions and met with me as needed. In terms of food, I could not have asked for anything better. The appetizers and plated meals were amazing. I've asked around and have not heard one negative thing about the food (and my family is brutally honest). My wedding day was wonderful and I would recommend the Inn as a venue for anyone! Shannon
---
Phenomenal
Reviewed on

10/16/2013
Alexandra S
We had the most amazing experience at the Inn at Longshore for our reception. The weather was beautiful which helped but working with everyone was so easy and professional. Kacy was wonderful to work with in planning leading up to the day of and Eddy and Laina were our banquet managers who were exceptional. They stopped in to check with us throughout the night to make sure we were ok. Laina also brought me apps during cocktail hour during pictures which literally was the greatest most wonderful thing on the planet. The night went on without a hitch. The food was awesome and the drinks were fabulous.
---
Perfect Wedding Venue
Reviewed on

8/20/2013
Erin D
The Inn at Longshore is an absolutely beautiful place to have a wedding (indoor and outdoor spaces are both stunning), but all of the people who work there is what makes it really special. Every single person at Longshore who we worked with (sales manager, receptionists, wedding coordinators, maitre d', etc.) went above and beyond to make our wedding day perfect. During the planning process, the wedding coordinator was always available to answer the millions of questions I had - and the answers always came quickly. On the wedding day, everyone worked together to make the day absolutely flawless. And the food - amazing! We chose the cod, prime rib, and vegetarian option - Stuffed portobello mushroom and each meal was so good! At the end of the wedding several guests told my fiancé and I that it was the best wedding they had ever been to and that is thanks to all of the people working there who are sincerely dedicated to their work. I highly recommend the Inn at Longshore!
---
Excellent value
Reviewed on

8/13/2013
Christine K
First off: we had a terrific party, all the guests said they had a great time, and we are completely satisfied with what we received. The staff there is totally professional. In particular we were well-treated by Christine, the Sales Director; Kacy, the Event Coordinator; and Eddie and Laina, the two banquet managers who were on site the day of our party. I get frustrated when I feel like I have to explain myself over and over again, but all of these people understood what we wanted right away. (We wanted a party to celebrate our marriage, not a wedding reception. Several other places did not understand this.) Having said all that, this place is not for everyone. It definitely has an "old country club" feel. It is not modern, or hip, or quirky. I would have loved modern or hip or quirky, but we chose the Inn at Longshore for four main reasons. First, it has complete indoor and outdoor capability. We felt this was a must-have, since New England weather is unpredictable, and we did not want our guests sweltering at an outdoor event if it was hot and humid, or damp under a tent if it was pouring rain. We saw several places that would be lovely IF the weather was perfect on your day, but we did not want to take the chance. And we felt that even if the weather was too unpleasant to be outside, at least guests could still enjoy the water view from the main room. (As it turned out, it was a beautiful day and guests were able to enjoy the outdoors.) Second, Longshore was one of the more reasonably-priced venues we looked at. I am sure the food would have been better and more chic with some of the other venues/caterers we saw, but this was within our budget and I am happy that we made this choice. Third, as I said, Christine and Kacy at Longshore "got" that we wanted a party, not a formal wedding reception. Many other places could only think in Wedding Reception mode, and kept emphasizing how special their venue could be, how special it would be for me as a bride, how many extra fancy touches they could add, and so on. This is not what we wanted. Lastly, I liked the many smaller spaces you could "escape" to, away from the main room. There is the side patio and the outside lawn, weather permitting. There was also the attached "Drawing Room", which was a haven for me away from the noise when I wanted to have a real conversation with a guest. So this is why we chose Longshore, and on the day of our party, we realized that it was a great choice. Eddie and Laina, the banquet managers, could not have been more accomodating and professional. They checked with me several times during the party to make sure I had no concerns. We had a buffet, not a plated dinner, and since I was so busy talking to guests Eddie brought me a plate of food and something to drink and found me a place to sit. He clearly was experienced and knew what a bride has to deal with. Laina was equally professional and helpful, taking gifts from guests and finding a place for them. Overall we were very satisfied and feel this was the best value for what we wanted to spend.
---
AMAZING!!!
Reviewed on

8/04/2013
Dina M
I knew right away that I wanted to have my wedding at the Inn at Longshore after seeing it's beautiful garden area (even though we visited in the winter). Throughout our year plus of planning the staff was always very quick to respond to any inquiry. As the date approached, the staff and I were in constant contact and I felt totally comfortable that things would run smoothly day of. And they did. Because we were having a larger wedding, both matre 'ds were on hand (Laina & Eddie), and I could go on forever on how wonderful they were. They were extremely attentive, professional, and even fun to be around. The venue was a bit far for the majority of guests, and therefore, none of them had really been to the venue before. We received so many calls and texts after the wedding saying how wonderful everything was. Guests mentioned that the service was fantastic and the food was delicious, which I was very pleased to hear.
---
Wonderful Wedding Spot
Reviewed on

8/02/2013
Kate S
My husband and I got married at Longshore this past weekend. I'd always dreamed of getting married outside overlooking the water so as soon as we got engaged, I thought of Longshore. Everyone couldn't have been nicer or more accomodating throughout our planning. We sent Kacy, the Events director, a barrage of questions throughout the months leading up to our wedding and she patiently took the time to answer all of our questions every step of the way. The tasting was very fun and a great preview of our event. When it came time for the day of our wedding, the service at Longshore was extremely professional and accomodating at every step of the big day. We really wanted an outdoor ceremony and the weather was iffy. Eddie, the banquet manager, really listened to our requests and set up both indoor and outdoor alternatives so as to be the most flexible and therefore, the staff was prepped and ready for us to have the outdoor ceremony that we'd planned. Throughout the wedding night, Eddie checked in on us, getting us the food we wanted from various stations to making sure the night went smoothly. From the front desk down to the servers, everyone we encountered at Longshore could not have been more helpful. The setting was so beautiful and we are so glad we chose Longshore for our big day!
---
Poor Service
Reviewed on

7/26/2013
Ariana C
I was looking forward to seeing what the Inn at Longshore had to offer. I have been to Splash (restaurant next to the Inn) for several brunches and was very interested in having my wedding at the Inn. I called to make an appointment with Christine who seemed some what pleasant on the phone. I showed up at my appointment on time and was told she would be right with me. i waited 10 minutes and was then told by an employee she would be right with me. 10 more minutes go by and she never came down. I waited 20 minutes for this women and felt very unimportant waiting. I felt she was very unprofessional and on top of that she blamed the lateness on her staff and a lack of communication. Meanwhile Christine made the appointment with me, not her staff. She also proceeded to say everyone who shows up for a viewing of the Inn is always late. Well I am always on time to appointments and that she should have never be assumed or said. Bottom line I gave this place a one star rating. I was looking forward to getting all the information about this place and now I completely crossed this place off my list. Double check yourself before you go there. A person who blames her staff for poor communication, makes excuses and doesn't take the blame for herself just makes you question how your wedding day will turn out. Glad I left. Will never go back.
---
Beautiful location
Reviewed on

6/12/2013
Elizabeth B
Fantastic location with stunning views over the water. Felt taken care of at each step throughout the night. The rooms were hailed by all guests combining classic New England charm with mod coms.
---
It is a beautiful location
Reviewed on

5/19/2013
Jacqueline S
Overall I was very happy with the Inn. My only 2 qualms were we payed over $500.00 for a vegetable table and it turns out they only put a tiny plate of 3 vegetables at the bar. The only other problem was they are located right on the water so I was so excited to take pictures outside. However, there were so many geese droppings literally everywhere that made it almost impossible to line the whole bridal party up to take pictures without stepping right in it. For over $20,000 you think they could have provided more vegetables and cleaned up their grounds. However, the staff was very courteous, the food was good and they provide you with a free room to stay in for the night which was great.
---
Beautiful Venue (even in winter!)
Reviewed on

3/27/2013
Andrea K
We just had our wedding at The Inn at Lonshore on Saturday, March 23. We could not be happier with how everything came together! Kacy and Christine were so easy to work with and met our requests as best they could. Eddy helped us throughout the entire affair that evening and made sure we had everything we needed. The only difficulty was that there was an event that ended only an hour and 45 minutes before our ceremony was to begin. We had to make sure with all our vendors that they were comfortable with the time allotted for delivery and setting up. Most of our vendors were able to work with the short time frame and the Inn turned the room over so quickly, I didn't have to worry about a thing! Just make sure, if you are having your wedding right after a previous event, that you make this clear to your vendors. Guests raved about the food and drinks and the quaint coziness of this beautiful venue. The bridal suite was huge and lovely, my wedding party all got ready there. Being the end of March, we did the Winter Package and our ceremony, cocktail hour, and reception were all indoors. Just because this venue is most popular in the summertime, DO NOT rule out The Inn at Longshore if your wedding is in the winter/colder months. Although it was windy and cold outside, we still took lots of phots outside by the water, and they came out beautifully. In addition, with the winter package, we were able to get a great deal on the cost of our wedding. We would not have been able to afford this spectacular venue during the height of their wedding season, and the winter package was perfect for us. Everything was beautiful and we are so thrilled our wedding was at The Inn at Longshore!
---
Perfect Wedding Venue
Reviewed on

12/28/2012
Elizabeth G
My parents were married at the Inn at Longshore 27 years ago. My husband and I had our reception at the Inn on September 29th and it was perfect. Christine and Kacy were wonderful through the process. Even though it drizzled, we were able to have our cocktail hour outside. I couldn't imagine getting married anywhere else.
---
highly recommend
Reviewed on

12/12/2012
Kristen W
Great service, food and ambiance. Start to finish the process with the Inn at Longshore was fantastic. There is a reason the venue books up so quick...they are really that good!
---
Dream Wedding!!
Reviewed on

11/28/2012
Elisabeth L
My wedding was absolutely perfect!! Eddie, the wedding coordinator is truly a blessing!!
---
What a wonderful day!
Reviewed on

8/15/2012
Jennifer S
The Inn at Longshore was amazing. I recently had my wedding there on July 20th and I couldnt have been happier. Everyone was so professional and really made the night UNFORGETABLE!!! thanks you to everyone at the Inn at Longshore
---
Send Message