Home

The Kimmel Cleaners and Wedding Gown Specilist
About this Vendor
Very special care for your gown!
Our award-winning gown preservations include your personal inspection, museum-quality container, written guarantee. Restorations return vintage gowns to true color. Pressing for your wedding day and destination wedding kits for traveling with your gown. Endorsed by Association of Bridal Consultants
Details
Alterations, Dry Cleaning + Preservation, Fashion Services, Fashion
Contact Info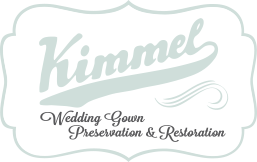 Reviewed on

11/25/2016
Kristen T
I wore my mom and my grandma's wedding dress in my wedding (58 years old!). I needed the dress restored back to white, and I was lucky enough to find Kimmel Cleaners! They did a phenomenal job, and I couldn't have been happier with the service and the work that they did. I... Read More highly recommend them!! They will not disappoint!
---
Reviewed on

12/01/2015
Sean F
I chose Kimmel because of their outstanding online reviews and recommendations, and I am so glad I did. I had my gown cleaned and preserved in September of this year. I knew I wanted an archival preservation and a professional cleaning that would protect my dress. I contacted... Read More Kathy by email and within a few hours she called and gave me a quote over the phone and described the process at length. We live about an hour and a half away from their shop, and Kathy was so flexible about meeting with us at odd hours. The original quote they gave me was the price I paid in the end and they had great communication during the whole process. They said it would take 4-6 weeks to complete the process and they contacted me on week 5 that is was ready to be picked up. They even attached photos of the clean dress so that I could see it without making an extra trip. They let me see it again in person and then sealed it in the box while I waited. Very professional and helpful overall. I am so glad I went with Kimmel!
---
Amazing hometown service!
Reviewed on

10/16/2015
Meredith S
After getting married in Mexico, partying in the sun and sand, drinking plenty of margaritas, and dancing our night away... Then returning to Ohio, to repeat the whole thing over at our reception, my dress was...trashed. Unfortunately, not on purpose... I had dirt and sand all... Read More through my dress, margaritas and wine spilled down my dress... and quite possibly beer inside my dress (from that group shotgun), my gown definitely showed the amount of fun we had! A few months after our celebration, we relocated to another city, then again a year later, relocated again... all the while, my poor dress sat in the basement festering... So fast-forward three years after my wedding, I finally got the time to pull my dress out, to my surprise, the stains were darker and the smell was stinkier. I reached out to Kathy to ask her if there was even any hope for my dress, and the cost associated with cleaning something so soiled, and she reassured me, it wasn't too late! I am so grateful that her team was able to take such amazing care of preserving my dress for many years to come, all for a VERY reasonable cost! Knowing her quite personally for a few years, I knew I could trust that my dress was in great hands, but was even more elated when she sent me the photos of it! If Kathy and her team aren't miracle workers, I don't know who is! My dress looks brand new! Seriously, there's no need to head to big name business to be price gouged (believe me, Columbus cleaners wanted $500-700 to clean my dress)! Head to a hometown cleaner who will make sure your dress is pristine, all while giving you personal and quality service! I can't thank Kimmel Cleaner's enough :)
---
Reviewed on

5/23/2017
Joan H
We had a wonderful experience with this company! They are so friendly and accommodating - very easy to work with, yet also very professional. We had our daughter's wedding dress cleaned and preserved - it is such a precious and sentimental thing - and they took wonderful care... Read More of it! We highly recommend them!
---
Reviewed on

10/26/2016
Dana B
KImmel's Cleaners did an outstanding job of cleaning and preserving my daughter's dress! Their cleaning made the dress look as good as new! They have excellent service!
---
Dress Cleaning/Storage
Reviewed on

8/26/2013
Lisa Y
I took my dress to Kimmel Cleaners after my wedding. They explained to me different options for cleaning and storage and pricing for each option. I just picked up my gown and they did an excellent job cleaning it and packaging it nicely for storage. I was very satisfied with... Read More the results for the price. I would definitely recommend them!
---
Meet The Owner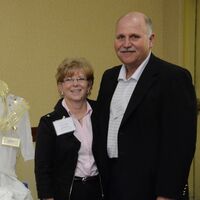 Mark and Kathy Kimmel
Kimmel Cleaners is a 4 generation family business. Serving North Central Ohio since 1931. Personalized treatment you can only get from a family owned and operated business.