Home

The Makeup Story
About this Vendor
Feeling beautiful for every chapter in life...
Makeup services provided for your memorable moments.
Details
Beauty Group Bookings, Hair + Makeup Trials Available, Hair Stylists, Airbrushed Makeup, Makeup, Makeup Artists, On-Site Hair + Makeup, Beauty

Contact Info

Reviewed on

9/27/2017
Erin R
First of all, Kayla is one of the nicest, sweetest people you will ever meet. Not only does she do a fantastic job, she is just a joy to work with. In fact, after all the times she helped me I invited her to the wedding as a friend because I grew to love her so much! Kayla is... Read More laid back and gives you exactly what you want, whether you know how to describe what you want or not. She has done my makeup up 3 times and will do it again on my wedding day. I feel confident in knowing my makeup is something I will not have to worry about on that day. Each time we got together she went above and beyond doing more than what was required of her. She stayed each time for as long as she could, even traveling to hair appointments so that she could put finishing touches on my makeup right before I had to go. For my boudoir photos she stayed and did some body makeup, as well as helped my photographer by holding lights up, she got a work out in lol! She is truly an artist and does a wonderful job with makeup. However, what stands out to me the most is her character and dedication to making the appointment fun and relaxed. I have now recommended Kayla to everyone I know, and know that if you choose to work with TheMakeupStory you will not regret it one bit!
---
Reviewed on

12/27/2017
Macy C
Kayla is simply the best! We met her in July and knew instantly we wanted her to do my daughter's make up for her Wedding in November. She took care of my daughter's make up, and 4 of her bridesmaids makeup, one was decided at the last moment... and she made the time for her.... Read More Every one looked so beautiful, their make up wasn't too heavy and they all looked stunning. My daughter, the bride, was glowing and could just see how happy, radiantly beautiful she was. She also took care of myself (mother of bride) I put my make up on in 5 minutes and I'm ready to go. I was a little nervous, but she made me feel very comfortable and took very good care of me. Kayla has a gift at what she does, and absolutely loves taking care of her clients. I highly recommend The Makeup Story!
---
Reviewed on

10/19/2017
Lauren M
Kayla is the wonderful make up artist who did our mothers' makeup the day of our wedding. My close friend is a MUA and did my makeup. But when I asked for a suggestion for our moms' makeup, she instantly recommended Kayla. I am so lucky she brought her into my life! It was... Read More really important to me that our moms felt beautiful but also looked like themselves on the day of the wedding. My mom does not wear makeup regularly. In fact, I taught my mom how to put on eyeliner. So I wanted her to look naturally enhanced. Kayla did just that and it meant so much to me! On top of being excellent at her craft, she is an absolute sweetheart. I'm smiling as I type this. She has such a warm and caring heart that you'll connect with her the second you meet her. For me, it happened from just texting her! Now I need to figure out another ocassion just so I can work with her again.
---
Reviewed on

10/16/2017
HAYLEY N
OH my goodness! Kayla is AMAZING. I wanted something super natural but that would look good on camera and she NAILED it. She knew exactly what to do, how much to put on for the camera, but how little to put on for my look. She's also super professional, was early (which is... Read More always nice) and showed up at 6 am on a SUNDAY with a smile on her face ready to WORK. I can't wait to use her again for a special event or something in the future!
---
Reviewed on

10/14/2017
Jane S
Kayla was absolutely fabulous from start to finish. She is so sweet and genuine. She listened to my likes/wants and her make up design exceeded my expectations. She was so kind and made the other members of my wedding feel welcome and comfortable. After my wedding... Read More everyone talked about how beautiful my make up was, and how she was the favorite of my vendors. She is very talented and professional. I would highly recommend her to anyone!
---
Reviewed on

10/13/2017
Roxana R
Kayla is not only insanely talented but also has a sweet and genuine heart. She is an amazing make-up artist. I couldn't recommend her more!
---
Reviewed on

10/09/2017
Leslie V
If I could give more than five stars, I would. On top of doing my makeup amazingly, she was so sweet! I showed her what I wanted and that was it. She knew exactly what to do and how to do it tailored to my face structure. I will most definitely be calling her again for future... Read More events!
---
Reviewed on

10/09/2017
Jessica V
Kayla is amazing, honestly the sweetest and patient person. She is very professional and punctual. I had a very early start to my morning having to ask her to come at 5AM and she came with no complaints and even had so much energy and excitement just being a part of my big day.... Read More I started by myself in the morning so my bridesmaids could sleep in so I was so thankful I selected Kayla to be the first person I saw on my wedding day. She made me feel so beautiful. I don't typically wear makeup and she really kept that in mind when she did my makeup. She made me feel myself without being too over the top. I would highly recommend Kayla to EVERYONE just so I can see her again. She's amazing!
---
Reviewed on

10/06/2017
Chase A
We hired Kayla to work with one of our top clients before our film shoot - The CEO to be exact. Not only did she show care and love to everyone, her technical expertise and responsiveness proved her as best in class. She brings a warm, professional, and southern charm that is... Read More sure to delight all who encounter her. We will definitely use The Makeup Story again and recommend her for ANY big day that could use some touch up! :)
---
Reviewed on

10/05/2017
Megan K
Kayla did an amazing job on my bridals and wedding makeup. I had so many complements on my makeup. I couldn't have asked for a better makeup artist. Kayla is so sweet I which is a added bonus. I definitely recommend her to anybody wanting amazing wedding makeup done .
---
Reviewed on

9/27/2017
Kimbra S
She is amazing she did my engagement and wedding 😊
---
Reviewed on

9/27/2017
Lauren T
I am so thankful The Makeup Story (Kayla) was able to be there not only for my wedding day but my bridal shoots! Such amazing talent and support system! She was the calming spirit I NEEDED on my big day and made me feel gorgeous! Her skills are unmatchable!!
---
Reviewed on

9/27/2017
Kaitlyn S
Kayla is incredible! Every time I sit in her chair, it's a total treat! She's not only experienced but she's passionate. She's more than a makeup artist or creative. She's passionate about people and deeply desires for everyone to walk away feeling empowered to go into the world... Read More and be and do all they were created to! She's done my makeup countless time and each time I walk away feeling incredible! On a personal level, Kayla is my best friend. The first time we hung out she was actually doing my makeup for a photoshoot. She's the most genuine and kind hearted person I've ever had the honor of knowing. She shows up whole heartedly and gives everything her all. After sitting in her chair you'll never want to have anyone else do your makeup. She's the best artist, friend, listener, and sister. Don't look any further. She's the best!
---
Reviewed on

9/27/2017
Kimberly L
Kayla is absolutely wonderful. She is so sweet and full of love. She did a wonderful job of working with me before my wedding with what I wanted for wedding day makeup. All my bridesmaids loved her too. I highly recommend using her! I wanted to be surrounded by goodhearted... Read More people the day of my wedding and she was one of them.
---
Meet The Owner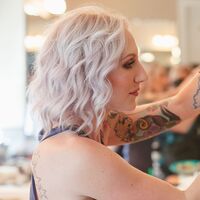 Kayla Rae Combs
With over 12 years of makeup experience, the most important thing I've learned is how to make a client feel loved, calm, and absolutely stunning for their special occasions in life. We look forward to being a part of your story...