Home

The Osthoff Resort
Book Your Wedding with The Osthoff Resort
---
A BEACH IN EKHART LAKE, WI
About Us
Nestled on the pristine shoreline of Elkhart Lake, Wisconsin, is The Osthoff Resort. This romantic getaway is the ultimate start for newlyweds looking for a beautiful Midwestern wedding experience. The resort is on 500 feet of lakefront and is rated as a premier AAA Four Diamond resort. Equipped with 245 guestrooms and one-, two- and three-bedroom suites, along with wedding facilities makes The Osthoff Resort a great choice for the bride and groom to-be and their guests. As part of the wedding package, the newlyweds receive a free night's stay at the resort.
Pre-wedding activities are plenty on the beautiful resort grounds, including a golf course and the Aspira Spa. The wedding party and their guests at The Osthoff Resort can also take advantage of basking in the sun on the sandy beach or renting a boat to go out and fish. The wedding facilities vary depending on the needs and size of the group.
Grand Libelle ballroom. This ballroom can be rented in its entirety at 10,164 square feet or broken down into smaller rooms as little as 1,129 square feet. At its largest, the ballroom at The Osthoff Resort can accommodate up to 840 guests and as little as 80 for a more intimate setting. There is a 1,095-square-foot parlor and a foyer measuring 2,400 square feet that can be utilized along with the Grand Libelle ballroom. The trey ceilings and chandeliers add an elegant ambience to the room. The room is neutrally decorated making it easy to accentuate with any color scheme.
Palm Garden ballroom. For groups from 50 to 600, this ballroom can be altered to fit the needs of the bride and groom. The room totals 7,526 square feet and can be adjusted to a room size as low as 839 square feet. The ballroom includes a foyer that measures 612 square feet and is suitable for post-ceremony mingling for the wedding guests. The chic room is softly lit and has colored wall lighting to add some flair to the room.
Villa Gottfried room. This 2,400-square-foot ballroom can be used as a whole or divided in half. This more intimate space can comfortably seat 80 guests in a half room or up to 180 when using the entire space. The Villa Gottfried Room has a parlor and foyer that the bride and groom can take advantage of also. The parlor has a stunning stone fire which makes for a beautiful back drop for a wedding ceremony.
Elkhart Lake ballroom. Groups of up to 220 can enjoy the luxury of the Elkhart Lake Ballroom, while smaller groups between 60 and 150 can utilize the room as an altered space to better suit the size of the wedding guest list. The room as a whole measures 3,600 square feet. When divided in two, the rooms measure 1,440 and 2,160 square feet. There is an outdoor patio which lines the length of the ballroom and a small study room.
Crystal Lake room. For the bride and groom to-be that want to keep things cozy, the Crystal Lake room offers a space for a group up to 120 and measures 1,600 square feet. This room can also be divided in half for groups numbering 60 or less.
What You Should Know
The Osthoff Resort provides an experienced and professional staff member to assist in the planning of the wedding-day events. A staff member helps with all details of the wedding, including transportation, floral arrangements and taking advantage of the amenities at the resort. Custom wedding packages are available and the happy couple can also choose from a variety of menu selections. All wedding packages are inclusive of white table linens, table mirrors with votive candles and skirting for the tables.
Special wedding package pricing is offered during the months of January through April and in November. Some of the benefits include reduced food minimums and reduced room rental fees. Weddings that are held on Friday or Sunday also come with reduced incentives, including complimentary champagne toast for the head table and reduced fees on certain services. Wedding package information and a contact phone number to inquire about pricing is located on The Osthoff Resort website.
Extra Perks
The beautiful grounds at The Osthoff Resort have so much to offer, including these extra perks:
Onsite recreational rentals, including boats, mountain bikes and pontoons
An outdoor gazebo is available year-round for wedding ceremonies and photographs
The Osthoff Balcony overlooks the lake and is a picturesque place for a ceremony or social hour
The resort allows for a couple to have a ceremony on the beach
The resort offers Osthoff In Bloom, which is its own floral department that includes centerpieces, arrangements and bouquets
Horse-drawn carriage rides are available to take the wedding party and guests around the resort grounds
From the Vendor
Weddings at The Osthoff Resort
The breathtaking natural surroundings, lakefront location and elegance of The Osthoff Resort provide the perfect setting to host your wedding. Offering 245 spacious suites, 500 ft of lakefront, beautifully appointed ballrooms, Aspira Spa, delectable dining and other AAA Four Diamond amenities.
Amenities + Details
Amenities
Handicap Accessible

On-Site Accommodations
For more details about amenities, please message the Venue.
Food + Catering, Planning
Contact Info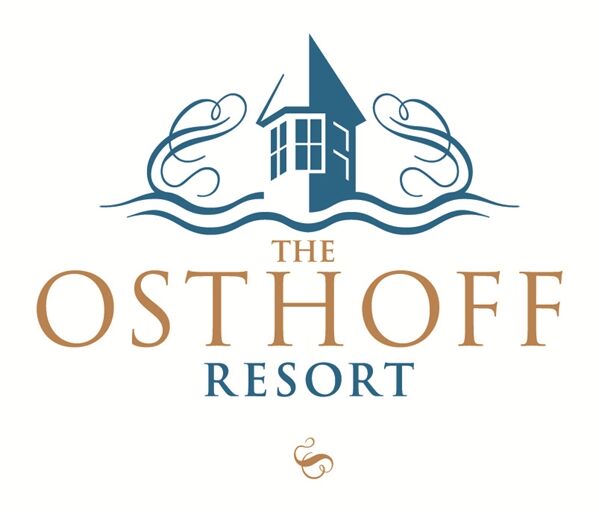 Reviewed on

8/09/2016
Jessica T
Ellie Allen was our contact throughout our whole planning process at the Osthoff and she was wonderful! She was also available for questions and responded very quickly. Our wedding was outside on July 30 with lots of out of town guests. It was the perfect place for people to... Read More stay to celebrate for a whole weekend! Wouldn't change a thing.
---
Reviewed on

11/12/2015
Andrea T
We had the wedding of our dreams at the Osthoff Resort! I would recommend this venue to anyone who wants to have the feel of a destination wedding at a classic, beautiful and relaxing location. The guest rooms are beautiful and feel like a home away from home. Thank you... Read More so much to Ellie for everything she did and all the work she put into making our day so perfect. Even though it was mid October we were able to have our ceremony by the gazebo. We used the AV from the Osthoff and they were able to help our pianist setup so that the music and Reverend would be heard by all of our guests. Ellie was there to direct all of us and make sure we started walking down the aisle (from Lola's) at just the right time. Our cocktail hour outside the Elkhart Lake room was perfect and a beautiful space for our guests to mingle and relax before the reception. The banquet manager worked with us to create some special shooters to be passed out during this time along with hor dourves which Ellie was thoughtful enough to grab some of each for my husband and I since we arrived late due to pictures. Our reception was in the Elkhart Lake Room. Perfect size room if you want the bar, DJ and about 130 guests! Not to big and not to small. It has an elegant feel to it. The food was amazing and the wait staff was friendly, nice and prompt. All in all amazing venue all the way around, location, atmosphere, food, staff and the list could keep going and going.
---
Great Location!
Reviewed on

11/03/2015
Kristin S
Loved our stay at the Osthoff Resort. The grounds were amazing, the rooms were clean, and the food was great. Would recommend.
---
Beautiful Venue
Reviewed on

9/18/2014
Kimberly F
We wed on the Osthoff grounds and it was absolutely stunning. The gardens were full and fresh, making for a serene ceremony. The banquet service was good, but they seemed understaffed, especially after dinner. The wedding planning service was very good. Our planner did a... Read More great job the day of making sure everything was perfect. Quality of the food was exceptional.
---
Great Venue
Reviewed on

10/08/2013
Lindsay R
Beautiful setting for photos. Great planner- Jason. Great food. Lots of options for guests. Accommodations on site. Even had my rehearsal dinner at Lola's Restaurant. Excellent!!! Would highly recommend!!
---
Incredible!
Reviewed on

9/26/2013
Carlos B
The Osthoff is so beautiful and Jason was so incredibly helpful. I am very happy to leave this review for such great people.
---
Aspira Spa: Hair, nails, make-up
Reviewed on

8/09/2013
Tina B
My husband and I stayed at the Osthoff resort for our wedding night. It was very pricey, but we were thankful we were able to use the grounds to have beautiful wedding photos! I also used the spa within Osthoff, Aspira Spa, to do my hair, nails and make up. Like the resort,... Read More the spa prices were very high. Since the prices were so high I expected the salon services to be exceptional. Unfortunately, they were not. My French shellac manicure had a couple of errors with the white tip on two different nails. The shellac polish chipped on day 2. My hair was great, I have no complaints! My make-up was also fine. My only complaint was with my fake eyelashes. She had problems applying them evenly. For $30 just to apply eyelashes on top of the $65 make-up fee, I don't expect any problems!
---
Magical
Reviewed on

1/05/2013
Jodi K
We celebrated our wedding at the Osthoff resort in Elkhart Lake during the old world market fair. It was a magical event, and the staff was awesome and helpful. No matter what the problem was they were very quick to fix it and went beyond our expectations. The rental was very... Read More reasonably priced and our room was excellent, including a jacuzzi tub and fireplace, also discounted due to the rate for the old world market fair. I would definitely recommend the Osthoff and we will be going back on a yearly basis to celebrate our anniversary !
---
5 star resort in the middle of the country
Reviewed on

10/03/2012
Janet Z
From the moment we stepped foot on the property, we were in awe! It's an absolutely gorgeous resort on a lake that feels like a 5 star resort without being pretentious. The staff was so helpful and the coordinator took care of everything. The price was so reasonable for the... Read More quality of the services. Would've cost 10x as much in the city but without having the beautiful grounds! I wouldn't have wanted to have the reception anywhere else! Perfect food, perfect ballroom, perfect setting!
---
AWESOME
Reviewed on

2/21/2012
Jessica B
The osthoff is a super nice hall. The food portions were large and tasty. The wedding planner helped a ton get everything organized and set up. Great seasonal discounts. Complaints: not very flexible with the menu unless you are paying for it. Large parties cannot have a bar in... Read More the actual hall. They are in the process of updating the whole hotel, but the block of rooms they had for us were all the outdated ones.
---
Just Wonderful!
Reviewed on

6/27/2011
Jessica G. G
The Osthoff Resort is beautiful! It is right on Elkhart Lake! We were to be married by the lake at the gazebo, but due to weather we decided we need to have it inside in the Elk Room, which if you have to have your wedding inside instead of out, it was just as beautiful! It had... Read More gorgeous picture windows with a balcony view of the lake! There service impecable and made sure everything went smoothly! All our guests commented on how good the food and how they hadn't such good food at a wedding in a long time!
---
Excellent Venue
Reviewed on

1/03/2011
Kathryn H
The venue is gorgeous, and they offer great value. We research long and hard into our wedding venue and we are very pleased with having had the ceremony AND the reception at The Osthoff. They are VERY accommodating and their Event Coordinators deliver top notch customer... Read More service. There were just a few minor "snafus" but their excellent Event Coordinators were able to help smooth everything out over by their and in the end my husband and I were delighted with all they did to make our wedding day phenomenal.
---
Beautiful Setting & Fabulous Food
Reviewed on

11/22/2010
Michelle R
I highly recommend the Osthoff for a wedding reception. We had quite a few compliments on the food (We did a travel theme - Italy/Ireland/France) The setting was perfect for pictures (mini waterfal/stream/lake/beach/gazebo)High quality & classy but a little pricey.
---
Osthoff is Beautiful & Lori is on top of thing
Reviewed on

10/28/2010
Jennifer S
Our wedding turned out great. I'm not much of a planner so it worked out great that the Osthoff provided "planner" type person. Our communication was for the most part minimal until we got close to the wedding, but the reality was, they had it under control! Beware, it does... Read More feel like they charge you for everything! But in the end, it was the best day of our lives!
---
LO
Reviewed on

10/01/2010
Lisa O
The room was absolutely beautiful! The food was outstanding, we got compliments all night long. When our limo didn't show up, the Osthoff provided a shuttle to get us to the church on time!
---