Home

The Perfect Gown Bridal Sample Sale
About this Vendor
The Perfect Gown Bridal Sample Sale
Details
Bridesmaids, Flower Girls, Mothers Fashions, Other Attire & Accessories, Wedding Gowns
Contact Info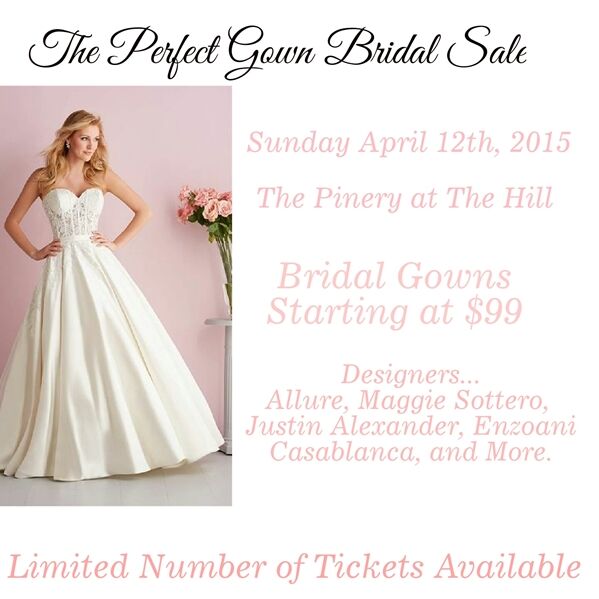 Heidi is amazing and has a fabulous selection!
Reviewed on

9/17/2014
Jessica L
Heidi is not only friendly but has amazing taste in the dresses she chooses to carry. She is also the perfect person to help you choose a dress which is both beautiful and flattering for your individual body type and style. Also the value of the items she carries cannot be beat and she goes out of her way to stay within your budget. I was able to get a $2000 (retail) dress, a vail and beautiful feather head-piece all for $1000 which was exactly what our budget was. She even gave us a discount on the accessories to keep the total under our budget.
---
Wonderful!
Reviewed on

4/05/2014
Elisabeth L
I went to La Danae because I knew they carried sample gowns at a discounted price. However, I did not expect such beautiful gowns at such reasonable prices! Heidi was so great and she helped me find the perfect dress for my day! My dress is incredible and I got it at an amazing price.There were so man fabulous dresses that I was actually stuck between two dresses, but Heidi was lovely enough to hold both until I made a decision. She even recommended a seamstress and a cleaner. I've already booked my first fitting! Heidi made the whole process easy and stress free, which is exactly what a bride needs! I would recommend La Danae to any bride who is looking for an affordable, yet unique, dress.
---
Great place!
Reviewed on

4/05/2014
Holly H
I stopped in here after driving by it several times. I had already been to David's Bridal, and felt like I was being pushed through like I was in a herd of cattle. Heidi at La Danae was wonderful! She took the time for me, without and appointment, to try on several dresses. I think the most important piece is that she listened to me and my opinions on various dresses. Needless to say I found THE dress there!! I would highly recommend stopping in and visiting Heidi!
---
Great place!
Reviewed on

4/05/2014
James E
I stopped into La Danae after driving by it several times. I had tried on several dresses at David's Bridal, and felt like I was being pushed through a herd there. Heidi was fantastic! She took the time to not only make sure my budget was met, but also to LISTEN to exactly what my opinions were on the dresses. Needless to say, I found THE dress there at a great price! I would highly recommend stopping in!
---
Great experience
Reviewed on

3/14/2014
Dina H
I had an appointment with Heidi to try on wedding dresses. She was great, as I had only a vague idea as to what I wanted. I had a friend with me to help me out, and the two of them ended up picking out some dresses I never would have thought to try. Heidi asked me a lot of questions and checked in with me a lot to make sure I was liking what I was seeing and if not, she found out why so we could avoid repeat styles. She was very respectful of the opinions of both me and my bridesmaid. She also allowed me to take as many photos of each dress as I wanted! I was torn between 2 dresses, and she set them aside for me so I could come back the next day and try them on again. I ended up picking a dress that was perfect for me. I felt like Heidi was very professional and has a very good eye. She was informative and supportive without treating me like a little girl (I experienced that in two other bridal shops...very annoying). The dresses are off the rack and often discontinued designs, so they're ridiculously affordable in addition to being beautiful and often unique. She has seamstresses she recommends as well as a cleaner that doesn't ship your wedding dress out for cleaning! I was very impressed with my experience here, and have already referred another bride-to-be to her. I highly recommend you give them a try.
---
Love the Shop, Love the owner!
Reviewed on

9/05/2013
Jasmine E
I did not want to pay the price designers ask for wedding gowns, I think they are too much. If you have a good seamstress, this is the PERFECT shop, and even if you don't it is worth a look, at the very least. More laid back atmosphere. Great deals, good selection, very helpful staff. (ok, no staff, its the owner, she is WONDERFUL) I was so indecisive, and she worked with me, helped put me at ease. She went way out of her way to help me, and I really appreciate it. I did not have months to look at dresses, or special order. I decided to get married with a date about 70 days out. I also live in the mountains and wanted to do all my shopping on one day, not consider for a week and come back, no time for that, it is a two hour drive to ANY bridal shop. I found several dresses I liked, but wanted to look around, she held them for me, but I did not find anything else I was even interested in, and the one I kind of liked was about 3 times more, and the fabric was not as nice. Any way, I hurried back to Once and Again, late, past closuing, Heidi was still very nice, and helped me walk out with a dream dress. I love it, and I love her.
---
Bride
Reviewed on

7/12/2013
Danielle P
I had an awesome experience trying on dresses I felt like a princess
---
finding the right dress
Reviewed on

6/17/2013
Got an awesome deal on my dress here, got a free slip rental, and even got an "emergency bag" for the wedding day. Found them when I asked on an Army facebook page, where I could find dresses. Didnt know very much about dresses when I walked in, Heidi who is the owner, picked some dresses after I explained kind of what I wanted, and found the perfect dress for my day. I definitely reccommend going here if you are looking for a wedding dress or prom dress
---
Miracle Worker!!
Reviewed on

6/14/2013
Brittney R
I found Once and Again Bridal after I had already purchased a wedding gown from another bridal shop. About two months after finding my first dress I had completely changed my mind about the dress. I went to Once and Again after finding them on line, to see what my options were. I knew that I did not want a pre-owned dress. It was very important to me to have a dress that was only mine. After inspecting the original dress of mine, I was offered to trade it in towards a different dress. Hedi worked with me to find pictures of the exact dress I wanted and the very next day found it for me. I would like to note that there were only TWO of the dresses to be found online. I am so happy she found this dress for me, let alone in my budget, size , and even color. Once and Again bridal took so much stress away and turned what I thought was my biggest mistake into my ticket to the wedding dress of my dreams!
---
AWESOME!
Reviewed on

5/23/2013
Kimberly K
I am so thankful that I didnt have to buy a slip! This was such a blessing and I was able to use it for my photo shoot before my wedding which was awesom!
---
Send Email