Home

The Pros Weddings
About this Vendor
Wedding Photography Packages starting at $995!
Details
Online Proofing, Digital Files, Photo, Photo + Video
Contact Info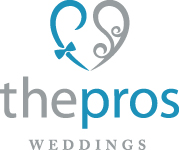 1800 Byberry Road, Huntingdon Valley, PA
A lot for the price
Reviewed on

1/04/2015
Shannon H
I was able to get a package with an 8 hour videographer, 8 hour photographer, and a 4 hour second photographer, including a hard album and 40 prints of any size. For what I was able to get for my money, it was a great deal. The Pros were very nice in the planning, and on the day... Read More of the people were amazing and accommodating. They squeezed into corners to get great angles, arranged props to make a good setting, and were great orchestrating the bridal party and guests to get good shots. My hard album looks absolutely amazing! The design is wonderful and it is a great keepsake. The only thing I didn't like was the lack of clean shots of just the guests or bridal party. Many of the pictures have the other photographer or venue workers in the background. But overall I think this is a great company.
---
Photographer
Reviewed on

9/27/2014
Toni B
We decided to go with the Pros because the cost was so much lower then many other photographers in the area. We chose Robyn A in Las Vegas. She was so nice and asked our style of pics. She also had great ideas for different poses. I give a four star because for some reason she... Read More did not take any pics of us kissing at the alter which was a bummer. But there were so many amazing pictures that we couldn't be angry about that. We are very happy we chose the pros.
---
Very disappointed
Reviewed on

7/27/2014
Rachel
Most of the pics are very dark, wide angle shots. The pics of me and my new groom after the ceremony are cheesy, not the beautiful soft focus images I was expecting. There is no full length pic of me and the groom by ourselves at the alter. First kiss pic was taken from the back... Read More of the church. The only pics of the wedding party altogether has one bridesmaid standing too far off to the side, and the best man was placed on a step behind and over the groom. I will never have the chance to correct these pics. I am embarrassed to show these pics and I regret spending so much money on this service.
---
Vera is the best
Reviewed on

7/10/2014
Joyce
She is the very best at what she does. I love each and every picture. Vera makes you feel comfortable and is very professional.
---
Amateur
Reviewed on

11/18/2013
Lori C
My nephews pictures were much better quality. There was no placement. He was smoking and drinking most of the evening. No pics of the guest tables. The lighting was off and didn't position me right. Nothing centered.
---
Disappointed.
Reviewed on

10/03/2013
Kelli N
The photographer I originally requested had an emergency, and they sent a backup photographer that seemed to have minimal experience and was unprepared. However, the fact that they had a backup photographer was nice. Also, the company has been very understanding and assures me I... Read More will be compensated for my poor experience. So I wouldn't write the company off completely, because the value is reasonable and the management is professional.
---
A pleasant surprise
Reviewed on

10/02/2013
Courtney H
I was concerned when I initially made the decision because I was really just going with my gut--I didn't know anyone who had used The Pros before. We used Jeffrey W. for our Chicagoland area wedding, and could not have been happier! Jeff was very relaxed and really cared that... Read More the evening went exactly the way we wanted. He knew exactly when to be vocal and when to let the party happen. I couldn't have been happier with the result!
---
4 in 1
Reviewed on

8/27/2013
Carole P
We used The Pros for photography, videography, DJ, and photo booth. It was nice and easy...payments done online, same day email or phone interaction, professional, skilled employees. Check them out at one of their showcases to meet the photographers, videographers, and DJ's in... Read More person. You'll also get a discount if you book at that event. The prices were unbelievably good for what they provided.
---
ok for the money
Reviewed on

7/10/2013
Jennifer M
The Photographer was nice and seemed to capture most of the moments we wanted. Some of the church pictures came out yellowish and they did not provide touch-up service on disk provided without paying more. Overall not bad for the price.
---
AWFUL
Reviewed on

11/13/2012
Tom S
We had the worst photographer imaginable. He had great reviews from the pros, my wife and her mom both liked the sample shots and the coordinator suggested this guy. I hope we put him out of business. He was extremely unprofessional and my wife cried when she saw our photos.... Read More Thankfully, the pros gave us a $250 refund so we can take our photos to a professional retoucher to make these pictures even slightly acceptable.
---
Wedding Photography
Reviewed on

7/23/2012
Kelley G
My photographer was Morten A. from The Pros. If you would like a carefree, witty, fun loving, professional photographer that makes everyone feel at ease on your big day, you must book Morten A. from The Pros! The photos look like they are from a magazine, a combo of formal... Read More traditional in the church and creative outside.
---
Awesome DJ
Reviewed on

6/03/2012
suzy h
Tony, our DJ made everything easy and perfect. He played a variety of music and knew exactly what to play. Very affordable and very professional staff. Thanks Tony!
---
Photos 11/11/11
Reviewed on

12/19/2011
Silvia N
My photographer with the Pros was Sally Qing & she was Excellent!! Would recommend her time & time again.
---
Great videographer!
Reviewed on

11/09/2011
Chrisann Z
Our videographer Julie was phenomenal. Video was a last-minute addition for us, and I'm so glad that we decided to go for it! She is not an in-your-face kind of videographer, which is exactly what we wanted. Most of the time, we didn't even know she was there! But from what we... Read More saw of our footage, everything is beautiful! I can't wait to see the final video! Thank you Julie! -Chrisann and Patrick
---
Loved my Photographer
Reviewed on

11/09/2011
jennifer m
I really loved my Photographer, I can't say enough about him. His name was Ed D. He really lightened up the mood and was so great at what he does. Very organized and funny and I like to laugh. We really had a great time with him. He took amazing pictures too, they really came... Read More out great.
---
HORRID!!!!!!!!!!!!!!!!!!!!!!!!!!!!!!!!!!!!!!!!!!!!
Reviewed on

10/23/2011
miranda a
i went off this website and found that the pros' had all these awards and went with them-dj,video and photo.... two days before wedding they called and said they made an error, and double booked the guy i wanted then booked me with another photo guy when i called them and told... Read More them i didn't like the new guys work/portfolio they pretty much said deal with it- I HATE MY WEDDING PHOTOS!!!!!!!! hate them its heart breaking didn't like the guy showed up hour and a half late disappeared for about 45 min and then left early bout 9:15 ! the worst thing -the photos are so highschool i hate the PROS!!!!!!!!DON"T USE THEM i'm on a warpath with them right now horrid customer service. going to report them !
---
Great
Reviewed on

10/10/2011
Cindy W
Sarah is FAB!!!
---
Creative videographer
Reviewed on

10/10/2011
Sara B
Our videographer was very creative and actually gave some good ideas to our photographers (not from the Pros), so we got some good pictures. We ordered the lowest package and still had to pay alot, and the video that came was just very basic. If we want a cool video, you... Read More should upgrade the package if it's in your budget.
---