Home

The Resort at The Mountain
About this Vendor
Your Wedding Event Deserves the Perfect Setting!
Amenities + Details
Amenities
Handicap Accessible

Liability Insurance

On-Site Accommodations

Indoor

Reception Area
For more details about amenities, please message the Venue.
Ballroom, Waterfront, Hotel, Restaurant, Tented
Food + Catering, Planning
Contact Info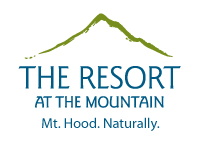 68010 E. Fairway Avenue, Welches (Mt. Hood), OR
Wonderful venue
Reviewed on

12/23/2014
Roberta S
We chose this venue because it is close to where we live in Portland, is on a golf course, is out in a wooded environment, and has plenty of room for out of town guests or guests that just want to treat themselves over our wedding weekend. We picked the perfect day in August (8-9-2014), it wasn't too hot or chilly, and our outdoor setting was beautiful. Our guests loved the food, and the setting. We witnessed several deer strolling through the golf course. I continue to get complements on how wonderful the event was, and guests that want to return to The Resort for other events. It can be a little expensive, but even with a basic package you get the benefit of the natural beauty. The venue coordinator was very helpful, service was friendly, and food was fantastic! :-)
---
Service not equivalent to the hefty price tag.
Reviewed on

9/17/2013
Heather W
The Resort at the Mountain is beautiful. The views are gorgeous. The rooms are nice. All of my out-of-town guests really enjoyed this lovely slice of Oregon. I was frustrated with the logistics of my wedding day. My wedding was quite chaotic due to last-minute torrential downpour. (I do not blame the mid-August rain on The Resort, but it sure was a surprise. There is really no date that is safe from rain in Oregon.) We had to change the location of the ceremony at the last minute from Pine Cone Bluff to under the tent where the reception was located. The guests awkwardly sat at their dinner tables to watch the ceremony. This was all fine. However, once the coordinator sent us down the aisle (which was really us squeezing through dinner tables to get married on the dance floor), she did not check in with me once for the rest of the night as promised. We had no direction for the rest of the evening. My mother's best friend came to the rescue by helping us through the chaos. She helped us organize our official entrance, she helped us get family together for extended family photos, she told us how to do the cake cutting, etc. Everyone thought that she was the wedding planner. My husband and I went with the flow and helped re-arrange things in the rain all night, but when I look back at this I am quite frustrated that my wedding coordinator was not there running damage-control for us. Our wedding coordinator later told me that she was needed at another wedding on site where a groom was over an hour late. I was very disappointed to hear that my wedding had to suffer because of another wedding's problems. That is not professional. Overall, my wedding was a beautiful event that I got to share with my favorite people in a beautiful location. However, I do not feel like the level of service at The Resort at the Mountain was equivalent to the hefty price tag.
---
Our Wedding at Resort at The Mountain
Reviewed on

8/27/2013
Arin C
My husband and I recently got married at The Resort (7/2013) and had excellent service!!! Tami Kay was an amazing coordinator and the site is breathtaking! We can't wait to come back every year for our anniversary! Two things you should know though- cell phones don't work very well at the location, and you'll want to make sure to book rooms for 2 nights if staying overnight on the weekend as check in isn't until 4 pm, and check outs are at noon. Everything went down without a hitch thanks to the excellent staff there and our wedding was perfect.
---
Magic! Fairy Tale.
Reviewed on

8/19/2013
Cynthia R
Our day was August 4 2013. It was pure Bliss. Pure Magic. Everyone at The Resort made it so. Every guest in attendance was over the moon and many cannot wait to return for another special day...
---
new years
Reviewed on

2/05/2013
Kassandra M
Fantastic and helpful. Beautiful space and delicious food.
---
My wedding day
Reviewed on

12/04/2012
Deidre C
I hate to give the Resort less then 5 stars, but was slightly disappointed with how things ended. The first coordinator we dealt with, Becca, is a total 10. She answered all of my questions in detail, and sometimes within minutes via e-mail. Unfortunately, within a couple months of the wedding we were switched to a new coordinator and that is when I believe the miscommunication began. The new coordinator was not familiar with what Becca and I had discussed for the wedding and there were issues on the day of the wedding as well as after. One being we were overcharged over a $1000 which took a couple weeks to be resolved. Overall, the Resort itself is a beautiful place, and I wouldn't of picked any other place. However, there were issues on the day of/after that shouldn't of occured that left me slightly disappointed.
---
Beautiful venue, amazing service
Reviewed on

9/27/2012
Breanne P
My husband and I had a "destination wedding" here in early September. My family is from Oregon, his family is not. All our family had to travel, so almost everyone stayed at the Resort. Becca was a joy to work - especially considering almost all the planning was done over email. We were able to cater in ethnic food which was not the case with most places we looked at. The only issue I had (and was minimal) was arranging the room block to ensure that all our guests would be able to stay without taking too much of a risk ourselves. The weather gorgeous, the service impeccable, and EVERYONE had a blast.
---
Amazing venue & service
Reviewed on

8/11/2012
Carly F
Becca at the Resort became like a second wedding planner. She was extremely helpful and bent-over backwards to meet our high-maintenance requests. The venue was absurdly gorgeous and the staff put out decorations and vision together PERFECTLY. I wish I could do my wedding day there again & again!
---
Perfect for the outdoorsy type
Reviewed on

2/05/2012
carrie t
Beautiful surroundings, thought the buildings look a bit dated.
---
Wedding of the Year 2011!
Reviewed on

1/09/2012
Michelle S
My husband and I were married at the resort May 21, 2011. We had a fantastic experience working with the resort. Becca, the resort planner, was fantastic! The planning process was organized and we were able to put our personal touches on every aspect we desired and on those we needed assistance on we were given plenty of options and help. The setting is beautiful whether you desire an indoor or outdoor wedding, the resort can accommodate both. The food was fantastic and the process of choosing our menu was an experience our taste buds will never forget! The price was reasonable for the excellent service and the fantastic setting. Every person we worked with provided excellent customer services. We would not have changed a thing and had a perfect wedding day and a wonderful experience planning our big day! The staff was very friendly, hardworking, and worked hard to fulfill all of our requests within our budget. We were made to feel like royalty, and that our wedding was the real "wedding of the year", from the moment we checked in until we left for our honeymoon.I would recommend the resort to any bride and groom for their dream wedding at an affordable price. In fact, I would recommend the resort for any event you are planning, they are that good!!
---
Our Dream Came True at the Resort at the Mountain
Reviewed on

1/02/2012
Karissa S
July 30, 2011 was the absolute best day of our lives! It still feels like a dream. Our fairy tale wedding took place at the Resort at the Mountain! The Resort had everything we were looking for in a venue and much more. We were looking for a destination-like place for our friends and family that was just far enough away from home for guests to experience a vacation, but driving distance from Portland. We wanted an outdoor ceremony location with breathtaking views and the option for an indoor reception. The Resort offered just this. Our ceremony took place on Pinecone Bluff, a beautiful green golf course surrounded by trees as our backdrop. Following the ceremony, our guests enjoyed delicious appetizers and cocktails on the patio of the ballroom, overlooking the Resort pool. The ballroom was beautifully decorated for a fun evening of dinner, toasts, cake, and dancing late into the night. Becca Kolibaba (The Resort wedding coordinator and event planner) was exceptional. She and her event/cattering staff executed our wedding ceremony and reception vision down to the last detail. As a stressed bride, Becca's calm and reassuring demeanor was just what I needed. I had complete confidence that she would follow through on her commitments. Not only did the Resort cater a beautiful and fun wedding, but its facilities provided ideal settings for our Welcome Dinner on Thursday night, a bridal luncheon and rehearsal dinner Friday night, and a Sunday brunch following the wedding. Our guests had the time of their lives and the bride and groom could not have been happier:) I highly recommend The Resort at the Mountain for your future wedding!
---
The Resort is THE BEST
Reviewed on

1/02/2012
Jeanine R
My new husband and I just got married at the Resort at the Mountain in September. We had a wonderful experience. Our cooridnator Becca made planning our wedding so much easier. Had we needed her to, she could have done it all. Our wedding was about 200 people and they were able to accomidate us all wonderfully. We had a lot of family coming from out of town, and Becca and her many helpers made sure our reservations went off without a hitch. The day of the wedding it was a little rainy, but we were able to keep it outside. I didn't know this at the time, but staff were wiping down chairs as guests were arriving to make sure they did not sit on a wet seat. That really shows how they are willing to go the extra mile. Becca took care of everything on the day. The staff even put out the special handmade napkins we brought. Everything was on time and I didn't have to worry that day if the chairs were set up, or if the unity candle was in place. It was all done. The next morning we wanted to have all of the guests who stayed over join us for breakfast. They were able to accomidate about 100 people for breakfast in the morning. I could not have asked for a better experience for our wedding. It was a beautiful setting, and the people working there made the day even better.
---
Best day of my life
Reviewed on

12/19/2011
Juli W
I was lucky enough to have my wedding at the Resort at the Mountain. The entire planning process was so easy and fun and every detail was perfect. Becca (wedding planner for the resort) is SOOOO easy to work with and has been doing this for so long she put me at ease and answered my hundereds of questions. She never got short/annoyed with me (I woul dhave been really annoyed :) ). The venue is stunning and I recieved soooo many compliments on it from my guests. They loved the food and the accomidations too. It was relaxed, but also very elegant. The most important thing to me was the flowers and the tent set-up and Chelle their flower person exceeded all my expectations. The tent looks ah-mazing. I felt well taken care of from the beginning (one year out) until the day after the wedding when we left. It was worth every penny and I would recommend it to anyone who wants a stunning setting for an outdoor wedding.
---
Resort at the Mountain
Reviewed on

12/17/2011
fran c
Fantastic venue, both for the ceremony and the reception. Gorgeous site with Mt Hood in the background and beautiful meadows and forests surrounding the hotel. The bridal party and family stayed overnight and the rooms were plush and comfortable. Food was great and the staff gave personalized service. Becca, the wedding coordinator, did a great job of guiding us through the rehearsal, ceremony and reception. Definitely a five star venue!
---
Totally worth investment for the wedding!
Reviewed on

11/03/2011
Ashley S
The Resort at the mountain was beyond my dreams, I am an active athlete who dreams of an outdoor wedding for years. This spot did meet all of my expectations, even flexible at the end of wedding plannings. I was suppose to get marry on a golf course - "Cone Bluff", outside overlook a cliff down to a pond and a small creek, but unfortunately the weather wasn't cooperated on that day (It was rainy/windy while temp. dropped to 40-50's). The wedding planner suggest a couple back-up spots the night before, she was open-minded to our ideas and wait on our consent before change the plans. We changed to indoor ceremony with several huge windows to see outdoor as to consider our love for outdoors while ensure our guests stay warm. They arranged everything beautifully, even down to little details - they are definitely planned ahead of schedule including couple weddings after ours. We had a Sunday morning wedding, with delicious crepes/waffles brunch along with great beverages as mimosa/coffee that our guests raved about for hours. It was an affordable wedding that everyone came together for an entire weekend to catch up with families/friends before the grand finale that everyone can enjoys, which was our wedding on Sunday morning before they all return homes. I gave this spot two big thumbs-up! *In addition, The Resort at the Mountain staff were really friendly to us, even when we are two Deaf individuals, which means they are great at cooperating with people with disabilities* They heard our needs in ensuring that our interpreters have microphones to speak for our hearing guests and interpreted for Deaf guests as well. The Resort at the Mountain come highly recommended! We will definitely return to this spot for our wedding anniversary in the near future :D
---
Perfect Wedding Venue
Reviewed on

9/15/2011
Lisa P
We picked the resort at the mountain, as our wedding venue, for several reasons. First, when we arrived at the resort, the beauty simply capture us. Secondly, we wanted our wedding completely outside, as well as, the ability for our guests to have accommodations, after the celebration. The resort not only has many options for wedding location and rooms, but they are top of the line. We hear numerous compliments from our guests, who loved the food, scenery and rooms. The wedding staff was professional, knowledge and friendly from the first day we walked onto the property through to the actual wedding day. Working with Becca, specifically, was a wonderful experience. She provide us with vendor recommendations, which were all perfect. Our wedding was in August of 2011 and we will be forever thankful to the folks at the resort for helping make our special day, perfect! I HIGHLY recommend this wedding venue!!!
---
AMAZING /Becca the Pro!
Reviewed on

9/13/2011
Lindsay L
We got married at The Resort in August 2011! Our friends & family where in awwwwe over the stunning views and location! It's breath taking! The real benefit with The Resort is everything is inclusive …basically you have 1 Vendor to deal with!! That makes planning a wedding easy! It's a little pricey, but you get what you pay for! We worked with Becca for our wedding coordination. She's is exceptional …talk about a lady that replies to every email in a timely manner (usually within minutes). Becca was our right hand! Go to Google Images, type in "the resort at mountain wedding rain" and check at the results! Becca is the one running with two umbrellas to cover the bride & groom!! That's the exceptional service you get when you book The Resort at the Mountain for your wedding!!! Thank you Becca!!! You were amazing. Mike & Lindsay Vizzini
---
It's all in the details...
Reviewed on

9/05/2011
Kathy T
Wow. I can't express how happy we are that we decided on The Resort for our wedding. We planned our wedding from afar, so we booked The Resort without my now husband getting a chance to see it in person. (I had been there for a friend's wedding a few years ago...before the amazing remodel). My emails with Becca Kolibaba sealed the deal. She was incredibly responsive and pleasant throughout the entire process. Despite a minor setback in scheduling our first meeting...Becca and Tammy Kay really pulled through. They are pros at this. They are incredibly organized and detail oriented. They helped pull together my day and added personal touches to practically every aspect of the wedding, to things I hadn't even thought about. It was nice that we were only 1 of 2 weddings at The Resort on a gorgeous Saturday in July. The helped set out our ceremony programs, they helped add our favors to tables in the ballroom, they provided us with champagne before the ceremony and had 2 glasses waiting for us right after. I had many friends tell me it was the best food they have ever had at a wedding...Chef Paul did such a fantastic job. The prime rib was perfect. The mac and cheese was incredible. My mouth is watering just thinking about his crab cakes. I didn't have to worry about a single thing, because Becca and Tammy Kay were on top of it all! The Resort at the Mountain really is an all-inclusive venue...the site is breathtaking, the food is second to none, and the coordinators are the best you could ever hope for. If I could do my wedding all over again, I wouldn't change a single thing. Thanks to the great crew at The Resort at the Mountain for making it absolutely perfect.
---
Best Wedding Venue Ever!
Reviewed on

7/15/2011
Nancy P
I almost didn't check out the Resort because I really thought it would be too expensive for us but boy, am I super glad we did! Becca, the event planner there is AWESOME! I really felt relaxed and I knew she always had everything handled. I just can't thank her enough for all that she did. Actually,the whole crew there is great...Chef Paul is the best chef that I have ever met...people are still raving over the absolutely delicious buffet and seafood display that we ordered for our day. I also need to give a shout out to Tammy Kay and Danielle who also treated us very special and are a lot of fun. The whole team there is fantastic and we feel like we've made some life long friends. We love going back for visits! Not to mention, the updated rooms and the veiws are spectacular! Thanks Resort...We love you! Nancy and Johnny
---
Absolutely perfect right down to the last detail!
Reviewed on

11/22/2010
Kate R
Our experience with The Resort was simply perfect! From the moment I found The Resort online, I knew it was our venue. They can accommodate small and large weddings, so we didn't have to have our final number set, they worked with our budget (don't be put off by the initial Wedding Packet), and the scenery doesn't get better. The wedding coordinator at The Resort, Becca Kolibaba, couldn't be better! She is very organized, kind, and extremely helpful. She always responded to my emails quickly, and dealt with my "crazy bride" requests with a smile. We didn't hire an outside wedding coordinator, and I don't think I could have done it without Becca. She made our experience what it was, and I will be forever grateful! All and all, I would recommend The Resort in a heartbeat. It is someplace you can make your own, but it is beautiful just as it is. The service was incredible, the value was better than anything else I found, and the quality couldn't be beaten.
---
The Wedding of our Dreams at The Resort!
Reviewed on

11/21/2010
Nicole M
Looking out over the golf course on a warm summer evening we were wed at The Resort at the Mountain. The combination of the location and the resort's staff helped to create the wedding of our dreams on August 7th 2010. We knew that we wanted a destination wedding, so we started looking for a location that could accommodate our 200+ guests, but also provide a personal and an intimate feel. After months of searching, we found the Resort to have all of these qualities, and the ability to support a three day action packed wedding weekend. Becca, the Resorts Catering and Events Manager, is as good as it gets when it comes to planning and executing a wedding. Her calming personality and "make it happen" approach saved us from much stress and anxiety. Immediately, she provided us with some of The Resort's preferred vendors (many of whom we used) which helped us to get the ball rolling. We brought our entire wedding party and immediate family to the Resort on Thursday (two days prior to the wedding) and utilized four Villas they have on site. Thursday and Friday we took advantage of the volleyball courts, mini golf course, fire pit, close proximity hiking trails (where the Resort surprised us with a picnic style lunch and kayaks), and spacious villas while being catered to with great food and drinks from the Resort. The day of the wedding, we were thankful for the wide variety of photo opportunities all within walking distance of our villas. The Pinecone Bluff provided a scenic setting for our ceremony. It fit all of our 200+ guests comfortably and we appreciated the convenience of having the sound system, gazebo, and holding room at our dispense. The wedding itself turned out exactly how we hoped it would and a large reason for that was Becca and the Resort staff understanding 'our vision' and carrying it out while we were busy with photos, makeup, etc. Our reception in the ballroom was breathtaking and had a more elegant feel to it. The food that the Resort provided was delicious, and Becca's husband even carved an ice sculpture with our initials in it that doubled as a martini luge! Everyone had a blast at the reception and we were happy to see the party and dancing extend late into the night. The Resort had everything we wanted for our wedding weekend and much more. Their staff went above and beyond throughout our entire stay and Becca was extremely helpful and supportive from beginning to end. Our family and friends really appreciated having the option to attend the ceremony, the reception, and to have a place to stay for the night all in close proximity. To this day we still get compliments from our friends and family about our wedding weekend at the Resort. Our dream wedding weekend would not have been possible without the Resort at the Mountain and its staff. We highly recommend taking the drive out there and sitting down with Becca, you will not be disappointed. Nicole and Travis Morscheck
---
Perfect Day
Reviewed on

11/19/2010
Lindi K
After being very disappointed by service at a potential venue, we found The Resort at the Mountain. The difference was night and day! Not only was the customer service at The Resort 2nd to none... they were able to provide an on-site florist (who did amazing work!) AND they worked with me to make sure that everything was just as I wanted it. Food, wine, decor - they were amazingly helpful. Becca, their Catering and Events Manager is one of the most amazing people ever. Her communications were prompt, and she was incredibly helpful, always pointing me in the direction of an amazing vendor, or helping with such mundane tasks as adding rooms to our block. 100% professional, AND a such a sweet person. I work in the wine industry and some might consider me to be a bit of a food and wine snob. The food was a sheer delight. People went on and on about the hors d'oeuvre table and the choices they had for dinner. Everyone was so pleased, including myself. Lastly, I would like to point out that I had NO idea about all the moving parts that would come into play the day of our wedding. From getting to me to pictures in a timely fashion, and making sure I wasn't late walking down the aisle, they thought of everything! They even had sparkling wine waiting for us in a private room before and after the ceremony - giving us time to calm those nerves and just have a few moments to collect our thoughts. I had no idea what a crazy day it would be, but knowing I had The Resort (Becca) on my side, I managed to stay very calm! I would also like to point out that we heard such amazing things from our guests as well. Everyone talked about how beautiful the setting was, how well they were treated by the Resort, and how delicious all the food was. Everyone said it was the most beautiful wedding ever, and whether they were just being nice, or they were telling their truth - I have The Resort to thank. It was the most special day ever.
---
Dream Wedding! The Resort is amazing.
Reviewed on

11/01/2010
Emily B
We love The Resort At The Mountain and all that it has to offer. We got married at the resort on 9/5/10 and it was beyond our expectations. The staff handled everything like the pros that they are and with such class. Everyone was so friendly and went out of there way to make sure we had everything we needed. We discovered the resort just over a year ago and decided right away it was our dream wedding place (after looking at several wedding destinations in Oregon & Washington). We are from Seattle and wanted a mini destination wedding. Becca the event manager is amazing!!! She is so fun to work with and clearly loves what she does. She was always quick to answer all of our questions and went beyond our expectations with providing additional help and suggestions leading up to and on our wedding day. She organized and took care of everything for us. Most of all, she always provided honest feedback and made sure we were on the same page with everything along the way. Chellee the resort florist did a wonderful job handling our ceremony flowers and reception center peices. Daniel the F&B manager and his staff took great care of us as well. Not only did everyone treat us so well on our wedding weekend, but also each weekend we were down there leading up to the big day. We love going to the resort and hope to make it back there a couple times a year for many years to come. The resort is very welcoming and it feels like a home away from home. We love the golf, spa, and food. We have been there a total of 5 times now and have fallen more in love with the place each time. We can't wait to go back in a few months! Thank you for an amazing experience and making it possible to have our dream wedding!!
---
beautiful and peaceful wedding venue
Reviewed on

10/30/2010
Karen S
We had such a beautiful July wedding at The Resort. Becca Kolibaba (event planner) was such a peaceful, organized, and fun addition to the wedding process. We originally browsed the resort months before booking, and assumed it would be out of our price range. I wish I had done some investigating before writing it off, I would have saved myself some time and energy looking for something else in the Mt Hood area! Our budget was accommodated and we had such a beautiful, stress free day that was reflective of our rustic/elegant/natural look and feel. Food was great, location was perfect, planning was fun--I really can't say enough. I am so glad that we found the Resort, and look forward to returning for many years to remember our beautiful wedding weekend.
---
Beautiful October Wedding
Reviewed on

10/28/2010
Jody L
I had a beautiful October 2, 2010 wedding at The Resort at the Mountain. I loved my wedding! I particularly liked working with Becca Kolibaba, events manager who made it so easy. Lets be real, planning a wedding is STRESSFUL and having a vendor who works hard to make your life easy is important- trust me! Becca worked really hard to help us have the wedding we wanted within our budget. The location is beautiful, the food was excellent and all my guests said they had a great time. The Resort is more expensive than some venues but not as expensive as others, and it was well worth the money. It is close to PDX if you have out of town guests, and the out of town people had a good time staying all weekend at the Resort. Some went to the Spa or played Golf which was also nice.
---
Send Message