Home

The Rose Room
Book Your Wedding with The Rose Room
---
A BALLROOM IN BENSALEM, PA
About Us
The Bensalem Township Country Club in Bensalem, Pennsylvania, welcomes brides and grooms out to this stunning golf course country club. Wedding ceremonies and receptions in this breathtaking setting can't help but be exceptional events. This venue offers both indoor and outdoor event spaces to cater to virtually any wedding style.
Rose Room. Tasteful in its decor, the Rose Room has the innate ability to fit many different wedding themes and colors. A permanent dance floor provides an ideal spot for entertainment and dancing. Look out from the windows onto the 18th hole of the golf course.
Gazebo. Many couples opt for the charming gazebo for exchanging their wedding vows. Situated just outside the mansion, the manicured landscaping that surrounds the gazebo provides a delightful backdrop.
Lawns. The expansive acreage of the golf course provides plentiful options for an open-air event. Explore the grounds to find just the natural setting you want to celebrate your wedding.
What You Should Know
The event staff at Bensalem Township Country Club is attentive to every bride and groom to ensure that every wedding event at the country club is a resounding success. The staff also consults with the culinary team to help you plan your reception meal.
The bridal party has full use of a bridal suite on the day of the event for preparations. This suite even has an entrance way that leads out into the Rose Room, enabling you to make an unforgettable entrance.
Every event includes a five-hour reception and a four-hour open bar. You have full use of the outdoor covered patio outside of the Rose Room. The event staff sets up all chairs for the event and tables and chairs for your reception. Your tables have table linens with coordinated napkins. Covers are also provided for the chairs.
The cocktail hour begins with a champagne toast. Passed hot hors d'oeuvres include your choice of five different items, such as bruschetta, clams casino and beef Wellington.
The catering staff offers standard menus for events, but you are not limited to this fare. Your special dietary requests are accommodated whenever possible. Both buffet and seated reception menus are available. For the buffet, you have your choice of three different tiers with a variety of different salad and entree items. Examples of plated meals include baked lasagna, chicken Marsala, and crab-stuffed flounder. Seated dinners also have three tiers with various menu items. Entree choices include roast pork loin, carved filet mignon and broiled tilapia.
The staff also sets up your wedding cake and a sweet table is included. Delicacies for the sweet table include fruit tarts, mini cannolis and fudge nut brownies.
Extra Perks
Every unforgettable detail is a priority for the event coordinators at the Bensalem Township Country Club. They welcome your special requests. Some enhancements are also available to make your wedding even more special.
Add a golf outing to your wedding day
Plan your rehearsal dinner the night before your event
Return to the venue the day after for a farewell brunch
From the Vendor
Best of Bucks Wedding Venue 2016 Courier Times
Our beautiful outdoor Gazebo, in the midst of lush green gardens, can work as just the right place for any Wedding Ceremony. If you're planning to tie the knot in fresh air, surrounded by nature, then the Gazebo is the perfect location to say "I do". Our Events spaces are spacious and can provide the perfect setting for your event. Enjoy your special day in the Rose Room, with a gorgeous view overlooking the Golf Course. Our Culinary Team will provide a delicious variety of expertly prepared dishes that will impress you and your guests. Contact us today to schedule your private tour.
Amenities + Details
Amenities
Bridal Suite

Handicap Accessible

Liability Insurance

Indoor

Outdoor - Covered

Reception Area

Wireless Internet
For more details about amenities, please message the Venue.
Bar + Drinks, Cakes + Desserts, Food + Catering, Planning, Tents, Rentals + Equipment, Service Staff, Shuttle Service, Transportation
Contact Info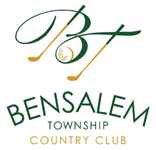 Reviewed on

2/08/2017
Samantha F
I got married at the Bensalem Township Country club in September of 2016. It was pretty easy to narrow down the decision of which venue to choose because of the friendly and accommodating staff who go out of their way to give you exactly what you want and the very reasonable... Read More packages they offer. During the entire planning process the staff at Bensalem were attentive to my every need and want and were more than happy to make my dream wedding come true. The food was delicious, the service was excellent and the night was perfect. We even had our pictures taken on the Country Club grounds before cocktail hour. I would highly recommend checking out this venue for your wedding reception, you will not be disappointed.
---
Reviewed on

6/04/2015
Samantha C
The Bensalem Country Club was the perfect venue for both our ceremony and reception. My husband and I got married May 29, 2015 with beautiful weather on the patio by the gazebo. The ceremony space is absolutely beautiful and creates beautiful pictures. The hospitality we... Read More received was superior. We received many compliments on the food, sweet table, promptness bartenders and how seamless the night progressed. Andrew and his team went above and beyond expectations to make our wedding day perfect. The entire planning process and day of our wedding was wonderful and stress free. Andrew offered suggestions for the day of our wedding; recommended vendors that he knew would provide excellent service and provided all inclusive packages that help reduce both cost and stress. Andrew was also always available to answer all of our questions and concerns leading up to our wedding day. Everything Andrew and I discussed and planned was executed to perfectly and our guests had a great time. The Bensalem Country Club is beautiful, provides excellent service, and is the best place in the area to have your event! Thank you Andrew and your team for making our day amazing.
---
Reviewed on

10/05/2017
Amanda B
Me and my husband got married October 29, 2017, and The Bensalem Country Club was the perfect venue! We had the ceremony at the gazebo, and it was beautiful. Kelley had it decorated with corn stalks, hay bales, and pumpkins. It complemented the blue dress the girls wore, and the... Read More sunflower bouquets.It was also a beautiful place for pictures! The hospitality we received was outstanding. We received many compliments on the food, sweet table, promptness bartenders and how seamless the night progressed. Kelley, Diane and the whole team went above and beyond our expectations, and made sure our wedding day perfect. Kelley offered suggestions here and there leading up to the day of our wedding, and recommended vendors that she knew would provide excellent service. She was also always available to answer all of our questions and concerns leading up to the wedding day. Everything turned out beautiful and our guests had a great time. The Bensalem Country Club is beautiful, provides excellent service, and was the best place for our wedding!
---
Reviewed on

8/03/2015
Eveliz A
We had an amazing wedding! My husband and I got married July 25, 2015. Andrew and the staff at the country club provided us with great service. I would recommend and definitely consider for future events.
---
Absolutely Amazing!!!!
Reviewed on

7/03/2014
I just got married at the Bensalem Country Club on July 1, 2014. I can not say enough about my experience! Andrew Meehan cared so much and took great care of us. Andrew guided us through the whole process. Andrew kept us on track from start to finish. The food was excellent,... Read More the space is very nice and updated, the service was great! The outside gazebo is perfect in every way, our wedding was so beautiful! I'm so happy that we chose the Bensalem Country Club. It was far beyond my expectation in the venue, food, staff and the scenery for pictures! I strongly recommend this place to everyone, they are very reasonable and will work with you with your budget. Thank you Bensalem Country Club and most importantly, Thank you Andrew!
---
Above & Beyond Our Expectations - The Bensalem Township Country Club
Reviewed on

11/13/2013
Ann Marie W
We celebrated our wedding at the Bensalem Township Country Club on November 1, 2013 and were thrilled beyond words. Andrew Meehan was extremely responsive to all of our ideas and he and his staff made special efforts to make the evening everything we dreamed of and more.... Read More When I first approached Andrew about doing something a little bit different than the norm he listened carefully and came up with a plan to make my "food station" idea come to life. Thanks to his expertise we were able to make some additions to our event that helped make our celebration stand out among the best. Andrew pointed us in the direction of a phenomenal band that rocked the house all night long. His cigar bar idea took our celebration to the next level. During the planning stages Andrew was always available and treated us as though our celebration was the most important event he was working on. When we walked into the Rose Room Friday evening we were thrilled. Andrew's staff and their attention to detail did not go unnoticed. The votive candles, up lighting, chair covers, centerpieces and decorated patio transformed the Bensalem Country Club into an amazing venue for our 218 guests. We have been inundated with phone calls and emails from many of our guests since our celebration telling us what a wonderful time it was. The compliments poured in over the hors d' oeuvres, the mash potato martini bar and especially the stir fry station. Many of our guests mentioned how wonderful and attentive the staff was. The stir fry chefs in particular were a hit as they were entertaining and professional while serving up their craft. Many guests commented how beautiful the Country Club was. Andrew and his staff showcased an amazing evening that will surely make the Bensalem Country Club a place to consider for someone's next affair. Thank you so very much Andrew Meehan & the BTCC Staff!!! Steve & Ann Marie Erdman
---
Our dream wedding
Reviewed on

5/17/2013
Michelle B
Matthew and I got married at the end of April and we could not have asked for a better experience in planning our reception. We worked with Andrew and Anne and they were fabulous. We met with them on several occasions and they were extremely helpful and nice. Our reception... Read More was absolutely beautiful. We had about 130 guests and it was the perfect size. The food was delicious, and warm! We got many compliments on the food, service, the decor and lighting and of course the sweet table! We are both very happy with the choice we made to have our wedding reception at the Bensalem Country Club. I would highly recommend it to anyone who is planning on have 150 guest or so.
---
my wedding & ceremony review
Reviewed on

4/09/2013
marykate D
Bensalem country club was our first venue we looked at iut of the 6 we went to. My husband and I live so close to benalem, and we have been to so many functions there. March 22nd 2013 was the wedding of my dreams, and bensalem country club was the perfect place to make my dream... Read More happen. Andrew Mehan was the banquet manager. Andrew really went over and beyond to make this day fantastic for myself and my family. As a bride I understand what all you are all going through planning a wedding, such as price, food, size, design, and making a memory for yourself. Bensalem country club was the place to do that for you! They really worked with our budget, and made our night a fantastic memory for my family and I!
---
FABULOUS!
Reviewed on

9/12/2012
Jen Z
We just had our wedding reception at the Bensalem Country Club on 9/1/12. We loved every single minute of it :) Andrew is wonderful! From start to finish, Andrew was very professional and helpful (and also, just a genuinely nice guy). Like previous reviewers mentioned, Andrew... Read More will go out of his way to make things just right. Also, Andrew's assistant, Anne, is a sweetheart. She was very helpful, as well! The room looked absolutely stunning...everything was exactly how we pictured it. In addition to your basic items, the package price includes chair covers and centerpieces (you cannot beat that). The food was delicious! Also, the scenery is beautiful...we took our pictures right on the grounds. I just cannot say enough wonderful things about our reception! You usually hear horror stories about things that happen with venues - I can honestly say that we did not have one mishap - everything went smooth and as planned. I highly recommend having your wedding at the Bensalem Country Club!
---
September 24, 2011
Reviewed on

10/07/2011
Maryanne S
I held my reception at the Bensalem Country Club on September 24, 2011 and was extremely happy!!! The food was very good and the service was as well. I worked with Andrew, the banquet manager in the beginning before he left on medical leave and even though he was gone for some... Read More time, his staff was great in his place. We had a taste testing before we chose our food and that went very well. There was a few times during my reception that my DJ was searching for the staff for something, but it didn't cause too much of a problem, I'm sure they were just busy! All in all, I have an amazing time at my reception, ALL of my guests raved about the food, venue and left happy at the end of the night!!! I would absolutely recommend this place to anyone!
---
Organized, Great Food & Overall Fantastic
Reviewed on

8/08/2011
Kami S
We had such a great time and would really recommend this place to anyone looking to host any kind of party. The food was amazing and the catering staff is awesome. They spent a lot of time answering questions, adjusting things to how we wanted them for our wedding and making... Read More everything exactly how we wanted them to be. When we walked in, the venue looked even better than we had pictured and the service was fantastic. Even though the original person who was in charge of our even was out for a medical issue, the rest of the staff never let us feel as though they were any less capable than the guy in charge. Everyone was awesome and we had a great time!
---
Rating for Bensalem Country Club
Reviewed on

5/10/2010
Samantha L
---