Home

The Sparky Noodle Bakery, Co.
About this Vendor
Custom cakes and desserts for all occasions
We scratch make all our cake, cookies, and pies using as many local ingredients as possible. If you are looking for a superior tasting and skillfully crafted dessert look for further than The Sparky Noodle Bakery!
Details
Dairy Free, Gluten Free, Vegan, Vegetarian
Cake Stands, Cake Toppers, Cake Accessories, Cake Delivery + Setup, Cake Tastings, Groom's Cakes, Cakes + Desserts
Contact Info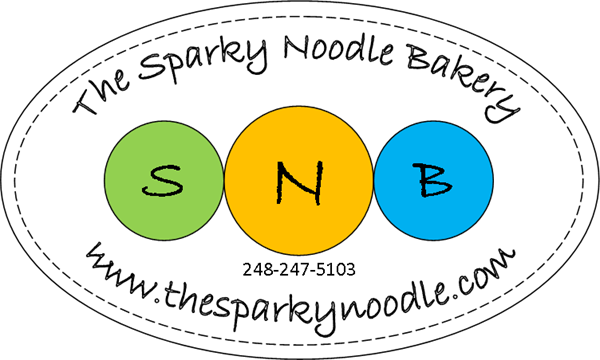 Reviewed on

8/17/2016
Kate T
WOW! Sparky Noodle could not have been more helpful, delicious and beautiful. We ordered cupcakes and pies plus a wedding cake and had them delivered to our venue 2 hours "up north"--in Gladwin, MI. Sparky Noodle worked with us to create the perfect combo of desserts for our... Read More wedding. We ordered gluten free cupcakes and pies due to multiple family members with gluten allergies and no one could tell the difference between the gf and the regular. I definitely give this business 5 stars-- working with the owner Melissa was a breeze.
---
Mrs. Scott
Reviewed on

7/07/2015
Rachel R
My cake was beautiful, and tasted amazing. They did exactly what I asked for, absolutely BEAUTIFUL.
---
Reviewed on

2/13/2017
Brittany B
Melissa and the team at Sparky Noodle created the wedding cake of our dreams - both in look and in taste! We have received so many compliments from guests who remarked that it was "the best cake ever!" We would highly recommend them to any future couples planning a wedding!... Read More -Brittany and Alex Fike
---
Reviewed on

10/25/2016
Marjorie H
We can't express how much we loved our cake from The Sparky Noodle Bakery. As a bride with celiacs I was expecting to be very limited with selection, but we had a great time at our tasting! We were able to bring my mom, they had several gluten free cake options for me to try... Read More (as well as regular cake for mom and my then fiance) and so many delicious fillings as well as frosting. They worked with out pintrest images (ranging from actual cakes to paintings) and created the exact idea we were going for. They are professional, friendly, attentive to detail, masters of flavors, timely, and organized. More importantly they are artists and our cake was a huge hit! Thank you Sparky Noodle! Although we live in DC we look forward to coming back to the bakery when we visit my family in Michigan to pick up some more baked goods!
---
Reviewed on

4/17/2016
I had a birthday celebration in honor of my grandmother. I bought a cake from this venue, this cake was awful. I did not hear anything nice about this cake. All I heard was how dry it was and bland. I saw numerous pieces of uneaten cake around the room. I would highly... Read More caution you, this was a terrible experience. Regretfully Submitted.
---
Yummy!
Reviewed on

10/03/2015
Kerry A
Delicious cupcakes and beautiful display!
---
Reviewed on

10/01/2015
Abby L
We used Sparky Noodle Bakery for our wedding and it was fabulous! We did a cupcake tower with a two tiered cake on top. I am gluten free so we had them make the cake gluten free and the cupcakes regular. Melissa did such a fantastic job I highly recommend her! The gluten free... Read More cake was delicious and I heard the cupcakes were wonderful as well. The entire tower was breath taking and it truly was my dream wedding cake! You won't be sorry if you have them make your cake!
---
Reviewed on

8/25/2015
Cristina M
Our cake was amazing! My Husband and I had so many compliments from our friends and family about how delicious it was. Melissa did a fantastic job making our cake exactly what we wanted. Sparky Noodle Bakery is a must for any occasion :)
---
Reviewed on

7/30/2015
Ashley J
We had a great experience with The Sparky Noodle Bakery. Not only does Melissa know what she is doing, but she also loves what she is doing which makes a big difference. Before our tasting we picked out a couple of cakes that we wanted to try (Key Lime and Coconut--so good; red... Read More velvet and cream cheese- delicious, and lemon pound cake with raspberry curd- amazing) and Melissa also let us try some of her more popular choices. As soon as we tried the banana cake we knew we had found the perfect cake! We got it with salted caramel filling and it was to die for. Our cake was gorgeous and everyone LOVED it. All of our guests said something about it--many said it was the best wedding cake they've ever had! Thank you Melissa and the Sparky Noodle Bakery for making our day so special and for making such an incredible cake! Ashley and Jake LeCureaux
---
Fantastic Experience!
Reviewed on

7/29/2015
Nicole S
The Sparky Noodle Bakery provided a BEAUTIFUL and delicious cake for our wedding at Cherry Creek Golf Club. Everything from the extensive tasting provided to the personalized tweaks to our cake exceeded our expectations. Melissa is extremely creative! She came up with a rope... Read More fondant border to compliment our subtle country / Western theme. You can tell that she has a huge passion for baking and it shows! As someone who is very organized, the attention to detail I saw was very impressive. Melissa and I went back and forth over email discussing the mockups she provided, until we got the perfect design. As for the cake, I have never tasted anything more fabulous-- and I am a HUGE sweets lover!!! We went with the butter cake with Nutella buttercream -- can you say WOW! Many of our guests commented on how amazing it was! We also had our bridal shower cake done by them as well, which was also incredible! I would go back to them in a heartbeat for any cake I will ever need in the future. You cannot go wrong with The Sparky Noodle Bakery!
---
Excellent Experience at Sparky Noodle!
Reviewed on

10/30/2014
Hannah W
The Sparky Noodle Bakery did an excellent job making my wedding cake, as well as an assortment of miniature desserts for my wedding. Melissa, the owner, is friendly, professional, and easy to work with. She worked hard to understand exactly what I was looking for and did an... Read More excellent job making my wedding cake (and the miniature desserts for our dessert table) look and taste exactly how I wanted. The cake tasting was a great experience; we were able to sample a variety of cakes, fillings and frostings and ended up deciding on different flavor/filling combinations for each tier of my four tier cake. Melissa was very prompt in responding to all my correspondence, and she did a great job coordinating the setup and arrangement of our cake and dessert table. Many of our guests specifically mentioned how beautiful and delicious the cake and other desserts were. We felt that that the value was excellent for the price and couldn't be happier with how our wedding cake/mini desserts looked and tasted! Based on our wonderful experience using The Sparky Noodle for our wedding, I will definitely use them for other events in the future.
---
If you want the best, this is the place for you!
Reviewed on

10/29/2014
Melissa was absolutely amazing! My wedding cake design was admired by everyone who had the pleasure of viewing it. The flavors were impeccable and my mouth is watering just thinking about it. Needless to say, I will definitely be using Sparky Noodle for upcoming events.5 star... Read More all the way!
---
Tiffany Blue Box Wedding Cake
Reviewed on

9/08/2014
Wendy G
My wedding cake was beautiful! It was a Tiffany Blue 3 tier box set with white fondant bows. The cake was moist and the flavor was lemon with rasberry filling. I saved the top tier piece and stored it in our freezer for our Anniversary! Thank you Sparky Noodle for your... Read More professionalism and creativity: we look forward to ordering more baked goods from you... All the best, W.M.G.
---
Beautiful job
Reviewed on

9/03/2014
Rebecca B
Melissa made the cake exactly as I expected, and she was very easy to work with. Unfortunately, I didn't get a chance to have any cake on my wedding day, but I'm sure it was just as good as it was when I did the taste test.
---
Love Sparky Noodle Bakery!
Reviewed on

8/14/2014
Meghan C
We had a wonderful experience using Sparky Noodle Bakery. Melissa is amazing! She even let me add on a surprise grooms cake just a week and a half before our wedding date. The cakes were delicious and looked beautiful!
---
The wedding cake of our dreams!
Reviewed on

8/05/2014
michelle m
Hello, Sparky Noodle Bakery went above and beyond my husband and my expectations! Melissa was a delight to work with. From the cake tasting to the final touches on our cake, she helped make our fairy tale come true. All of our guest were in awe of the presentation and taste... Read More of our cake. If you are looking for a fantastic baker look no further!!! Sparky Noodle is a must!
---
All around fabulous!!
Reviewed on

7/28/2014
Catie I
The sparky noodle bakery did an amazing job on our wedding cake, it's been 2 weeks and I'm still talking about how perfect our cake was :) I was frustrated with how much other bakeries were charging for the wedding cake I wanted, so when I came by SNB, and the price was perfect,... Read More I had to give it a shot! Melissa was very nice at our tasting, and everything tasted good, it was hard to decide what flavors to pick! I was SOOO happy on my wedding day when I saw how amazing the cake looked! And then all night/ the next few days all of our guests were telling us how great it tasted and asking what flavors it was! (We did banana with peanut butter filling and almond with chocolate filling). It was super moist and tasteful! The cake was there on time, set up perfectly, and communicating with Melissa before hand was very stress free! I would hands down recommend this bakery to any bride!!!
---
Beautiful & Taste great
Reviewed on

7/03/2014
Melissa G
Our wedding cake was beautiful and exactly what we described to Melissa. (she took the time to sketch out the design). She did an excellent job displaying the cake at the reception and we received numerous complements not to mention IT TASTE GREAT! you will be happy; we were!... Read More Thank you
---
Wonderful wedding cupcakes!
Reviewed on

5/19/2014
Amanda D
The Sparky Noodle Bakery made absolutely delicious cupcakes for our wedding, as well as a small personal cake for us to cut and have our cake topper on. They were wonderful to work with and made beautiful, fantastic cakes. We had a number of guests who wanted to know where they... Read More could get more cupcakes for their own orders. My only regret is that during all the craziness of our wedding reception, I didn't get to eat more cupcakes (we had four different flavors)!
---
Wedding Cake & Cupcakes
Reviewed on

9/22/2013
This bakery really cares about what they do. Everything I ordered came out perfect in looks and flavor. I will recommend this bakery to everyone I know.
---
The cake was perfect!!
Reviewed on

9/09/2013
Melissa at Sparky Noodle used my daughter's wedding dress as her inspiration for the cake. It turned out better than we expected. All night we were getting comments, "how did she do that", "the cake looks just like her dress". We were not only thrilled at the presentation -... Read More but the taste was amazing!!! We had a hard time choosing the flavors because they were all so good!!! Thank you Melissa for being a part of Jessica and Josh's Wedding Story!!!
---