Home

The Talented Photographer - award winning photography.
About this Vendor
Beautiful artistic/candid magazine-level photos.
Hello! My name is Christian a.k.a. "The Talented Photographer". I've been doing photography for many years. I am passionate about it and I simply love shooting weddings, editorial and artistic work. I love to fully collaborate with my clients and I consider myself pretty easy-going. My style is pretty rounded... it's traditional, artistic, and documentary. You get the best from all worlds with me. I also make things simple and fun and you will enjoy your wedding day with me. I must say that whether you're camera shy or not, I promise you will get amazing photos. I know how special your wedding day is for you, and I want to capture all the emotion while documenting your event as a storyteller. Make sure to check out my website since I have more work there! :)
Details
Artistic, Classic, Documentary, Dramatic, Lifestyle, Modern, Vintage
Bridal Portraits, Day After Session, Engagement, Trash The Dress
Getting Engaged, After Party, Rehearsals + Parties, Wedding
Destination Wedding Packages, Destination Weddings, Digital Files, Online Proofing, Photo, Printed Enlargements, Printed Proofs, Same-Day Edits, Second Shooter Available, Social Media Sharing, Wedding Albums, Photo + Video


Reviewed on

11/30/2017
Crystal L
All I can say is that every question I had over a 10 month span before my wedding was answered. They were willing to work with my budget as well as offer two photographers for my wedding. They were professional and experienced. I liked the laid back vibe they brought to my... Read More wedding and willingness to work with areas and poses we wanted. They were great at giving direction and working with a vision. I can't wait to see some of the final proofs as well as all the photos in general!
---
Reviewed on

11/09/2017
Elisabeth A
Booked Christian for my wedding in October and I can't say enough wonderful things!! I got my pictures back and they are absolutely stunning. He captured so much emotion in so many of our pictures as well as got sooo many candid shots that turned out perfect! Normally I hate my... Read More picture taken but Christian made it very easy to feel comfortable in front of the camera. I am so happy that I have so many gorgeous pictures to reminisce on forever. Thank you Christian!
---
Reviewed on

11/09/2017
sheena s
Christian is an absolute rock star! We are so happy with our pictures. He took the time out to make over 1300 pictures look incredibly stunning, and all of which came together to tell a beautiful story of our wedding day. Christian's professionalism, light-hearted spirit, and... Read More attention to detail made everything that much smoother. His prices are beyond reasonable, and worth every single cent. Wishing him all the success in the world because he most certainly deserves it!
---
Reviewed on

11/07/2017
Grace A
Wow, I cannot sing Christian's praises enough! First, his down-to-earth attitude calmed down my jittery nerves. I do not consider myself as very photogenic where I almost dread having pictures taken of myself. I tend to just freeze and look awkward when I know a camera is on me.... Read More But Christian's fun-loving personality allowed me to let my guard down and be myself, which resulted in astoundingly beautiful photographs!!! His assistant Jasmine was wonderful as well! Second, he is great at adapting to his surroundings and circumstances. He flawlessly managed to get all of the family photos that I wanted before it started to downpour rain on us, just in the nick of time. With how large my family is and with many little kids, this was definitely no small feat. My family is full of goofy, over- the-top personalities and that became very apparent on the dance floor. Christian and Jasmine captured one-of-a-kind photos that make me smile looking back at them. Last but certainly not least, he definitely lives up to his name of "The Talented Photographer"! He is unbelievably talented and his gorgeous photos are proof of that! I cannot stop looking at our wedding photos as they keep getting better the more I look at them! His attention to detail surpassed all of my expectations! If there is still any hesitation, please do yourself a favor and book him now before it's too late! You will definitely not regret it! I highly recommend him to everyone! Thank you SO much Christian and Jasmine for giving us lifelong memories through your photos and for embracing my crazy family! lol Best wishes!
---
Reviewed on

11/01/2017
Katie a
Amazing!!! oh my goodness!!!! seriously!!! check out his website and book him! you will not be disappointed!!
---
Reviewed on

10/31/2017
matt g
Excellent photographer. The entire wedding party actually had a blast with him!!! He was such a cool dude.
---
Reviewed on

10/31/2017
melissa s
We couldn't be happier!!!!!!!!!!!!!!!!! grab him if he is free for your date!! you will not be disappointed!!
---
Reviewed on

10/31/2017
Estefany D
We were very lucky to have him. A true professional and master of his craft. We highly recommend him.
---
Reviewed on

10/31/2017
Carla G
He was very kind and outgoing. Our entire family loved him. We received very beautiful photos!!!!
---
Reviewed on

10/31/2017
robin s
There are many photographers out there. A lot of people can simply buy a camera and take photos. To find good, talented, real artists and masters in photography is actually pretty hard. This is one of them. WE COULDNT BE HAPPIER.
---
Reviewed on

10/31/2017
estefany D
An amazing photographer. We adored him. Now he is also our good friend... we couldn't be happier with the photos he provided. <3
---
Reviewed on

10/31/2017
Kara G
We are a very picky couple. After hours and hours of searching we came to the conclusion that this was probably the best photographer out there. His work is truly incredible. A master in photography.
---
Reviewed on

10/31/2017
cesar G
I found this photographer through a friend of mine and I just couldn't be happier with the pics he gave us. I feel like he captured and documented the wedding so well. He is very artistic but also very candid. I would hire him again in a heartbeat.
---
Reviewed on

10/31/2017
Olivia s
He photographed my daughter's wedding. Not only were his artistic shots pretty amazing... like the portraits... but the candid and dance shots were soooooo incredible and fun!!!!
---
Reviewed on

10/31/2017
Shelby s
He was very kind and outgoing. My photos were just great! I can't thank him enough.
---
Reviewed on

10/31/2017
Olivia G
This was the photographer for my daughter's wedding. He was AMAZING!!! The photos were absolutely unbelievable. They were able to capture the personalities of the people they photographed. Seeing the photos weeks later made me feel like we were experiencing the party all over... Read More again!
---
Reviewed on

10/30/2017
jasmine c
At first we thought we couldn't find this quality in this price range... but it was him!!! get him before he blows up! we are very thankful for his hard work and patience! amazing photographer.
---
Reviewed on

10/30/2017
estefany D
Very professional and outgoing. What matters the most is the memories... and he did an amazing job at capturing them. I am so happy... everyone is so happy. Two of my bridesmaids will hire him! Incredible. Go for him!! worth it!
---
Reviewed on

10/30/2017
sofia s
Our photos are so fun to look at! I highly recommend him. wow! mind blown.
---
Reviewed on

10/30/2017
cesar g
Impressive. Amazing. Our photos were incredible! we are so happy! He was also so easy to work with and the guests loved him!!
---
Reviewed on

10/30/2017
sofia s
I thought I couldn't find this level of work in this price range... and I did. I am so freaking happy! wow. My photos are incredibly fun to look at and my entire family and friends are raving about them!
---
Reviewed on

10/30/2017
estefany d
This person was very charming and his charisma made the photography experience of my wedding very comfortable. I highly recommend!!
---
Reviewed on

10/30/2017
Jasmine c
Excellent photographer. One of the best in the country hands down.
---
Reviewed on

10/30/2017
Shelby s
Planning a wedding can be stressful. The day of your wedding can be stressful. Having a photographer that knows what he is doing with great direction in a hectic day is seriously such a plus +++++++ so many cool points for him. Loved my photos.
---
Reviewed on

10/23/2017
Tory C
We could not have asked for a better photographer. Christian was AWESOME! He was super friendly, professional, and has such a distinct and gorgeous photography style! Every picture (and he took a lot!) is a work of art and can stand on its own. He captured everything and then... Read More some on our wedding day. We are very grateful and highly recommend him to anyone!
---
Meet The Owner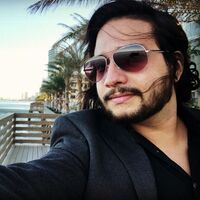 Christian Saab
Hello, my name is Christian. I am "The Talented Photographer". About me? well, I love photography, I have so much passion for it. It all started when I studied film production in college. I started to research cameras and photography more and more and I ended up mastering it. I finished my degree and worked with renown photographers and cinematographers in the industry. Dedication, practice, and a lot of reading got me where I am today with my work. I also produce films, commercials, and music. I never stop learning, and I never stop creating as an artist. Thank you so much for reading :)