Home

The Troutdale House by the Sandy River
About this Vendor
The perfect place for your wedding and reception!
Have your wedding ceremony and reception, at the beautiful Troutdale House by the Sandy River. Enjoy the cozy and rustic charm of this historic property surrounded by the spectacular Sandy River and Depot Park. We are located in Troutdale.
Amenities + Details
For more details about amenities, please message the Venue.
Contact Info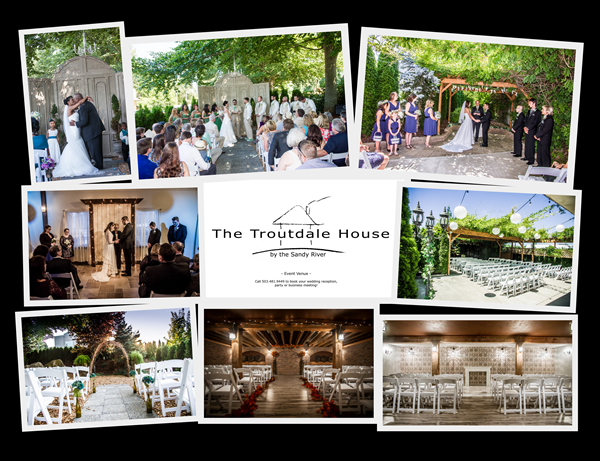 411 East Historic Columbia River Highway, Troutdale, Gresham , OR
Perfection
Reviewed on

3/13/2012
Adreana B
This venue is already decorated beautifully (felt like home) and they were very reasonably priced. Laura, the owner of the venue, was very flexible and had lots of great advise to give us. We were able to buy our own alcohol and choose any caterer we wanted so we could stay within our budget. I am SO glad we held our wedding here. It was absolutely perfect.
---
Wonderful Place to Great Married!
Reviewed on

12/29/2011
Betty F
The Troutdale House is not only a great place for a Wedding but after My Daughters Wedding, I can see that it could be used for any type of party or get together! The Help there was great and stay all though the wedding to make sure that every thing went will!! A beautiful place to have pictures also!
---
Great venue!
Reviewed on

12/27/2011
Alex B
My husband and I are so pleased with our experience with Martin and Laura! They were so helpful from the first time we toured the venues to the fifth time we walked through with our planning crew. They were so great about letting us come walk through and plan out how we wanted to decorate and letting us come through with our florist so she could fit her vision to the reality of the venue. We were worried that it would be awkward having the reception split upstairs and downstairs but it ended up being so nice having a downstairs! We hired a few babysitters and got some crafts to create a children's area downstairs and the game area was great for the teen/young adult crowd. Our other concern was the size of the dance floor but we actually ended up enjoying having it be rectangular because we were able to use in numerous ways. One great bonus was being able to bring in our own food and drinks. After touring numerous venues we truly realized the benefit of this. In fact, our cost for the space rental and food/drinks was less than many of the other venues food and beverage minimums. (My dad has a few chef friends who offered their services so we saved a lot there) I would definitely recommend this venue to friends who are getting married.
---
Reviewed on

5/05/2015
Erin K
We were married in April 2015 and we loved the all inclusive feel to the Troutdale House! The initial price tag was a little higher than some other venues we looked at, but we more than made up for it in not needing to do any additional rentals (tables, chairs, and tablecloths are all included). We've both been a part of so many weddings that end up being lots and lots of work for the bridal party and guests (we've all had to take down christmas lights from a ceiling at 12am or roll away tables to a distant closet), so I wanted something as easy as possible for my family and friends. That's the Troutdale House! The venue is booked for 10 hours that day, and you can buy more hours. Included you get a wedding day manager with extra staff, all the tables and chairs and tablecloths you need, and they do all the set up and tear down (bonus!!!). They will also let you bring in any caterer so you don't spend the rest of your money on an expensive "venue approved" caterer list. From the very beginning the staff were professional and friendly. If I had questions they would get back to me right away, and they had answers for everything! It was supposed to rain on our day, and had poured all day the day before, but it was sunny that morning so they set up for an outdoor ceremony anyway (which we had discussed before hand). The only thing that went wrong was the speakers for the downstairs portion did not work, which we were told they would. So anyone downstairs couldn't hear emcee announcements or toasts. Not a big deal for us, but could be for somebody else. If you book I would ask about this specifically. I would highly recommend the Troutdale House for anyone, but it especially for anyone with a large guest count looking for an indoor venue.
---
Perfect venue= perfect day.
Reviewed on

10/04/2013
Ariana M
The Troutdale House is incredibly beautiful, with so many sweet spots for both fun and romantic pictures. The wedding coordinator was extremely helpful and I never realized how much I would want that calm, knowing presence until our rehearsal when she showed up and took care of everything. My family was able to leave less than an hour after we did, as the Troutdale crew took care of all the cleanup as well. It was a wonderful day and I couldn't have imagined a more perfect place to get married. I have nothing but good to say for them.
---
Love at first sight
Reviewed on

9/16/2013
Ann
I fell in love with this venue the first time I saw photos on their website. When my fiance and I went and visited, we were very impressed with the owners (a couple) and with the venue itself. It was perfect for us! The location is stunning. There are now multiple locations on-site where you can choose to have your ceremony. We chose the new Bridal Park, and used the end with the wooden-covered archway. The venue is very beautiful as a background in our wedding photos. I took one star away from my overall rating due to what I felt was a lack of attention from the on-site coordinators during the wedding, particularly the reception. I think our expectation of the assistance we were going to get from the coordinators was higher than what we actually received. We certainly take responsibility for this... but it was disappointing nonetheless.
---
Princess Perfect!!
Reviewed on

8/21/2013
Joanna E
I had so many questions and Laura the owner was always so nice and responded quickly. She let me come out to see the venue anytime I wanted or needed. Not only is it a beautiful venue, they provide the flowers, table cloths, center pieces and some extras. I really feel that our wedding was meant to be there. That any other place would not have been as perfect. It may look small, but we has 200 guests and it was more than big enough!! :) I loved having our very special day at the Troutdale House! Especially with such a Special couple. Thank you Martin and Laura!!!
---
Our Dream Wedding
Reviewed on

6/09/2013
Cynthia G
My husband and I looked for the perfect place to get married and hold our reception. Once we found the Trout dale House we knew it was the perfect place for our special day. Laura, the owner, is so incredibly sweet and has thought of everything. The price was very reasonable for all that was included huge bridal suite, lots of room to dance, plenty of comfortable seating for guests, game tables for the kids. Everyone said they loved our wedding and thought the Troudale House was perfect. The wedding coordinators was absolute angels, they made the day run smoothly and calmed my nerves, with everything taken care of for the day. It was truly the wedding of our dreams!
---
THE ONLY PLACE TO GET MARRIED IN OREGON!
Reviewed on

10/27/2011
Tiffany A
No bride wants to plan an outdoor wedding and then have the ONLY day the whole month that it rains be your wedding day. All I can say to that is THANK GOD for the Troutdale House! From the moment I saw it, I knew it was the perfect venue. My husband and I were planning and paying for everything ourselves, and the Troutdale House was perfect. Then when I got to my rehearsal time and Kim was there... It made my day! I thought we would have to do the run through all by ourselves, but she made everything go smooth. Then there was waking up to the rain... The pouring rain.. Everything was moved inside, and no one missed a beat! Kim set everything up perfect and was SO helpful with everything! SHE WAS AND IS AMAZING! I never saw the few kids at the wedding because they were playing downstairs on the Fosse Ball, Air Hockey, or pool table (with parental supervision). I was lucky and smart enough to book Laura's husband Martin of Martini Photography for my photographer, so I also had them there helping and making sure everything went off without a hitch! I am actually happy we moved everything inside... Walking down the stairs and seeing my husband waiting for me... The best feeling ever. If you are a bride and want the perfect venue... THIS IS IT! Inside or outside... The Troutdale House By The Sandy River is just PERFECT! Thank you Kim, Laura, and Martin! Tiffany and Forrest
---
Best venue ever!
Reviewed on

10/16/2011
Rachel P
I could not have asked for a better place to have my reception! We have the best pictures from the river and train station. Laura was a great host, very professional!!!
---
Wedding!
Reviewed on

9/21/2011
Christina S
Laura is amazing. This venue is awesome! They let you bring in all your own vendors, so you are not forced to use a vendor that you might not want. Overall, the experience was wonderful.
---
Labor Day Weekend Wedding
Reviewed on

9/21/2011
Nikki B
Brides stop looking!! The Troutdale House has so much to offer at a get price. My ceremony was in the court yard with an indoor reception. The only decorations I had to buy was wedding party flowers! They have silk center pieces, white linens and the space is beautiful on its own that we didn't feel the need to flare it up! Laura and Kim were so responsive and I loved working with them!! Make an appointment and take a look!
---
Aug. 19 2011
Reviewed on

9/03/2011
Jessica S
I loved my wedding. It was awesome.
---
Amazing wedding at the Troutdale House!
Reviewed on

4/05/2011
Liz M
We had our wedding at the Troutdale House on 3/19/11. It was the most amazing experience we could have asked for. Laura, the owner, was there with her photographer husband and so they still had another staff person on site. The place was completely ready for us when we arrived for the rehearsal as well as the day. Laura was so sweet and helpful and gave us great vendor ideas as well as ways to use the space. Everything turned out perfect! The value for what you get in terms of all-in-one location and hours of rental is unmatched. My husband and I could not have chosen a better venue! Go check it out today!
---
This was my backup plan
Reviewed on

4/03/2011
Cecilia H
The Troutdale House is a wonderful idea. I met the owner and had a tour of the facility. They include a lot of things in the wedding package and the big draw is that you can bring your own food and not be tied to any specific caterer if you wanted. It was our second option but we decided to use a church.
---
A Gem in the Gorge at a Pauper's Price!
Reviewed on

1/12/2011
Melissa S
My husband and I were married at the Troutdale House this winter, and it was wonderful. They have a ton of extra features included in their price. We didn't have to pay a cent more for linens, tables, chairs, a chunk of the decorations or even the archway! The main floor served as the ceremony and reception area, with a lovely bar, lots of room in the kitchen and a separate room for the buffet. The basement, with its pool tables and Foosball was a nice place to herd guests during the changeover. It even has a great groom's room down there. The attic is accessible two ways - from the outside and the curving stairway onto the main floor. The entire space is the bride's room. For what we paid I was amazed at everything that was included. There are great places to take pictures or even hold your ceremony outside. I was very pleased... I loved our wedding! The only notes I would add would be to make sure you bring all the kitchen stuff you need (i.e. towels, dish soap, sponge for dishes, serving and prep spoons, knives, etc.) as the place doesn't have any. The owner, Laura, was always wonderful for us. If her assistant is the one helping you on your big day, you need to give her a bit of a shove out of the office where she likes to hide. My mom was really working herself up about not being able to find the mirrors for our table decorations and it wasn't until we knocked on the closed door that we even knew she was in there. We hadn't seen her for five hours! But those were only two little things, and now you know! I really do highly recommend this venue. My wedding was everything I dreamed it would be, and the venue played a lovely role in that.
---
Best Day!
Reviewed on

10/28/2010
Caitlin T
Our overall experience was wonderful. We rented the space on Sunday October 10, 2010. We had options for outdoor or indoor ceremony, and in Oregon that's a great thing. I originally wanted an outdoor ceremony, but the weather didn't cooperate; it was great to have the back-up plan. We brought in our own food, liquor, cups, plates, serving ware, utensils, ect. You name it, we brought it with us. We weren't bound to any catering minimums, or alcohol pricing. It was great! And, not to mention, it was a BEAUTIFUL location. I couldn't have been happier with the wedding. On site they have wonderful bride and groom "getting ready" rooms. The bride's room comes complete with a steamer for the gown and the girls dresses. The boys comes with a pool, Foosball, and air hockey table. It made the day so much less stressful. The only negative I have to share is the person working the day of wasn't the owner. It was someone else who hadn't worked very many weddings. She tried really hard, but didn't have a lot of answers or ideas. I would have liked to have seen the owner there on the day, but duty calls :) Overall, it was a wonderful experience!
---
Great venue
Reviewed on

10/05/2010
Jennifer S
I just had my wedding here in Sept. It is a great place for an indoor or outdoor ceremony & reception. The only draw back is the decor is a bit dated. Otherwise I loved that we could bring in our own food, alcohol, decorations, etc. Laura who runs the venue is a great help, very friendly & easy to work with. I would recommend this place to anyone looking for a romantic and affordable place to say their "I do's"!
---
A Wonderful Place to Get Married
Reviewed on

5/27/2010
Brianne O
I could not be more pleased that my husband and I got married at the Troutdale House. Everything was perfect. Laura, the owner, was very easy to work with and very accessible by phone or email, a plus for busy brides. The staff member that helped us on the day of the wedding, Sarah, was a great help in setup and details. The venue itself is gorgeous with great places for both the ladies and the gents to get ready. It even has a foosball table and pool table for the guys to spend their time while waiting for the girls to get ready. The main floor is beautiful with old hard wood floor and beams. There were many outdoor spots for beautiful pictures. I was worried about the trains (the tracks are right behind the building) but I can't say I even really noticed one train on the day of our wedding. In actuality, some of my favorite wedding pictures were taken with us standing on the train bridge! In the price you get 10 hours on your wedding day so you're not rushed to set up. You also can bring in any vendors that you want, which seems to be rare in wedding venues. I could not have seen myself getting married any place other than the Troutdale house. Go check it out, you won't be sorry!
---
Send Message