Home

The Wedding Theater
About this Vendor
Fine Wedding Films
The Wedding Theater is a full-time wedding film production company based in Austin, TX. TWT specializes in high energy, artistic wedding films based on live events for the modern day bride and groom. Visit our website and contact us for info on our Holiday Wedding Package Specials through Jan 1!
Details
Getting Engaged, Rehearsals + Parties, Wedding
Destination Weddings, Online Proofing, Digital Files, Photo, Social Media Sharing, Full-Length Video, Video, Photo + Video
Contact Info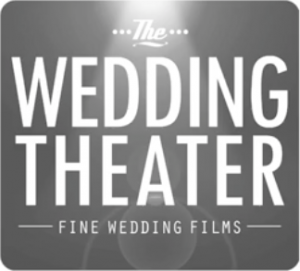 8711 Burnet Road, Austin // Worldwide, TX
Available Worldwide
Destination wedding DREAM VIDEO!
Reviewed on

10/23/2011
Amy M
The Wedding Theater was my first and only choice for my 7 day destination wedding week in Maui, Hawaii. The film team took time to meet with me prior to the trip, find out our goals withthe video and make some fun suggestions. They flew out with our entire group 5 days prior to the wedding and captured every single important part of our week from the take-off, to the plane ride (8 hours!) and were there for the welcome luau, catamaran rehearsal dinner, day of event, and took some amazing scenery video that we could not even imagine getting on our own. They were extremely profession, open to filming everything and attended everything with amazing equipment. They were up before the sun, and filmed til wee hours of the night! My ceremony was captured beautifully and all the fun details were added in as well. The turn-around time for our at-home reception was truly remarkable and the music selection for the video was great! I would recommend this over any other wedding vendor service, and would HIGHLY recommend you choose the Wedding Theater for your hometown OR destination event. It will be the best investment to your wedding and you will be glad to have sucha fun, professional, well-equipped and respectful crew! **I never even realized they filmed half the stuff they did! Amy Pylant 9.8.11 (Maui, HI)
---
the best.
Reviewed on

11/14/2011
Lana P
This team of guys is awesome... they were so fun, kind & professional, and were never "in the way" on the day of our wedding. They were always prompt and professional in responding to e-mails and helping us before AND after the wedding. They edited our video as we requested. Their work is exceptional: blissfully emotional and beautifully captured. We are so happy with our video... we love how they blended different parts of our wedding to play back and forth in a touching & artsy way. It was the best decision ever to use them!!! So very thankful....http://vimeo.com/31923216 (pass: 1023)
---
Best of the Best!
Reviewed on

10/20/2011
Natalie K
I was a bride last year and I work in the wedding industry here in Austin. I am so overwhelmingly happy that I chose The Wedding Theater to produce my wedding video. Before I was in the wedding industry, I worked in video production - so I knew I had to choose the best of the best for this particular service... and I am confident that I did! They were easy to work with and FUN FUN FUN! My mom even said that Jonathan and Matt were the most professional of all my vendors she worked with in planning my wedding. The editing and quality of the video are superb/top of the line. Watching it still brings tears to my eyes. It truly is the best way to remember all of the amazing moments from our special day. I can't wait until we have kids old enough to watch their mom and dad dancing at their wedding...
---
Outstanding company!!
Reviewed on

11/06/2014
Ashley G
We absolutely loved working with TWT!! They were truly the perfect vendors for our big day! They captured our day perfectly and made it feel like the cameras weren't even there. We love our video & the guys at TWT!
---
What a wonderful company
Reviewed on

10/10/2014
Scott W
Matt and his crew at The Wedding Theatre were wonderful to work with. They were courteous, professional and responsive to our wants and needs for our wedding day. Matt even went above and beyond to make sure even my "off the menu" special requests were attended to promptly. I cannot say enough wonderful things about this company. Our final product was absolutely beautiful and I am so grateful that we will have these memories captured for years to come!
---
Something to treasure forever!
Reviewed on

9/13/2014
Stephanie M
We could not have been more happen with our choice to go with Wedding Theater to capture our special day. Our wedding trailer blew us away and lets us relive the best day of our lives whenever we want.
---
Just wonderful!!!
Reviewed on

4/24/2014
Jaclyn S
Picking a videographer was a last minute decision for my husband and I, and I'm so glad we went with the Wedding Theater!! It was probably the easiest part of the entire wedding planning process. Matt was great to work with, and they produced a product that wowed us and all of our friends and family. When we posted our wedding trailer online, we had so many people that went to our small wedding say they had no idea we even had a videographer!! That's how under-cover they were! Overall an exceptional company, and I can't imagine anyone being disappointed. Brings you back to the day with all of the emotions more than the photos ever could.
---
Great Work
Reviewed on

9/30/2013
Brandi A
The Wedding Theater did a great job for us. We chose them based on the quality of the videos on their website, and our video was just as we pictured it. Their customer service and availability to us--via emails, in person planning meetings, etc.--leading up to the wedding was great. They were prompt and professional on the day while not interfering with the million other things we had to deal with. They were also great about delivering everything we asked for after the fact. My only criticism is the time it took to get our finished video. 4 full months is a little long to crank out a 15min video, (but I am biased because I also work as a video editor.) Nevertheless, they do great work and I would definitely recommend them to anyone wanting a good-looking wedding video with zero hassle on your end.
---
Best vendor hands down.
Reviewed on

9/02/2013
Jeaneen T
I came across The Wedding Theater via a trailer they had filmed for a couple at our wedding venue. It brought me to tears and I didn't even know the couple so I had to have them as our videographer. They were the one of the first vendors we contacted, even before a photographer, and I'm so glad that they were available for our wedding. They had to come in from Austin to the DFW area, but the travel costs were worth it. They arrived ahead of schedule, were in touch with us throughout the entire weekend and we not invasive during the wedding at all. They were so pleasant to work with before, during and after the wedding and the finished video is something I will treasure forever. After showing the trailer to family and friends, I get nothing but glowing compliments and disbelief that it's not from a movie -- that it is in fact our real, unscripted wedding. Matt and his team were great! I highly recommend them to anyone seeking a videographer. Well worth the cost. :)
---
just plain awesome!
Reviewed on

8/30/2013
Margarita J
The entire process from emails to get info all the way through the end of the editing process of our wedding video was seamless and stress-free. The entire team was super nice and professional. When we got a first edit of our video it was amazing- but we had some unique things at our wedding that I really wanted captured in the video. After writing a short email with the specifics they said no problem, put them in the video and a few weeks later got the final product. I highly recommend Matt, Jonathan and the whole TWT crew- they were definitely one of my favorite vendors to work with!
---
Professional people and PERFECT product!
Reviewed on

8/25/2013
Kim B
The Wedding Theater could not have been better! The team is professional, talented, and they genuinely care about delivering an outstanding video. They were so great to work with. They listened to everything we wanted, they were patient with our zillions of questions and they were seamless on the big day. I cannot stress how important it is to have great vendors on the day of your wedding and The Wedding Theater is first class all the way. Now, the best part-- the video!!! We sprung for the cinematic short film (about 6 mins) because let's be honest. No one aside from you, your groom, and the parents actually want to sit and watch the entire film no matter how well done it is :) The cinematic trailer is SO WORTH IT. It captures the emotion and the essence of the big day in a short and sweet film. The Wedding Theater was so awesome to work with! My husband and I are extremely detail oriented (ok, maybe a little picky too :) ) and there were a few shots we didn't love in the draft version. The Wedding Theater was super accommodating. All we had to do was tell them which shots we preferred and they made the changes without question. They also worked with us on the song. We loooooved the song they chose for the first part of the film but didn't connect with the second song as much. Not a problem at all. They helped us select a new song and then they reworked the video to match the new song. They never made us feel bad about being choosy. They always reiterated how important it was to them that we were happy. And we were!!! I would recommend them to anyone looking for an incredible videographer for their special event. We interviewed several vendors and I could not be happier that we chose The Wedding Theater. Wonderful team of people to work with and we have a incredible footage of our special day. Couldn't ask for more!
---
Thank You TWT!
Reviewed on

8/21/2013
Debra A
I hardly ever write reviews,but I wanted to do something to show how much I appreciated the work and effort of TWT, so after I saw my video I emailed Matt and asked what I could do to help them out and he directed me here to write a review. All I can say is that my video turned out amazing and I am so glad we had them to film our wedding day. From the point of our first contact to te delivery of my video the guys at TWT were professional, helpful and just plain awesome to deal with. Thanks Again TWT!
---
Outstanding Job
Reviewed on

8/21/2013
Leslie G
The Wedding Theater did an amazing job capturing our special day. I'm sure that most brides, that have a large wedding, miss a lot of what's going on. The Wedding Theater was able to capture all of those precious moments that I missed. My favorite was my 3 year old cousin and our flower girl(3 years old as well) dancing together. The Wedding Theater was also very accommodating. They kept their distance when necessary and were right there when we needed them. Our friends that have seen the short film that they prepared for us said, "it was like a fairy tail, movie." I would definitely recommend The Wedding Theater.
---
The Wedding Theater is the BEST!!!
Reviewed on

12/22/2012
Jacqui F
We absolutely loved working with The Wedding Theater guys! They were the most sweetest and professional videographers, and the quality of the video was phenomenal! If you want to have a beautiful keepsake for years to come, you owe it to youself to go with the Wedding Theater.
---
Simply The Best
Reviewed on

12/20/2012
Carrie D
I'm not long winded like some of these other folks, but The Wedding Theater was the best decision we made, and the films they made were perfect. Nothing else to say.
---
A must have!!
Reviewed on

10/28/2012
Heather T
Booking The Wedding Theatre is a must for your wedding!! They were the first vendor we booked and we absolutely loved them! They were very flexible and accommodating with both of our busy schedules. They were extremely professional and we hardly ever noticed them throughout the wedding day. When received our video, were were totally blown away by the quality of work. It was more than we could have ever imagined! They were worth every penny and I am recommending them to my friends that are getting married! They were most definitely worth every penny!
---
Once a Bridesmaid, Now a Bride to Be
Reviewed on

10/25/2012
sarah l
I remember vividly watching these guys working at one of my very best friends weddings and thinking "They really, really LOOK like they know what they are doing!" and wondering just exactly what the video was going to look like.... a couple of months later, my friend shared the video with me on facebook and I was sold! As soon as I got engaged I immediately went to their website (where I was blown away by many, many more examples of their amazing work) and emailed them and now I have them booked for my wedding! I will definitely be coming back here to finish up with a post-wedding review, but for now I will just say that our email correspondence and our meeting with them at their studio was amazing, and they have been very thorough and excited to get to know us. They already seem like old friends of ours.
---
TWT = Totally Worth iT.
Reviewed on

10/24/2012
Alice L
We were referred to the TWT team from a friend and grateful that we selected them to capture our wedding day. Every bride will tell you the day goes by so much faster than you will believe and these guys do an amazing job capturing all of the big and little moments. We were impressed with Matt's professionalism and Jon's creative spirit after the first meet and were ready to sign and go. Though there isn't a ton of pre-planning in the process, trust that these guys will show up with a professional crew, stay in the background when all possible and produce a film you will be so happy you decided to include in your wedding budget. We recently got to view our first cut and are ecstatic for the final produced film. They are respectful of your requests yet bring their creativity and editing talents to the mix so that there is surprise and delight in the end product. And since they shoot in HD, you are quite literally seeing your very special day as if it was watching a movie!
---
Fabulous!
Reviewed on

10/24/2012
Sarah P
The Wedding Theater was one of my absolute favorite vendors for my whole wedding. The video they made was so stunning, I can't even begin to explain how perfectly they got the details, placed the music, and gave such a full experience in the film. AND the dudes were the coolest and totally fit in with our drunken hot mess of a party, which was nice to not feel like there were strange outsiders enjoying our day with us. I can't recommend them enough!
---
The most important thing...
Reviewed on

10/24/2012
Kelli O
Hands down The Wedding Theater was something I HAD to have! AFter watching a video that had done at our location i knew they were the only cinematographers I wanted to capture our day! They were so discreet through out the night there were times when I was watching the video when I didn't realize that had captured that moment! The final product absolutely brought me to tears. Seeing our wedding day captured in such a way made me speechless. These people are seriously talented at what they do!!!! The quality of their work is beyond stunning and breathtaking! I am so happy that I have such an amazing keepsake of our wedding day to enjoy with family for generations to come! Thank ya'll so much!!!
---
Truly Breathtaking!
Reviewed on

10/24/2012
Michael & Katy W
I cannot even begin to describe how awesome the guys at TWT are!! The video they produced for my wedding exceeded my wildest expectations, and they were HIGH to begin with! TWT filmed my friends wedding last year and when I saw her "trailer" on Facebook, I called and booked them immediately! We met once before the wedding at their office, and went over all the details of the wedding. Once they arrived the day of, they were professional and fun. They worked extremely well with my photographer and for the most part, stayed in the background. If you are thinking of getting a video team for your wedding, PLEASE do yourself a favor and hire TWT!!!!!
---
Best Videographer in Austin (and beyond!)
Reviewed on

10/24/2012
Kristi T
TWT went above and beyond what we expected! They really knew what they were doing and did not feel like they were in your face the whole- yet captured everything so greatly! We cried through our video reliving the day!! We will watch it for years to come!!
---
THEY HAD ME FROM ..."THE GOLDENS WEDDING" - BEST O
Reviewed on

6/07/2012
Tessa R
The Wedding Theater filmed their very first wedding video for our dear friends, Jordan and Shelley Golden. Come to find out, Matt and Jonathan (The Wedding Theater), were good friends with The Goldens, who had also grown up with my, now, husband. Small world! I'll never forget the first time I saw their wedding video posted online to share with their friends and family. From the moment I pressed play, I knew when I married, The Wedding Theater would be a non-negotiable! I still remember watching Jordan and Shelley's video and feeling like it was some kind of fairytale movie. I attended their wedding, but seeing how their day, the moments, the "behind the scenes" played out on screen accompanied by beautiful music and editing, just blew me away! I couldn't believe how the team at The Wedding Theater had captured the romance, the laughs, the tears, the sweet and special moments; the pure essence of such a beautiful celebration like marriage the way they did on video - a video! I thought to myself, it's a completely different wedding - I couldn't have been there?! From filming the small details of decoration to the powerful exchanging of vows, the bride and groom getting ready to the honeymoon send off - I saw The Golden's wedding day story unfold into an even more magical and beautiful love story. I saw their big day in a completely different light. It was perfect! Needless to say, once it came time to begin planning my own wedding, The Wedding Theater was my first vendor written on my list, first to be checked off, and it's all a dream come true from there. I couldn't have had a more perfect team like the Wedding Theater to tell the special story of our wedding day. They capture the magic that is sometimes dulled by stresses and preparation on the day-of for a bride or groom - it's amazing! Just as their work is awesome, so are the guys! The guys felt like old friends and were so nice, especially patient! Their warm and friendly personalities are balanced with professionalism, creativity, honesty and quality. I am so thankful to have had such an awesome experience working with The Wedding Theater. I will remain a huge fan of their work and always pass their name along. They are the best of the best! So, to sum it up, after my long review... I am thankful a thousand plus times for the incredibly beautiful video the team created for us. I had a vision of how I pictured our wedding day video - my expectations were surpassed and seeing it all placed together perfectly captured all the emotions and happiness I felt that day. We are so thankful for all of their amazing work, patience, professionalism and abilities!! We couldn't have asked for our once in a lifetime kind of story to be told by any other team.
---
The Wedding Theater is a must
Reviewed on

6/04/2012
Mandy K
We could not have been any happier with the results from our experience with "The Wedding Theater." Our video is beautiful and truly captures every moment - every memory - from our special weekend. The video team was professional, a pleasure to work with and talented - they definitely know what they're doing. If you're planning a wedding in the Austin area - and want to hire a videographer - you will absolutely be thrilled with "The Wedding Theater."
---
Awesome Wedding videographer
Reviewed on

3/22/2012
Tina Y
We had a wonderful experience working with the Wedding Theater crew during our wedding last year. They listened to what we wanted both before our wedding and during the editing process. They created an amazing video for us. They are so much fun to work with and are truly professionals in their work.
---
Send Message