Home

Thuente Productions Videography - Starting at $1399
About this Vendor
WEDDING VIDEOGRAPHY STARTING AT $1399
Watch your wedding day SNEAK PEEK within 48 hours after your wedding! All of our wedding packages provide you with all of the major events throughout the day (Ceremony, Grand Entrance, Toasts/Speeches, Dances etc) in their entirety and fully edited while also providing a cinematic highlight video that encompasses your entire day! Pricing: ​4 hours - $1399  ​6 hours - $1800  ​8 hours - $2,200 ​10 hours - $2,500  ​12 hours - $2,750 ​ ​ ​ ​
Details
Classic, Documentary, Dramatic
Online Proofing, Digital Files, Photo, Same-Day Edits, Second Shooter Available, Social Media Sharing, Full-Length Video, Highlight Video, Video, Photo + Video
Contact Info

Reviewed on

3/25/2017
Justin H
Hands down the best videographer around!!! If you are looking for someone to capture your special day- Greg is the perfect match for you! He filmed my sister's wedding in 2013 and I knew that I would want him to film my wedding when that day came. He is extremely fun, very... Read More professional, and is so hard-working. He responds quickly to emails and goes above and beyond on your Wedding Day to make sure everything runs smoothly. He captured all of our favorite moments and all of the emotions that were shared on our day. His work is flawless! We will cherish our Wedding Video for the rest of our lives! Thank you, Greg!!
---
Reviewed on

10/28/2016
Jason M
Ill write what everyone wants to know first. GREG IS AMAZING! My wife and I cried when we watched our wedding video!!! I have no idea how he got the shots he did, I barely remember seeing him during our wedding... it could have been the alcohol though ;) My wife decided 2... Read More months before our wedding that she wanted a videographer. I looked around online but booking someone from Florida for a Minnesota wedding proved difficult. Using the knot I found Thuente Productions, and within 5 minutes of emailing I got a personalized return message. Greg was extremely professional and worked with our photographer on how they could coordinate getting the best shots together. He showed up early and starting working right away. If you are looking for someone who will capture your special day in a way that no one else can, Thuente Productions is for you.
---
Reviewed on

7/05/2016
Anna C
We could not have been happier with Greg and the whole experience from start to finish!! Greg was so professional, friendly, easy to work with and quick to respond. The price was so good compared to some of the other videographers we looked into, I wasn't sure what to expect but... Read More Greg was AMAZING! He led us through the day and informed us that he would follow our photographer to avoid "recreating" shots and he was so inconspicuous you would hardly have known he was there. The sneak peak video was up the next morning and he do such a great job capturing the day/emotion/experience. We would recommend Greg to anyone and everyone without hesitation!!
---
Reviewed on

2/01/2017
Ashley S
Greg was fantastic! He was so easy to work and was extremely professional. The highlight video was amazing and artistic. I was really impressed how he captured all of the little moments during the wedding and the important people who were part of our day. I couldn't... Read More recommend him enough! His wife, Ali, also did my make-up (Style Retaliation). They were a great pair to work with!
---
Reviewed on

1/30/2017
Nikki C
Greg was so great to work with! He is very easy going and professional. From our first meeting to the actual wedding day Greg was a delight work with. We got our wedding videos and love that he was able to capture our day beautifully. Both my husband and myself feel very... Read More fortunate that we have these videos from our wedding day for the rest of our lives to cherish. I have reconnneded Greg to friends and I will continue to do so.
---
Reviewed on

10/25/2016
Courtney J
Greg did an outstanding job capturing our wedding day! He was very professional and such a pleasure to work with. We received our video in a timely manner, and we are so pleased with the quality & content! Thank you, Greg, for giving us such a special way to look back on our... Read More wedding!!
---
Reviewed on

10/25/2016
Christopher F
AMAZING! This guy knows what he's doing. We feel so blessed to have the finished product of our special day. He captured moments I would have never remembered happened if not for him. His friendly smile added to our day and his amazing ability to capture our special moments is... Read More simply beautiful!
---
Reviewed on

10/25/2016
Greg was not only very professional but extremely friendly and made everyone feel very comfortable. He went above and beyond and exceeded our expectations. We feel so lucky to have this wonderful video in remembrance of the best day of our lives.
---
Reviewed on

10/25/2016
Laura B
Greg was amazing! Incredibly easy to work with, such a nice guy and we are in love with our video. We couldn't imagine a better experience or a better way to look back on our wedding!
---
Reviewed on

10/20/2016
Stephanie J
We are so happy that we picked Greg to be our videographer! After meeting him the first time, it was clear that he really cared about us and what we wanted and I had already watched some of his work so I knew technically he was great! And boy did he come through! We love our... Read More highlight video and the quality of the videos is astounding! He is a wonderful person to work with and he was very good at 'hiding' that you forgot he was even there! Thank you so much Greg! DJ and I are very happy!
---
Reviewed on

10/10/2016
Mollie S
We had no idea what to expect and really just wanted the candid and unforgettable moments. And Greg delivered. He was very easy to work with! His footage and overall production brought tears to our eyes after re-watching it. It is worth every bang for the buck and his pricing is... Read More the best around.
---
Reviewed on

10/10/2016
Matthew E
Greg was fabulous! He was professional and we couldn't ask for more him as he really made us feel special on our wedding day. The Videos are great and he had a Sneak Preview on Facebook the next day! Really cool. Thanks Greg!
---
Reviewed on

11/30/2015
Jenna S
Greg did such an amazing job at our wedding. He was in constant contact with us during our engagement and was very quick to answer any questions we had. It took about 2 months to get the video back and he did such a fantastic job capturing all the great moments from my wedding... Read More day. I highly recommend him.
---
Reviewed on

10/29/2015
Tony C
Greg did an exceptional job gathering various angles and perspectives that truly captured our special day! Greg was very personable, organized, and time efficient. I highly recommend his services, especially with his very affordable prices!
---
Reviewed on

10/28/2015
Greg was extremely professional and did excellent work with our wedding video. I am very glad we chose him to shoot our wedding!
---
Reviewed on

10/27/2015
Ashley M
Greg did an incredible job on our wedding video. He spent the entire day with us and blended into every scenario. You can tell he's an expert and has shot many weddings as he gathered footage throughout the day. He was also SO reasonable which was very important to us. He... Read More gave us a 5 min video of highlights to music in addition to the full coverage of the ceremony, toasts, first dances, etc. You won't be disappointed in his work and his price is outstanding!
---
Reviewed on

10/24/2015
Annie J
I honor Greg's gifted talent with Thuente Video Productions. You can feel rest assured with Greg, and trust that he will capture everything about your day in an exceptional way. Our wedding video is perfectly archived - true to who we are and what we have always hoped to know... Read More and remember about our wedding day. Greg pays close attention with the right eyes and ears to tune into every aspect of the magic you've created. You will enjoy working with Greg and be as pleased with the outcome as we are! Our families enjoyed and benefitted from our video too. Congrats and celebrate for years to come!
---
Reviewed on

10/23/2015
Greg was FANTASTIC! My husband and I were thrilled with the service he was provided for our special day. I think one of the main differences between Greg and some other companies is that he goes the "extra mile" for his clients. Greg is not only very professional and genuine,... Read More but he is also very passionate about his business and it shows! We don't hesitate to refer him to all of our friends and family who are in need of a great videographer!
---
Reviewed on

10/23/2015
Greg was absolutely fantastic! The process was easy and Greg was very flexible. He was on time, he blended in well, and he captured all the moments that we wanted to remember for the rest of our lives. Videography is not easy, I know from experience, but Greg made it easy.
---
Reviewed on

10/23/2015
Laura M
We are so thrilled with our wedding video from Thuente productions! It is the most special way to remember our day. Thuente was professional, prepared, and discrete. Every important moment and detail was captured perfectly! We will treasure our video forever!
---
Awesome!
Reviewed on

10/21/2015
Jodi S
We had Greg as our videographer and he did a fantastic job! He captured our day perfectly and we couldn't be more thrilled! He is timely, talented, and is reasonably priced.
---
Great to work with
Reviewed on

10/20/2015
Great guy and easy to work with. Accommodates special requests. Recommend!
---
You won't be disappointed!
Reviewed on

10/06/2015
Kimberly K
My husband and I are thrilled we chose Greg to capture our once-in-a-lifetime event (June 2015)! Greg was amazing to work with from the first email to the first meeting to the big day. On the day of the wedding, Greg arrived early to get everything set up and blended in as... Read More another guest. Members of our wedding party didn't even know we had a videographer until we showed them the video! The final product was outstanding. I cried the first time I watched the highlight video; it's my favorite part. You will not regret hiring a videographer, and you certainly will not regret hiring Greg. He's the best!
---
May 2, 2015
Reviewed on

7/01/2015
Jennifer R
We were very happy with Thuente Productions doing our wedding video. We hardly even knew he was there and we ended up with a beautiful video of our special day. He does a great job and the price is reasonable with an amazing outcome. We couldn't be happier. Thanks Greg.
---
Reviewed on

6/24/2015
Lisa C
I cannot say enough positive things about Greg! He felt like one of our wedding guests, but was also incredibly professional. I would highly recommend him to capture the special moments of your wedding!
---
Meet The Owner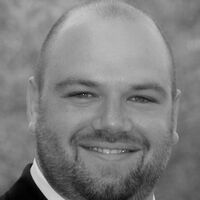 Greg Thuente
I have worked as a wedding videographer for over 8 years, and shot video at 150+ weddings. I pride myself on a strong commitment to excellence, while telling the unique story of each wedding day.