Home

Thumpin'
About this Vendor
Thumpin': Colorado's Favorite Dance Band
Thumpin' has been thrilling audiences with their wall of sound for years. They pride themselves on providing the best dance party for your wedding. Available in 11 piece or smaller configuration, Thumpin' is sure to leave you and your guests with wonderful memories and so much fun! Whether you need the full band for your reception, DJ, jazz combo for cocktail hour, or Jerry & Joy:Acoustic Duo for your ceremony, Thumpin' has you covered.
Contact Info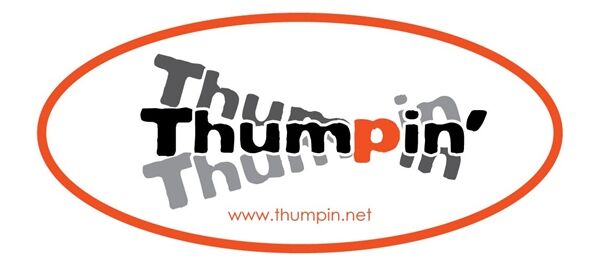 Reviewed on

10/11/2017
Ariel W
Thumpin was the BEST!! Their communication was super solid from day 1 and their performance was flawless on the day of. There is so much talent with this band. We met personally with Joy prior to our wedding and she was super friendly and flexible with our personal requests. I... Read More felt like we essentially put on a private concert for our guests, in addition to a wedding. Thumpin had everyone on the dance floor and no one wanted to leave, even after last call. They brought exactly the type of energy to our wedding that we wanted. With everything you have to worry about when planning a wedding, booking Thumpin automatically checks a major item off the list! We are still getting compliments from our guests on how amazing they were. As a perfectionist bride that went through a very intense planning process I would recommend them to anyone!!
---
Reviewed on

9/28/2017
Becky W
We hired THE BEST POSSIBLE BAND EVER when we hired THUMPIN' to play at our daughter's wedding! Thank you all for making the trip to Colorado Springs and for playing your hearts out for our special day. Each one of you could easily perform solo and fill up the room with your... Read More talent. We're glad you played "en masse" and that you provided that spark that entertained every guest as if they alone were the "Guest of Honor"!
---
Reviewed on

10/13/2017
Laurie R
Thumpin' recently performed for 700 guests at the Booklovers Ball, a black-tie gala benefit for the Denver Public Library, and they were awesome. The dance floor was packed until midnight, and many guests commented that this was the best band we've ever had. They were... Read More extremely professional and very easy to work with. Highly recommended!
---
Reviewed on

10/05/2017
January 10, 2017 So easy to work with. All my guests loved the music! Thumpin' did an amazing job at our wedding. They played fun, upbeat music that all ages enjoyed - I could not have picked a better playlist. Besides the great music, Thumpin' was incredibly easy to work... Read More with. Our venue was small and Thumpin' made the space work with no effort on my part. They worked directly with the venue to coordinate everything which eliminated so much stress during our wedding week.
---
Reviewed on

8/25/2017
Melinda A
Wonderful music, atmosphere, and people! This band is incredible and everyone at your wedding will love them regardless of age. They choose music that is fun, familiar, and capable of getting everyone up and dancing! I had them booked for nearly an entire year out from my... Read More wedding date and they were so easy to work with over the phone, email, and in person. They really, truly care about making your day special and fun!! Book these wonderful (and talented) human beings NOW! DO IT! Reviewer: Melinda Alvey Event Date: June 4th, 2017 Services Provided: Dance Band Rating: 5 out of 5
---
Reviewed on

8/25/2017
Lindsay K
But really, 10 stars. I cannot say enough about how amazing Thumpin' is. Not only as performers, but in working with them through the process of booking and planning for our wedding over this past weekend. I truly can't count how many people came up to us to tell how how great... Read More the band was and I know they were one of the main reasons we had people telling us it was the best wedding they had been to. They play a great variety of songs and their covers of today's hits are SO good! Joy, Bill and Jerry are absolutely wonderful people to work with and they provided excellent emcee services during the reception as well. They are incredibly responsive to emails and requests, and we would book them again 100 times over. We LOVE this band!! Reviewer: Lindsay Kaatz Event Date: July 29th, 2017 Services Provided: Dance Band Rating: 5 out of 5
---
Reviewed on

8/25/2017
Amy K
What MADE our wedding!!! WOW!!! Just WOW!!! Thumpin' is like no other band out there! Not only are they fun, talented, and amazing! They really are what MADE our wedding!! Of course the beautiful bride and groom helped. But in all honesty. This band worked with us from the very... Read More second we even contemplated hiring them. The day of was such a breeze, they really know what they're doing, and when they're doing it. If your reading this even thinking about hiring a band... just do it!!! Trust me this band is everything you're looking for and more!! Worth every penny! They made a huge effort to time everything appropriately with the wedding schedule. My wife and I could not be any more pleased with how special and amazing Thumpin' made us feel. We will forever and always keep a lil piece of Thumpin' in our hearts!!! Amazing!!! Amazing!!! Amazing!!! Reviewer: Shawn Bonham-Amey Event Date: July 8th, 2017 Services Provided: Dance Band, Wedding Singer Rating: 5 out of 5
---
Reviewed on

6/01/2017
Carmen K
Thumpin' rocked the house for our daughter's wedding! So many of our guests (several who are in bands themselves) were super complimentary about the talent in this group. Joy was quick to respond with any questions we had prior to the wedding and that day, they did everything to... Read More accommodate the requests of the bride and groom. When a band can get most of the guests on the dance floor, you know the night was a good one. I definitely recommend Thumpin'!
---
Reviewed on

1/19/2017
Samantha C
We were blown away by the bands performance at our Wedding. They simply made the wedding party and without them I don't think we would have had as much fun as we did. The ONLY regret I have was not getting a picture of my husband and I with the band to have that memory forever.... Read More However, the next time we get around to come see them we plan on buggin them all for a picture with us, I'm just 7.5 months pregnant so having really been able to catch a show. J Thumpin' will always be highly recommended by us! I loved that the band learned our 1st dance song which was not on the list of songs they perform, that was PERFECT!!! They played all the songs I requested, it's a night we will NEVER forget
---
Reviewed on

1/19/2017
Sam S
On behalf of the group known as "Thumpin", I would like to add my two cents worth, If you do not want a good time--don't hire Thumpin if you don't wanna dance all night--don't hire Thumpin if you want nice slow easy music--don't hire Thumpin BUT........ if you wanna rock... Read More it--hire Thumpin if you wanna laugh and sing and enjoy the moment--hire Thumpin if you wanna be sore from laughing with all your friends and dancing--hire Thumpin We first heard this band at our local Pub. Our daughter was getting married and we knew we wanted live music. When we heard them, we starting discussing how much do you think it would cost? Would they do it? Are they available? And as questions started coming out, we started thinking no way, too much, not available. So we made the call to Bill anyway. He called us back immediately and we knew they were the one. the business side was the least of our worries. The reception for our wedding turned out to be the best time most folks there, had ever had!!!! They included many of the songs that were requested. They can perform Latin, pop, old school, rock, without missing a beat! They continue to be a band that we go out of our way to go listen to and enjoy. The dance floor is always full and energy is high. I would and WILL hire Bill and his band Thumpin again.
---
Reviewed on

11/10/2016
Josh G
Wow. Not sure what else to say. You guys totally rocked and totally exceeded expectations. People were raving about your performance and, as you could probably tell (more so in some instances...), thoroughly enjoyed their time on the dance floor. The hora was one of the best... Read More I've seen; you knocked the three new songs out of the park; and the overall tone, selection, and progression was just perfect. We couldn't be happier. It was great meeting and getting to know some of you; hopefully we'll see you around town (and at some other weddings, assuming our crew didn't scare you off!) in the near future.
---
Reviewed on

11/10/2016
Moses T
"Thumpin played at my wedding ceremony and reception. They absolutely rock! They were fabulous to work with and had the dance floor busting moves all night. My only wish was that it didn't go by so fast! We looked long and hard for a wedding band and they are hands down the best... Read More in Colorado.......even the old geezers at the party were enticed to the dance floor and the dance floor was always full!"
---
Reviewed on

11/10/2016
Luke H
"If I had a dollar for every "wow" and "that band was awesome" and "that was the best wedding ever," then the wedding would have been paid for twice over. From the time we first spoke with Thumpin (1 year in advance), until the wedding night, they were responsive, professional,... Read More and helpful. We had heard horror stories of live music acts not delivering, but we never had a doubt with Thumpin. They included our requests, played their hearts out, and even included a brand new song that we requested specifically for the reception. My bride loves live music, and even more so, she loves live music that will make all ages dance. Everyone from the kids to grandparents danced the night away, and even though there may be some parts of that day we would tweak, we have no doubts that Thumpin was the perfect choice. I hope they aren't booked for our anniversary!"
---
Reviewed on

11/10/2016
Rachel G
"We love Thumpin'!!! We've seen them perform in many venues but the absolute best was when the band played at our wedding reception last weekend. They completely blew our guests away! We absolutely adore every single member of the band and appreciate their eagerness to make our... Read More big day so happy and fun! Joy and Jerry are flawless on lead vocals and Jackie is the perfect compliment. Getting 11 people coordinated to do anything can not be the easiest thing for any group, but these guys are consummate professionals and make it look seamless. I attempted to hire other groups to do acapella pieces for our ceremony and had no luck because several would not return my calls and others just couldn't get enough people together. We had ZERO issues with Thumpin'. Thumpin' energizes any room. Their tremendous chemistry as a group is apparent from the first beat. We received so many compliments on our reception, the food, the cake, the venue but the hands down favorite was the band, our guests cannot stop raving. Thumpin's execution of the music is energetic, soulful, fun and best of all every song sounds great. Upon booking them, we were asked if there was a special song we would like them to learn and if there were any requests guests might have to let them know so they could learn the songs if they didn't know them and practice them. That kind of customization isn't something you can get from a lot of groups. If you're looking for a band for any special occasion, you can not go wrong with Thumpin'! They get 5 stars in my book! Thank you, Thumpin'!!
---