Home

Tie the Knot Wedding Ceremonies
About this Vendor
We create ceremonies to reflect your relationship.
It's all about getting to know you and working together to create a ceremony that honors your wishes and reflects who you are as a couple. We are proud to offer weddings to ALL couples in the Twin Cities Metro Area.
Details
Civil Union, Commitment Ceremony, Interfaith Ceremony, Non-Religious Ceremony, Religious Ceremony, Same Sex Ceremony
Contact Info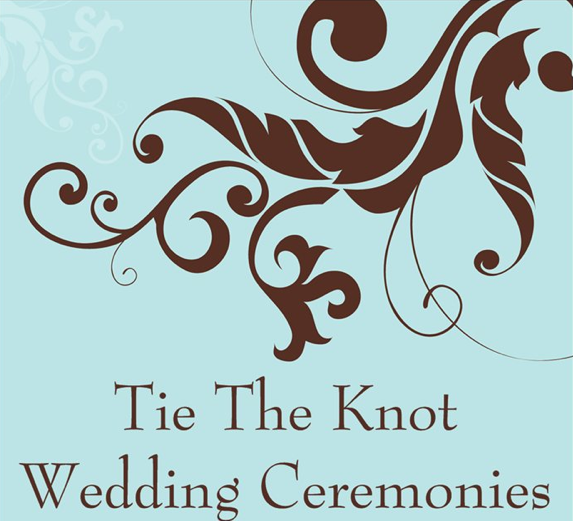 Serving the Twin Cities Metro Area and beyond, Minneapolis, MN
Serving the Twin Cities Metro Area and beyond
Couldn't have found anyone more suited to us! Fantastic!!
Reviewed on

10/15/2013
Leah M
Tie the Knot Wedding Ceremonies is truly fantastic. We had the pleasure of working with Anna, and I cannot say enough great things about working with her. She is awesome! From the beginning, it was important to us to find an officiant who could understand how we envisioned our ceremony, because we are a non-religious/non-traditional couple with no interest in the standard, cookie-cutter traditions. We were looking for a ceremony that was about who we are together, and our uniqueness that shapes our bond. A ceremony made for our expectations, not the guests'. We definitely found this in Tie the Knot & Anna was very open-minded about our plans and really, truly listened to our ideas and suggestions. She helped us craft and customize our ceremony to reflect our fun personalities, our nerdy tendencies, and the love we share. She also took the time to get to know who we both were before we met and who we are today. Even though we had only just met in the months leading up to the ceremony, I felt like Anna really knew us and understood us as though she had known us for longer. The day of the wedding was the best ever! During the rehearsal, Anna was completely prepared and made sure each person in our wedding party knew what to do. One of the groomsmen was a bit late to practice, and he was able to pick up exactly what was going on because Anna was so on top of things. Not going to lie, I was nervous during the rehearsal because this is when all the pieces of the puzzle start coming together. But after we wrapped up, I was completely at ease and confident the day of would be excellent. And it was! Everything went so smoothly, that it felt like just another rehearsal run-through, and then I realized, "Oh, wait, this is actually happening now!" And it was fun. Sooo much fun! I couldn't have envisioned a more perfect wedding. And all of our guests complimented us on how unique our ceremony was and how it was so 'us.' We totally recommend these guys!
---
Very personalized and so us!
Reviewed on

7/24/2013
Amanda R
My husband I had the honor of having Grant marry us this last June. We were looking for someone who was fun, outgoing, and someone that could make the ceremony truely reflect us. Prior to the wedding, Grant would call to see how things were going and to offer his assistance with anything. This was truely appreciated, as with any bride, the closer to the wedding date, the more"things" pop up that you need help with. We selected to have Grant come up with a unique ceremony for us, which included a vow exchange between myself, and my new beautiful step-daughters. Although it wasn't our intent, the vows had all the guests reaching for tissue at the beautiful words. After the ceremony, with all the commotion of signing the license and getting the dress bustled, we thought we would miss the cocktail hour. So in true fashion, Grant ran to our aid, and brought myself and my husband, a much needed drink! I can't say enough about Grant and what he did for us on our wedding day! Guests loved how he truely captured our personalities in the ceremony. Without a doubt, I would recommend Grant to anyone in search of the perfect officiant! Amanda & Fred
---
Reviewed on

7/31/2015
Jessica B
Grant did such an amazing job with our wedding ceremony. It was everything that we had hoped for and more! He made everything so stress free and easy that I didn't have to worry about anything! During the walk through the night before, he made sure that everyone knew where they were going and that we felt comfortable with what was going to happen the next day before we left. The ceremony was short like we wanted and included everything that we described to him. We can not say thank you enough to him for the ceremony he put together!
---
Reviewed on

7/06/2015
My wife and I had the pleasure of working alongside Grant whom helped us design, plan and execute a truly memorable wedding ceremony. The number of compliments received from guests was truly remarkable. From the beginning, we knew Grant was the perfect fit for what we were trying to accomplish. Not only did he spend 1.5 hours at our introductory meeting getting to know us as a couple, he came prepared with thoughts/ideas/suggestions as well as a solid outline of next steps in the process. As we worked through planning out the ceremony, step-by-step, Grant always made himself available and was extremely timely in his responses. As we got closer to our wedding date, Grant was there to check in and confirm everything was in order - he even took the time, the week of our wedding, to place separate calls to each of us just for the sake of saying hi! Not only was this reassuring but he also had great words of wisdom during the sometimes-stressful days leading up to the big day. As the big day finally rolled around, Grant was the consummate professional and executed his role flawlessly. He was a calming influence throughout and really helped make our wedding ceremony a special event. We can't thank Grant enough for all the time and effort he put forth and would recommend him to anyone and everyone. Thanks Grant!!!!!
---
Reviewed on

5/31/2015
Jenny P
We got the pleasure of working with Anna for our wedding. We could not have asked for anyone better to marry us. We really enjoyed working with her. Her calming attitude and voice really played a role in the feel before and during the ceremony. She made us feel very relaxed and happy. When we met with her for the first time, I really liked the questions she asked us to get to know us better. We also both really liked the ceremony rough draft she came up with for us. It really kind of felt personalized to fit us and there wasn't much at all that we changed from it. Thank you Anna so much for such a wonderful wedding ceremony!
---
Reviewed on

5/20/2015
Marissa P
Tie the Knot Wedding Ceremonies did an amazing job for us. We had the pleasure of working with Melanie. We appreciated her following our wishes to make our ceremony simple but yet elegant, quick and to the point. She made us feel very comfortable with everything. We decided to not do a rehearsal and we literally talked about what we were going to do 30 minutes before the ceremony. Melanie made sure that we were ready and everything after that was "whatever!" It went so smoothly and so fast and that is exactly what we wanted. I highly recommend these guys! And thank you so much Melanie, for everything!
---
Thank you Mel!
Reviewed on

5/09/2015
Ruth W
Mel was great to work with. She helped us look at our relationship in a new way during our counseling and understand ourselves as a team. She gave advice and insight on things that helped us for our wedding. Our ceremony was personalized and quick which is good since we wanted that. Thank you Mel for everything!
---
Grant is the best!
Reviewed on

11/23/2014
Liza P
Kevin and I were lucky enough to meet and work with Grant for our March 2014 wedding. Although we hadn't known each other long before the wedding, Grant was able to uniquely personalize the ceremony. I get complements all the time on how great he was and how much people loved that he really knew us when performing the ceremony - which is something that not all couples are lucky enough to find. Grant offered tons of suggestions where we wanted them and also let us customize the ceremony as much as we wanted. He was great on the day of the wedding, and kept everyone in the wedding party laughing during the rehearsal and pre-ceremony. I would HIGHLY recommend using Grant as your officiant!!!
---
Thank you Anna!
Reviewed on

11/20/2014
Andrea L
We had the pleasure of working with Anna for our wedding. She was patient, kind and easy to work with. Initially I was a little concerned because we live out of state so wouldn't be able to meet her in person. We ended up meeting via skype and she made us feel comfortable throughout the entire process. Anna made sure that everything went smoothly the day of and we were definitely happy to have her there!
---
AWESOME
Reviewed on

11/17/2014
Lindsay D
Anna from Tie the Knot is amazing. She was so professional and she made our wedding beautiful. Thanks Anna for being a part of our special day.
---
Thank you, Melanie!
Reviewed on

11/04/2014
Nicole F
Melanie did a great job of making our secular ceremony meaningful for us and our guests. She was very helpful and available during the planning process and her presence at the rehearsal and ceremony was invaluable. Knowing I could rely on her to organize the ceremony took away all my stress.
---
Best officiant ever!
Reviewed on

10/26/2014
Angie H
Melanie was absolutely amazing! We did premarital counseling, and it was so worth it. Not only did we learn a ton, but we had so much fun as well! When it came time for the wedding, she was fabulous! She had every detail taken care of and really listened to our vision. She made the experience so memorable. We are so lucky to have had her there and we would recommend her to everyone!
---
Perfect!
Reviewed on

10/21/2014
Ashley L
My husband and I recently had the pleasure of Anna performing our wedding ceremony. She did a fantastic job and we got so many compliments on the ceremony. We wanted a ceremony that felt like us without being completely nontraditional and Anna nailed it. Our ceremony felt personal and special from beginning to end. After working with Anna, I am SO glad that Google led me to Tie the Knot. She's friendly, professional, sweet, and completely on top of things. I suffered from serious bride brain toward the end of wedding planning and she made sure that the ceremony was never one of the things stressing me out. I generally don't write reviews, but I felt compelled to give Anna (and Tie the Knot) two very enthusiastic thumbs up for being a truly awesome addition to our wedding.
---
Simply the BEST!!!!!
Reviewed on

10/06/2014
I had the privilege of working with Anna for my niece's wedding. Anna was very patient as she met with the aunt and the great aunt of the bride as we began our journey planning a wedding in Minneapolis virutally!! Once we met Anna, we knew the bride and groom would love working with her! Now they just had to do it long distance since they were in Connecticut until the week before the wedding!! Anna put everyone at ease, and the ceremony was a beautiful, personal tribute to a very special couple!! As the aunt of the bride, and completing the wedding plans long distance, I was more than a little nervous about how this was all going to come together! The bride and groom were thrilled with Anna from the beginning, and it showed throughout the ceremony from start to finish!! Thank you, thank you, thank you Anna for making the day extra special!
---
A perfect ceremony!
Reviewed on

10/06/2014
Melanie helped us create a perfect ceremony! She listened to us and came up with exactly what we wanted.
---
Anna and the herd of squirrels
Reviewed on

10/05/2014
Kelly H
We worked with Anna, who was fantastic at getting our herd of squirrels sorted out. We planned a wedding remotely (we live in Connecticut), so needed to work with someone who was super organized and on top of their game. Anna interviewed us over Skype to lay down the groundwork for the ceremony, was incredibly patient while we wrote our own vows and selected readings, dealt with our hot mess of a rehearsal, and somehow on the day of, it looked like we actually knew what we were doing. I'm pretty sure only Anna could have made that happen. I'd say I'd work with her again, but I sure hope to not have to!!
---
Wonderful All Around
Reviewed on

9/26/2014
Christina I
We got married four weeks ago and we had Grant officiant our ceremony. We could not recommend him more! From the first meeting we had with Grant, we knew he would officiate our wedding. He was extremely helpful, fun and overall great to work with over the 6 months leading up to our wedding. He has a great sense of humor too and can add it into your ceremony, if you want. We did and we are so happy we chose to! At the end of the wedding, we got a nice binder of the wedding ceremony in text so we can always keep that for our memories! You cannot go wrong with Grant and Tie the Knot Wedding Ceremonies! They are wonderful!!
---
Great company!!
Reviewed on

9/05/2014
Katy B
Anna Butler officiated our August 31st wedding. We can not say enough good things about her! She was so helpful through the whole process! She made our ceremony everything we had imagined it to be and more!! She responded to my many e mails so quickly. We had to change our ceremony site at the last minute due to the weather and she was so accommodating and calm about it all! She checked in with both my husband and I about 30 min before the ceremony to make sure we didn't have any questions and to make sure we didn't need anything. A lot of my guests commented on her bubbly, fun personality. I would highly recommend her to future brides!!! You can't go wrong with this company!!
---
So Thankful
Reviewed on

8/19/2014
Kelly T
We recently got married days ago and were so thankful to have Anna Butler from the Tie the Knot Wedding Ceremonies. As we started planning our wedding the scariest detail was the officiant. After all the most important part of the entire day is the ceremony, it is kind of the whole point! Making sure you have an officiant you like and feel comfortable working with is so important. I started looking around at local companies that offered officiants and I appreciated the ideas and philosophy of Tie the knot. I scrolled through the bios and chose Anna to meet with. We meet up at a local coffee shop and talked with Anna about what we wanted our ceremony to be like. She took notes on our history and who we were as a couple. We felt really comfortable with Anna and knew that she would do a great job. Over the remaining 9 or so months leading up to the wedding we kept in contact with Anna over e-mail. She sent us a rough outline and then worked with us to remove, add, or change parts of the ceremony. We went with the more personalized package because we wanted it to be unique. Anna was so open to our changes and willing to help us through all of the edits. One aspect we both really liked was the reasons to marry. We wrote them separately and Anna read them during the ceremony. They were difficult to write but we are so glad we did. We both sent Anna our drafts and she helped us write similar statements with a little help. The day before the wedding Anna ran the rehearsel and made sure we felt comfortable about the next day. The day of the wedding Anna showed up early to make sure we felt ok with everything and meet with any vendors involved in the ceremony. During the ceremony she did a wonderful job reading her part and keeping us calm! I would highly recommend Anna and Tie the Knot to any couple looking for an officiant. We heard from so many guests that it was the most beautiful ceremony they have ever attended! You cannot go wrong with this company! I promise!
---
Stemme Wedding
Reviewed on

7/05/2014
angie n
Melanie officiated our wedding on June 28, 2014. She was absolutely amazing! She took care of all of the details for us so we could enjoy the day and not have to worry about a thing. Unfortunately we had a huge downpour 20 mins before our ceremony started which was supposed to be outside. Melanie ran out to help the DJ get all of his equipment inside and got completely soaked :( But she came in with a smile, dried herself off as much as she could and came to make sure the groom and I were doing okay and not upset about the weather. She was so sweet and kept us calm through the whole process. She made the day so special for us and kept our spirits up. Even through the ceremony she reminded us to take deep breaths and made everything all about us. We absolutely loved her!!
---
A Ceremony To Remember
Reviewed on

6/23/2014
Jennifer S
When we first met Anna, we knew right away that we wanted her to marry us. She has a very calming nature, which we knew would be just what we needed the day of the wedding. From day one, Anna worked with us on creating a ceremony that was so special. Anna got to know us, listened to our history and our stories, and created a ceremony that had people laughing, crying and clapping. I lost track of how many people commented after the ceremony on how wonderful Anna was and how much they enjoyed the ceremony; that they were on the edge of their seats wondering what was going to come next. There were sections of the ceremony that we didn't see beforehand, and not knowing what she was going to say was fun! She was so patient through the whole planning process, and never grew tired of my questions and requests. She was always quick to respond. She gave us a beautiful printout of our ceremony as a keepsake. Thank you Anna and Tie The Knot, for a ceremony that we will cherish forever, and our guests will never forget!
---
AMAZING Pre-Marriage Course with Melanie!
Reviewed on

6/16/2014
Alexis M
My husband and I were just married on May 31st. We really wanted to do a pre-marriage course and didn't have anything built into our preparation with our officiant because he is a family friend, who had never done a wedding. We went to the internet and found reviews for Melanie with Tie the Knot. They were all so positive that we decided to go for it. We are SO GLAD we did. If you are reading this, you are likely to be in a similar situation, so let me be as helpful as possible. First of all, money and time! Both precious and disappearing into thin air during wedding planning. WORTH IT! We invested so much money into the actual wedding, but this is the only money we invested into life AFTER the wedding. Time- Four sessions really seems like the perfect amount. The 90 min flies by. If time is a major issue, or even if you are already married, it would still be worth doing (and applicable!) after the ceremony. Melanie? Well, she's the best! Sessions take place in her (tidy and clean) living room at her home - no need to feel apprehensive about going to her house. They've set up a great space. Her husband, Grant, always vacated the premises for our sessions to protect our privacy. This was unnecessary from our perspective, but very respectful. Melanie is so relaxed and comfortable. She is, of course, very knowledgable and guided the sessions, but she also just sat back and let us have candid conversations. We covered all the important topics that you would expect (communication, finances, etc.) spending more time on topics that warranted deeper conversation. My husband and I did not feel like we were sitting down with a shrink for deep psychoanalysis. It was more like sitting down with a wise friend. We learned tools that we honestly use all the time. We value it so much, that we even begged Melanie to consider meeting with us once a year, or every five years! Is this all just from the bride? No, the groom honestly appreciates the time we spent just as much as I do, if not more! Before our first session, he looked at me and asked "what if she tries to tell us that we shouldn't get married?!" We joked about this later with Melanie and she reassured us that even if we seemed to be struggling, she would never tell a couple that they shouldn't be together! The cool part is, even though we were a happy couple with a solid relationship before - we walked away from sessions (even if they were hard topics, or stirred up disagreements) feeling stronger and more grateful for one another. If anything, it solidified our choice to spend our lives together. This review is terribly long, but I honestly can not say enough about how much we value our time spent with Melanie. However, don't forget that in order to get anything out of the sessions, you both have to be willing to open up and have meaningful discussions. Melanie made this incredibly easy for us to do. Having important conversations with a third party present, to offer perspective, is so valuable. Also, have fun with her, she has a great sense of humor! One last thing! If we had needed and officiant, we would have hired Melanie in a heart beat. She is thoughtful, intelligent and fun! I would recommend doing the marriage course with her and then having her do your ceremony (I suspect Grant and others at Tie the Knot are also great!). After the four sessions, it would be like having a friend up there to represent you and your union.
---
Accommodating & Very Helpful!
Reviewed on

6/14/2014
Aurelia G
Grant was awesome! We really didn't know what we wanted from our officiant and ceremony, but he delivered it! Right from the beginning, he was so helpful in answering our questions and really helping us build the perfect ceremony. From the things we really didn't have any sort of vision for, to the things we knew we wanted a specific way, he was more than accommodating and brought some great ideas to the table to make everything just right!
---
On a scale of 1 to 10... I'd give them an 11!
Reviewed on

6/05/2014
My husband and I had Melanie officiate our wedding, and she was AMAZING! She gave us so many great ideas for our wedding ceremony from the order of the ceremony, to music, to what to do for the "unity" piece... she was attentive and thoughtful throughout the planning process. We worked with her to tailor our ceremony to fit our wants and needs, and our "big day" turned out perfect! I had SEVERAL people come up to me at our reception and tell me what a fantastic job Melanie did. They all commented saying that our ceremony was the best wedding they had ever been to, and that it was also the most honest and loving ceremony as well. That was thanks in large part to Melanie and her ideas/direction, encouragement and attention to detail throughout the planning process. We highly recommend using Melanie and/or Tie The Knot Wedding Ceremonies to anyone looking for awesome and fun people to marry them who really know what they're doing. p.s. Tie The Knot also offers pre-marital counseling, which I HIGHLY recommend. My husband and I did pre-marital counseling through Tie The Knot and came out with a stronger sense of our relationship in the end. There was laughter and tears during pre-marital counseling, but it was well worth it and a journey I would tell everyone to take!
---
Pheww....that was easy!
Reviewed on

5/16/2014
We worked with Grant and he was very open toward our want for a non-traditional ceremony. My partner and I are very uncomfortable with the usage of traditional wedding language like 'kiss the bride', etc, and Grant helped us create ways to help alleviate that jargon anxiety in our vows and entire ceremony. He also suggested ideas to make our ceremony personal to us rather than just another cookie cutter wedding. We opted to not have a rehearsal. So, right before the ceremony, Grant was prompt and clear to inform musicians and family involved what was happening. The ceremony set the mood for the whole evening, and it wouldn't have been the same without his care and originality.
---
Send Message