Home

Tiger Lily/Tiger Weddings
About this Vendor
Tiger Weddings - flowers for the adventurous heart
Details
Aisle Decorations, Centerpieces, Pedestals, Vases, Wedding Arch, Decorations + Accents, Bouquet Wraps, Bouquets, Boutonnieres, Flower Delivery + Setup, Flower Arrangements
Contact Info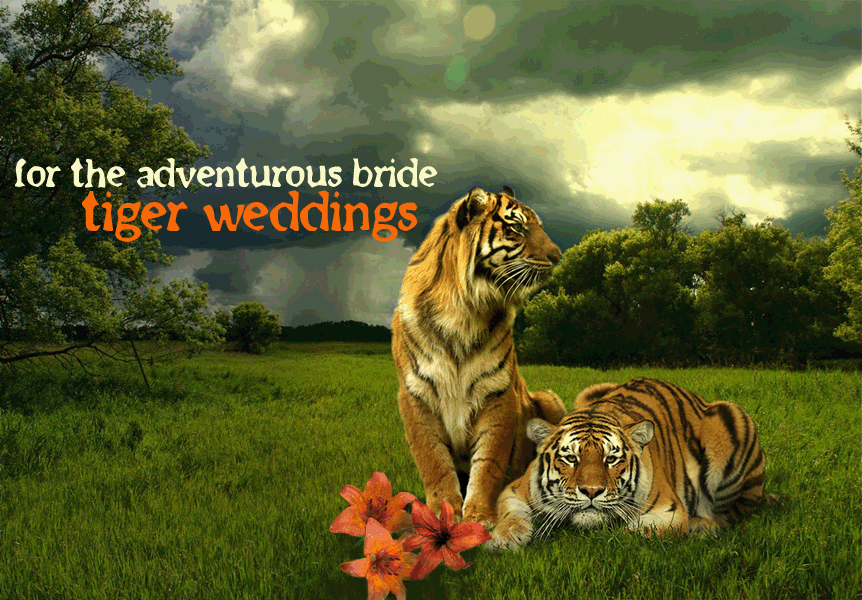 569 Cedar Lane, Teaneck, NJ
No centerpiece work
Reviewed on

7/16/2015
Vicki A
We only used Tiger Lily for our bouquets, boutonnieres and flowers for the arch. I will say we were very particular with them and only wanted to spend a certain amount of money but, they worked with us and the flowers turned out very pretty. Gayla was great to work with even... Read More though we questioned everything, she worked with us and did what we wanted and gave us suggestions. They did a great job with the flowers on the arch too.
---
Reviewed on

6/06/2015
Ilana C
From the moment I met Tim Blunk at Tiger Lily, I knew he was the perfect florist for our wedding. Every meeting with Tim was fun and exciting, and his relaxed yet professional demeanor made him a great vendor to work with. With an MFA, Tim is truly an artist and his... Read More creativity, attention to detail and floral quality exceeded all our dreams and expectations. I came in with a picture of an inspiration bouquet and a vision of the day, and Tim (& Jennifer) transformed this vision into reality. He designed an ethereal chuppah, gorgeous bridal and bridal party bouquets/ groomsmen boutonnieres, amazing, unique centerpieces and even went above and beyond by putting together lovely escort card table. It is hard to put into words how beautiful the flowers were, and how much we loved working with Tim and Tiger Lily Weddings. If you are a bride looking for a true artist to take an idea and vision of your day and transform it, Tim and Tiger Lily Weddings is for you. My family and I are so grateful and thankful for all he contributed to our wedding. HIGHLY recommend!!
---
Amazing flowers & wonderful people - win/win situation!
Reviewed on

10/03/2014
From my first call with Tim at Tiger Lily, I just knew that I had found my florist. I'm sure many would agree that it feels great when you have that strong gut feeling that this is a good decision! He didn't disappoint...quite the opposite. He was a master and a co-creator of... Read More the final results. I went to Tim with a concept and ideas on what i was looking for...i sent him images of the venue so he could get a feel for it himself and then he helped me set up a magical ambiance for our magical night. He stuck to my budget, he came up with creative ideas, he personally delivered and set up the flowers himself without me having to be there, he made me laugh and allowed me to breeze through things totally stress free and happy. I sincerely, highly recommend Tiger Lily as part of your wedding experience...they're just amazing!
---
Fantastic Flowers and Service
Reviewed on

9/09/2014
Meroux K
We highly recommend Tiger Weddings for any couple looking for a florist who is keen on making your wedding day look perfect. We met with Tim for a consultation and he knew exactly the theme we were going for. His flower choices matched the colors we wanted and he helped put us... Read More at ease throughout the whole process. He worked within our budget and the wedding pictures came out perfect. Tiger Weddings went the extra mile in setting up all the flowers on a rainy day and we couldn't be any happier with the results. Go visit their florist shop. You will not be disappointed!
---
Creative and Unique!
Reviewed on

9/02/2014
We couldnt be more pleased with the arrangements, professionalism and creativity we were provided with. We gave them our color palette and some flower choices and let him go from there. The result was beautiful, unique, and artistic. Thank you Tiger Lily for making our day so... Read More special!
---
amazing service and flowers
Reviewed on

7/20/2014
Laura S
Tim and Tiger Lily/Tiger Weddings were so amazing and all of the flowers at/for our wedding reception were gorgeous. My husband and I had ideas for colors/color theme for the wedding but were open with actual flower types. Tim sat down with us and helped us choose flowers that... Read More fit our vision but would also work with each other and the hot weather in July. Also Tim was so helpful as he lead us through flower choices that fit the colors we were looking for and that were in season at the time (important to us for using local growers but Tim would have gotten us any flowers that we wanted). Any time I contacted Tim he got back to me ASAP, was helpful, and so nice to talk to. My bouquet and the bridesmaids were beautiful and the centerpieces were perfect for the tables and venue. Whatever style of flowers you are looking for – modest, elaborate, modern, classic, colorful or more neutral Tim and Tiger Lily/Tiger Weddings will do an amazing job.
---
The best florist in Charleston
Reviewed on

7/17/2014
Megan M
I am so very thankful we had Gayla and Tiger Lily as our florist! She sat down with us multiple times over our 15 month planning process and as our vision evolved, she helped us select gorgeous floral combinations to accent our vision. Gayla took extensive notes during our... Read More meetings, showed us examples of everything, and sent promptly sent us an annotated spreadsheet with cost breakdowns, even as we made slight changes at each meeting. It made keeping track of everything so much easier! I absolutely love wedding florals, and it is one of the details I feel is centrally important to setting the mood of the day. When I saw our florals on the day of, I was completely blown away - everything exceeded my expectations!!! I still cannot stop looking at photos of our bouquets and the arrangements Tiger Lily created. Our florals were definitely a show stopper! As a side note, I could not believe that when my husband and I returned from our honeymoon two weeks later, there were still several vases of fresh flowers remaining from our wedding. So lovely.
---
Exceptional & Artistic
Reviewed on

9/02/2013
Elisa F
We LOVED Tim and we LOVED the floral arrangements! My parents, fiance and I went to a bridal arrangement warehouse that shall not be named and the result was a nap for the fiance. Later that day Mom, Fiance and I walked into Tiger Lily to meet Tim, who engaged and won over... Read More the fiance with his passion and flip book encyclopedia of flowers. From that initial meeting, we knew that we would work with Tim and were sure that he would be our favorite wedding vendor! Tim is an artist who really grasped the whole concept we were trying to explain to him. I really appreciated that he worked with us to get our favorite flowers and achieved the look we were going for, but also pushed back if we had an idea that he didn't think would look best. It is amazing how well he executed the ideas that were in my head after only a short meeting. The flowers were of exceptional quality. They looked absolutely fabulous throughout the event and filled my mothers house for a while. I was so in love with the flowers - over 14 varieties! That my mom spent a day perserving them in various ways while I was away on my honeymoon. Thank You Tim!
---
beautiful!!
Reviewed on

8/05/2013
olivia y
almost about a year after our wedding, i am still receiving compliments to this day about how gorgeous the flowers were! tim did an amazing job taking my vision to reality. he's great to work with and his flowers are wonderful quality! he's very honest and will work very... Read More closely with you eat step of the way. i have already recommended him to several of my friends who will have their weddings in the future!
---
Great Experience
Reviewed on

8/01/2013
jackie l
I used Tiger Lily for my wedding and couldn't have been happier. From start to finish Tim was easy and fun to work with. He loves what he does and it shows in his work. Not only was it great working with Tim but the flowers were beautiful. I would highly recommend Tiger Lily!!!!
---
Design decor
Reviewed on

7/27/2013
Maria E
Tim and Jennifer were absolutely a pleasure to share our day with. They were professional and fun. Preparing for a wedding can be difficult but they made this process a breeze. The confidence they provided helped us to feel at ease and we knew we had made the right decision.... Read More They are great designers and their excellent attention to detail will always be appreciated.
---
Love Tiger Lily
Reviewed on

11/14/2012
Stephanie N
Tim and his team are great. My flowers were beautiful. They are patient and willing to help you develop your ideas. I was so happy with the results. They took all my suggestions, ideas and made it work! Not one complaint. My family and I LOVED my flowers.
---
Beautiful!
Reviewed on

9/06/2012
Dayna C
Easy going and wonderful experience from start to finish. Tim really took care of us, prompt with getting back to us with answers to questions, worked with us on our budget. We went in with pictures and ideas of what we would like and we were not disappointed, in fact, it was... Read More better than what we hoped for! We had flowers for our ceremony and our reception. Everything they did for us was amazing and we could not have asked for anything more!
---
Absolutely Gorgeous
Reviewed on

7/29/2012
Gina L
Tim was a pleasure to work with. I know very little about flowers and only had a slight idea about what I wanted. After explaining to him the setting of the wedding and giving him a color scheme to work with, Tim was able to come up with something better than I could have every... Read More imagined. The bouquets were gorgeous and unlike anything I've ever seen before. I had also asked him to decorate the cake with some flowers, again with minimal instruction, and it came out gorgeous! I had also requested a simple arch for the wedding ceremony on the beach, and again my expectations were exceeded. I highly recommend Tiger Lily by Encke. They are very knowledgeable and artistic with everything they do.
---
Favorite Vendor
Reviewed on

6/18/2012
Angela B
I got married in NYC last year and picked this vendor by simply doing a google search for a florist in my area...I'm so happy I found them! Tim and Jen were super creative, hands-on and sweet. I was blown away when I walked into my venue; all their work was above and beyond... Read More what I had expected or imagined. Their work was impeccable and I look forward to working with them again on future events!
---
Loved working with Tim/Tiger Lily
Reviewed on

6/18/2012
Stephanie S
Tim was an absolute pleasure to deal with from the very beginning. He is amiable and quick to respond; more importantly, though we weren't 100% certain what we wanted for our arrangements, he made us feel very comfortable that he knew what we were going for (ahem, a Cornell-red... Read More theme) and delivered beautifully. Tim was so helpful in our conversations, entertaining our ideas and offering his own – all while staying aware of our price point. The one thing I knew I absolutely wanted was red callas for my bouquet and finding them seemed bleak at first but they found them and I could not have been happier with our bouquets! Our altar arrangements were lovely for the church (albeit a bit lost because we forgot about the pre-existing Easter decorations) but they doubled perfectly as decoration for our head table. Our submerged orchid centerpieces were exactly what we wanted and filled the space wonderfully (our venue space was a bit larger for our guest count) and Tim introduced a great unique factor, bringing artistic coil and smaller flowers to the outside of the tall vase atop a round mirror. To top things off, Tim sent a card with a kind note (it had callas on the front) – it was the perfect testament to how thoughtful he had been through the whole process. We'd recommend Tim and Tiger Lily to any couple looking for a little bit of comfort amid the craziness (and fun!) that is planning a wedding.
---
Tiger Lily by Encke
Reviewed on

10/07/2011
Alexis M
Tiger Lily by Encke are superior florists that are wonderful to work with. In my opinion, they are the best at what they do. They worked within our budget and created the vision that we had. I have had a wonderful experience with Tiger Lily. I highly recommed them to anyone... Read More who is looking for beautiful quality flowers at a reasonable cost.
---
florist
Reviewed on

9/30/2010
mary ellen s
changed the flowers the week before, but with discussion was able to get back some of original flowers with original pricing
---
Send Message