Home

Time of Your Life Entertainment
About this Vendor
DJ / Lighting / Photo Booths For Your Special Day!
This is your once in a lifetime day and we do everything in our power to make it a stress free, memorable, and most importantly FUN day for you and your family and friends. We understand the importance of affordability and we guarantee that we will beat ANY competitor's price!
Details
Classical, Country, Disco, Hip-Hop, Jazz, Pop, R&B, Rock, Latin
Ceremony, Reception, Wedding
MC Services, Recorded Music, Sound Equipment, Music
Contact Info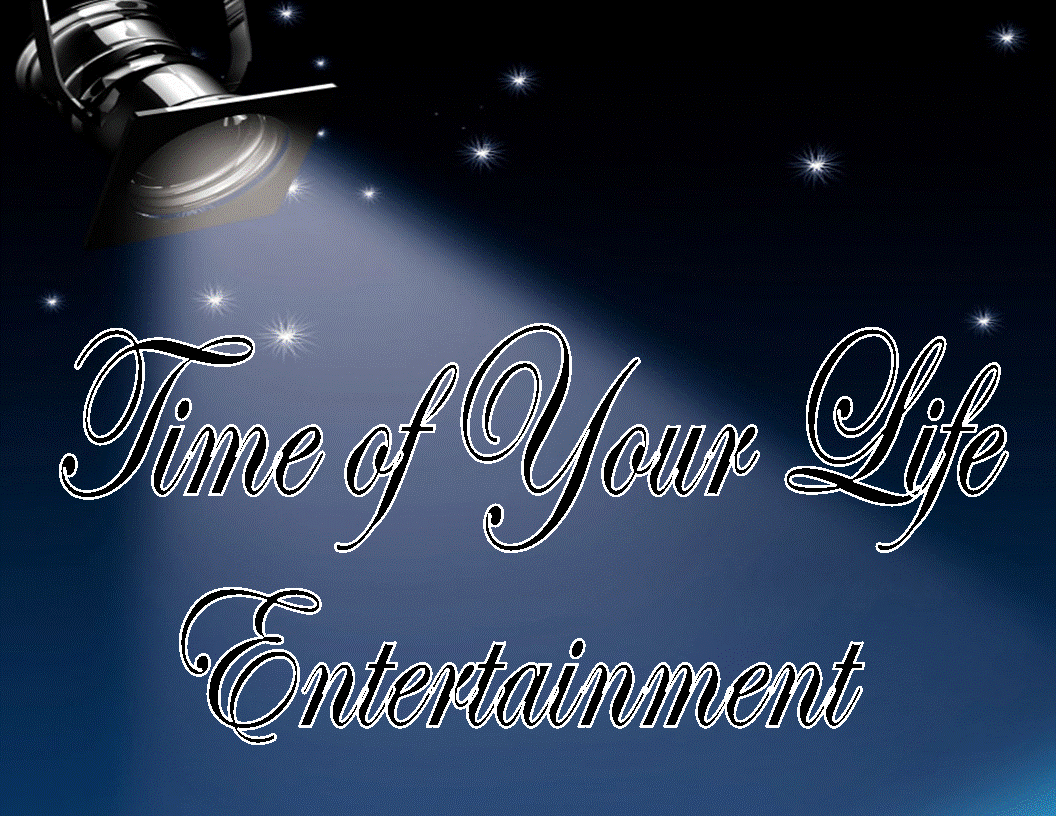 Blackwood, NJ
Serving NJ, PA, and DE
Reviewed on

6/03/2015
Melissa W
Definitely recommend!!! Nick and his team were great. From the first conversation where Nick came to our house to go over everything, to the final conversation, everything was so easy. For the price to include the DJ, an MC, and the photo booth and attendant - I don't think you could beat it. The online site to add the songs was so easy to use. Nick called a few days before the wedding to go over EVERY detail to make sure he didn't miss a song, an introduction, a pronunciation. The introductions were perfect, the songs had everyone dancing - there wasn't too much talking but just enough to make announcements or announce a song, etc. the Photobooth - not your standard Photobooth. There's a large sheet so you're not squeezing people into a booth - there's so much room. 2 copies were printed so one could go into a book for us to bring home and look through. Nick and his team were so great that a guest asked for his info so he could pass along to his sister that was getting married next year. Hire Nick and his team!
---
Reviewed on

5/20/2015
Amanda R
EXCEPTIONAL!!!! Working with Time Of Your Life Entertainment was a great experience. The guys made it very easy to plan our wedding day and how everything would play out. We very luckily were paired with DJ Jay Harrison who could not have been better!! My guests are all still raving about how it was the best wedding they have ever been to. Jay kept the room dancing all night and perfectly split up the types of music and a mix of slow/dance songs. We can't say enough about how happy we are we chose TOYL entertainment!! Thank you so much for helping to make our day so perfect!!
---
Best Decision we made
Reviewed on

3/25/2015
Nicole B
Nick and his team are AMAZING! First of all, his packages where the best we found! Nick worked with us for anything we needed. he even gave us some pointers from being in the buisness and knowing what works best. He Totally read the crowd and had everyone on the dance floor all night! he kept in contact with me all night so i knew what was next. I really like his online planner, you can put all your music you want and all the names of your party. It really helps. His photobooth was awesome. We got many compliments on it! the size was perfect for big and small crowds. I was not pleased with my venue, and nobody knew this, but.. nick and his team keeping everyone partying helped take my mind off the bad things and enjoy my wedding! I highly recomend the TV's! the slide show durring the dances are a great touch and the music videos playing with the songs are awesome!! I would recomend 100%
---
Reviewed on

7/19/2015
Amy B
TOYL Entertainment was very easy to deal with and professional. Nick was great to meet and discuss our DJ needs with, and he followed through meeting every one of our expectations. He also helped answer lots of questions along the way to help make our wedding day seamless! We really liked his online planning website that helped us to see "trending/popular" song choices, and help us plan what songs we wanted for each part of the evening. Nick played a great variety of music genres to reach out to all of our wedding guests and their music preferences, which was helpful in getting people out of their seats and onto the dance floor! He is a skilled DJ and professional MC, and we would highly recommend his services.
---
Reviewed on

7/02/2015
Why go through thousands of reviews of DJs and drive yourself crazy?! Look no further, do yourself a favor, and book TOYL entertainment! After seeing Nick in action 3 years ago at my sister's wedding, I knew I had to have him for my big day! Bonus- he now does photobooth packages which was a huge sell for us AND a crowd favorite! From the beginning of booking to the day of, Nick was organized, knowledgeable, professional enthusiastic, and quick to respond- which was SUCH a relief with all the planning you have to do! His online planner was easy to use and a huge help to put our requests and information in and he listened and executed accordingly come the day of. The music was FANSTATIC and guests were on the dance floor the entire night! I am still hearing from people, including my father in law, how much they danced at our wedding and how they usually won't leave their seats! We are so thrilled we went with Nick and TOYL entertainment and I promise you will not regret hiring them!!
---
Nick and TOYL Entertainment are the Best Around
Reviewed on

11/18/2014
Nicole H
I cannot say enough fabulous things about Nick and everything he contributed to our wedding. We were apprehensive about selecting a DJ due to a few recent unpleasant experiences at other parties. However, the moment I sat down with Nick, I knew he would be great.My cautious mother in law and husband were also quickly impressed. Like most engaged couples, my husband and my greatest concern was choosing a DJ that could appeal to the various age range of our guests, from 18 to 80. Nick explained to us his ideas for our music list and gave us honest feed back about the songs we were considering. Additionally, Nick was readily available to meet with us (even in busy wedding season) and quickly responded to all my emails-including the night before our wedding. Nick completely knocked it out of the park at our wedding. His timing and flow for our ceremony music was flawless, making the event even more special. Most importantly, during the reception our dance floor was never empty, and various guests came up to both myself and my husband throughout the night to say how much they enjoyed our playlist and DJ. Nick handled each aspect of our wedding like a true professional and was worth every penny. We will definitely be using him again in the future and recommending him to all of our friends and family.
---
Nick is the Best
Reviewed on

11/17/2014
Nick made our wedding an absolute blast. When we watch our video, the only time people were sitting was when they were specifically asked to! Nick mixed the perfect blend to satisfy everyone from every generation. He hit our requests to perfection. If we ever have another affair where we need a DJ, Nick and his team will be the first people we call.
---
Best DJ!
Reviewed on

11/16/2014
Lauren C
I was married on September 21, 2013. I absolutely loved Nick and his team. They kept the dancing going all night long, and played what the guests wanted to hear. The DJ was one of my top concerns because without a good DJ, the party just won't be what it should be. Time of your life made our wedding what it was, and people still talk about it today. So a HUGE THANK YOU :) xoxo, Lauren & Jimmy
---
TOYL is Awesome!
Reviewed on

10/30/2014
Time of Your Life Entertainment created an amazing experience for our wedding and, perhaps just as important, made the process one of the smoothest steps of planning the wedding! In the months prior to our wedding, we spoke with multiple DJs/photobooth operators and Nick was the most responsive, organized, and skilled DJ in this area. From reading other reviews, it is clear that Nick is able to identify the style of a couple and match the music to their tastes, even if they provide no direction. For our wedding, we had very specific ideas about the type of music, the tone of the night, and how we wanted to have people involved; if you have similar ideas, then Nick is the person to make it happen. He took all of the information we provided and made it seem exciting, whereas some other DJs we contacted were not as receptive. Also, he used his talents to advise us on how to take our ideas and make them better and avoid any pitfalls in the flow of the event. In addition, the online planning form/database simplified the process for entering preferences. The reception was AWESOME from our perspective, same feedback from our guests, and even some of the banquet hall staff who mentioned it to us after the wedding. Nick kept it moving so we had the maximum amount of time to dance, was responsive to the crowd, and created outstanding energy. The DJ booth was a different set up then we had seen at previous events with lighting and a professional display; this looked great during the wedding but looked even better in the pictures, which had not even occurred to me until we got the pictures back after the wedding. The photobooth got everyone involved including guests with limited physical abilities. When were decided on the photobooth we thought it would be fun for the guests but is also turned out to be a great way to have another set of pictures for memories in the future...and people seem to show a different side of themselves once they get in the photobooth! Since the wedding our guests have continued to talk about what a great time they had at the reception and that is definitely mainly due to Nick. Overall, we could not have asked for anything more from Time of Your Life Entertainment and for any future events we plan, Nick is the only DJ we would want to hire!
---
AMAZING!
Reviewed on

10/29/2014
Stephanie C
Nick was every Bride and Grooms dream!! I knew from the 1st meeting that he was going to be awesome! He sits down with you 1 on 1 and helps you understand what he does that day and how he can do whatever your visions are! After that he gives you a website the allows your planning process to be so easy and organized! From our 1st dance to our Unique wedding intro! We did a basketball wedding into because we are both basketball coaches and all I did was send him a word document of what to say. That day he was nothing but amazing! He nailed our intro! By far everyone's favorite part of the wedding! We also used Nick for his photobooth which was unreal! It's not like your normal little one! It was huge I think we had about 20 people in one picture at one point! All of our friends said ive never seen anything like it! We used him as well for our uplighting and Gobo light which just gave our ballroom the most beautiful look when the sun went down! We danced the night away because Nick just kept the music going and everyone out on that dance floor! He truly has a gift at what he does! Every single thing he does is organized, proffesional, and top of the line!
---
Best DJ Ever!!
Reviewed on

10/20/2014
Crystal D
I cannot say enough good things about TOYL and Nick. From the moment my husband and I met Nick, we knew he would be perfect for our wedding and we were right. He is so professional and made the process very easy. My emails were answered in a timely manner, and any question/concern I had, Nick always took care of it and put my mind at ease. Our guests could not stop raving about how much fun they had on the dance floor, we could not stop dancing all night. I trusted Nick to keep the party going and keep our guests happy and he delivered. I HIGHLY recommend TOYL and Nick for any event! Trust me you will not be disappointed!!
---
Disappointed
Reviewed on

10/04/2014
Rebecca
I really wanted to write a 5-star review for time of your life entertainment because the price was excellent (especially for providing music for cocktail hour, ceremony, and reception) and Nick was wonderful to work with through the booking/planning process. I have no complaints about how things went leading up to the wedding- Nick is very responsive and helpful and their online planning tool works great. But the execution of everything on the day of our wedding was really off (granted our guests didn't notice most of these things and had a great time dancing, but as the bride these things really bothered me) Our DJ for our wedding was Jason. He called me a few days before the wedding and we spent about an hour on the phone going over all of the details for the wedding, which was wonderful--but which also made me so surprised that he didn't follow them. Here's what went wrong: First, my ceremony was supposed to be outside, and when I arrived an hour and a half before the ceremony was supposed to start it was drizzling outside. Jason came rushing up to me the moment I arrived and immediately stressed me out insisting he needed to know whether the ceremony would be inside or outside. I told him I wanted to wait until 30 minutes before guests started arriving to decide, hoping the rain would stop (I'd been dreaming of an outdoor ceremony at our venue forever and was going to be really disappointed about moving it in). He wasn't very nice about this and told me he needed an hour to set up. I understand he needs time to setup but I would have appreciated some flexibility under the circumstances. We ended up having the ceremony inside. The second thing that went wrong was that he didn't change the music like we had discussed for the bridal party to walk in. So when I walked up to get ready to walk down the aisle I heard the wrong music playing for most of my bridesmaids and was disappointed about that. Then toward the end of the ceremony he started playing the walk-out music before the ceremony was over so my husband and I started to walk out before we'd been "pronounced husband and wife" and felt stupid. Then in the reception he forgot to call up my husband's grandfather for the blessing before people started to eat, which was upsetting for the grandfather who had a blessing specially written by his pastor for the occasion. He also didn't follow the schedule we had talked about ahead of time for the timing for special dances, cake cutting, etc. He did all of the dances but not following the order/timeline we had talked about threw me off (i.e. dances were supposed to be before dinner and he did them after. Cake cutting was supposed to be immediately after dinner, it was much later). Also, he started calling people up for dinner by table, but then stopped after 2 tables, so our guests were confused (we had never discussed having him do this). Also, a small point but I had the cha cha slide on our do not play list and he played it. With all that said, our guests had a great time and the things that drove me nuts were not noticed by most of our guests. Several of them came up and told me our DJ was great, so he knows how to get a party going and play good music. But for future brides who put tons of time into planning the details it would be nice to follow them. I was fine with going with the flow with the order of events in the reception but the ceremony slip-ups and forgetting the blessing were pretty bad in my book
---
Excellent DJ and Company
Reviewed on

9/30/2014
David D
We used Nick Jahn and Time of Your Life for our DJ and Photo Booth and could not have been happier. They offered some services that we had never even considered like having a gobo monogram and television monitors at the DJ booth for a slide show and music videos. Nick and his staff were extremely flexible when we had to move the ceremony location less than an hour before it was set to start due to some bad weather. They were still able to get set up for our ceremony music. Our guests are still talking about how they have never danced so much at a wedding or how much fun they had in the photo booth. We gave all of our guests a magnetic photo frame that was sized to fit the prints from the photo booth which seemed to be a hit. We even got a copy of all of the pictures at the end of the night in a scrap book which was a nice touch. We gave them a lot of pictures from when we were kids all the way up through our engagement which they played as a slide show on the monitors during our dinner. Everyone was talking about fun it was and how it brought back a lot of good memories for friends and family. The music videos were another great way to have some extra fun on the dance floor. Overall we were extremely happy with Time of Your Life. They definitely worked very hard to make sure that everyone at our wedding had a good time the entire night.
---
amazing!
Reviewed on

9/14/2014
Tara A
I was very Skeptical picking out a dj, knowing they can make or break your reception... i must say im VERY HAPPY with my choice.. from the very start nick always got back to me, very attentive, his Web page for clients is designed to guide you through the whole process, and it definitely did! So many guest came up to me saying how great the dj was! And I couldn't agree more... he was awesome! Thank you so much for your services...
---
Wedding DJ
Reviewed on

8/15/2014
Megan D
I found out about TOYL through an email from the knot saying they were having a Photo Booth promotion and I sent them an email on their site. Nick got in touch with me right away and informed me that they were having a photo booth free for one hour and then he told me the total price and I was sold. We never met in person before the wedding but he sounded like an awesome person just by talking to him on the phone. The website is very good and they have a form for you to fill out all the songs you want for the important moments and then a form just to pick all the other music you want to play which I thought was pretty cool. On the day of, Nick made sure that all the music I wanted got played and he also did some improv based on the music I had picked. He was on top of everything and made sure that all the things like the garter toss and cake cutting were getting done and was great at spacing them out. I would absolutely recommend this DJ to anyone that's looking for one. Great job Nick!
---
The best there is!
Reviewed on

8/13/2014
Ember E
Time of Your Life Entertainment is amazing and everything a DJ should be at your wedding! Nick is a great/fun guy to work with. He always got back to me quickly and made sure everything was just how we wanted it. His easy, but detailed online planning form made everything stress free for me. I am so grateful for him making our day perfect and being so accommodating with even our last minute changes! All of my guests had such a great time with the music selection and he always had everyone out on the dance floor! The photobooth was just as great. It was huge and my guests raved about having their own pictures to take and about being able to make video messages for us. We love Nick/Time of Your Life Entertainment, our guests loved him and I have no doubt that anyone would be extremely happy to have him at their wedding! Ember Loefflad
---
Great DJ - personable, laid back, just my style
Reviewed on

7/14/2014
Coleen W
Nick was an outstanding DJ. From the start he was personable, responsive, and laid back. He handled the MC services during the reception like a pro. He also handled the music for our ceremony and it was exactly what we hoped for. I feel bad saying this (but it's a great reflection of how good he was), but I honestly didn't even notice he was there until late in the night! I would recommend Nick for anyone who needs a DJ. His price was great and the photobooth option was a hit.
---
Awesome Choice!!
Reviewed on

7/02/2014
Heather G
My husband and I hired Time of Your Life Entertainment for our wedding in June 2014. It was a great decision! Nick did an amazing job at our wedding and I highly recommend him! It was great working with him and the planning was so easy since everything was online! At the reception, Nick was awesome and was able to get everyone on the dance floor all night long! Guests were dancing before dinner was served and sat just long enough to eat dinner before going back on the dance floor! I don't think it was ever empty. The music selection was awesome and he was able read the crowd and pick music that kept everyone moving! My husband and I had forgotten to request a song prior to the wedding, but Nick was able to adjust and find it for us during the reception. Guests are still raving about what a great time they had! As I said, I highly recommend Nick and Time of Your Life Entertainment! Nick was recommended to me by a friend, and I will do the same! You won't be disappointed! Thank you, Nick, for an amazing experience! We had a blast!
---
You will certainly have the time of your life!
Reviewed on

7/01/2014
Desiree
What an awesome vendor to work with! Everything was amazing and great! The only thing I wished would have happened if more slow songs were played during the reception; they were mainly played during dinner. The only chance I had to slow dance with my husband was our first dance, the parent dance, and maybe one or two other ones. The guests who avoid the dance floor would have enjoyed some time slow dancing instead when the reception got into full swing. Regardless, everyone had such a great time, and my family and friends are still talking about how it was such a fun wedding and so entertaining!
---
Absolute Perfection
Reviewed on

6/22/2014
Jillian G
My husband and I hired Time of Your Life Entertainment as our DJ service for our May 2014 wedding. The planning with Nick was so simple and fun, including using the online song list planner which helped tremendously in managing our likes/dislikes. At the reception, every minute was amazing; Nick brought such an awesome energy and got everyone excited and up on the dance floor! I would not hesitate to recommend (or even insist) that friends and family use this company for any type of party - it will not be regretted!! Jillian Gordon Fullam
---
Best night of my life!
Reviewed on

6/18/2014
victoria m
My husband and I hired Time of Your Life Entertainment for our wedding on May 30, 2014 and we couldn't be happier with our choice! Nick Jahn was our DJ and MC and he did a phenomenal job! Their website makes it super easy for you to make your own playlist, along with options of 'Must Play', 'Play if Possible' and a notes section for each song if you have any special requests for the song. They have an extensive music library to search through, but you can also add any songs you wish to their custom playlist and they will find it for you! You can also pay and create the whole layout of your ceremony, cocktail hour and reception through their website. I must say, working with the vendors for our wedding became exhausting at times, but luckily our music was the one thing that was easy and fun to do! Nick definitely has a gift for knowing when to play certain songs and how to keep the mood alive because there weren't many moments where the dance floor wasn't packed! Everyone is still raving about our wedding being one of the funnest they've ever been to and I couldn't agree more. Our wedding night was hands down the best night of our lives and we owe a lot of that to Nick and Time of Your Life Entertainment. Thanks again for everything Nick!!!
---
Amazing!
Reviewed on

6/17/2014
Amy D
Nick was our DJ for our June 6 wedding and he was incredible! Everything was perfect. The music was just what we asked for. He really listened to our wants and our vibe, did a great job at feeling the audience. The lighting was spot on, and everyone loved the photobooth and props. Leading up to the big day, Nick was very responsive and available to answer all kinds of questions, concerns and last minute changes. I highly recommend him! Thanks!
---
Nick will make it the time of your life!!
Reviewed on

4/17/2014
heather h
Nick was amazing!! He knows his music! He kept the crowd dancing all night long. We as the bride and the groom, don't ever dance, but Nick even got us up and dancing. Nick helped us plan our wedding within a 3 month time frame and was so flexible to what we wanted as a couple. Nick made our night and we couldn't imagine our wedding night without him! Thank you Nick for everything!!
---
Best DJ services around
Reviewed on

4/14/2014
Tiana A
Nick did an awesome job at our wedding. Time of Your Life Entertainment was amazing...from the music, lighting & photo booth. Will recommend to friends and family. Tiana & Joseph Dingle
---
Their name says it all!!
Reviewed on

12/10/2013
Kelly B
I cannot say enough about Jay and how great he was. I have never been to a wedding where the minute the cake was cut, there was no room on the dance floor! It was amazing! He snuck in my rock songs, my country songs, and all of the requests I made, and he didn't play anything on the 'banned' list! He kept the crowd dancing the whole time, and weeks later, people are STILL talking about him and the music! Thank you Jay for helping to make this such a memorable wedding for us and our guests.
---
Send Message