Home

Town and Country Bridal Boutique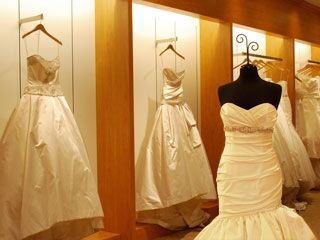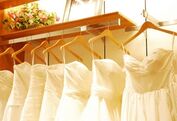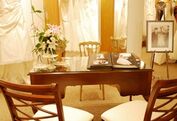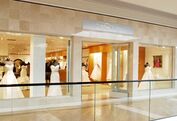 About this Vendor
Elegant, Refined, Beautiful
Town and Country Bridal is the premier bridal boutique in St. Louis, presenting an exquisite collection of designer wedding gowns, veils, headpieces, bridal party dresses, jewelry and accessories. Since 2005, we have had the pleasure of assisting hundreds of brides in finding the perfect dress!
Details
Bridesmaid Dresses, Flower Girl Dresses, Mother of the Bride Dresses, Wedding Dresses, Dresses, Fashion
Contact Info
8809 Ladue Rd, St Louis, MO
Wedding Dress Shop
Reviewed on

2/05/2014
Lauren L
They were great!! They flew in my Amsale dress from the fashion shows just so I could try it on...very good service! I recommend them.
---
Awesome service!
Reviewed on

12/15/2013
Ashley W
After visiting two other boutiques we went to Town and Country and was blown away by the superior level of customer service that was shown to us. Stephanie was able to help me narrow down my lack of vision for a wedding dress and we ended up with the perfect dress! I also had... Read More my bridesmaids get their dresses at the boutique and each of them was also shown the same level of customer service.
---
Great shop!
Reviewed on

11/27/2013
Lisa B
I fell in the love with my dress at Town and Country before I even got engaged. After we were engaged I tried on probably every dress in St Louis and still came back to this one at T and C. The staff was great to work with. They explained the whole process of ordering and... Read More shipping and things very well. They are pricey but I think the quality of the dresses made up for that. I could tell a huge difference between their dresses and other dresses I tried on at cheaper stores. The staff spent time with me and didn't rush me or pressure me into making a decision. They helped me pick out jewelry and veils as well. I appreciated all their help and had a great experience there.
---
Attention to Detail
Reviewed on

10/22/2015
Kate J
Could not be happier with the service I received from Town and Country. They made the dress search so effortless. Seemed like after only 2 dresses, they knew my style and what I wanted. Took only about 12 dresses to find THE ONE. Beautiful designers available in most price... Read More ranges.
---
Wonderful service
Reviewed on

7/31/2014
Meagan L
They were down to earth and so friendly and made me feel so comfortable. They listened to what kinds of dresses I was interested in and were very professional and helpful through the whole process.
---
Wonderful
Reviewed on

10/14/2013
Katie R
The staff at Town and Country Bridal was so attentive and patient in my quest to find the perfect dress. They made the dress shopping process special.
---
Loved my dress
Reviewed on

9/01/2013
Stephanie B
I loved getting my dress from Town and Country Bridal. The dresses are amazing quality and so beautiful. You get to look through all the dresses in the store unlike another place that had them pull dresses out for you.
---
Best Bridal Store
Reviewed on

6/25/2013
Jenni B
I had the best experience at Town & Country Bridal Boutique! The ladies at the boutique were so friendly and patient as I tried on gown after gown. I especially loved that I could go through all of the gowns on my own and pick the ones I liked. It was discouraging at other... Read More stores when they would bring me dresses I didn't even care to try on. Then once I had chosen my gown I brought two of my bridesmaids to help me choose their dresses. All of the them were delivered in time to get any alterations, which is not on site. They recommend Connie at R & M Design, who is amazing and lovely to work with. All of our dresses were gorgeous and I couldn't have been happier!
---
Beautifully curated dress store!
Reviewed on

11/06/2012
Mary H
If you have a lot to spend, this is the place to go. My dress was Monique Lhullier and the store did a wonderful job with everything.
---
Town and Country - Kathy
Reviewed on

10/28/2012
Jennifer K
I was/am not a 'dreaming of my wedding day' bride and Kathy really helped me find something even I could love. She helped me navigate overwhelming organza and interminable taffeta and lace with her knowledge and recommendations. I went in feeling like a tomboy trying on a dress... Read More and left feeling beautiful and like a bride. She gave great suggestions from a place of knowledge and experience. (Never sliding into condescending or judgmental.)I am grateful for her help in helping me feel like a bride and still like me!
---
My dress was made for me
Reviewed on

10/22/2012
Jessica S
Love my dress! Couldn't have asked for anything better! They refer you to Connie at R&M Designs for alterations and she is absolutley amazing!
---
Perfect Bridal Shop
Reviewed on

9/26/2012
Caitlin W
Just the right size, just the right selection
---
Perfect Atmosphere
Reviewed on

5/29/2012
Melissa M
The service I received at Town and Country made my decision easy. It is a lovely atmosphere, and all the ladies treated me so kindly. The best place to buy a wedding dress in Saint Louis!
---
Great bridal boutique
Reviewed on

5/23/2012
Jill S
Town and Country Bridal Boutique was wonderful. My wedding was in California so I had the gown shipped to me. Lindsay made sure that the gown was ready on time and shipped to me in excellent condition. I also bought my bridesmaid dresses there and they each got their dress... Read More without any issues (2 of 3 were also out of town). Highly recommend Town and Country Bridal Boutique.
---
The Most Wonderful Bridal Boutique!
Reviewed on

4/22/2012
Jessica J
All of the women at town & country were so helpful in helping me & my bridesmaids find our dresses for my wedding. Even after I purchased my dress they were always willing to answer my questions via phone or in person. They made wedding dress search a breeze! It was... Read More truly a pleasure to work with each and every one of them!
---
The Perfect Gown and an Amazing Experience!
Reviewed on

11/22/2011
Kirsten K
I found my perfect gown at Town and Country Bridal! They have a great array of dresses in a range of prices. Working with Kathie was an amazing experience and she really put me at ease in trying on gowns and making the decision. They even delivered my dress for alterations and... Read More made sure everything was set. The dress was the perfect classic gown, and I am so glad to have worn it on my special day!
---
Town & Country Bridal-Plaza Frontenac
Reviewed on

6/24/2011
Elizabeth B
Town & Country Bridal's website says that their dresses start at around $2500 but I decided to check them out despite my budget being closer to $1500. They are one of the few bridal shops in the area that carry Watters, which had a number of dresses I liked in my price... Read More range. TCB is a beautiful store with many absolutely gorgeous dresses. My saleslady was very helpful in finding dresses I liked at the lower end of their range. The store is fairly small, so selection is more limited than other bridal shops, but what they lack in quantity they absolutely make up in quality. After seeing several dresses around the $1800-2000 range, my saleslady remembered a dress they had moved to the back because it was so damanged. It was literally exactly what I had been looking for, and also the least expensive dress in the store at $1350. I mean, seriously~where else could you find a lace, designer dress for that price? I purchased the dress that day. TCB doesn't do alterations themselves, but they recommend a great seamstress in the area. Overall I had a great experience with Town & Country Bridal. They were helpful and professional, and I never felt pressured in any way to buy (I came back several other times to look at veils as well, but ended up making my veil myself). My only frustration was that I wanted to order my wedding dress a size smaller because i knew i was losing weight, and they encouraged me not to. I ended up losing about 25 pounds and my alterations were more expensive as a result. Overall, a great place!
---
Loved my dress
Reviewed on

11/16/2010
Lisa N
We worked with Rene and she was great. I loved my dress and the seamstress they recommend is also great. Overall, great service!
---
found my dream dress here!
Reviewed on

9/29/2010
Theresa A
Town and Country has a great selection of moderately priced to higher end wedding designers. The staff are attentive and friendly, not pushy, and work with you to find the dress you want. Alterations are done outside of the shop but they stored my dress for several months... Read More until it was time for my first fitting. I was very happy with my experience here.
---
Review for Town and Country Bridal Boutique
Reviewed on

5/10/2010
Laura B
I love Katie, the owner of the salon. I also loved working with several other ladies.;Several of my friends did not have the same positive expereince at the salon. They were buying less expensive dresses and the staff did not give them the same customer service. Everyone should... Read More be treated the same.
---
Review for Town and Country Bridal Boutique
Reviewed on

5/10/2010
Kathleen M
I wanted a Lea Ann Belter dress and I think they were the only salon in STL. That being said I went to close to 20 shops across the US and this was the best one to deal with. Great value, little pressure, and beautiful atmosphere. they also had a great selection of sample... Read More dresses.;I really had no complaints.
---
Review for Town and Country Bridal Boutique
Reviewed on

5/10/2010
Deanna N
They were amazing! I can't say enough about them. They were helpful, prompt, responsive, friendly - really the absolute best in customer service! I got my dress and the bridesmaids' dresses from there, and it all worked out perfect! I had some issues with the buttons on my... Read More dress, and the day before my wedding the owner of the shop offered to drive halfway to meet us to bring us replacements. Luckily I had someone in the area who was coming who picked them up for me, but for her to offer to do that...wow!
---
Review for Town and Country Bridal Boutique
Reviewed on

9/08/2007
Stacey D
When I made the appointment I forgot to ask about price, and found out when I got there that most of the dresses were more than I wanted to spend. I picked out dresses and tried them on anyway with no intentions on spending that much. The woman who was helping started picking... Read More out dresses she thought I might like. One of those dresses was the perfect dress and it ended up being on the rack of dresses that they were discontinuing so it was on sale. Including alterations the dress was less than $1,000. The staff was so nice. I felt like a princess throughout the whole process.;When I first bought the dress they had a seamstress on site. When it was time to make the alterations she was no longer doing alterations at the bridal shop. The store gave me her name and number and I went to her shop to get the alterations done. So they will recommend someone but they no longer have a seamstress on site.
---