Home

Traditions by Anna Bridal Boutique
About this Vendor
Traditions by Anna Bridal Boutique
For years, Traditions by anna have been providing courteous consultations to brides, debutantes and bridesmaids. Please call today to schedule your appointment. We look forward to hearing from you!
Details
Bridesmaid Dresses, Wedding Dresses, Dresses, Alterations, Custom Designs, Private Appointments Available, Fashion
Contact Info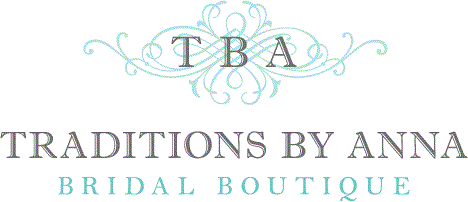 My perfect dress!
Reviewed on

10/29/2013
Maggie M
I highly recommend TBA. I went to several salons and they all tried to push me into dresses that weren't the right ones or they didn't have a great selection. At TBA the sales consultant was super sweet, professional and comforting. They have a phenomenal selection of... Read More dresses. I found my perfect dress there and try worked with me on price since I could pay up front. After buying the dress they continued to treat me with the same respect as before I purchased. The final result with my dress was breathtaking.
---
Gorgeous gowns
Reviewed on

10/15/2013
Kirby W
They truly carry nothing but the best. All gowns are amazingly beautiful and detailed. Make an appointment in advance and be prepared to spend some dough.
---
Quality
Reviewed on

6/23/2013
demi g
Shopping for "the dress" was not as easy of a task as I had hoped for when I started my search, that all changed when I went to Traditions. The environment was a complete different world compared to the other shops that I had tried. The staff at Traditions made this experience... Read More so special for me, Martha was able to help me find exactly what I was looking for. Their commitment to making my experience special did not stop after I purchased my dress, every single appointment I came to for alterations was equally as enjoyable as that fun day of trying on dresses. As far as cost is concerned the gowns at Traditions are worth every penny based on quality, I could not be more satisfied with mine I love every single detail about it. Maria helped to alter the dress to look exactly how I wanted it to she is truly an artist! Thank you to Traditions for helping me to have the best wedding dress possible!
---
Reviewed on

1/11/2017
K O
My experience at TBA was by far the best! My consultant, Marianne was knowledgeable, fun, engaging, and supportive of me throughout the entire process. Even though it became quickly evident that I found my dress on the first fitting, Marianne never pressured me. She was patient... Read More and understanding throughout my emails, several questions, and multiple visits to the shop. I am very proud to say that I purchased my wedding dress that I fell in love with at my first fitting. When it came time to ship my dress the staff was very helpful in packing it nicely for me! You will not be disappointed if you come here. They truly bring out the joy of being a bride! A sincere thanks to the TBA team!
---
Reviewed on

10/31/2016
Cassie M
I cannot say it enough. I LOVE Traditions. Not only did I find the perfect dress there with the help of their amazing staff, but I also worked with them to find the perfect bridesmaids dresses. Everyone at TBA is so kind and helpful - they made the process so easy! From saying... Read More yes to the dress, to alterations, to cleaning after the wedding - they have been a one stop shop and such a joy to work with. I can't imagine getting my dress anywhere else! They quickly made me feel like family (probably because I was there almost every week for a fitting....) and truly made me want to do the whole thing all over again! I am so thankful for TBA and the entire TBA experience. You made dress shopping for me and my bridesmaids so simple and so fun!
---
Reviewed on

10/12/2016
Alexandria P
Martha at Traditions sold me my gown, and she was perfect and a joy to work with. When it came to alterations though, I ran into some trouble. Maria, who does the alterations, is also perfect. However, the staff coordinating the alterations left so much to be desired. I was told... Read More I was not allowed to have alterations appointments on weekends, despite living nearly 3 hours from the shop and working a very intense job that does not allow time off. When I came to my second fitting, I overheard the staff readily made accommodations for another bride to have a Saturday fitting, and such an inconsistency in service was quite irritating. At that same fitting, the associate made negative comments to another bride about my dress while I was in it, remarking that "that train is certainly the craziest we've ever sold." I could not believe the lack of professionalism. Finally, at my third fitting, I had to wait over an hour for my appointment despite being timely myself, and a bride with an appointment behind mine was pulled in first. When I asked why, they told me just to wait a few more minutes rather than offering an explanation or consolation. Apparently the delay was due to a massive mistake made with another bride's dress. Thankfully I was completely satisfied with my gown, but very dissatisfied with the service.
---
Reviewed on

12/29/2015
Kate B
When you work in the wedding industry while you're planning your own wedding, you run the risk of getting jaded by everything wedding-related - which is what happened to me - until Allison at TBA helped me find my dream dress! I think Allison could tell that I wasn't really... Read More 'into' the whole dress finding thing - so instead of selling me a dress - she helped me find one. It was truly like having an unbiased friend with me as I picked out my dress. Never once did I feel pressured for a sale, or disregarded because of budget. Although I tried on quite a few gorgeous, unique gowns, I couldn't have been more in love with the dress that I chose! Perhaps what I loved most about working with Traditions was that they invited you in to try YOUR dress on once it arrived in the store - I'm not sure if this is unique to TBA, but I know it's not a common practice. Having the chance to actually get in the dress once it arrives - outside of alterations - was very reassuring and exciting to me! Shopping for a wedding dress can be stressful - but Traditions and Allison made it a piece of cake! I would highly recommend TBA to anyone looking for a gorgeous dress and a stress-free experience. Thanks y'all!
---
Reviewed on

12/28/2015
Benjamin W
I had a wonderful experience working with Susan to find my perfect dress. We talked over designers I liked and the type of veil I envisioned, and she le me have my pick of dresses to try on! She was very helpful, respectful, and supportive. I found my one of my top two choices... Read More there with a Paloma Blanca dress that I had fallen in love with. I ended up buying a dress at a different location but I could not recommend Traditions by Anna more, it was a fantastic experience and I would have been happy to buy my dress there. Thank you Susan!
---
Love them!
Reviewed on

10/12/2015
Marisa R
I found my dress at Traditions the first time I tried on dresses. My consultant was amazing and made me feel so special. I knew immediately when I tried on my dress, which was by Matthew Christopher, that it was the one. If you are looking for quality and professionalism... Read More Traditions is the place to get your dress!
---
Great Service
Reviewed on

8/11/2015
Tabatha H
I loved my experience with Traditions by Anna! First, when I picked out my dress, I couldn't have asked for a better experience. My consultant, Martha, made me feel so relaxed and at ease throughout the entire process. She provided amazing guidance and helped me pick a dress,... Read More veil, and belt that I absolutely adored and felt beautiful in. Unfortunately, I had a handful of setbacks with my dress that fell outside of Traditions by Anna's control -- first, the dress that originally came in was defective, but Traditions sent the dress back to the designer and got me a new one entirely free of charge. The same thing happened with me veil -- the tailor noticed a tiny hole in the veil and Traditions by Anna ordered a new one before my ceremony, entirely free of charge. Traditions by Anna's amazing customer service took what could have been a very stressful experience and made it fantastic!
---
Fantastic Experience
Reviewed on

1/17/2015
Allison T
Today I purchased my dress from TBA. This review is primarily concerning the customer service and initial experience since I have not received my dress yet or had any alterations done at this time. My MOH bought her dress at TBA and had all of her alterations there and had only... Read More good reviews. I immediately felt welcome and comfortable when I walked in the door. After being greeted my mom and I took a seat and we overheard the owner suggesting to Kristen to take my appointment since the other sales girl was still busy and she didn't want us to wait. Kristen was so friendly and genuine and took the time to listen to what I wanted and what styles had worked for me before. She let me pick out a few dresses and then picked out a few she thought would work for me. I really had a great experience with her and the other ladies in the shop and the other brides and moms. I felt like I was hanging out with friends and that made the experience that much more enjoyable. They had a great selection of dresses. I never felt rushed or pressured into a dress or with my time. The shop is classy and modern yet you don't feel like you can't walk around and look at dresses. I can't wait for my dress to come and to have the alterations so it fits me perfectly. I wish I had made TBA the first place I went to look.
---
Classic Dress
Reviewed on

12/13/2014
Rachel M
I had such a great experience with my bridal consultant, Allison at Traditions By Anna. I found a classic and beautiful wedding dress.
---
Great Service- Beautiful Dress
Reviewed on

9/19/2014
Sarah S
Traditions by Anna is what you think of when you think "bridal salon". The entire experience is definitely what a bride dreams wedding dress shopping should be, down to the champagne and elegant décor. The dresses are definitely pricey, but you get what you pay for. I had an... Read More image of the dress I wanted in my head and Traditions was the only store in the Raleigh area that I was able to find a dress that style. The staff was friendly and always sending hand written notes. If you want that bridal experience, not to mention quality and a knowledgeable staff, Traditions is the place to go.
---
Wonderful Service
Reviewed on

7/16/2014
Kelly B
Bought my dress at TBA and I am so thankful for the great staff there. Emily, one of the consultants, was so very kind and helpful. She helped me find my dress, bridesmaids dresses, and veil there. Never had to worry about my dress and they were great to work with. Highly... Read More recommend to anyone looking for a dress or bridesmaids dresses in the Triangle area.
---
Perfect Gown, Wonderful Staff
Reviewed on

7/11/2014
Anne W
My experience at TBA was such a joy. I had seen the shop open in North Hills when I was a little girl with the big bay windows filled with pretty dresses and always dreamed I would find my wedding dress there. The staff walking in was incredibly welcoming and kind making... Read More sure my mother and I felt relaxed and comfortable. The location is beautiful and had a wonderful old sophisticated style about it that just did something to make you feel special. The dresses were well kept and the staff knowledgeable on dress details (I wanted to know all about lace). The dresses are a little bit marked up from other stores I compared prices to of the same dresses in Virginia, South Carolina, etc. but the cost of coming and going would add up to just purchasing the same dress at TBA. That and I know the TBA staff is not only incredibly kind, but organized, timely, and professional whereas I do not know about the others. I do not live in NC anymore, and so I had to do a lot of things from afar. I would recommend you get sized for any dresses you are interested of the day of your appointment so that you don't find yourself in a town without a wedding shop like me and have to wait until you can get to a major city to be sized. TBA was great with helping to get my dress in when I was in town so that I could take it home with me and with shipping my veil to my seamstress in TX. They always called to let me know when things were in stock and when they were shipping to me. Two final things to note: 1. They did not keep me on budget so watch for that! I was not so sure because of the price but my mother bought it for me and called me to tell me! 2. Their bustiers to try on the dresses with are phenomenal! I plan to go back and purchase one for myself when I am back in town. Great quality soft breathable lace and so comfortable. Definitely the dress of my dreams
---
beautiful dress, expensive extras
Reviewed on

6/10/2014
Jordan H
My dress was beautiful and Martha was beyond helpful. The alterations and dress pressing added another $500 to my dress expenses, but everything turned out beautifully.
---
Lovely Experience!
Reviewed on

5/01/2014
Sarah M
I had a wonderful experience at Traditions by Anna. I went in during one of their sample sales and found my beautiful dress for over half off! The sample was in near perfect condition and only required a few buttons be fixed. Needless to say I was thrilled!
---
Love!
Reviewed on

11/07/2012
Lindsay K
I bought my wedding dress here and they were wonderful to work with. They helped in selecting my dress and then getting it just perfect for my big day. I would highly recommend them!
---
Dress of my dreams!
Reviewed on

7/14/2012
Katie B
To begin---everytime I walked into Traditions by Anna I felt as though I was with family. This was extremely important as I live out of state from family, therefore was not able to have them come to my appointments. The staff was always friendly, sweet and provided an... Read More environment that wedding dress shopping should be. Excellent service, tailoring and communication regarding every detail of my dress. I had found my dress in NJ, but then found the TBA carried it. Their selection of classic dresses is breathtaking. I HIGHLY recommend TBA to find your dream wedding dress.
---
Dream come true dress!
Reviewed on

7/02/2012
Anna S
The women at Traditions were incredibly helpful and helped me in finding my beyond perfect wedding dress. Every fitting, alteration appointment, etc. were all wonderful and made me feel so fortunate for having found them!
---
TBA IS WONDERFUL!
Reviewed on

6/19/2012
Heather R
AMAZING!! This is the best word to describe Traditions by Anna. They took the time and made me feel special when I went to pick out my dress. They spent a lot of time with me and let me try on several dresses and gave me their honest opinions. Even after I bought the dress, they... Read More let me come in and show the store model to my friends and when I took it to another lady to do my alterations and didn't use the one they recommended, they didn't act rude towards me at all. By far the most professional bridal place I went to in the Triangle and the BEST dresses by far. I ordered my bridesmaids' dresses at TBA as well. The Lula Kate dresses were AMAZING!! There was a small miscommunication about if one of my bridesmaids should order a materity dress or not (she was only going to be 5 months pregnant at the wedding) and when it came in it didn't fit. They handled the situation WONDERFULLY. They didn't say, "Sorry we can't help you" or "You can buy another one, but there is nothing else we can do." Instead, Anna called me herself and we talked about it. My bridesmaid went in the next day and within 2 weeks, she had a new dress! They are AMAZING!! The old saying, "You get what you paid for" is SO TRUE!! The dresses aren't cheap, but it is SO WORTH IT. I won't lie, I went over my budget on my dress but I would do it again in a heart beat. The service at TBA is great, their dresses are in style, and their customer service is out of this world! If you go, ask to work with MARTHA, she is amazing. Anyone that lives within 2 hours of the Triangle should go to TBA to get their dress, their bridesmaids' dresses, and their mother of the brides dress!
---
Great Experience
Reviewed on

10/18/2011
Katie V
I got my dress from Traditions back in January and it was smooth sailing ever since then! They always kept me posted and were flexible with my schedule and their alterations lady is a true master. Great selection at fairly reasonable prices.
---
love
Reviewed on

10/16/2011
Annie G
loved my dress!!!! it was perfect for someone that likes there own ideas, not someone persuaded by others. had to reschedule a fitting once, but it was ready and perfect for the big day.
---
Reviewed on

8/16/2011
Sarah C
I loved working with Anna and all of the wonderful ladies at Traditions. I got the dress of my dreams, and everything was perfect!
---
Dress
Reviewed on

8/02/2011
Jessica G
Jane at Traditions was a real pleasure to work with. Living out of state, she handled everything seamlessly and I was very happy with her service. My alterations were perfect and all of the staff at Traditions were committed to making sure that I was taken care of.
---