Home

Trellis Outdoor Wedding Ceremonies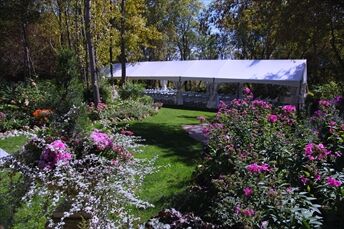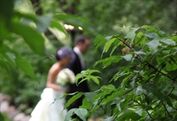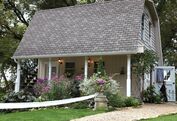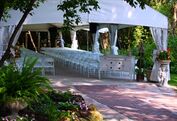 About this Vendor
Beautiful Outdoor Garden Ceremony Venue
Enjoy your ceremony under our beautiful scalloped canopy. Surrounded by breathtaking gardens, floral fragrances, angelic fountains, vintage chandeliers and historic limestone pathways. A quaint cottage awaits your bridal party for preparation. An outdoor wedding without the worry of a rainy day.
Amenities + Details
For more details about amenities, please message the Venue.
Contact Info

12125 80th St N, Stillwater, MN
Our wedding was perfect at the Trellis!!
Reviewed on

12/04/2012
Stacey H
We were married at the Trellis on September 15th, 2012. The Trellis is a stunningly beautiful place to get married. The flowers were still perfect even in September!! The tent for the ceremony is gorgeous and roomy for up to 250 guests, the garden grounds are well kept, and... Read More there is a cute farm house the bride, groom, and party walk out from for the procession. We have some gorgeous pictures from our photographer of our reception at the Trellis. The best part about having your ceremony at the Trellis is working with Sheri, she truly is the nicest person I have ever met, and made our stress level almost completely disappear on our big day!!! The Trellis is gorgeous and well worth the money if your looking for a beautiful place to have an outdoor wedding!
---
Best day of my life!
Reviewed on

10/18/2012
Stephanie L
The Trellis is the most beautiful place to have your ceremony! It is an out door enchanted garden. With a big beautiful white canopy tent with chandeliers and antique buffet tables. Sally, and Sherri are the nicest most thoughtful people out there. They made our wedding day... Read More special and really cared for our family, and guests. I am very happy we chose the Trellis.
---
Trellis was amazing!
Reviewed on

9/11/2012
Misty K
Trellis was fabulous to work with. Sally and Sherri are courteous, detail oriented, and thorough and they take their work very seriously. I have had so many compliments about our outdoor night wedding ceremony and all of the ladies at Trellis made our ceremony so seamless. The... Read More venue is so beautiful on its own, so additional decorations are really not needed. We did utilize some of the extras offered by Trellis, which only added to the ambience of our ceremony. I highly recommend this vendor!
---
Beautiful venue and friendly staff!
Reviewed on

8/18/2015
lisa g
We loved everything about this venue! The coordinators are extremely organized and made our wedding go so smoothly. The venue itself is well kept up and our guests were blown away my there lovely landscape and adorable cottage bridal suite on the property!
---
Wedding Ceremony
Reviewed on

7/29/2015
Jaymi S
VERY beautiful place to have an outdoor ceremony! my husband and I picked this place to represent where we met - at a park! This was perfect! Canopy and chairs already at the property, beautiful gardens and greenery. The wedding ceremony assistants were wonderful and our... Read More wedding officiate (who is the co-owner of this place) did a fabulous job officiating our ceremony!
---
Beautiful Venue
Reviewed on

7/29/2014
Sara G
The set-up at Trellis is absolutely stunning! The gardens make a beautiful background for photos. You rent for a three hour time period, and then can pay extra for additional time. I would recommend having extra time if you plan on getting ready in the cottage or want to take... Read More your pictures there. Although the service was friendly, they were not always organized and professional. Overall, we really enjoyed having our ceremony here.
---
perfect venue
Reviewed on

7/10/2014
Melissa C
We had our sunset ceremony on a Saturday night at the end of May and everything was perfect. Leading up to the event, Sally was especially helpful and everyone at Trellis was really responsive. Brenda was our "day of coordinator" and she was fantastic! Everything was super... Read More clear after the rehearsal. She is such a great person to work with. The place was beautiful and the candles throughout the woods were the perfect touch. There was a thunderstorm during our ceremony, and the thunder and rain on the tent set the mood amazingly. Trellis also has these gorgeous white umbrellas, and when I first saw them when we toured the place, I said, "wow, I really wouldn't mind if it rained because we'd get to use these!" And it did, it was perfect.
---
Gorgeous Venue
Reviewed on

7/08/2014
Andrea G
Two weeks after my wedding and people are still talking about the beautiful location of our ceremony - Trellis in Stillwater. The gardens were in full bloom, the sun was shining, and absolutely no insects were buzzing around the wedding party or the guests on my perfect wedding... Read More day. This venue is absolutely amazing and I would freely receommend it to anyone. The only (minor) drawbacks are lack of space for the wedding party to get ready. I had six bridesmaids in my wedding and the indoor cottage space was a bit cramped for us, particularly on a hot day when guests tried to come in to escape the heat. Other than that small flaw, I think Trellis was an absolutely perfect place to get married!
---
Beautiful Place
Reviewed on

10/13/2013
Katherine B
We had our ceremony here for one of the afternoon times. Leading up to the wedding they were pretty easy to get a hold of and responsive via email-no complaints there. They were also pretty easy to work with and Brenda, who did our rehearsal, definitely knows what she is doing... Read More and is efficient. My only issue was that on wedding day it was raining and my guys were sitting outside the gate to get in at our appointed time. They are not really flexible on this (even 5 minutes) and I had to call to tell them it was 1pm and I wanted in (one of my few bridezilla moments). My other issue is that when we met and originally booked the venue they told us there were heaters available in case it was cold because we had a Sept. 28 wedding. On wedding day-despite the forecasts predicting rain and cold weather, they did not have the heaters at all. That meant me and my girls were standing up there and quite cold. All that being said, Trellis is truly a beautiful and unique place to get married-we had so many compliments on how beautiful it was even though it was rainy and cloudy-I can't imagine how beautiful a nice sunny wedding would be :) We also did the dove release which is pretty unique and made for some great pictures. I loved Trellis and thought it was perfect for our ceremony and would definitely recommend them to anyone.
---
Beautiful Location but Rushed Preperation.
Reviewed on

7/01/2013
Hannah S
Trellis was a beautiful location. If you're looking to have an outdoor wedding away from the crowds Trellis is your place. Their garden is beautiful and elegant and big enough to accommodate larger weddings (up to 250). They even have a backup rain plan at no extra charge. The... Read More owners of Trellis genuinely enjoy what they do, however they are becoming more popular and in the process their rates have shot up and they have less time to take care of you. We felt a little rushed during the rehearsal and they left a few things up in the air until the actual ceremony, but other than that I would have my wedding day there all over again.
---
Fairy Tale Wedding!
Reviewed on

9/09/2012
Moreen G
Trellis is Amazing! From my first visit there to the day of my wedding they were wonderful to work with and everything went so smoothly. They make your little girl dreams come true!
---
Excellent and aboslutely beautiful
Reviewed on

8/21/2012
Mandy T
I wanted an outside venue for my ceremony and found this place. It is absolutely stunning and a beautiful. You need no decorations b/c the place is beautifully landscaped.It is definitely worth the price and they take WONDERFUL care of you.
---
Beautiful Venue
Reviewed on

7/13/2012
Sara S
They were so fun and easy to work with. They really made the day super special for us and it was so perfect. I couldn't imagine myself getting married anywhere else. Simply amazing :)
---
A Beautiful Ceremony Location
Reviewed on

7/07/2012
Stacy L
Trellis is simply amazing! The place is absolutely beautiful, you'll fall in love with it the minute you step foot on the grounds. The ladies at Trellis were also great to work with, and we got a lot of compliments on the dove release during the ceremony. We used owner, Sally... Read More Hesse, as our officiant and we were a little disappointed that she read the wrong vows and repeated mine twice, but other than that it was a great experience.
---
Ceremony Site
Reviewed on

7/01/2012
Brandi B
Everything was planned out perfectly. The owners did a beautiful job of preparing the garden for our event. I did not have to worry about a single detail. The garden and ceremony was so beautiful, we are still getting compliments! No need to have a wedding planner, they take... Read More care of everything!
---
June Wedding
Reviewed on

5/07/2012
Nicole C
I got married at the Trellis last June and the wedding venue was more than I could have asked for. The flowers and greenery was beautiful for the guests and it was a great place to take pictures! I would recommend this venue to anyone that wants a outdoor wedding with... Read More beautiful scenery.
---
AMAZING EXPERIENCE!
Reviewed on

10/03/2011
Kirsten H
If you want a stellar wedding with excellent, attentive, friendly, poised service, get married here. Shelly, Sherri and Brenda all tag teamed to make our wedding ceremony seamless. From the start these ladies were on the ball. I had so many questions that I was emailing Shelly... Read More and she and Sherri made sure to answer every one of them promptly. The rehearsal was confirmed a couple of days before the ceremony to make sure we had audio details in order as well as the right guests attending the event. On the wedding day, Sherri and Brenda were such a pleasure to work with. They were present but not overbearing. The grounds are out of this world gorgeous from the flowers to the fairy fountain. I give this venue an A+++
---
Dream location
Reviewed on

10/02/2011
Jen A
It was fabulous. I could not have asked for a better location. With it being family owned, it made it that much more personal-able. My flowers girls rubbed up against a dirty car and got their dresses so dirty and one of the attendants sat and wiped their dresses clean. They... Read More kept me organized and on time!
---
Amazing wedding location
Reviewed on

6/16/2011
Nicole M
I was very happy with the service provided by Trellis. The location was beautiful on my wedding day, as promised and the staff were excellent. I highly recommend the Trellis, it is a perfect outdoor location!
---
Magical!!
Reviewed on

9/11/2010
Dana M
The second I started walking up the path to Trellis I knew I HAD to get married there. The first thing that sold me on Trellis was of course the BEAUTIFUL gardens. They were lush and colorful. I visited Trellis twice before the wedding and between those visits and the day of our... Read More wedding, I saw the gardens in early summer, mid summer, and late summer, and everytime the gardens were gorgeous, they really know how to make beautiful gardens. The area surrounding the seating is so beautiful, no more decorations were necessary! Everytime I visited I didn't want to leave because it's so nice wandering around and seeing the flowers and sculptures, etc. It's magical :) The second thing that made me realize Trellis was the perfect wedding spot for us was meeting the owners, Sherri and Sally. Both of them are so kind and welcoming and helpful. They really know weddings and took care of absolutely everything. I knew I was going to have nothing to worry about on the day of the wedding, and that was absolutely true. The day of the wedding went so smoothly - Sherri kept everything on track and made sure we had everything we needed. They are so attentive. The truffles they offer were so yummy! I raved about Trellis in the months leading up to our wedding but my guests were still blown away when they got there :) That made me so happy. I can't even count how many of our guests just raved about how beautiful Trellis is! I really can't say enough good things about Trellis, its amazing there and absolutely something you should check out! I'm glad our guests loved it and I'm hoping they spread the word so I get a chance to get to go to another wedding there :)
---
Send Message