Home

Très Bien Photo & Video
About this Vendor
A Photo+Video team creating timeless imagery
We are a photography and videography crew that work seamlessly together. Our videographers are specialized in videography and our photographers are specialized in photography, we respect the art form of both and do not treat them as an interchangeable skill. We treat each service as a priority and work to make both services the best they can be for our couples. Our team coordinates before your wedding to discuss camera placement, the unique details of your day and our goals for your final imagery. That is why you were rarely ever see us in your final product, it is about you and not us! Plus, we are a much more "behind the camera" group of people ; )
Details
Artistic, Classic, Documentary, Dramatic, Lifestyle, Modern, Vintage
Bridal Portraits, Day After Session, Engagement, Trash The Dress
Getting Engaged, After Party, Rehearsals + Parties, Wedding
Destination Wedding Packages, Destination Weddings, Digital Files, Online Proofing, Photo, Printed Enlargements, Second Shooter Available, Social Media Sharing, Wedding Albums, Photo + Video






Reviewed on

8/31/2017
Will G
Here it is, first line of the review. If you read no further, read this: Tres Bien is who you want for your wedding. I have an excitable, very involved, very large family. Some would say they're hard to organize and hard to control. But Amy and Brian, Tres Bien, are more than... Read More photographers. They're wranglers, planners, managers, and stagehands. They will keep you on track when you need to be, and they will be invisible when you're having your private wedding day moments. I have never, ever seen someone move my family around so quickly and efficiently. That alone impressed me. And on top of that, the photography and videography captured both the celebration in general and some deeply personal moments I thought I'd only be able to cherish in my memory. The wedding video, for instance, shows the breath I take when I first see my wife turn down the aisle. It shows the wink I gave her as she walked, which I practiced for a long time because I can't wink. The pictures show the moment my brother and I danced back-to-back to a Backstreet Boys song. They show the moment one of my best friends inserted himself into a family dance circle and everyone just kinda went with it. And they show, in many ways, the moments my wife and I stopped together to realize what we'd done and where we were. That we, and everyone in this room now, had become the same family. Though I'm sure they work together on everything, the division of labor in general seems to be that Amy handles photography and Brian handles videography, and they are both remarkably talented and professional. The pictures we ended up with are all frame-in-the-house quality, like almost every single one of them, in large part because Amy took the time to learn our style and what we liked and what we wanted to preserve from our day. And the final edit of the video we received could not be more perfect. Brian worked directly with us to ensure we got everything we wanted out of it, but honestly he kinda just nailed it for the same reason Amy nailed her pictures: by the time he was shooting and editing, we felt like he knew us. What we got out of Tres Bien is exactly what you want--a perfect keepsake. A set of images both still and moving that we can use to return to the happiest day of our lives whenever we feel like it. I can't recommend them enough.
---
Reviewed on

2/15/2017
Kristy D
Amy and Brian were so easy to work with and extremely helpful, professional, and accommodating. Their work is beautiful! I am so pleased with my bridal portraits, wedding photos, and wedding video. The video was edited very well and we feel they captured the most special... Read More moments of the night! Their team members that helped capture the moments were great, too! They also created an itinerary for my wedding day and OMG that was so helpful! Family and friends have also loved viewing our photos and video. Do yourself a huge favor and book them for photo and video! Worth every penny! You won't be disappointed.
---
Perfect
Reviewed on

11/07/2012
Wayne A
Tres Bien did a outstanding job with our wedding photos. While they were taking pictures I was constantly wondering what they were taking pictures of, how they were doing it, and if they were getting the important moments. Once I saw the pictures I was stunned on the quality and... Read More the moments that they captured. It would be a long review if I went into every detail of the photos I liked, from angles, lighting, touch ups, and subjects, but it all exceeded my expectations. One of the best things I loved about Tres Bien was after the pre-wedding pics, which are specific poses of me and my groomsmen, I hardly even noticed them during the ceremony and reception. We had the freedom to enjoy our wedding and they still managed to deliver the great action pics, awesome moments, and capture all the great times and celebrations with family and friends, without out being interrupted by a photographer trying to make the perfect shot. Essentially they knew how to catch us without disrupting our day. I would say "I'd use them again" but I'm only getting married once. But thank god we did, because we'll have the most amazing pictures to look at for the rest of our lives.
---
Reviewed on

10/31/2017
Arleth B
Best wedding photography and video crew in New Orleans! I love how the take the perfect moments and come with such elegant and beautiful product. Our wedding pictures and video are amazing, cannot thank enough Amy and Brian for the amazing job they did during the whole ceremony... Read More and reception! Love them both, I couldn't have picked a better crew than Très Bien!
---
Reviewed on

7/19/2017
George B
As a groom, initially my only concern was how the food would taste the day of the wedding. Things quickly changed when my soon to be wife handed me a long check list of wedding related duties "we" had to complete. Cake, transportation, venue, decor, entertainment, guest list,... Read More photography, videography and tens of other things I've already forgotten. When it came to photography I said, it's just pictures it doesn't matter who we use. Boy did I say the wrong thing. My fiancée proceeded to give me, in which I believe was a speech she had written in anticipation of this conversation. This exchange ended in me learning that we already had 4 scheduled meetings with photographers. 2 meetings down, and as expected, still just pictures. Meeting 3, up next Tres Bien Photo and Video. We received such a warm and genuine welcome from Amy and Brian. They asked us a little about ourselves and what we had in mind. After hearing our story Amy showed us some of their work, and for the first time I can truly say it looked like more than just pictures. My fiancées face lit up while looking through some of the beautiful moments they were able to capture. Not much convincing was needed at that point, our decision had been made, Tres Bien it is. From there, we decided to do an engagement and bridal shoot, on top of wedding photography and videography. Amy and Brian were amazing to work with every step of the way. We were in constant communication leading up to each shoot and any questions or concerns we had they responded immediately. Amy and Brian both love what they do and I believe it shows in their work. I can say I haven't always been a fan of standing around taking pictures and smiling for a prolonged period of time, but Amy is so fun she managed to keep me smiling and enjoying the time spent making lasting memories. Our engagement shoot came out amazing, we were beyond pleased with the results. The bridal shoot left my fiancée speechless. The actual wedding day shots captured so much joy and happiness on the faces of each and every person in attendance. Amy and Brian worked swiftly on the wedding day, taking the family photos and standard bride and groom shots making sure that we didn't lose any time having fun or dancing the night away. Just when we thought Tres Bien was finished, we were reminded that we included videography as well. As I may not have mentioned Brian as much throughout the photo sessions, it's probably because he was sitting back preparing us for the amazing short film he would capture on our wedding day. Everything about the video is top notch, from sound to video clarity even the music used throughout. To say that we were pleased with the services Tres Bien provided is a colossal understatement. Amy and Brian make the perfect team, two genuine people, doing what they love. They have made our wedding experience a moment we can relive forever through photos and video. Since the wedding, they have continued to reach out to check on us as newlyweds, how cool is that for just some people I thought would "only be taking pictures." Tres Bien Photo and Video was the best decision I could have made, besides marrying the love of my life.
---
Reviewed on

7/05/2017
Jennifer J
Our wedding video was everything we wanted and more!Amy and Brian are very professional. I highly recommend using Tres Bien for your wedding video!
---
Reviewed on

2/04/2017
Brionne F
Amy and Brian are a dynamic duo! Their work is phenomenal and the customer service is A+++. They truly kept this bride at ease. When my husband and I saw the finished product, it felt like we were in a movie! Every moment of our day was captured by them and their awesome team.... Read More We couldn't have chosen a better team. Love them to pieces. Thank you again!
---
Reviewed on

2/02/2017
Abby T
Tres Bien photo and video produced the video for my wedding. Brian and his team were amazing to work with. Upon requesting information, they were very prompt, which I found hard to find in the planning process. Our trailer and final video came back to us in a timely manner, and... Read More the quality of the video was excellent. Many friends who saw our video commented on the quality of the production. At our ceremony and reception, Brian and his team were super professional. I didn't even notice that my husband was mic-ed during the ceremony. I definitely recommend working with Tres Bien for your wedding needs.
---
Reviewed on

12/31/2016
Katy A
I couldn't have asked for anything more from Amy and Brian with our wedding photo experience. We, of course had some hiccups along the way (because weddings usually do!) but they have been more than accommodating with any request we have had. Our pictures are beautiful and I... Read More can't wait to look back on them in the future to remember a beautiful night! Thank you Tres Bien for dealing with our craziness! Y'all must be saints!
---
Reviewed on

12/29/2016
Ashleigh G
Amy and her team are absolutely amazing. She went above and beyond her role as a photographer to even help me the day of the wedding. She did her research on the best places to take pictures and even had a plan B for bad weather! She did a phenomenal job and always communicating... Read More with me and was so easy to bounce ideas off of! We were married on 12.17.16 at the Chicory and was able to work in the dark light and around all the Christmas lights! I highly recommend Tres Bien!
---
Reviewed on

11/27/2016
Kimberly T
Amy and her team were absolutely fantastic! We strongly recommend her to be part of your celebration!
---
Reviewed on

11/17/2016
Jessica H
Fantastic service! Very professional.
---
Reviewed on

10/30/2016
Pleasure to deal with. Made us comfortable and made process easy. Worked within my budget.
---
Reviewed on

10/29/2016
Adam M
My wife and I were so impressed by the way Amy made our special day so amazing. There aren't enough stars to rate Amy!!!
---
Reviewed on

10/28/2016
Gillian F
Amy was amazing!!!! Our wedding day was captured in the most beautiful way! I couldn't imagine our day being captured any other way!!!
---
Reviewed on

10/28/2016
What an amazing experience to receive the photos of a wedding and have those memories forever! Such talented photographers to know every moment counts!
---
Reviewed on

10/28/2016
Dee C
Words cannot accurately express the phenomenal service I recieved! The loving Care AMY provided at my sons wedding is beyond amazing! I will and always will only use her for every possible event in my life!
---
Reviewed on

10/28/2016
Jeanne C
Having Tres Bien as our videographers could not have been a better decision. Brian and Amy's team worked seamlessly with my photographer (Oscar Rajo) to capture every moment of the best day of our lives. An important issue for us was being "behind the scenes" during our ceremony... Read More so that it wouldn't be a distraction, and they did just that. They even put a microphone on the groom so that our vows rang loud and clear in our video! Not only was the coverage of our ceremony perfect in every way, the special/hilarious moments from our reception were documented by the Tres Bien team as well, and in the best way. The team was sure to capture our first dance, our décor, the food, bar, and dancing guests so that we can cherish every little detail for years to come. The 3 minute trailer for facebook they created was absolutely precious, and Brian makes sure to nail your "theme music" to your personality so that the trailer really exemplifies you as a couple. The full length hour-ish video arrived a few weeks after that, and in an adorable keepsake box with our photo on it! The music during this video was our own personal favorite jams, and Brian made sure to include pretty much every single one of them! And it wasn't just music playing during the video, it was synced to what the crowd was doing/singing at the time. You can definitely tell the detailed editing work that went into our films, and it is so appreciated by my husband and I... we cannot imagine a better recap of the day. I cannot recommend this company enough. Tres Bien memorialized the best day ever, worked seemlessly in sync with our other vendors, is very affordable for all you get, and truly takes pride in the finished products that you receive. I honestly did not notice the camera throughout the process and could not be more impressed with all of the footage. And how the music went with everything. And how sweet Brian and Amy's emails to us were. It was just, simply put, perfection.
---
Reviewed on

10/27/2016
Greer P
My son's engagement photos and wedding photos were amazing!! Tres Bien's staff was so caring, personal, and inventive!! We have beautiful memories and photos and videos to last our lifetime!!! I would recommend them to everyone!!!! They gave us more than we ever could have... Read More dreamed of! Oh!!! The photo book fabulous!!!!💞💞💞💞
---
Reviewed on

10/11/2016
Britney B
Amy is amazing! Her and her team were great and made everything extremely stress free. Got pictures very quick!
---
Reviewed on

10/11/2016
Shenitra B
So many good things I can say about Amy and her team. I was having a theme wedding (Doctor Who Theme) and I told her my ideas for the photos and she made them come to life. She even watched the show a little to see what was it about. Only a person dedicated to their art would... Read More make sure every detail is exactly what you wanted. From my beautiful pictures from my engagement shoot to my wedding photos. Every step of the way Amy was accommodating with everything I needed. Professional, state of the art team and I was very happy to have them capture every moment from my special day. My wedding was in June but me and my Husband still look at our pictures at least once a week . I will definitely be making Tres Bien Photo & Video the family photographer :-)
---
Reviewed on

7/27/2016
Danielle G
I have to thank The Knot for bringing me to Amy and Brian. Upon first meeting them, I just knew in my heart that they were the perfect photographer and videographer to capture my wedding day. I instantly felt comfortable with them at our first meeting, and they have exceeded my... Read More expectations in every way. I'm not sure how they did it, but they were everywhere on my wedding day. The pictures (which hurt my heart that I couldn't include all of them in my album) captured every detail about my wedding, and the video trailer (haven't gotten the full video yet) was enough to make me tear up all over again. Amy and Brian treated me like one of their dear friends, and it shows in their work. Everything else about my wedding has now turned into wonderful memories, and I am so glad that I chose Amy and Brian to capture those memories.
---
Reviewed on

6/09/2016
Laura M
Brian & Amy were so wonderful to work with, and I cannot be happier that we selected them as our videographers. They produced an amazing trailer, and wedding video. Our wedding guests described them as ninjas, and after viewing our wedding video, that's an accurate... Read More characterization. They captured so many wonderful, touching and in some cases, hilarious moments between my husband and I and our wedding guests. I will treasure our video!
---
Reviewed on

2/14/2016
Claire T
We used Tres Bien for both our photographer and videographer and we were very pleased! Amy and Brian are both so easy to talk with and captured our night perfectly! Both the pictures and video were worth every penny- we love it all!!
---
The best decision I ever made!
Reviewed on

10/14/2015
When searching for a photographer we knew what we wanted and when we first met with Tres Bien we knew they were the route to go. Both Amy and Brian made me and my partner feel comfortable and put our mind at ease. The service was impeccable, attention to the details and the... Read More finished product was more than we could have hoped for!! I wouldn't hesitate to use them again and I highly recommend them to any potential bride/groom or civil union.
---
Meet The Owner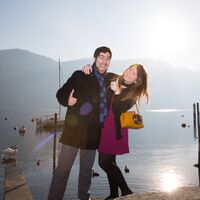 Amy+Brian
Amy and Brian are a photographer, videographer team that love creating beautiful wedding day imagery for you, just as much as they love each other! While both of them have a strong Sicilian background, Amy is the loud talkative one, and Brian is the sweet, listener. Amy likes to joke that she is the gas and he is the brake, opposite roles but both equally important. In addition to their love for Très Bien, they enjoy trips to Italy, classic cars and Pearl Jam concerts....especially the Pearl Jam concerts!